Open Access This article is
freely available
re-usable
Article
Diabetes Screening Through Community Pharmacies in England: A Cost-Effectiveness Study
1
School of Pharmacy, University of East Anglia, Norwich NR4 7TJ, UK
2
Health Economics Consultancy, Cambridge CB23 7EQ, UK
3
Norwich Medical School, University of East Anglia, Norwich NR4 7TJ, UK
4
Boots UK Ltd, 1 Thane Road, Beeston, Nottingham NG90 1BS, UK
5
University of Nottingham, University Park, Nottingham NG7 2RD, UK
*
Author to whom correspondence should be addressed.
Received: 20 December 2018 / Accepted: 18 March 2019 / Published: 22 March 2019
Abstract
:
Community pharmacies are commonly used to screen for patients with diabetes. The aim of this paper is to estimate the cost per test and cost per appropriately referred patient from a pharmacy perspective using a one-year decision tree model. One-way sensitivity analysis was performed to estimate the effect of geographical location and patient self-referral rate. Data was used from 164 patients screened and located in an area with average social deprivation and largely white European inhabitants and 172 patients in an area with higher social deprivation (lower than average ability to access society's resources) and a mixed ethnicity population in England. The diabetes screening consisted of initial risk assessment via questionnaire followed by HbA1c test for those identified as high risk. The cost per person screened was estimated as £28.65. The cost per appropriately referred patient with type 2 diabetes was estimated to range from £7638 to £11,297 in deprived mixed ethnicity and non-deprived areas respectively. This increased to £12,730 and £18,828, respectively, if only 60% of patients referred chose to inform their general practitioner (GP). The cost per test and identification rates through community pharmacies was similar to that reported through medical practices. Locating services in areas of suspected greater diabetes prevalence and increasing the proportion of patients who follow pharmacist advice to attend their medical practice improves cost-effectiveness.
Keywords:
community pharmacy; screening; type II diabetes; cost-effectiveness
2. Aim
The aim of this paper is to determine the cost per patient with type 2 diabetes appropriately referred to their GP through community pharmacies using the current UK model within different geographical settings and assuming different rates of referral to GPs.
3. Methods
3.1. Ethics Approval
As an economic modelling study based on anonymized service data, and as a service evaluation, ethical approval was not sought for this study.
3.2. Patient and Public Involvement
There was no patient and public involvement in the design of the study or preparation of this paper.
3.3. Service Data
To inform the model, data were collected from the diabetes screening services provided in Leicester and Surrey for a six-month period in 2014. The Leicester area has a higher than average level of social deprivation and a larger proportion of the population is drawn from ethnic minorities. The Surrey area has lower than average social deprivation and a relatively homogenous white European population.
The pharmacy-based screening service, which was used to provide data regarding service delivery to underpin the model, was aimed at individuals over the age of 18 and unlikely to be pregnant and is summarized below:
Completion of standardised type 2 diabetes screening customer service record form (CRF), consisting of a valid and reliable tool for diabetes screening [

13

] and questions required by the UK government for screening purposes, by the individual with support from a healthcare assistant (HCA) to estimate their risk level for diabetes.

Signposting to further services as appropriate, e.g., weight-management, smoking cessation for individuals identified at low risk (score less than 16).

Offering an HbA1c non-fasting finger prick blood test by the pharmacist for individuals determined to be at moderate or high risk of diabetes (score greater than 15)

Providing a follow up pharmacist appointment in three months to individuals identified as being at high risk of diabetes via the HbA1C test (between 6.1% (43mmol/mol) and 6.4% (47mmol/mol)).

Advising individuals identified as being likely to have type 2 diabetes via the HbA1C test (≥6.5% (48mmol/mol)) to see their GP for further testing and appropriate treatment.

Communication of all HbA1c test results to the individual's GP with their consent.
Data available from this service to inform model creation was that which was sent to the company head office and consisted of:
Pharmacy location

Age group, gender and ethnicity of patient

Risk assessment score derived from the customer report form [

22

]

HbA1c result
3.4. Effectiveness Modelling
The service described above was a pragmatic community pharmacy-led service and for this reason we had no data on the true prevalence of type 2 diabetes (T2D) in these samples, or on the proportion who would have been advised to consult their GP, who actually had diabetes. Furthermore, we had no data on what would have happened to the patients in the absence of this service.
Spreadsheet-based models were constructed to estimate these values using the data from the screening services, supplemented with data from the literature, as per
Figure 1
. We had service level data from Leicester and Surrey on the number of patients suspected of have diabetes identified and referred. It was unclear how many of these were true positives. The prevalence data used to generate estimates of actual numbers of individuals with diabetes and pre-diabetes are given in
Table 1
. For Leicester, the proportions expected to have T2D, and those at high risk of diabetes, were obtained from the ADDITION study [
23
]. This source was used for both the white and ethnic minority population. For Surrey, the prevalence of T2D in both white and ethnic minority individuals were taken from a published report [
1
]. The proportion of high risk individuals for Surrey was taken from a modelling study [
5
]. As we had no specific data on the proportion of individuals at high risk of diabetes for Surrey, this was assumed to be the same as for ethnic minorities (Leicester) [
23
].
For T2D, we assumed that individuals who had T2D would not access the service (as the service is designed for identification purposes only), so the prevalence of T2D was multiplied by the proportion who would have undiagnosed T2D (15%) [
1
]. The performance of the CRF and HbA1c testing was based on these estimates of prevalence multiplied by estimates of the sensitivity and specificity from the literature. The sensitivity (0.81) and specificity (0.45) of the CRF questionnaire was taken from Gray et al [
13
]. Values from Tankover et al. were used for the non-fasting HbA1c blood test [
22
]. These were: type 2 diabetes—sensitivity 0.86, specificity 0.92, and pre-diabetes—sensitivity 0.71, specificity 0.64. These values were used to estimate the number of true positives from CRF screenings, and the expected numbers of cases of T2D who were declared positive (true positives) by the HbA1c test, and hence would be appropriately referred to their GP. This case, appropriately referred, was our measure of effectiveness in this analysis.
3.5. Comparator
Standard care would be no pharmacy-led screening and hence no individuals with suspected diabetes would be referred from pharmacies. Therefore, it was assumed that the cases identified would be additional to those without screening.
3.6. Costs of Pharmacy Led Screening and Cost-Effectiveness
Data was collected from the pilot studies to inform the expected costs of providing this service in pharmacies. Costs were identified through observation of the service by a health economist (RL), measured via feedback from service providers, valued through the use of national databases or provision of costs from the service provider and calculated from the pharmacy perspective.
It was assumed that the CRF would be completed by a healthcare assistant (HCA) (non-regulated member of the pharmacy team, commonly also referred to as pharmacy assistant) and that this was estimated to require 15 minutes. A cost per hour of £12.88 was used for HCA time [
24
]. If the CRF indicated moderate or high risk of diabetes, an HbA1c test would be performed by a pharmacist.
The HbA1c analyser and initial training costs were annualised over 5 years (it being unrealistic to assume that they would only be used for one year) and with a 3.5% annuitisation rate [
25
]. Additional pharmacist time was required to carry out the test and discuss results with service users. Again, it was assumed that 15 minutes of time would be required and a cost per hour of pharmacist time in providing direct patient contact of £73 was used [
26
]. Other consumables required to carry out the test were recorded from the pilot evaluation. It was assumed that there was no cost associated with offering a screening to patients who subsequently declined participation. It was assumed that all individuals who were screened and identified at high risk were referred to their GP for confirmatory diagnosis.
The average number of individuals seen within each pharmacy was calculated to inform service costs over a one-year period. Those pharmacies who saw less than 5 patients in six months were deemed not to be active participants and not included in the calculation. As the time frame was less than 1 year, discounting was not used. All costs cited in the paper are expressed in 2017 prices, using the Curtis, Lesley A. and Burns, Amanda (2017) Unit Costs of Health and Social Care 2017 [
26
]. In order to evaluate the service, we used the above data on costs and numbers of referrals to estimate the cost per diabetes case referred (cost per true positive, i.e., patients who actually have the disease).
3.7. Sensitivity Analysis
In the base case analysis we assumed that 100% of individuals identified as having HBA1c ≥ 6.5 would actually visit their GP. However, in reality, less than this may do so. A one-way sensitivity analysis was performed to determine how estimates of cost-effectiveness change depending on the proportion referred and who actually attended, ranging from 60% (worst case scenario based on Krass et al. [
14
]) to 100% (best case scenario).
5. Discussion
The cost per person with true diabetes referred was approximately one third lower in Leicester compared to Surrey. This was due to the higher prevalence of diabetes in Leicester compared to Surrey. Consequently, additional diabetes screenings through pharmacies may be better put to use being targeted to those populations where need is greatest.
6. Strengths and Limitations
The analysis is based on data from real pharmacy services located in two geographically distinct areas, national statistics and reported sensitivity and specificity data for the different elements and is therefore relatively robust. Whilst the greater proportion of females and white Europeans identified as accessing the service in both areas may not represent patients within high risk groups, it does reflect the patient population who access community pharmacy services and therefore the cost-effectiveness analysis is based upon a representative dataset. That there was a small amount of screening results data available, however, provides some imprecision.
The study relied on time estimates for staff costs, and sensitivity analysis surrounding this could be undertaken, however, the greatest effect is the sensitivity/specificity of the tests and prevalence estimates. Estimates are based on the data sent to the head office, which is a small sub-set of individuals actually screened, and potential bias in reporting cannot be discounted. Whilst it would have been preferable to take a whole health system perspective when estimating costs, development of such a model was beyond the project's remit. A wider perspective would have implied wider costs, but this doesn't invalidate the perspective adopted.
7. Conclusions
Community pharmacy-based diabetes risk assessment and screening services were found to have a similar cost per test and ability to detect people at risk of diabetes to that provided from medical practices. Locating services in areas of greatest prevalence of unidentified diabetes and ensuring that patients identified as at risk self-refer to their medical practice improves cost-effectiveness.
Author Contributions
D.W. oversaw the delivery of the project, wrote the first draft of the paper and led the revision of all iterations. T.T. provided access to anonymised test data, information regarding service costs and commented on all drafts of the paper. R.L. developed the economic model underpinning the evaluation, prepared the initial protocol and report with results and commented on all drafts of the paper. D.T. reviewed the economic model, supported preparation of the method, results and discussion within the paper and commented on all drafts.
Conflicts of Interest
This research was funded and sponsored by Boots UK. Boots UK provided anonymised data held at their head office from both services and estimates of service delivery times. The authors undertook this work through UEA Consulting. David Wright regularly undertakes consultancy work for community pharmacy companies. Boots UK funded and sponsored the project. TT is employed by Boots UK and commented on iterations of the paper on behalf of the company as it evolved.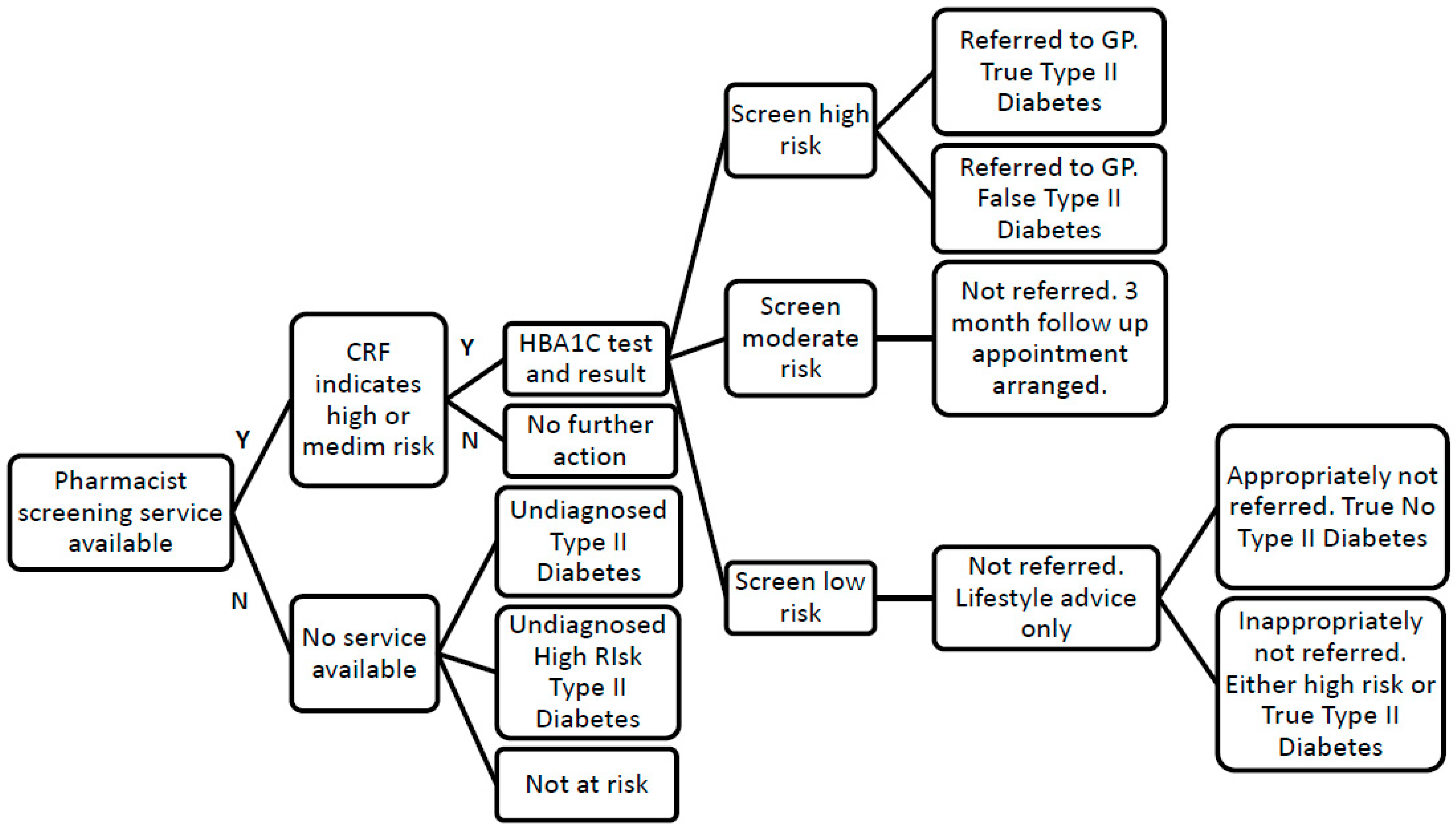 Demographic
Proportion
Normal Glucose Tolerance #
High Risk of Diabetes
Type 2 Diabetes
White (Leicester) [23]
0.955
0.017
0.028
Ethnic minorities (Leicester) [23]
0.931
0.024
0.045
White (Surrey) [1,5]
0.909
0.074
0.017
Ethnic minorities (Surrey) [1,5]
0.919
0.024 *
0.057
# Proportion with normal glucose tolerance = 1–Proportion with high risk of diabetes–proportion with type 2 diabetes. * Data unavailable. Assumed similar to Leicester [23].
| Demographic | Leicester (n = 172) No. (%) | Surrey (n = 164) No. (%) |
| --- | --- | --- |
| Female | 99 (57.2) | 110 (67.1) |
| White European | 98 (57) | 106 (64.6) |
| Age group | | |
| <50 | 93 (54.1) | 109 (66.5) |
| 50–59 | 27 (15.7) | 25 (15.2) |
| 60–69 | 22 (12.8) | 21 (12.8) |
| 70+ | 30 (17.4) | 9 (5.5) |
| CRF Test Results | (n = 172) | (n = 164) |
| Low risk (<16) | 108 (62.8) | 124 (76.6) |
| Medium to Hhgh risk (16+) | 64 (37.1) | 40 (24.4) |
| Available HbA1c Test Results | (n = 33) * | (n = 31) * |
| Suspected diabetes ≥6.5% (48mmol/mol) | 5 | 3 |
| High risk of-diabetes 6.1% (43mmol/mol) to 6.4% (47mmol/mol) | 5 | 5 |
| Unlikely to have diabetes ≤6% (42mmol/mol) | 23 | 23 |
| Predicted HbA1c Test Results | | |
| Suspected diabetes ≥6.5% (48mmol/mol) | 9 # (5.2) | 4 # (2.4) |
| High risk of diabetes 6.1% (43mmol/mol) to 6.4% (47mmol/mol) | 9 # (5.2) | 6 # (3.9) |
| Unlikely to have diabetes ≤6% (42mmol/mol) | 45 # (26.2) | 30 # (18.1) |
* Number of results available for analysis which is less than the number of patients actually screened; # Predicted results assuming data available for all patients screened at risk with customer service record forms (CRFs) available i.e. n = 64 for Leicester and n = 40 for Surrey.
White Leicester
White Surrey
Ethnic Minority Leicester
Ethnic Minority Surrey
Numbers (Proportions)
CRF Questionnaire
Total numbers
97
134
75
30
Screen High/Moderate Risk
53.9 (0.556)
76.4 (0.57)
41.9 (0.558)
16.8 (0.558)
True type 2 diabetes (T2D)
0.33 (0.006)
0.28 (0.004)
0.41 (0.01)
0.21 (0.013)
True high risk of diabetes
1.34 (0.025)
8.03 (0.105)
1.46 (0.035)
0.58 (0.035)
False positives
52.2 (0.969)
68.1 (0.891)
40 (0.955)
16 (0.953)
Screen Low Risk
43.1 (0.444)
57.6 (0.43)
33.1 (0.442)
13.2 (0.442)
True Negatives
42.7 (0.991)
55.7 (0.966)
32.7 (0.987)
13.1 (0.986)
False Negatives – True T2D
0.08 (0.002)
0.07 (0.001)
0.1 (0.003)
0.05 (0.004)
False Negatives – High risk of diabetes
0.31 (0.007)
1.88 (0.033)
0.34 (0.01)
0.14 (0.01)
Assume all high/moderate risk from CRF receive HbA1c
Numbers
53.9 (0.556)
76.4 (0.57)
41.9 (0.558)
16.8 (0.558)
HbA1c blood test +ve
16.1 (0.298)
23.9 (0.313)
12.7 (0.303)
5.1 (0.304)
Screen High Risk
4.46 (0.278)
5.68 (0.238)
3.55 (0.281)
1.46 (0.286)
TrueT2D
0.29 (0.02)
0.24 (0.01)
0.36 (0.03)
0.18 (0.04)
False Positives
4.18 (0.26)
5.44 (0.23)
3.2 (0.25)
1.28 (0.25)
Screen Moderate Risk
11.6 (0.722)
18.2 (0.762)
9.1 (0.719)
3.6 (0.714)
True high risk of-diabetes
0.65 (0.041)
3.94 (0.71)
0.71 (0.29)
0.29 (0)
False Positives
11 (0.682)
14.3 (8.4)
8.4 (3.4)
3.4 (0)
Cost Item
Total Cost
Cost Per Test
Assumption
Costs of providing CRF screening
Training (annual equivalent cost)
£55
£0.74
73 people screened per year in each practice
Total marketing (including leaflets, posters, hanging cards)
£155
£2.11
Printing: service/clinical/customer feedback forms
£26
£0.35
Healthcare assistant (HCA)
£235
£3.23
Total cost of CRF
£471
£6.44
Cost of HbA1c test
40.9 out of 73 individuals will receive HbA1c testing
HbA1c Analyser (annual equivalent cost)
£328
£8.02
Internal quality control, annual (6 samples)
£72
£1.76
External quality assurance, annual (6 samples)
£216
£5.29
Ecoloc bins collection annual fee
£67
£1.64
Pharmacist
£748
£18.29
Consumables
£190
£4.64
Total for HbA1c
£1621
£39.64
Average cost per person screened in pharmacy
£28.65
| Costs 2017 £ Sterling | Leicester | Surrey | Total |
| --- | --- | --- | --- |
| Costs of CRF screening | £1109 | £1057 | £2166 |
| Costs of HbA1c test | £3795 | £3691 | £7486 |
| Total costs of Screening | £4903 | £4748 | £9651 |
| Number appropriately referred | 0.642 | 0.420 | 1.062 |
| Cost per appropriately referred individual | £7638 | £11,297 | £9086 |
| Cost per appropriately referred individual assuming 60% attend medical practice | £12,730 | £18,828 | £15,142 |
* Data provided are subject to rounding errors within the underpinning data and are therefore approximations.

© 2019 by the authors. Licensee MDPI, Basel, Switzerland. This article is an open access article distributed under the terms and conditions of the Creative Commons Attribution (CC BY) license (http://creativecommons.org/licenses/by/4.0/).