Open Access This article is
freely available
re-usable
Article
The Effects of Historical Housing Policies on Resident Exposure to Intra-Urban Heat: A Study of 108 US Urban Areas
1
Science Museum of Virginia, Richmond, VA 23220, USA
2
Center for Environmental Studies, Virginia Commonwealth University, Richmond, VA 23220, USA
3
Nohad A. Toulan School of Urban Studies and Planning, Portland State University, Portland, OR 97201, USA
*
Author to whom correspondence should be addressed.
Received: 5 November 2019 / Accepted: 3 January 2020 / Published: 13 January 2020
Abstract
:
The increasing intensity, duration, and frequency of heat waves due to human-caused climate change puts historically underserved populations in a heightened state of precarity, as studies observe that vulnerable communities—especially those within urban areas in the United States—are disproportionately exposed to extreme heat. Lacking, however, are insights into fundamental questions about the role of historical housing policies in cauterizing current exposure to climate inequities like intra-urban heat. Here, we explore the relationship between "redlining", or the historical practice of refusing home loans or insurance to whole neighborhoods based on a racially motivated perception of safety for investment, with present-day summertime intra-urban land surface temperature anomalies. Through a spatial analysis of 108 urban areas in the United States, we ask two questions: (1) how do historically redlined neighborhoods relate to current patterns of intra-urban heat? and (2) do these patterns vary by US Census Bureau region? Our results reveal that 94% of studied areas display consistent city-scale patterns of elevated land surface temperatures in formerly redlined areas relative to their non-redlined neighbors by as much as 7 °C. Regionally, Southeast and Western cities display the greatest differences while Midwest cities display the least. Nationally, land surface temperatures in redlined areas are approximately 2.6 °C warmer than in non-redlined areas. While these trends are partly attributable to the relative preponderance of impervious land cover to tree canopy in these areas, which we also examine, other factors may also be driving these differences. This study reveals that historical housing policies may, in fact, be directly responsible for disproportionate exposure to current heat events.
Keywords:
urban heat islands; environmental justice; climate change; redlining
2. Materials and Methods
We use the University of Richmond's Digital Scholarship Lab's "Mapping Inequality" database (
Figure 2
a, Richmond, VA, USA, [
29
]) to download each available city's HOLC map shapefile individually (
n
= 239). To make analysis of Landsat-derived LST maps less computationally complex, we then condense the 239 unique HOLC maps into a database of 108 US cities or urban areas that overlap within Landsat 8 imagery tiles, and excluding any cities that were not mapped with at least one of all four HOLC security rating categories (
n
= 4). In some cases, HOLC map shapefile boundaries needed to remove overlapping security rating boundaries, boundary crossings over bodies of water, and to merge overlapping maps drawn in the same generalizable urban area and/or because they were drawn during different years (
Supplementary Materials I
).
We assess patterns of intra-urban land surface temperatures in the 108 HOLC areas using readily-accessible Landsat 8 satellite-derived northern hemisphere summertime (June–August) land surface temperatures (LSTs) following accepted United States Geological Survey calculation protocol (30 × 30 m resolution, TIRS Band 10, Normal Difference Vegetation Index [NDVI] emissivity corrected LST,
Figure 2
b [
20
,
30
,
31
]. This LST method relies on transforming raw Landsat 8 TIRS Band 10 data into top-of-atmosphere spectral radiance and then into at-sensor brightness temperatures. LST is then calculated by correcting the at-sensor brightness temperatures by surface emissivity calculated from the NDVI (derived from Bands 4 and 5 [
30
]). LST maps were only generated from imagery that satisfied a threshold for less than 10 percent scene cloud coverage and had to have been collected in the northern hemisphere summertime between 2014 and 2017. While these LST descriptions of intra-urban heat are coarse in spatial resolution and not the most representative of human-level, experiential air temperatures which are better resolved by dense networks of air temperature and humidity monitors [
13
,
32
], LST maps such as these have been widely applied to questions of large-scale patterns related to urban land use and heat-related public health outcomes for individual US cities [
20
,
33
].
We then use Zonal Statistics in ESRI's ArcGIS Spatial Analyst toolbox to estimate the mean of the derived Landsat 8 LSTs within each individual HOLC security rating polygon within a given urban area (e.g.,
Figure 2
b,c). We then estimate each individual HOLC security rating polygon's land surface temperature anomaly from the area-wide mean LST from all HOLC security rating polygons (referred to as δLST, Equation (1)).
This δLST estimate gives us the ability to show relatively how much warmer or cooler a particular HOLC security rating polygon is from the entire set of HOLC security rating polygons for a given urban area, and then compare these anomalies between cities in a quantitative manner.
We also estimate average percent developed impervious surface land cover [
34
] and tree canopy cover [
35
] within each HOLC polygon (
Figure 2
e,g) in each urban area as derived from the National Land Cover Database (NLCD) 2011 [
36
]. NLCD tree canopy percent is a 30 m raster dataset covering the coterminous United States, providing continuous percent tree canopy estimates derived from multi-spectral Landsat imagery for each 30 m pixel. NLCD imperviousness reports the percentage of urban developed surfaces that is impervious over every 30 m pixel in the coterminous United States and beyond. These estimates of underlying land use and overlying tree canopy may not sum to 100 percent, as tree canopy can exist over all land use types within a HOLC polygon and not all land use is necessarily impervious.
To compare δLST variations within and among HOLC security ratings between cities, we then average the estimated δLST by HOLC security rating category within each city. This binning by HOLC category yields how δLST varies between HOLC security ratings within each city. We then binned the δLSTs for each city at the national scale (
n
= 108) and by US Census Bureau regions: Northeast (
n
= 26), South (
n
= 29), Midwest (
n
= 41), and Western (
n
= 12). To estimate the significance of mean temperature differences between the HOLC security ratings by region and nationally, we apply a post-hoc ANOVA multiple comparisons test known as Tukey's Honest Significant Differences (HSD) Test. Tukey's HSD test estimates differences among group sample means for statistical significance. This pairwise post-hoc ANOVA test determines the statistical significance of differences between the mean of all pairs of group means using a studentized range distribution.
4. Discussion and Conclusions
We sought to understand the extent to which historic policies of redlining help to explain current patterns of intra-urban heat and the extent to which these patterns were consistent across US cities. Questions about the increasing economic inequality in US society motivated our inquiry and suggest several patterns related to historical federal housing policies and which communities experience the hottest areas of a city in the present day. Most notably, the consistency of greater temperature in formerly redlined areas across the vast majority (94%) of the cities included in this study indicates that current maps of intra-urban heat echo the legacy of past planning policies. While earlier studies document the lack of present-day services for and lower income of communities living in formerly redlined areas, this analysis presents an argument for understanding how global climate change will further exacerbate existing, historically-codified inequities in the US. We highlight three important dimensions of our findings—built environment, policies, and current inequities—as they relate to implications of these results.
While a growing body of evidence describes the intra-urban variation of temperatures due to characteristics of the built environment, few have asked why we observe a pattern of historically-marginalized communities living in the hottest areas. Here we have presented results from an analysis of 108 US cities that aimed to examine the role of historic "redlining" policies in mediating exposure to intra-urban heat. We found that in nearly all cases, those neighborhoods located in formerly redlined areas—that remain predominantly lower income and communities of color—are at present hotter than their non-redlined counterparts. Although the extent of differences in temperatures varies by region, the preponderance of evidence establishes that those experiencing the greatest exposure to present and potentially future extreme heat are living in neighborhoods with the least social and ecosystem services historically.
Supplementary Materials
The following are available online at
https://www.mdpi.com/2225-1154/8/1/12/s1
, Figure S1: Comparison of urban areas of relatively large or small differences in LSTs between HOLC grades, Table S1: Urban area-specific results from our LST analysis.
Author Contributions
J.S.H. conceived the project and coordinated the analysis, advised interpretation, and contributed to the manuscript, created figures, and coordinated the responses to reviewers. V.S. provided major contributions to the manuscript including context, interpretation, editorialization, and literature review and references. N.P. performed HOLC map and satellite imagery download and spatial analyses. All authors have read and agreed to the published version of the manuscript.
Funding
This research involved no external funding.
Acknowledgments
J.S.H. thanks the NOAA Office of Education Environmental Literacy Program, the Virginia Academy of Science, Groundwork RVA, Virginia Commonwealth University SustainLab, University of Richmond Spatial Analysis and Digital Scholarship Labs, and the City of Richmond Sustainability Office. J.S.H. and V.S. acknowledge support from the NOAA Climate Program Office, and U.S. Forest Service's National Urban and Community Forestry Challenge Grants Program (No. 17-DG-11132544-014). N.P. acknowledges the work study program at the Virginia Commonwealth University. The authors thank four anonymous reviewers for their thoughtful and thorough consideration.
Conflicts of Interest
The authors declare no conflict of interest.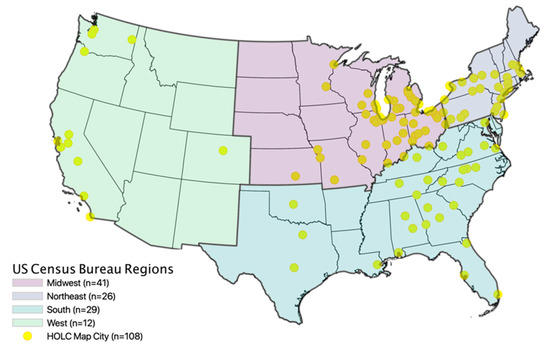 Figure 1.
Map of 108 US cities with HOLC Residential Security maps included in this study. These areas may include several smaller-area HOLC maps that have been aggregated into a larger urban area (
Supplementary Materials I
).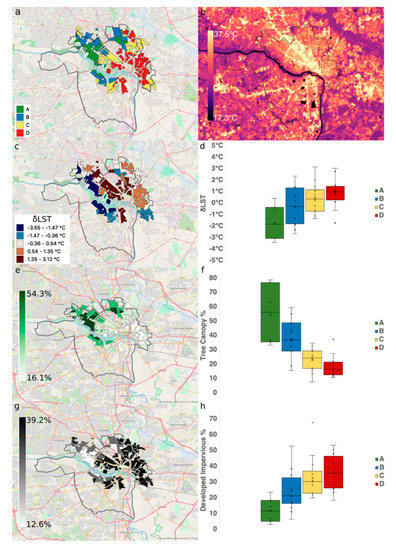 Figure 2.
Demonstration of HOLC Security Grade δLST and land cover analysis for Richmond, VA (grey outline). (
a
) HOLC Polygons for Richmond, VA [
29
] (see Introduction text for explanations of HOLC security grade color designations), (
b
) LST map for Richmond, VA derived from Landsat 8 TIRS Band 10 imagery collected on 2 July 2016, and (
c
) Resulting δLSTs in HOLC polygons calculated as the anomaly of an individual HOLC polygon to the city-wide HOLC polygon average LST (see Equation (1)), (
d
) box–whisker plot of the δLSTs presented in (
c
) binned by HOLC security rating (see Introduction text for explanations of designations), (
e
) percent tree canopy from NLCD 2011 [
36
] averaged into HOLC polygons, (
f
) box–whisker plot of the δLSTs presented in (
e
) binned by HOLC security rating, (
g
) percent developed impervious surface from NLCD 2011 [
36
] averaged into HOLC polygons, (
h
) box–whisker plot of the average imperviousness presented in (
g
) binned by HOLC security rating.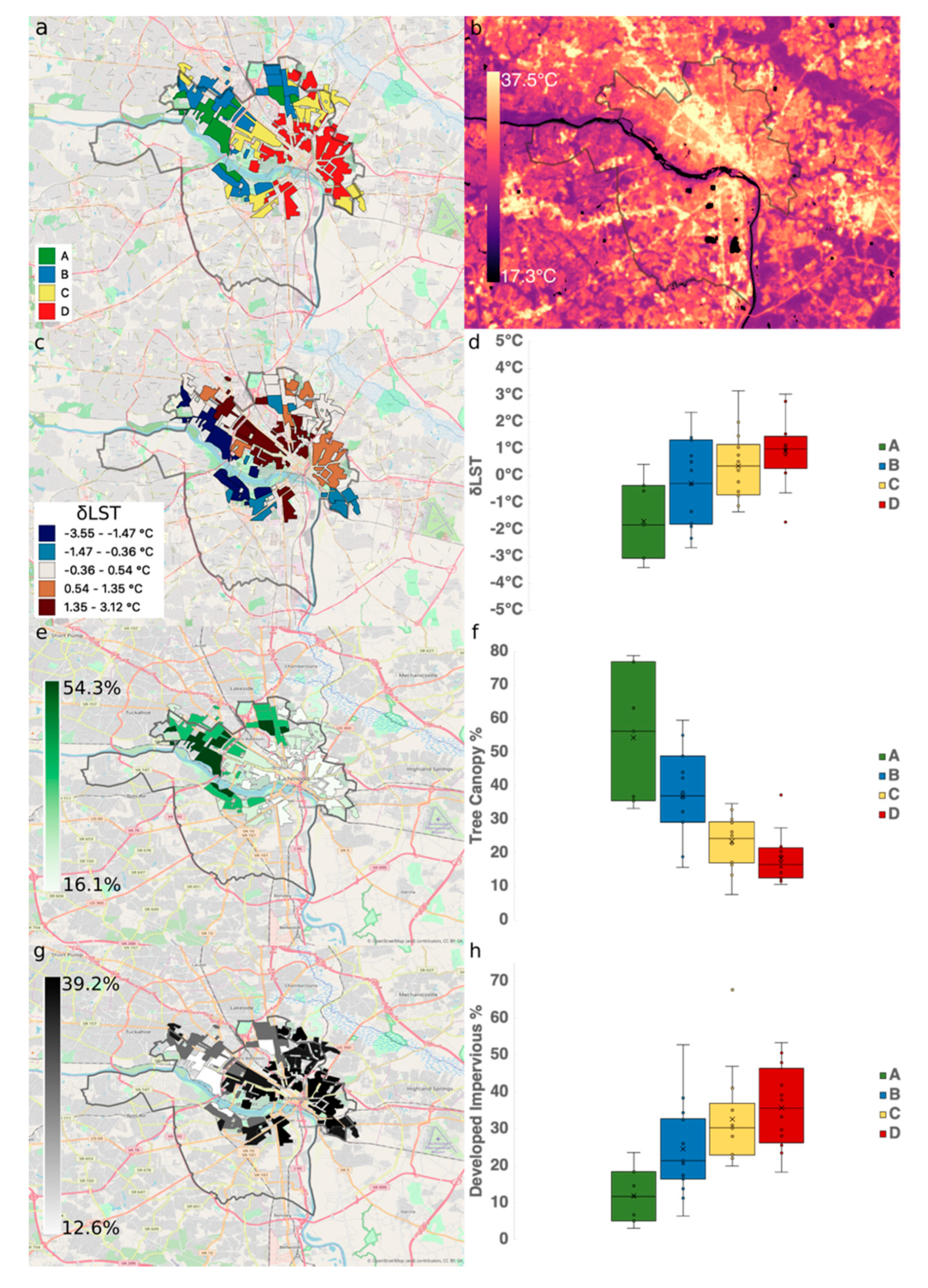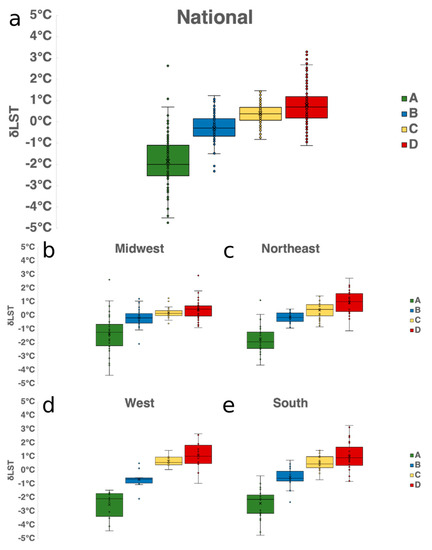 Figure 3. (a) National-scale Land Surface Temperature Anomalies by HOLC security rating (Green, "Best," A; Blue, "Still Desirable," B; Yellow, "Definitely Declining," C; Red, "Hazardous," D) (b) same as (a), but for the Midwest region; (c) same as (b), but for Northeast region; (d) same as (b), but for West region; (e) same as (b), but for South region.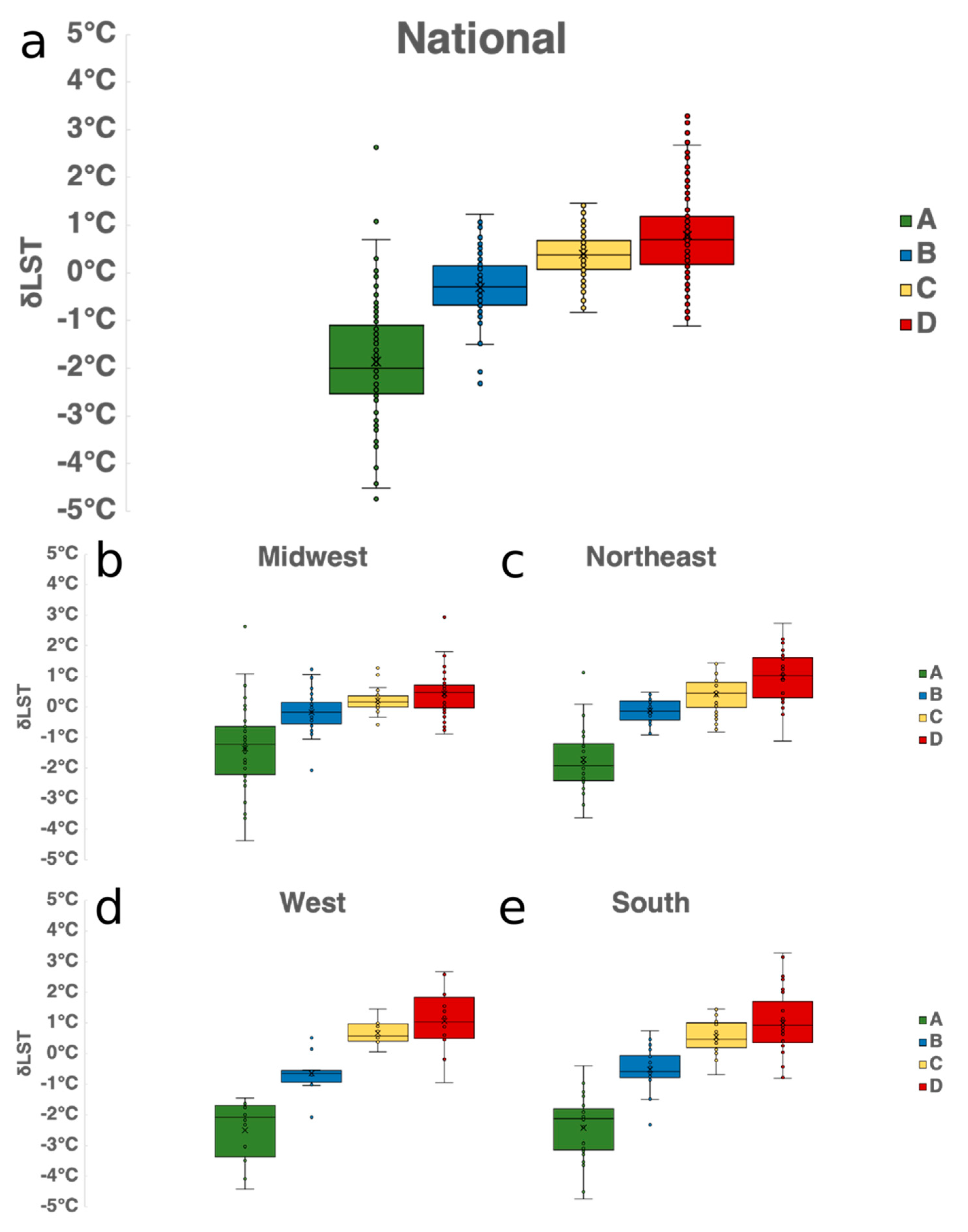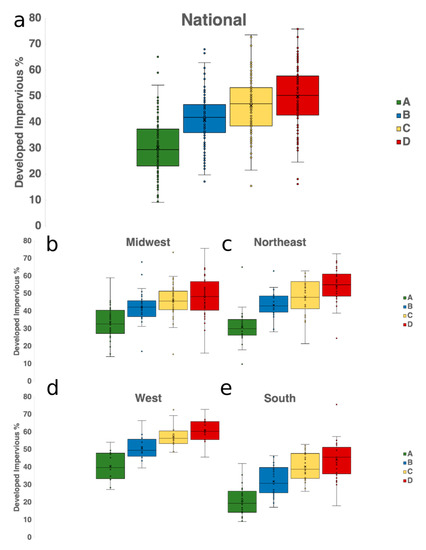 Figure 4.
(
a
) National-scale averages of underlying percent developed impervious surface [
36
] by HOLC security rating (Green, "Best," A; Blue, "Still Desirable," B; Yellow, "Definitely Declining," C; Red, "Hazardous," D), (
b
) same as (
a
), but for the Midwest region; (
c
) same as (
b
), but for Northeast region; (
d
) same as (
b
), but for West region; (
e
) same as (
b
), but for South region.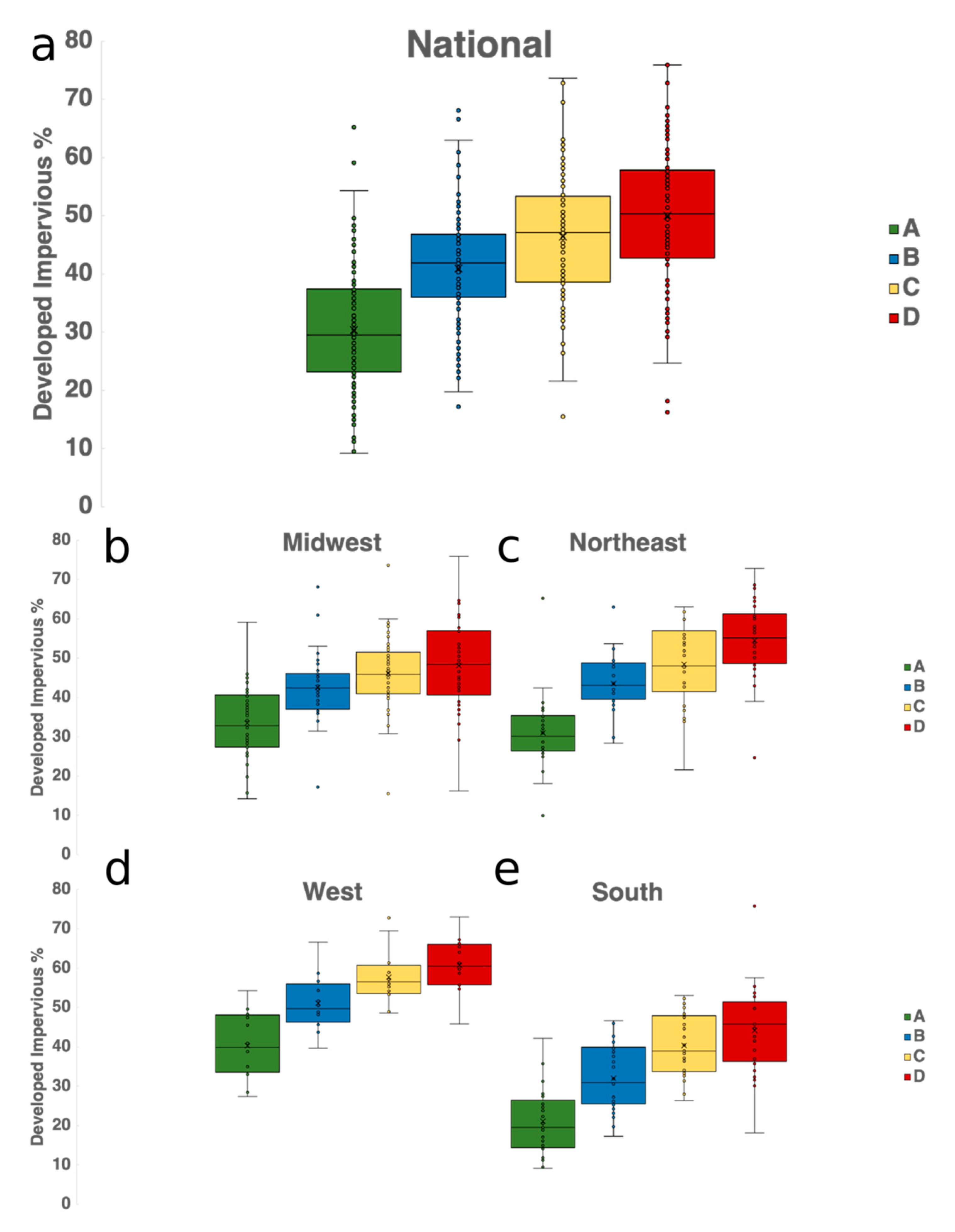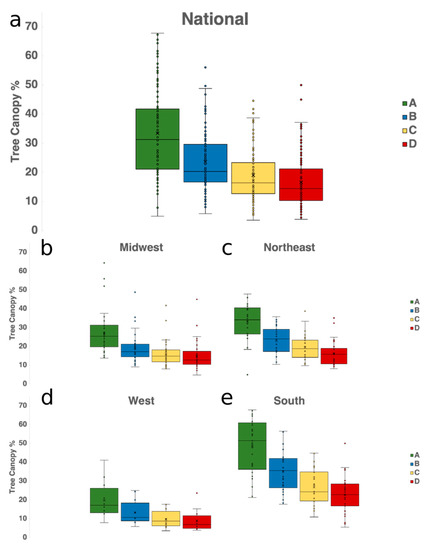 Figure 5.
(
a
) National-scale averages of percent tree canopy [
35
,
36
] by HOLC security rating (Green, "Best," A; Blue, "Still Desirable," B; Yellow, "Definitely Declining," C; Red, "Hazardous," D), (
b
) same as (
a
), but for the Midwest region; (
c
) same as (
b
), but for Northeast region; (
d
) same as (
b
), but for West region; (
e
) same as (
b
), but for South region.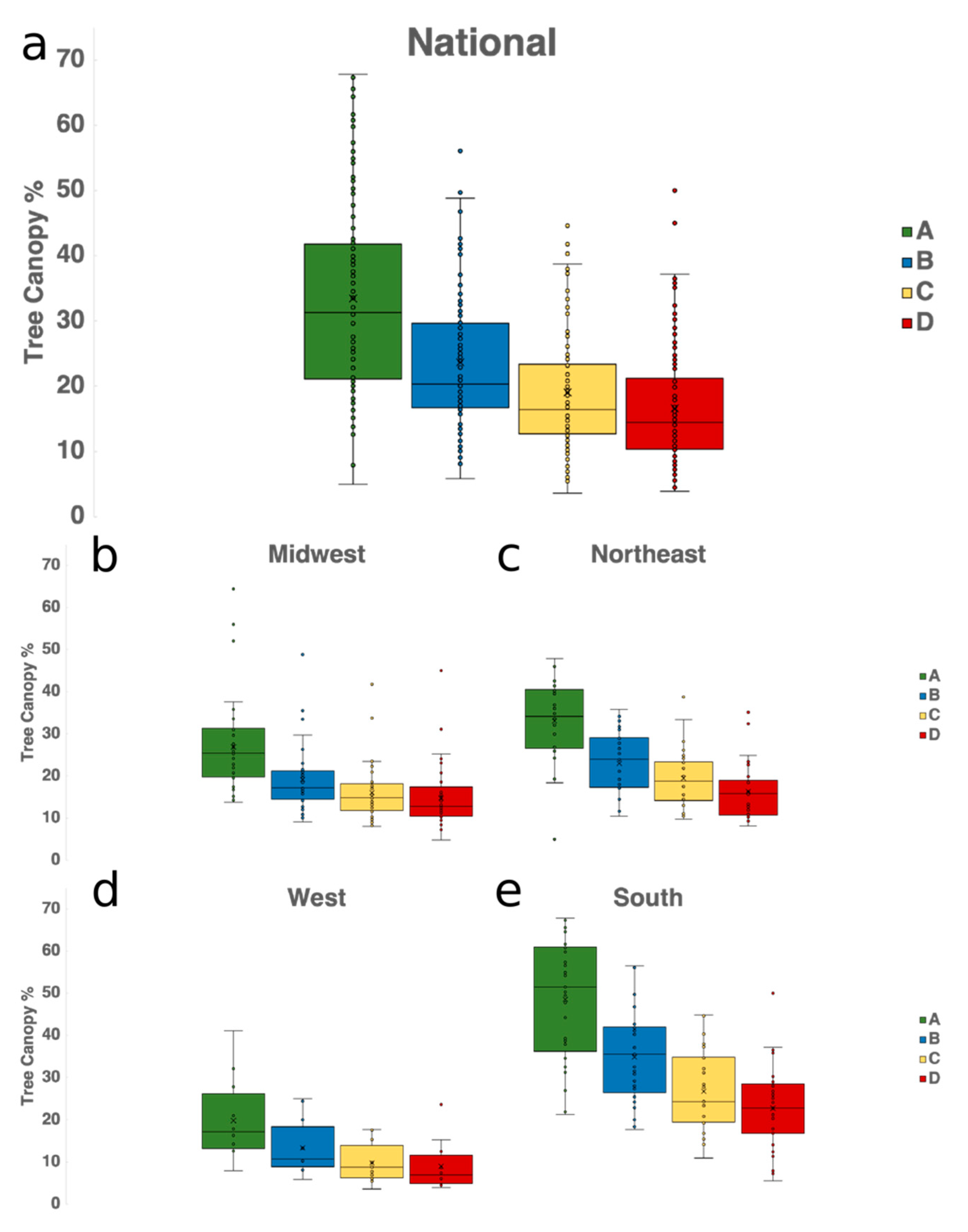 © 2020 by the authors. Licensee MDPI, Basel, Switzerland. This article is an open access article distributed under the terms and conditions of the Creative Commons Attribution (CC BY) license (http://creativecommons.org/licenses/by/4.0/).