Comparison of Sugar Profile between Leaves and Fruits of Blueberry and Strawberry Cultivars Grown in Organic and Integrated Production System
1
Faculty of Agriculture, University of Belgrade, 11080 Belgrade, Serbia
2
Faculty of Chemistry, University of Belgrade, 11158 Belgrade, Serbia
3
Innovation Center, Faculty of Chemistry, University of Belgrade, 11158 Belgrade, Serbia
4
Norwegian Institute of Bioeconomy Research-NIBIO Ullensvang, 5781 Lofthus, Norway
*
Author to whom correspondence should be addressed.
Received: 13 May 2019 / Revised: 14 June 2019 / Accepted: 19 June 2019 / Published: 4 July 2019
Abstract
The objective of this study was to determine and compare the sugar profile, distribution in fruits and leaves and sink-source relationship in three strawberry ('Favette', 'Alba' and 'Clery') and three blueberry cultivars ('Bluecrop', 'Duke' and 'Nui') grown in organic (OP) and integrated production systems (IP). Sugar analysis was done using high-performance anion-exchange chromatography (HPAEC) with pulsed amperometric detection (PAD). The results showed that monosaccharide glucose and fructose and disaccharide sucrose were the most important sugars in strawberry, while monosaccharide glucose, fructose, and galactose were the most important in blueberry. Source-sink relationship was different in strawberry compared to blueberry, having a much higher quantity of sugars in its fruits in relation to leaves. According to principal component analysis (PCA), galactose, arabinose, and melibiose were the most important sugars in separating the fruits of strawberries from blueberries, while panose, ribose, stachyose, galactose, maltose, rhamnose, and raffinose were the most important sugar component in leaves recognition. Galactitol, melibiose, and gentiobiose were the key sugars that split out strawberry fruits and leaves, while galactose, maltotriose, raffinose, fructose, and glucose divided blueberry fruits and leaves in two groups. PCA was difficult to distinguish between OP and IP, because the stress-specific responses of the studied plants were highly variable due to the different sensitivity levels and defense strategies of each cultivar, which directly affected the sugar distribution. Due to its high content of sugars, especially fructose, the strawberry cultivar 'Clery' and the blueberry cultivars 'Bluecrop' and 'Nui' could be singled out in this study as being the most suitable cultivars for OP.
View Full-Text
►

▼

Figures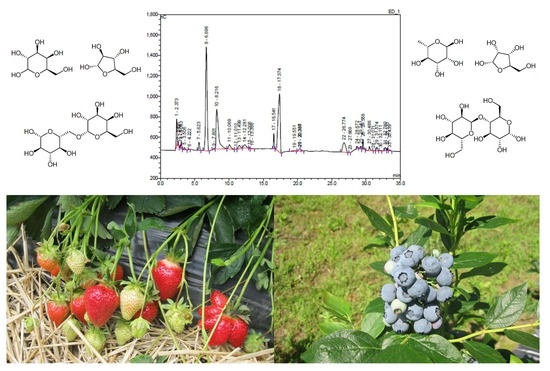 Graphical abstract
This is an open access article distributed under the
Creative Commons Attribution License
which permits unrestricted use, distribution, and reproduction in any medium, provided the original work is properly cited (CC BY 4.0).

Share & Cite This Article
MDPI and ACS Style
Akšić, M.F.; Tosti, T.; Sredojević, M.; Milivojević, J.; Meland, M.; Natić, M. Comparison of Sugar Profile between Leaves and Fruits of Blueberry and Strawberry Cultivars Grown in Organic and Integrated Production System. Plants 2019, 8, 205.
Note that from the first issue of 2016, MDPI journals use article numbers instead of page numbers. See further details here.
Related Articles
Comments
[Return to top]