Molecular Insights into FaEG1, a Strawberry Endoglucanase Enzyme Expressed during Strawberry Fruit Ripening
1
Instituto de Ciencias Biológicas, Universidad de Talca, Talca 3465548, Chile
2
Multidisciplinary Agroindustry Research Laboratory, Instituto de Químicas Aplicadas, Universidad Autónoma de Chile, Talca 3460000, Chile
3
Núcleo Científico Multidiciplinario-DI, Universidad de Talca, Talca 3465548, Chile
4
Multidisciplinary Agroindustry Research Laboratory, Instituto de Ciencias Biomédicas, Facultado de Ingeniería, Universidad Autónoma de Chile, Talca 3460000, Chile
*
Authors to whom correspondence should be addressed.
Received: 23 April 2019 / Revised: 18 May 2019 / Accepted: 25 May 2019 / Published: 28 May 2019
Abstract
The endo-β-1,4-glucanases (EGs) that belong to the glycosyl hydrolase family 9 (GH9) have roles in cell wall synthesis, remodeling and degradation. Previous studies have suggested that EGs may play a key role in the ripening of different fruits including strawberries. In this study, we used reverse-transcription quantitative polymerase chain reaction (RT-qPCR) assays to determine the transcript accumulation of an endo-β-1,4-glucanase (
FaEG1
) during fruit development in two different strawberry 'Camarosa' and 'Monterey' with contrasting softening ratios. Phylogenetic analyses suggest that
FaEG1
belongs to the α group of the GH9 family with other proteins previously described with roles in elongation, abscission and ripening. Comparative modeling was used to obtain the FaEG1 structure. The model displays a α-barrel–type structure that is typical of the GH9 enzyme family, and comprises 12 α-helices, 2 3
10
helices and 6 β-sheets. The catalytic residues were oriented to the solvent in the middle of an open groove. Protein–ligand interactions were explored with cellulose and two xyloglucans as ligands; the results suggest that the FaEG1-cellulose and FaEG1-XXXGXXXG (the most abundant xyloglucan in strawberries) complexes were more stable complexes than XXFGXXFG. The cell wall degradation was observed by scanning electron microscopy (SEM). The data are congruent with the probable role of the FaEG1 protein in the dissembly of the cellulose-hemicellulose fraction during the ripening of strawberry fruit.
View Full-Text
►

▼

Figures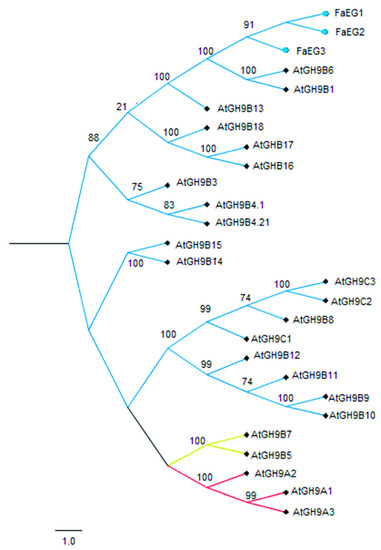 Figure 1
This is an open access article distributed under the
Creative Commons Attribution License
which permits unrestricted use, distribution, and reproduction in any medium, provided the original work is properly cited (CC BY 4.0).

Share & Cite This Article
MDPI and ACS Style
Jara, K.; Castro, R.I.; Ramos, P.; Parra-Palma, C.; Valenzuela-Riffo, F.; Morales-Quintana, L. Molecular Insights into FaEG1, a Strawberry Endoglucanase Enzyme Expressed during Strawberry Fruit Ripening. Plants 2019, 8, 140.
Note that from the first issue of 2016, MDPI journals use article numbers instead of page numbers. See further details here.
Related Articles
Comments
[Return to top]