Open Access This article is
freely available
re-usable
Article
New Insights on
Lilium
Phylogeny Based on a Comparative Phylogenomic Study Using Complete Plastome Sequences
1
Institute of Agricultural Science and Technology, Chungbuk National University, Chungbuk, 28644, Korea
2
Department of Horticulture, Kyungpook National University, Daegu, 41566, Korea
3
Department of Forest Science, Chungbuk National University, Chungbuk, 28644, Korea
*
Author to whom correspondence should be addressed.
Received: 6 November 2019 / Accepted: 22 November 2019 / Published: 27 November 2019
Abstract
:
The genus
Lilium
L. is widely distributed in the cold and temperate regions of the Northern Hemisphere and is one of the most valuable plant groups in the world. Regarding the classification of the genus
Lilium
, Comber's sectional classification, based on the natural characteristics, has been primarily used to recognize species and circumscribe the sections within the genus. Although molecular phylogenetic approaches have been attempted using different markers to elucidate their phylogenetic relationships, there still are unresolved clades within the genus. In this study, we constructed the species tree for the genus using 28
Lilium
species plastomes, including three currently determined species (
L. candidum
,
L. formosanum
, and
L. leichtlinii
var.
maximowiczii
). We also sought to verify Comber's classification and to evaluate all loci for phylogenetic molecular markers. Based on the results, the genus was divided into two major lineages, group A and B, consisting of eastern Asia + Europe species and Hengduan Mountains + North America species, respectively. Sectional relationships revealed that the ancestor
Martagon
diverged from
Sinomartagon
species and that
Pseudolirium
and
Leucolirion
are polyphyletic. Out of all loci in that
Lilium
plastome,
ycf1
,
trnF-ndhJ
, and
trnT-psbD
regions are suggested as evaluated markers with high coincidence with the species tree. We also discussed the biogeographical diversification and long-distance dispersal event of the genus.
Keywords:
Lilium
; phylogenomics; plastome; molecular markers; gene tree; species tree
Supplementary Materials
The following are available online at
https://www.mdpi.com/2223-7747/8/12/547/s1
, Figure S1: A clade of
Lilium
species extracted from 28 species trees, Figure S2: Gene trees constructed using 78 coding regions. Coloured line refers to each genus, Figure S3: Gene trees constructed using 90 intergenic spacers. Coloured line refers to each genus, Figure S4: Gene trees were constructed using 21 introns. Coloured line refers to each genus, Figure S5: Large indertions/deletions occurring at least five species with longer than 50 bp. Red line distinguishes between two groups, Table S1: Summary of three plastome sequences, Table S2: List of estimated species trees according to different options, Table S3: 189 loci used for phylogenetic analyses in this paper.
Author Contributions
Performed research design, writing of the manuscript, lab work, and data analysis, H.T.K.; collected samples and edited the manuscript, K.-B.L.; contributed to the writing and editing of the manuscript, J.S.K.
Funding
This research was supported by the Basic Science Research Program through the National Research Foundation of Korea (NRF) funded by the Ministry of Education (Project No. NRF-2017R1D1A1A02018573/2016R1D1A1B04932913).
Acknowledgments
We thank Ji-Hyang Park for growing the plants from seeds and bulbs.
Conflicts of Interest
The authors declare that the research was conducted in the absence of any commercial or financial relationships that could be construed as a potential conflict of interest.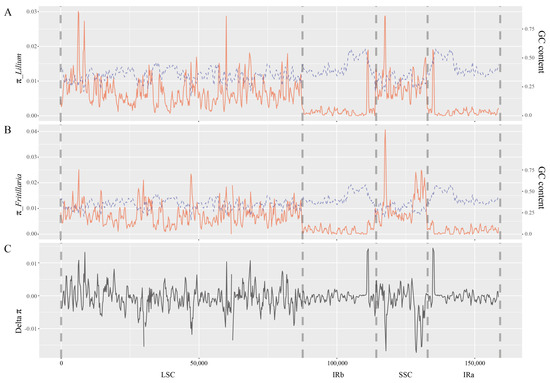 Figure 1. Nucleotide diversity (π) and GC content throughout the plastome sequence according to sliding window analysis (window size = 600 bp, step size = 200 bp). The red line and blue dashed line refer to π and GC content, respectively. The vertical dashed grey lines refer to the approximate boundaries of the plastome structure.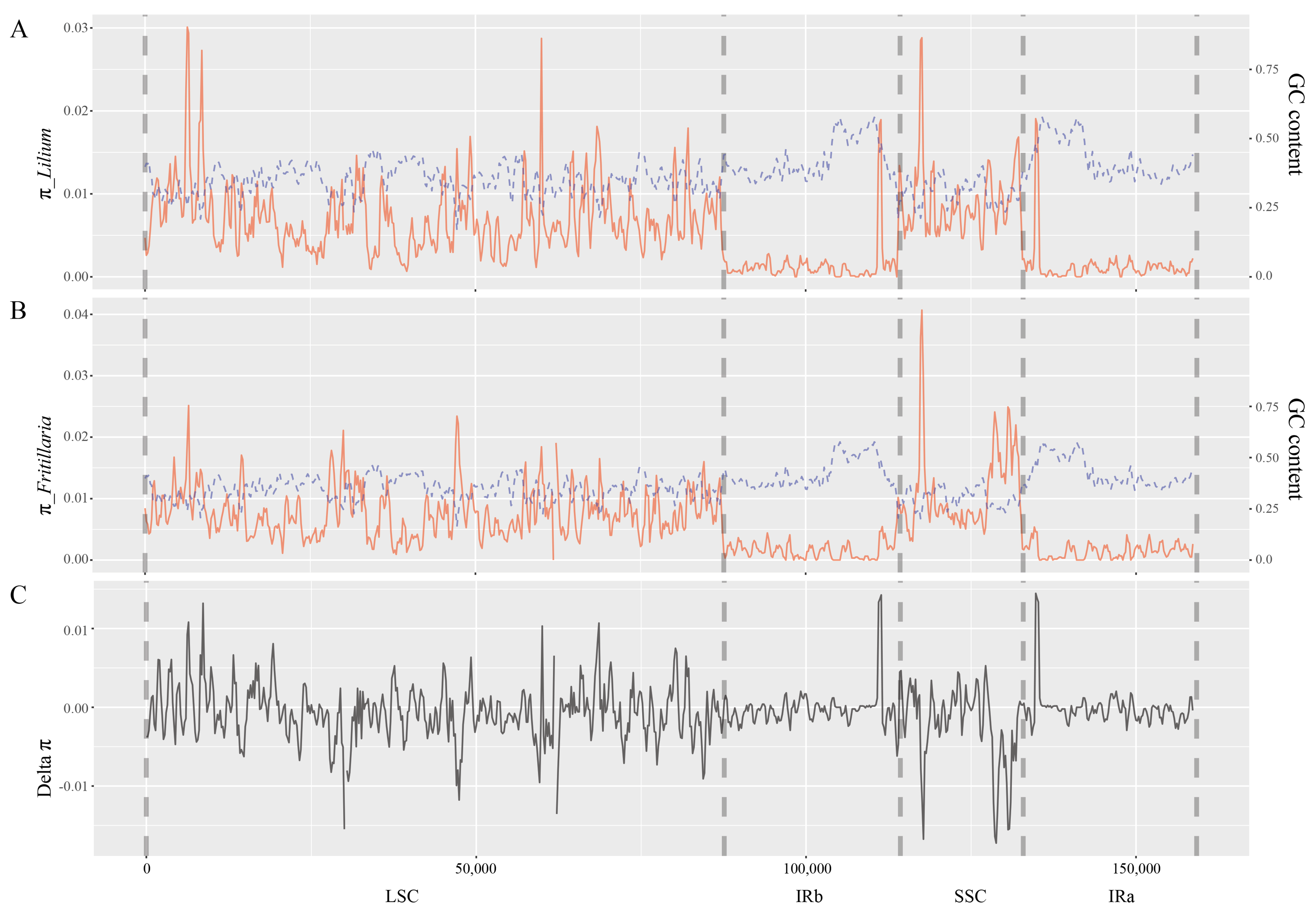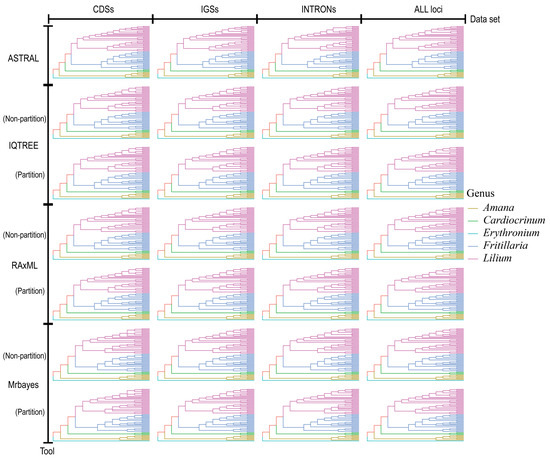 Figure 2. Phylogenetic trees based on four tools (ASTRAL, IQ-TREE, RAxML, and MrBayes) using four datasets (genes, introns, intergenic spacers, and all regions) and two different models (partition model and non-partition model of the dataset). The colored line refers to each genus.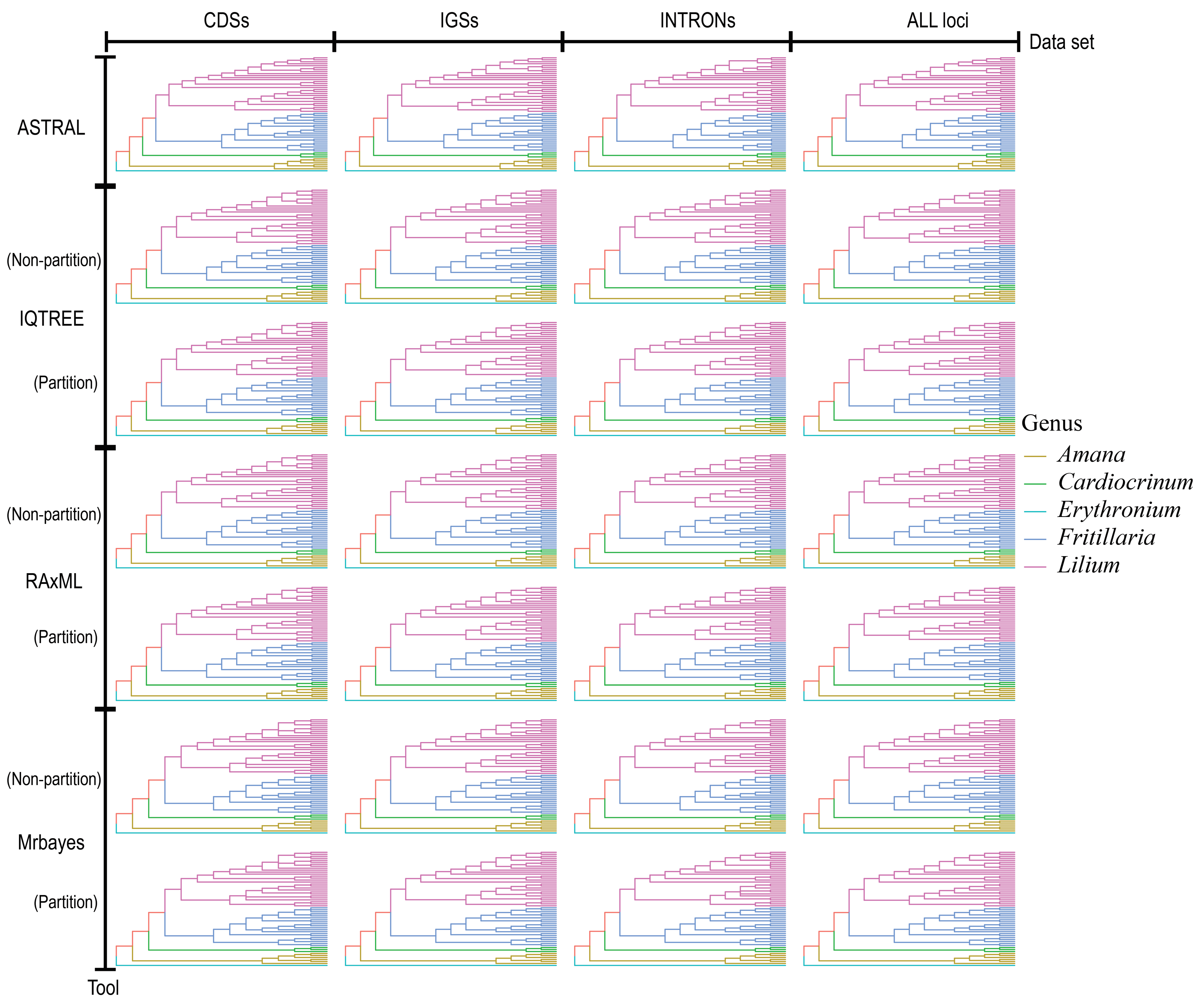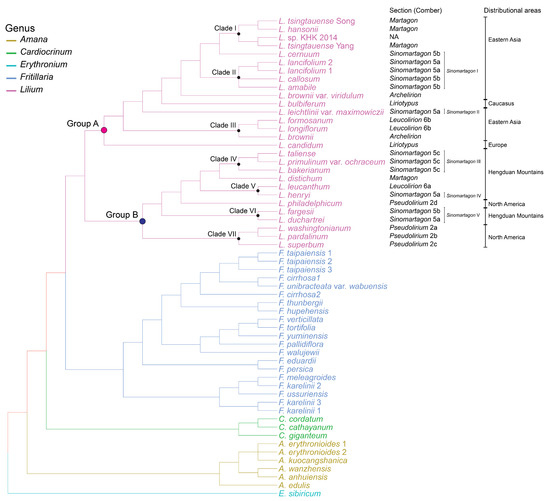 Figure 3.
Consensus tree of 28 phylogenies based on four tools (ASTRAL, IQ-TREE, RAxML, and MrBayes) using four datasets (genes, introns, intergenic spacers, and all regions) and two different models (partition model and non-partition model of the dataset). The colored line refers to each genus. The distribution areas of clades are based on Gao et al. [
41
] and Xinqi et al. [
42
].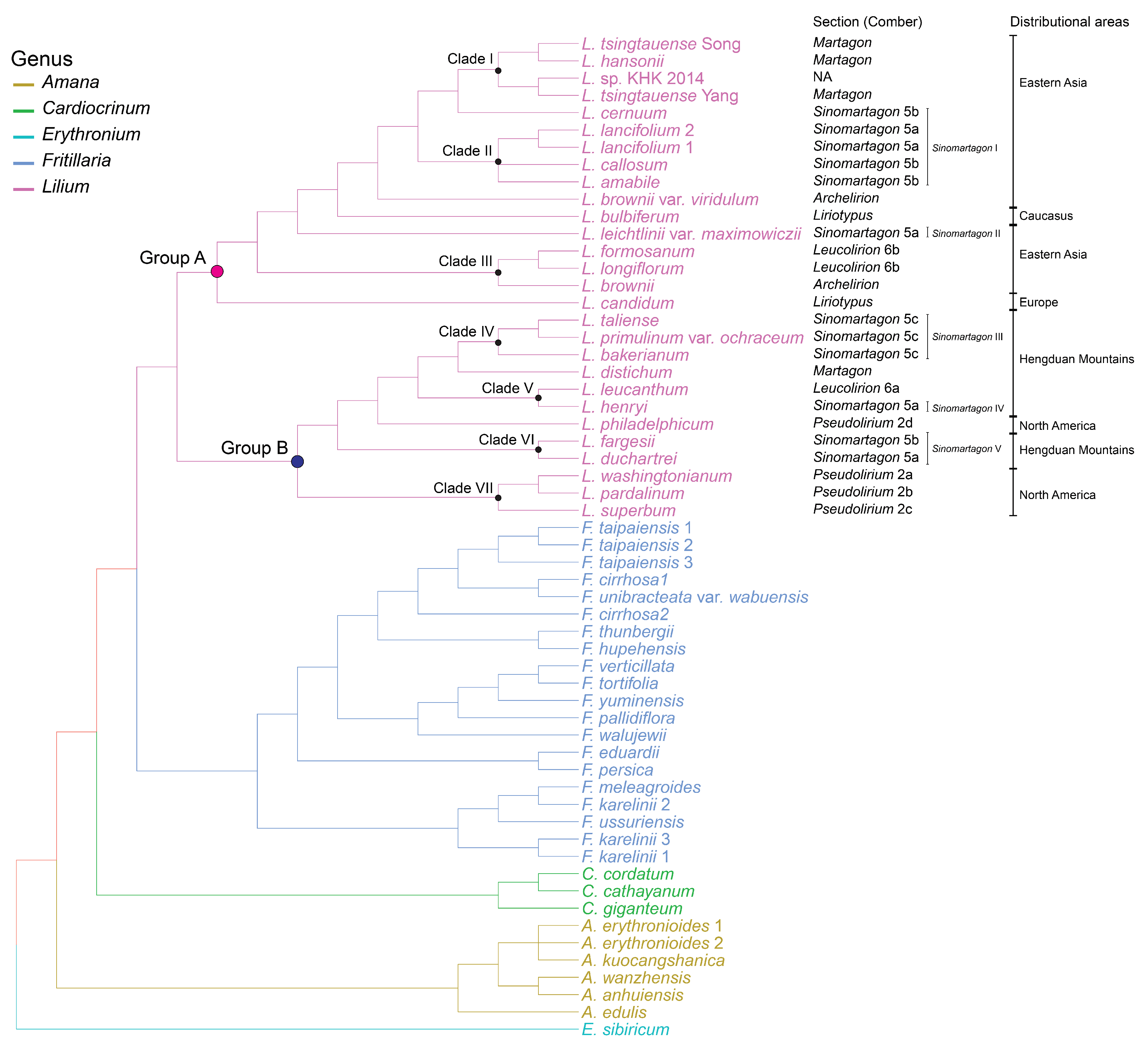 Figure 4. Hierarchical cluster analysis for 190 trees, including 189 gene trees and a consensus tree. The horizontal dashed line refers to the cut-off value for cluster trees.


Figure 5.
Inverted repeat (IR) expansion and contraction in
Lilium
. Pale grey refers to bases and colors on the bases represent disagreements with the consensus sequence. The red, blue, brown, and green blocks below bases stand for the large single copy (LSC) region, IRb region, small single copy (SSC) region, and IRa region, respectively. The tree on the left is constructed using Bayesian inference with all loci and partition models.

Taxon
No. of Raw Reads (≥50 bp)
No. of Mapped Reads
Average Coverage
SRA a Accession

Lilium candidum

89,224,524
1,187,028
1134.7
SRR7617960, SRR7617961

Lilium leichtlinii

var.

maximowiczii

35,028,408
568,878
520.1
SRR7617965

Lilium formosanum

80,985,606
1,945,534
1840.6
SRR7617963, SRR7617964

Table 2. Information on 21 clustered trees using treespace, with five principal components and 100 cut-off distance.
Cluster
Clustered Trees
No. of Trees
1

accD; ndhG; psbB; rpl20; rpl32; rpl33; rps19; accD_psaI; psaJ_rpl33; trnS_trnG; ycf4_cemA; trnK_intron2

12
2

atpA; ccsA; ndhA; ndhH; atpF_atpH; petA_psbJ; rpoB_trnC; rps15_ycf1; rps16_trnQ; trnE_trnT; trnT_trnL; rpoC1_intron

12
3

atpE; rps15; ndhH_rps15; ndhJ_ndhK; trnW_trnP

5
4

atpF; petG; psbH; psbT; ndhG_ndhI; petB_petD; psbA_trnK; trnN_ycf1

8
5

atpH; ndhC; psaI; psbE; psbF; psbJ; rpl2; rpl16; rpl23; ccsA_ndhD; petL_petG; trnA_rrn23; trnV_rrn16

13
6

atpI; ndhD_psaC; ndhF_rpl32; rpl14_rpl16; rps19_trnH; rrn5_trnR; trnS_rps4

7
7

cemA; petB; rbcL; rpl22; rps3; rps18; ndhC_trnV; rps11_rpl36; rps14_psaB; trnK_rps16; trnR_trnN

11
8

clpP; rps11; trnI_intron

3
9

matK; ndhB; ndhI; rpl14; rps7; rps14; psbE_petL; psbH_petB; psbJ_psbL; rps4_trnT; trnG_trnfM; trnL_ndhB; trnL_trnF; clpP_intron1; petB_intron; trnG_intron

16
10

ndhD; ndhF; ndhK; petA; psaA; rpoB; rpoC1; rpoC2; ycf1; ycf2; atpH_atpI; trnF_ndhJ; trnQ_psbK; trnS_psbZ; trnT_psbD; ycf3_trnS; atpF_intron; ndhA_intron; petD_intron; rpl16_intron; rps16_intron;

Consensus tree of species trees
22
11

ndhE; ndhJ; psbC; rpoA; rps16; clpP_psbB; rps2_rpoC2; ycf2_trnL

8
12

petN; psbL; psbN; rps12_intron

4
13

psaB; psbA; rps8; psbM_trnD; rrn16_trnI; trnP_psaJ

6
14

psaC; psaJ; psbM; ndhB_rps7; psbN_psbH; rpl23_trnI

6
15

psbD; psaA_ycf3; rps12_trnV; trnV_trnM; ndhB_intron; rpl2_intron

6
16

psbK; psbZ; rps12; psbC_trnS; rrn4.5_rrn5; trnA_intron

6
17

rps2; rps4; trnV_intron

3
18

ycf4; petG_trnW; petN_psbM; trnC_petN; ycf3_intron2

5
19

atpI_rps2; cemA_petA; ndhE_ndhG; rpl32_trnL; rpl33_rps18; rpl36_rps8; trnD_trnY

7
20

psbI_trnS; rps8_rpl14; trnR_atpA

3
21

rpl16_rps3; trnfM_rps14; trnM_atpE

3

© 2019 by the authors. Licensee MDPI, Basel, Switzerland. This article is an open access article distributed under the terms and conditions of the Creative Commons Attribution (CC BY) license (http://creativecommons.org/licenses/by/4.0/).