Open Access This article is
freely available
re-usable
Article
THROUGH THE LOOKING GLASS: Real-Time Imaging in Brachypodium Roots and Osmotic Stress Analysis
1
Molecular Biology, Genetics and Bioengineering Program, Faculty of Engineering and Natural Sciences, Sabanci University, Istanbul 34956, Turkey
2
Mechatronics Program, Faculty of Engineering and Natural Sciences, Sabanci University, Istanbul 34956, Turkey
3
Sabanci University SUNUM Nanotechnology Research and Application Centre, Istanbul 34956, Turkey
4
Cereal Genomics Lab, Department of Plant Sciences and Plant Pathology, Montana State University, Bozeman, MT 59717, USA
*
Author to whom correspondence should be addressed.
Received: 17 November 2018 / Accepted: 4 January 2019 / Published: 8 January 2019
Abstract
:
To elucidate dynamic developmental processes in plants, live tissues and organs must be visualised frequently and for extended periods. The development of roots is studied at a cellular resolution not only to comprehend the basic processes fundamental to maintenance and pattern formation but also study stress tolerance adaptation in plants. Despite technological advancements, maintaining continuous access to samples and simultaneously preserving their morphological structures and physiological conditions without causing damage presents hindrances in the measurement, visualisation and analyses of growing organs including plant roots. We propose a preliminary system which integrates the optical real-time visualisation through light microscopy with a liquid culture which enables us to image at the tissue and cellular level horizontally growing Brachypodium roots every few minutes and up to 24 h. We describe a simple setup which can be used to track the growth of the root as it grows including the root tip growth and osmotic stress dynamics. We demonstrate the system's capability to scale down the PEG-mediated osmotic stress analysis and collected data on gene expression under osmotic stress.
Keywords:
Brachypodium; neutral red; root; Casparian bands; PEG-6000; osmotic stress; real-time imaging; PDMS
Supplementary Materials
The following are available online at
https://www.mdpi.com/2223-7747/8/1/14/s1
, Figure S1: Testing Brachypodium seedlings for orientation, compatibility and growth, Figure S2: Potential of a plant-on-a-chip setup for Brachypodium seeds. Table S1: Primers used for qRT-PCR.
Author Contributions
H.B. conceived the study. H.B., M.Y. and Z.K. designed the experiments and drafted the manuscript. H.K. and M.E. fabricated the PDMS device. Z.K. performed the experiments and analyses.
Funding
This research received no external funding
Acknowledgments
The authors acknowledge PhD candidate Soheila Zeinali (ARTORG Centre for Biomedical Engineering Research, Organs-on-Chip Technologies, University of Bern, Switzerland) for fabrication of the preliminary 3-punch device.
Conflicts of Interest
The authors declare no conflict of interest.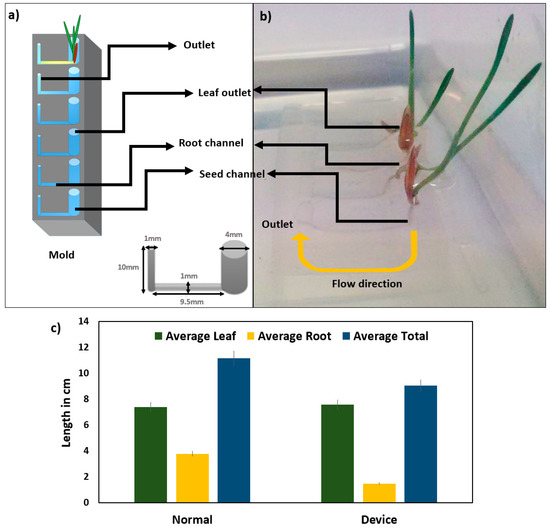 Figure 1. PDMS mold for growth and visualisation analysis. The mold used to construct the PDMS plant chip device (a,b) and comparison of the leaf and root growth in solid MS media plates and the plant chip device (c). Standard deviations were calculated from the mean values of the three samples.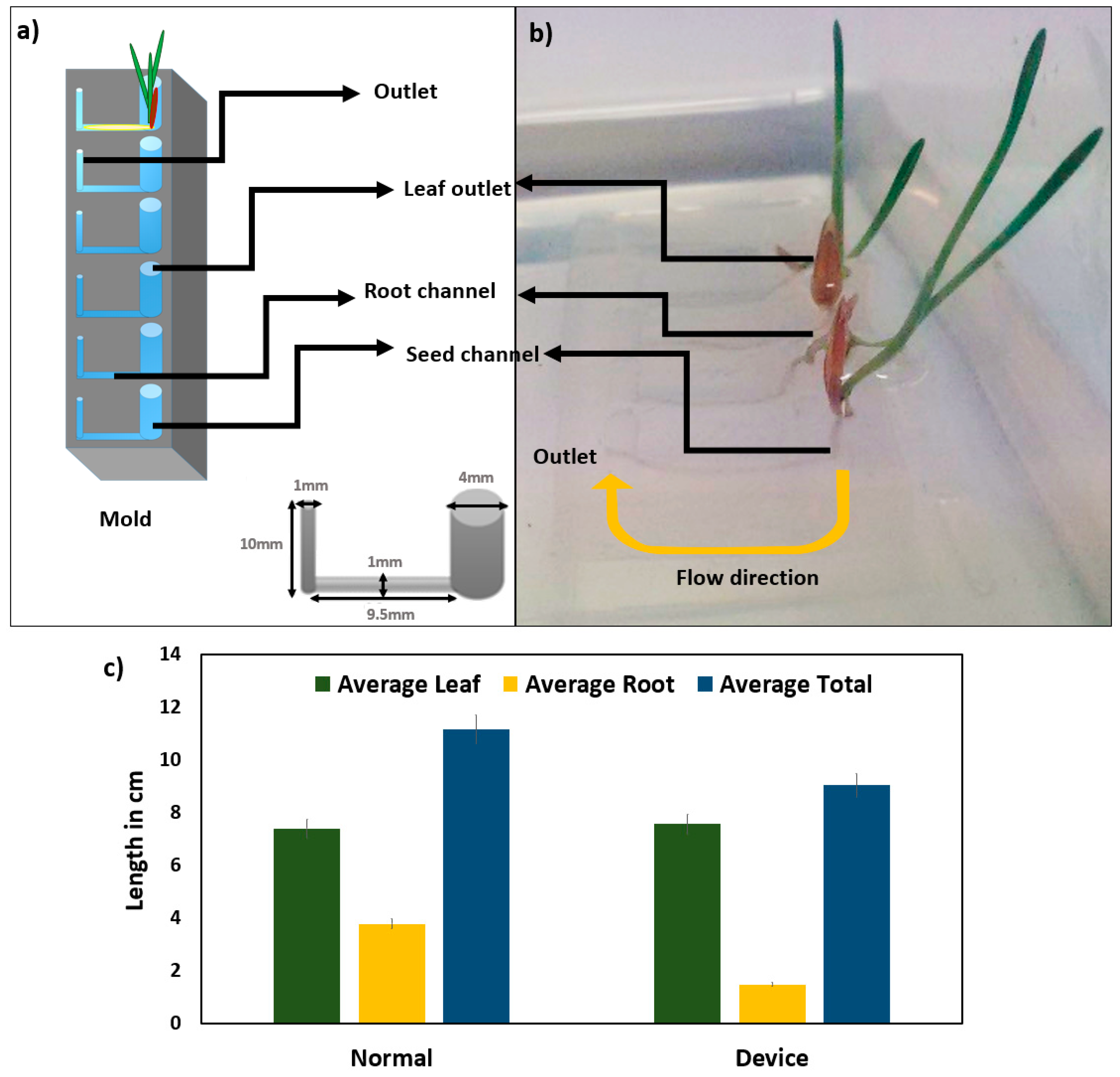 Figure 2. Two experimental setups for imaging were illustrated. Top imaging (a) and bottom imaging (b). Three days-old seedlings having roots were mounted into wells for the top and bottom imaging. Top imaging studies were conducted with a Nikon SMZ 1500 stereomicroscope (Japan) while the fluorescent imaging studies were conducted with a Zeiss Axio Vert.A1 inverted microscope (Germany). The mold dimensions were 10 mm height, 9.5 mm channel length, 1 mm outlet diameter, and each seed channel 4 mm in diameter.


Figure 3. Growth trends of Brachypodium under normal and osmotic stress. The growth curve of the seedlings in 24 h (a). The growth trend of two seedlings under PEG stress for 12 h (b,c). The coloured lines depict two seedling roots. B is the growth in mm per minute, and C shows the overall change in length in the root over time. Standard deviations were calculated from the mean values of three independent seedlings.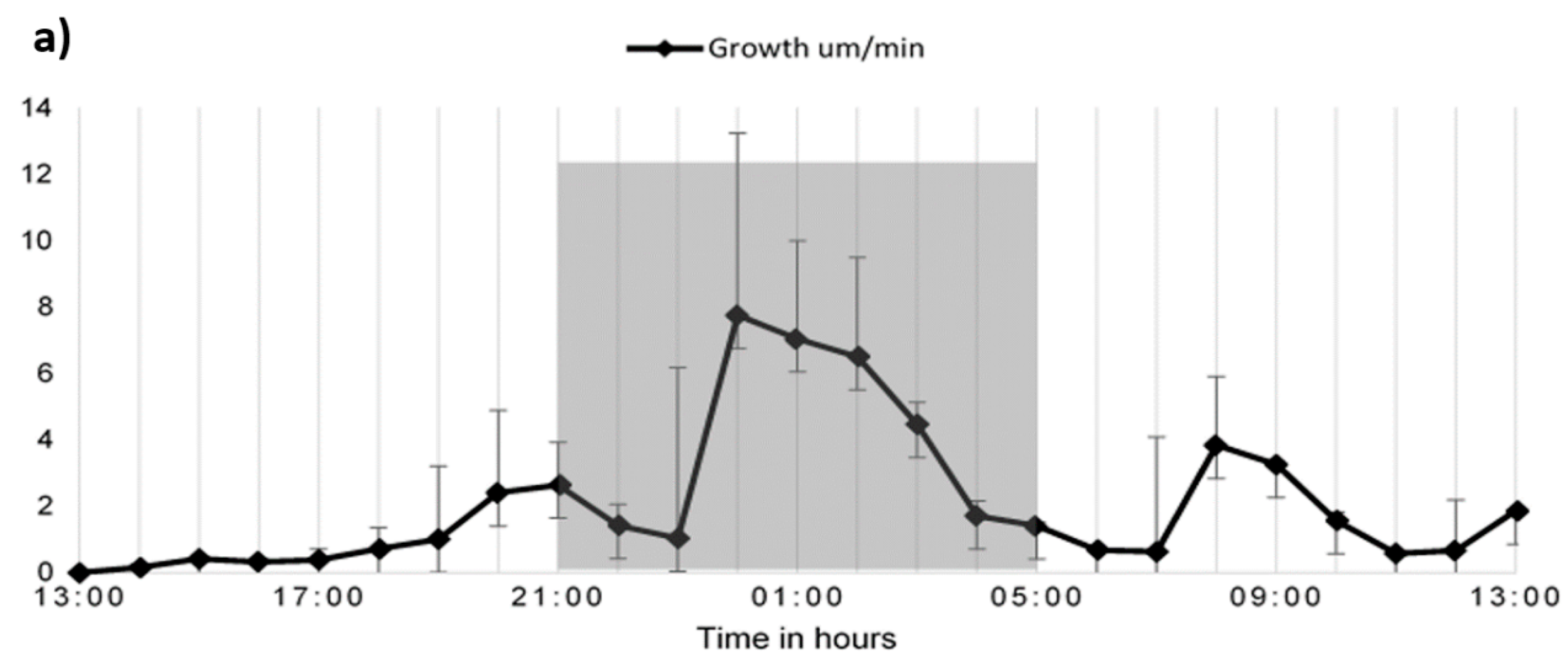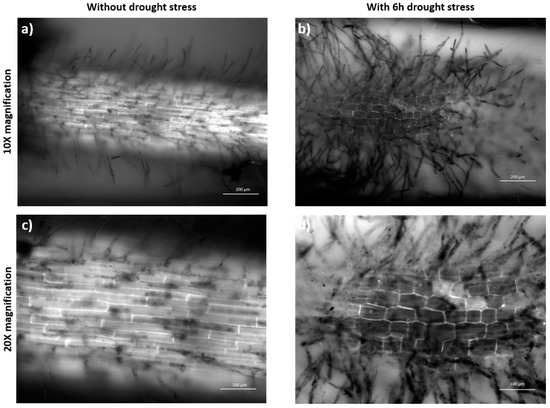 Figure 4. Fluorescent microscopic comparison between stressed and standard sample. Growth in the microfluidic device after 72 h, maturation zone cells under normal conditions (a,c) and after 6 h osmotic stress by 20% PEG (b,d). The images were taken with an Axio Vert.A1 inverted microscope by Carl Zeiss (Germany).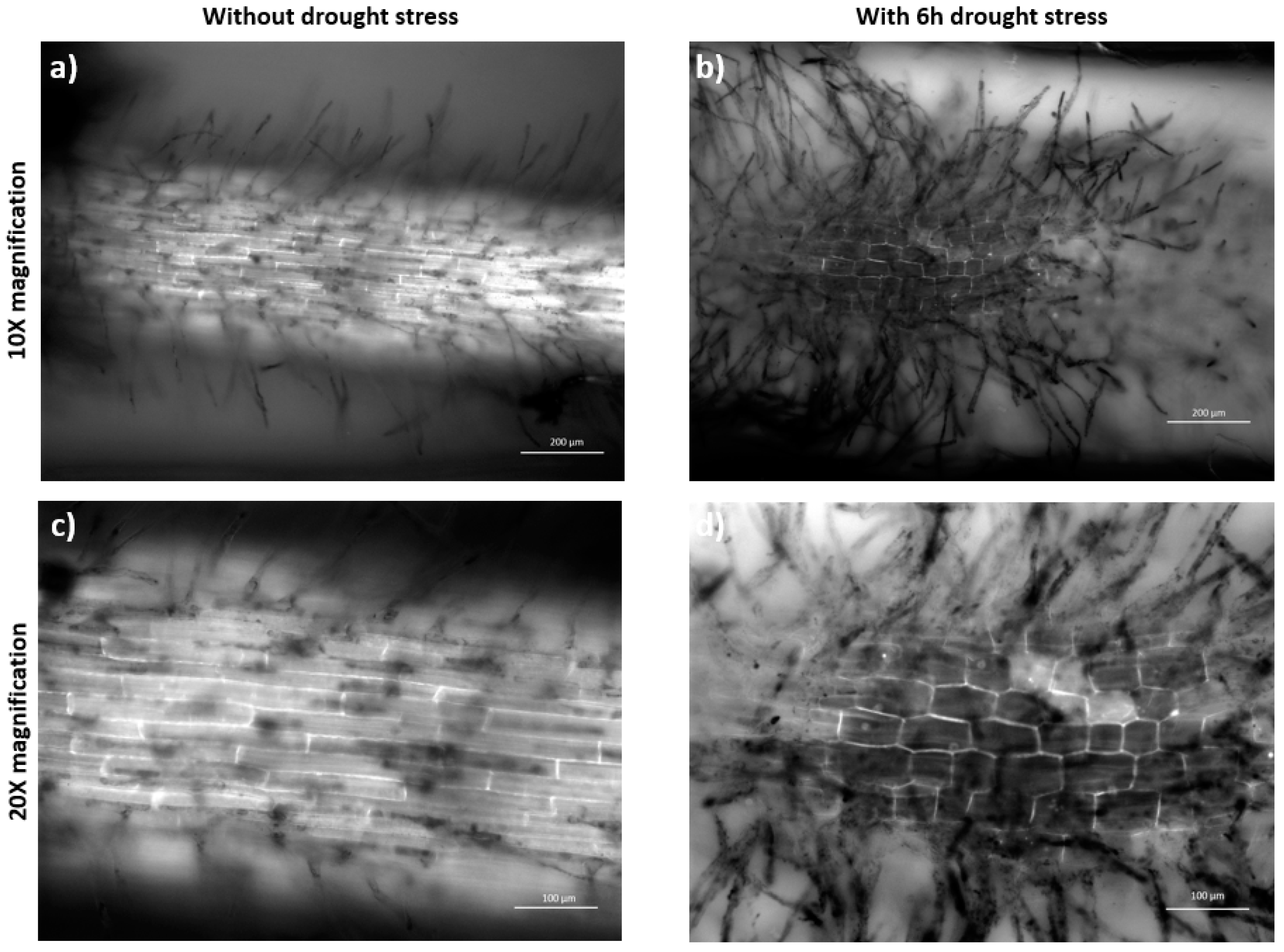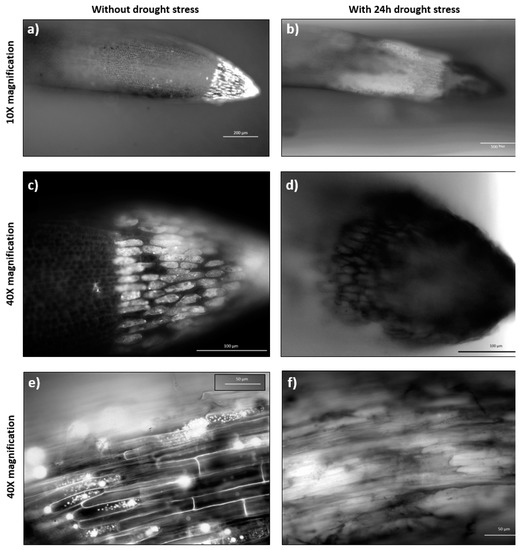 Figure 5. Root tip and maturation zone under osmotic stress. Root in the microfluidic device after 72 h growth, under standard and 24 h stress conditions by 20% PEG; (a,b) show the root cap samples with 10× magnification; (c,d) show the root cap samples with 40× magnification; (e,f) shows the maturation zone with 40× magnification. The images were taken with an Axio Vert.A1 inverted microscope by Carl Zeiss (Germany).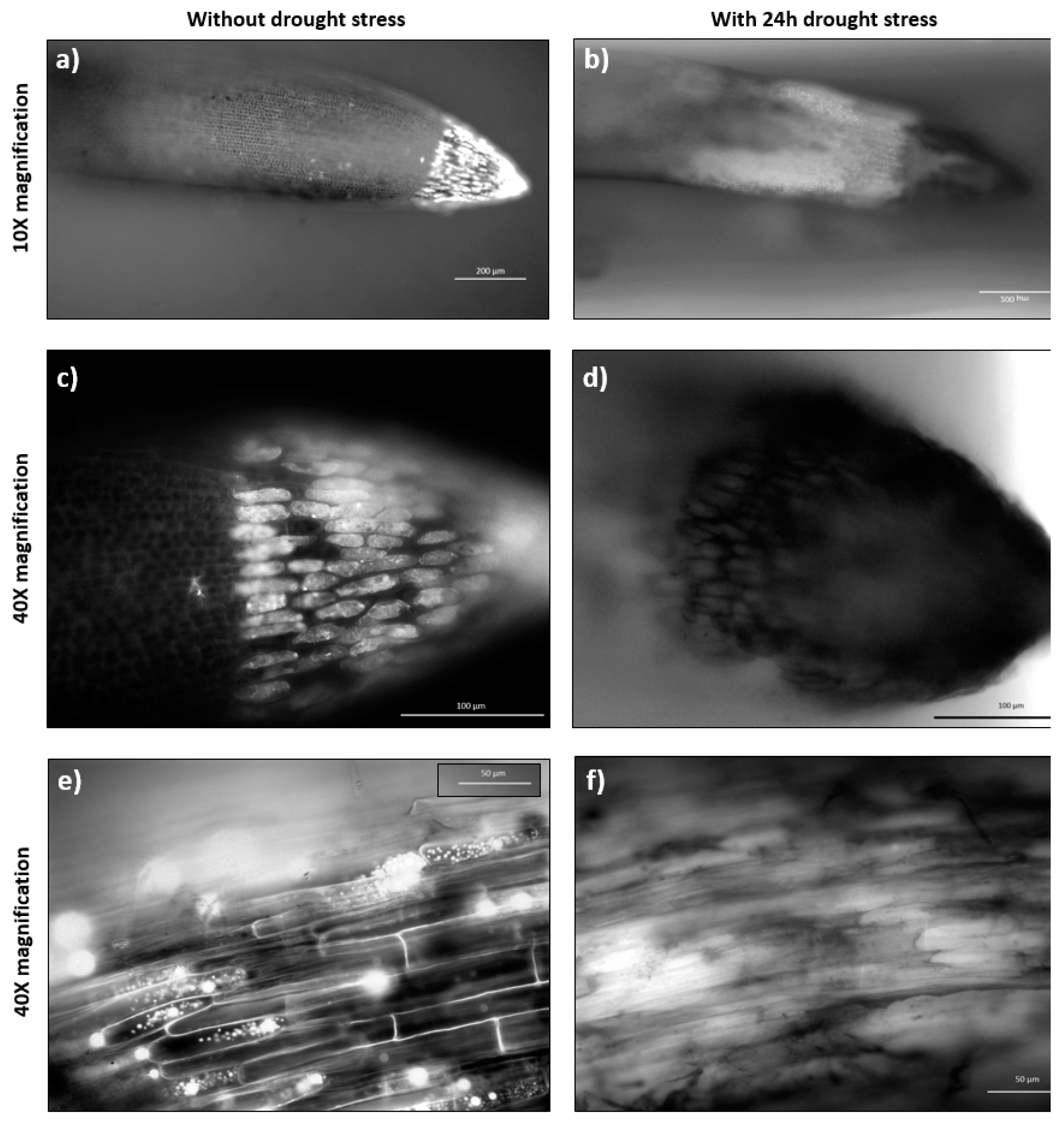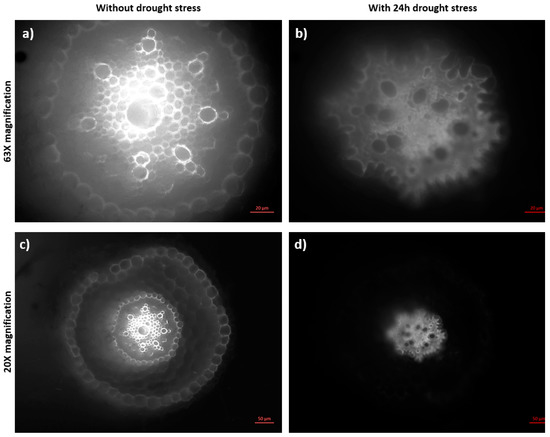 Figure 6. Cross section of root zones under normal and stress conditions. Root was grown in the microfluidic device for 72 h, under standard and 24 h stress conditions by 20% PEG; Cross sections were taken near root cap (a,b) and apical meristem zones (c,d) and visualized by Axio Vert.A1 inverted microscope by Carl Zeiss (Germany).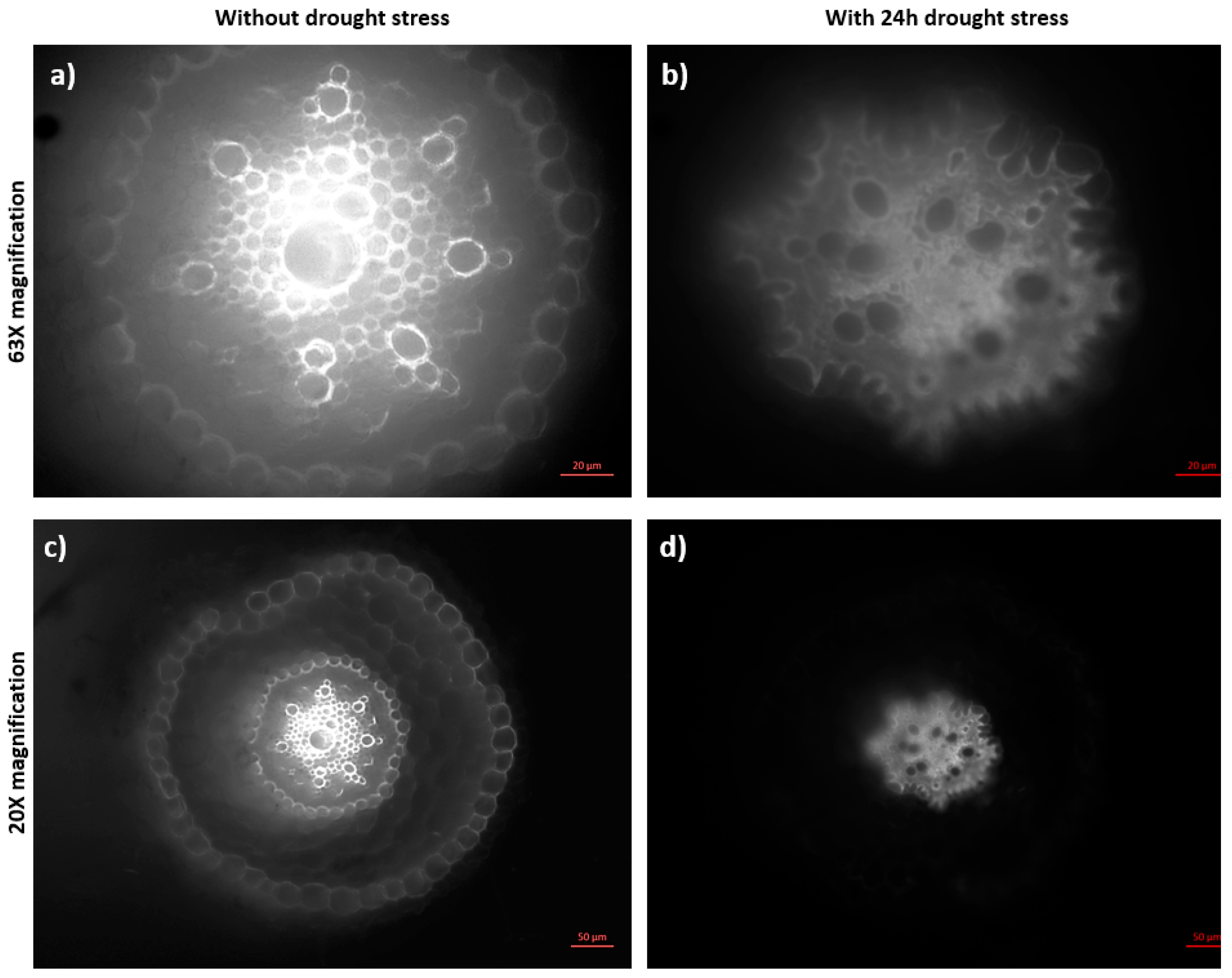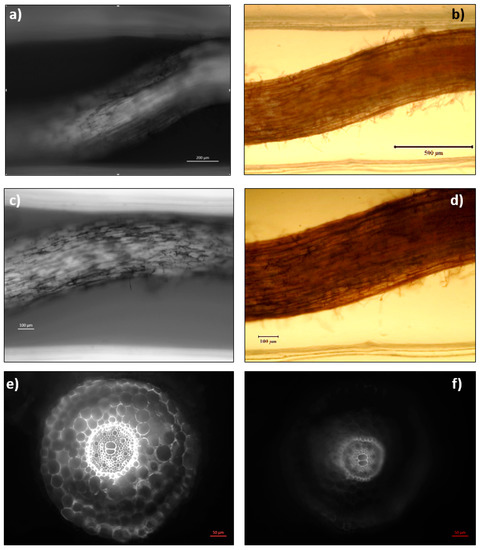 Figure 7. Neutral red staining of root seen under light and fluorescent microscopy. Neutral Red staining of the root with (a,c) and without (b,d) fluorescence visualization was seen after 24 h, osmotic stress mostly concentrated in the internal vascular tissue. However, a reduction in the fluorescence was observed after 24 h stress in all samples. Cross-section images of elongation zone from a control sample (e) and the sample under 24 h osmotic stress (f). Elongation zone sample was sectioned 7 mm away from the root tip. The images "a, c, e and f" were taken with an Axio Vert.A1 inverted microscope by Carl Zeiss (Germany), and the images "b" and "d" were taken with the Nikon stereomicroscope (Japan).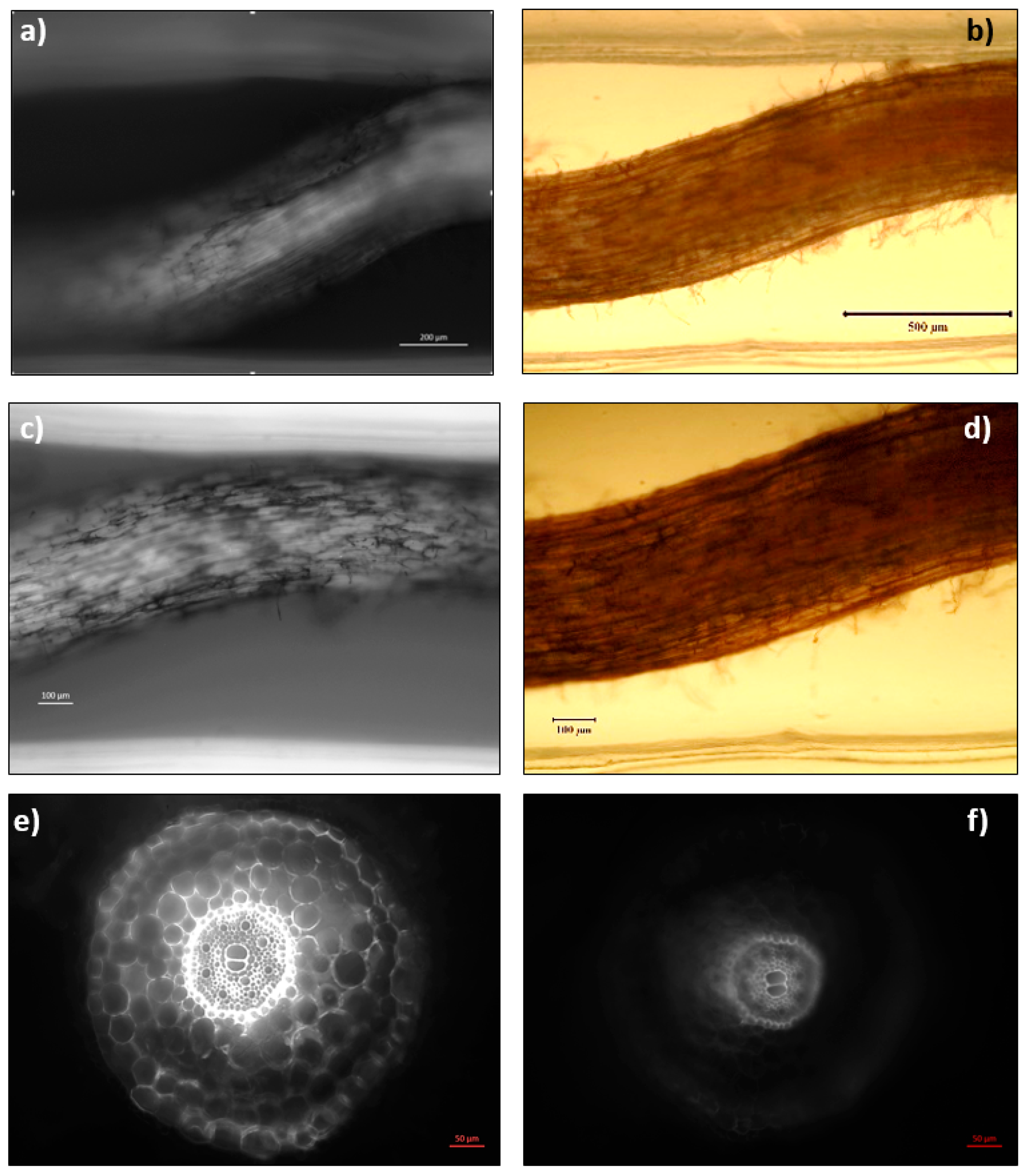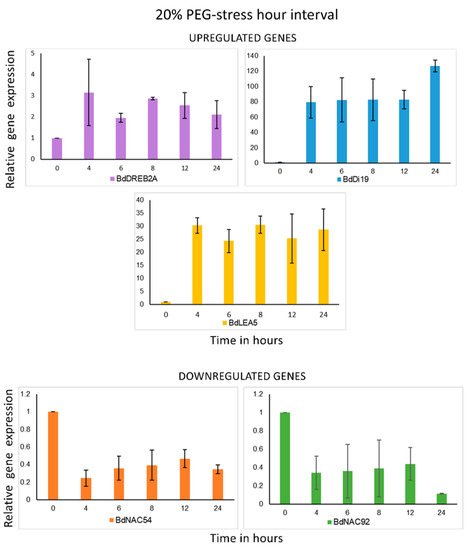 Figure 8. Gene expression analysis of down and upregulated Brachypodium distachyon genes. Expression profiling at 3-week seedling stage with 20% PEG osmotic pressure. The upregulation of BdDi19 was exceedingly higher than that of any other upregulated gene observed. Standard deviations were calculated from the mean values of three independent samples.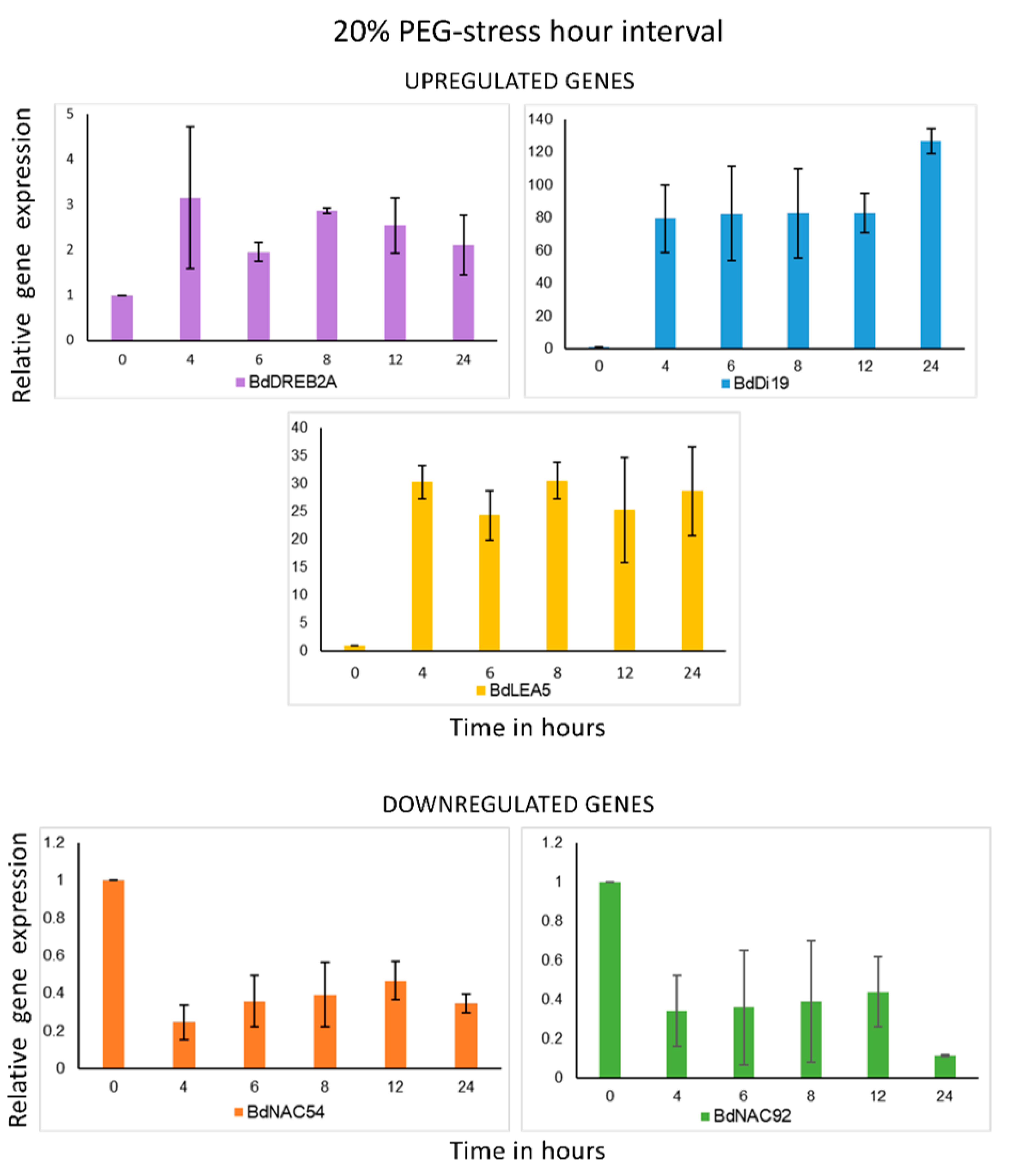 Species Name
Species
Organ Studied
Device Type
Physical Parameters
Ref.

Camellia japonica

Dicot
Pollen tube
Lab-on-a-chip (LOC) technology
Influence of electric fields and conductivity
[15]
Dicot, fungus
Pollen grains, root hairs or fungal spores
Tip Chip (serially arranged microchannels)
Experimentation and phenotyping of chemical gradients, microstructural features, integrated biosensors or directional triggers within the modular microchannels
[16]
Dicot
Pollen grains
Microchannels and inlets/outlets
Protuberance growth of single plant cells in a micro- vitro environment
[36]
Dicot
Pollen grains
Tip Chip
penetrative forces generated in pollen tubes
[37]
Dicot
Pollen tube
Laminar flow based microfluidic device
Ca2+, pectin methylesterase (PME) application for quantitative assessment of chemoattraction
[38]
Dicot
Pollen tube
Device with a knot-shaped microchannel microfluidic
Trapping probability and uniformity of fluid flow conditions
[17]
Dicot
Pollen tube
Trapping microfluidic device
Primary and secondary peak frequencies in oscillatory growth dynamics
[14]
Dicot
Pollen tube
Bending-Lab-On-a-Chip (BLOC)
Flexural rigidity of the pollen tube and Young's modulus of the cell wall
[39]

Arabidopsis thaliana

Dicot
Plant body/Root
Microfluidic chip platform Root Chip
Monitoring time-resolved growth and cytosolic sugar levels at a subcellular resolution
[8]
Dicot
Embryo
PDMS micropillar array
Live-Cell Imaging and Optical Manipulation
[9]
Dicot
Root/Plants
Root Array
Imaged by confocal microscopy
[6]
Dicot
Root
RootChip16
Identification of defined [Ca2+] cyt oscillations, Forster resonance energy transfer (FRET)
[10]
Dicot
Plant body- pathogen interaction
Plant Chip: vertical and transparent microfluidic for high-throughput phenotyping
Quantitative monitoring of plant phenotypes
[11]
Dicot
Live Root
Plant on-chip platform
Stimuli and Phytohormones 2,4-dichlorophenoxyacetic acid (2,4-D), and its inhibitorN-1-naphthylphthalamic acid (NPA)
[12]
Dicot
Pollen-ovule
Mimicry of in vivo microenvironment of ovule fertilization
Chemoattraction
[7]

Torenia fournieri

Dicot
Pollen tube, ovules
T-shaped microchannel device, micro cage array
Pollen tube chemoattraction,
long-term live imaging of ovules
[40]
Dicot
Pollen tubes
T-shaped channel
Quantitate the effect of chemoattractants on directional pollen tube growth, UV-irradiation
[41]
Dicot
Pollen Tube
Crossroad device
Net guidance response ratio (GRR)
[42]

Tobacco Nicotiana tabacum

Dicot
Mesophyll Protoplast
Microcolumn array
Microscopic real-time optimization and dynamics of protoplast growth including size change, organelle motion, and cell mass formation
[20]

Phalaenopsis

Dicot
Protoplasts
Convex-concave sieving array
Real-time collection and lysis of

Phalaenopsis

protoplasts
[21]

© 2019 by the authors. Licensee MDPI, Basel, Switzerland. This article is an open access article distributed under the terms and conditions of the Creative Commons Attribution (CC BY) license (http://creativecommons.org/licenses/by/4.0/).