Cell Wall Amine Oxidases: New Players in Root Xylem Differentiation under Stress Conditions
1
Institute of Crystallography, Consiglio Nazionale delle Ricerche (CNR), Monterotondo 00015, Italy
2
Department of Sciences, Università Roma Tre, Roma 00146, Italy
3
Department of Life, Health, and Environmental Sciences, Università dell'Aquila, L'Aquila 67100, Italy
4
Istituto Nazionale Biostrutture e Biosistemi (INBB), Rome 00136, Italy
*
Author to whom correspondence should be addressed.
Academic Editor: Rujin Chen
Received: 18 May 2015 / Revised: 12 June 2015 / Accepted: 9 July 2015 / Published: 14 July 2015
Abstract
Polyamines (PAs) are aliphatic polycations present in all living organisms. A growing body of evidence reveals their involvement as regulators in a variety of physiological and pathological events. They are oxidatively deaminated by amine oxidases (AOs), including copper amine oxidases (CuAOs) and flavin adenine dinucleotide (FAD)-dependent polyamine oxidases (PAOs). The biologically-active hydrogen peroxide (H
2
O
2
) is a shared compound in all of the AO-catalyzed reactions, and it has been reported to play important roles in PA-mediated developmental and stress-induced processes. In particular, the AO-driven H
2
O
2
biosynthesis in the cell wall is well known to be involved in plant wound healing and pathogen attack responses by both triggering peroxidase-mediated wall-stiffening events and signaling modulation of defense gene expression. Extensive investigation by a variety of methodological approaches revealed high levels of expression of cell wall-localized AOs in root xylem tissues and vascular parenchyma of different plant species. Here, the recent progresses in understanding the role of cell wall-localized AOs as mediators of root xylem differentiation during development and/or under stress conditions are reviewed. A number of experimental pieces of evidence supports the involvement of apoplastic H
2
O
2
derived from PA oxidation in xylem tissue maturation under stress-simulated conditions.
View Full-Text
►

▼

Figures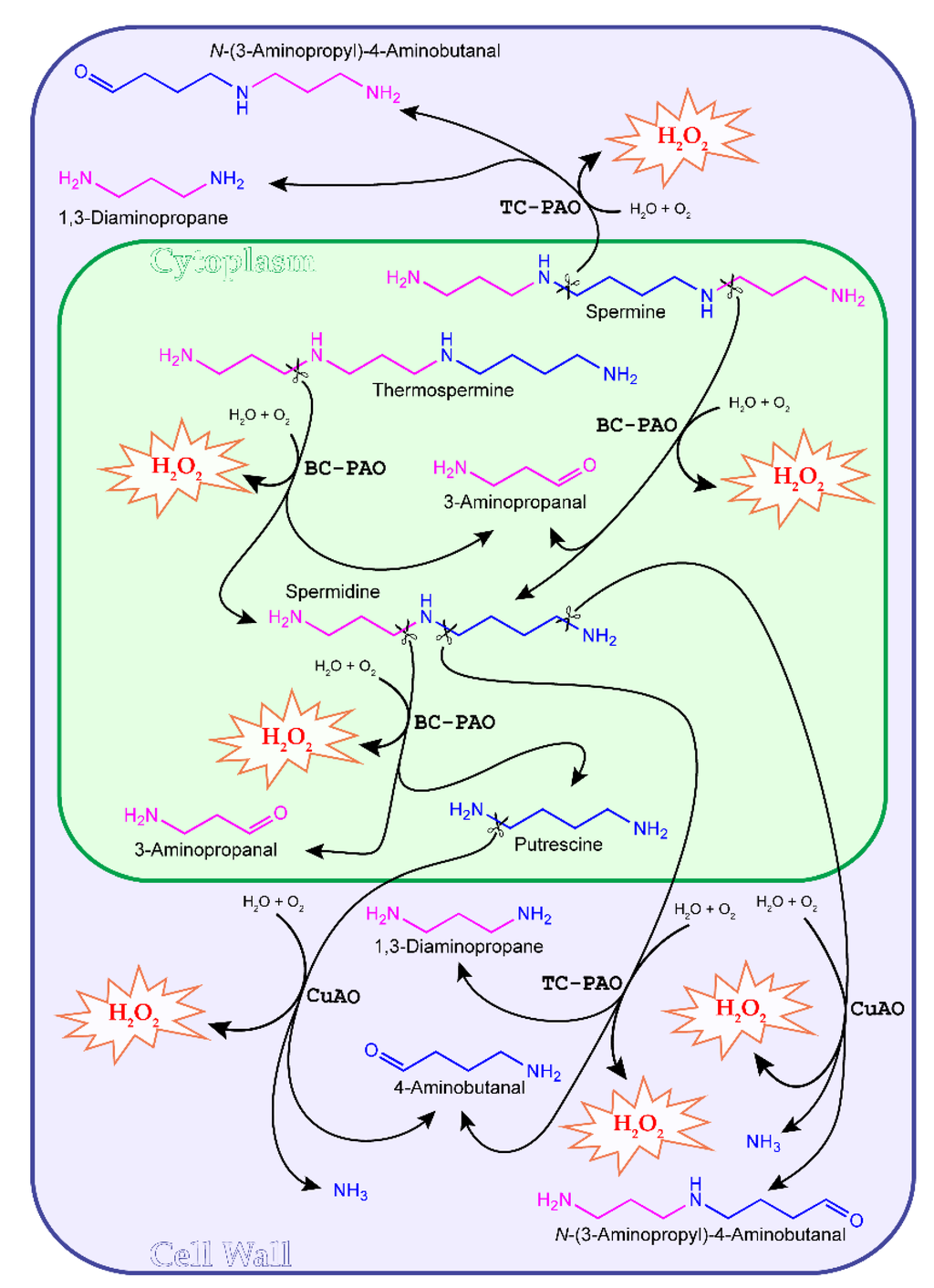 Figure 1
This is an open access article distributed under the
Creative Commons Attribution License
which permits unrestricted use, distribution, and reproduction in any medium, provided the original work is properly cited (CC BY 4.0).

Share & Cite This Article
MDPI and ACS Style
Ghuge, S.A.; Tisi, A.; Carucci, A.; Rodrigues-Pousada, R.A.; Franchi, S.; Tavladoraki, P.; Angelini, R.; Cona, A. Cell Wall Amine Oxidases: New Players in Root Xylem Differentiation under Stress Conditions. Plants 2015, 4, 489-504.
Related Articles
Comments
[Return to top]