Open Access This article is
freely available
re-usable
Article
Real-Time Displacement of Point Symbols Based on Spatial Distribution Characteristics
1
Key Laboratory of Virtual Geographic Environment (Nanjing Normal University), Ministry of Education, Nanjing 210023, China
2
State Key Laboratory Cultivation Base of Geographical Environment Evolution (Jiangsu Province), Nanjing 210023, China
3
Jiangsu Center for Collaborative Innovation in Geographical Information Resource Development and Application, Nanjing 210023, China
4
Institute of Space and Earth Information Science, The Chinese University of Hong Kong, Hong Kong 999077, China
*
Author to whom correspondence should be addressed.
Received: 21 August 2019 / Accepted: 16 September 2019 / Published: 20 September 2019
Abstract
:
Maps at different scales have different emphases on the information representation of point data. With a focus on large scales, this paper proposes an improved sequential displacement method. While existing approaches mostly use a fixed order to place points during displacement, the proposed method takes into consideration the spatial distribution characteristics, including the spatial structure and the holistic distance relations of a point group. This method first rapidly extracts feature points through a quadtree index to capture the spatial structure of a point group. Then, it uses map information content to determine the points to be processed. Finally, a global distance matrix for the above two sets of points is established. Overlapping of symbols is resolved by processing the global distance matrix. The algorithm is estimated by comparing with the latest strategy, which has overcome the position drift drawback of traditional sequential displacement methods and the results show that the proposed method can improve the effects of map expression and meet the requirements of real-time processing.
Keywords:
map generalization; real-time generalization; POI; displacement
1. Introduction
It could be concluded that point displacement is currently one of the main challenges in cartographic generalization and improvements to the operator would be of great benefit to enhance map practicability for users. However, little research has addressed the issue of how to combine the advantages of both two types of previous methods. Thus, a real-time point symbol displacement algorithm conserving the main distribution patterns and more symbols is needed, as the users' requirement of map service quality has grown continuously. This research was driven by a desire to design such an algorithm to fill this gap.
2. Basic Idea
2.1. Constraints in Displacement
In order to improve map legibility, displacement is commonly used after other operators. For example, selection or simplification is done in advance so that there is enough space for displacement to resolve conflicts. Since displacement can cause new conflicts and change the important distribution characteristics of data, generally there are some constraints for the operator in cartography. Mackaness has concluded five criteria for effective displacement of map objects [
8
]. Since the fourth is proposed for line or polygon features, which says that the main characteristics of an object should be conserved (e.g., orientation, size, angularity, shape), the other four rules can be used as constraints for point symbol displacement, as follows:
Features should be more distinguishable.

There are no new conflicts after the movement.

The pattern of distribution should be conserved.

Objects should not be moved too far away from their true locations.
Considering the rapid updating of data in the era of big data, another constraint is needed:
5.

The method should achieve real-time performance.
2.2. Goals and Strategies
The overall goal of our research is to develop a displacement algorithm that respects the constraints listed in
Section 2.1
. Few existing methods can meet all the needs because it is hard to have both good visualization effect and low consumption of processing time.
In light of that problem, we decided to design a sequential displacement algorithm to ensure high efficiency. The spatial distribution characteristics of a point group, including the spatial structure and holistic distance relations, are considered to ensure good generalization quality. In order to conserve the distribution characteristics, the subset of point groups that can exhibit the spatial structure should be extracted and added to the map first. Because the space on a map is finite and the map should be legible, we can quantify the map information or use other methods to determine the total number of symbols to be shown on the screen, thus we can decide how many points will be selected to process by the difference between the total number and the number of above subset and what they are by attribute priority. The holistic distance relations of points are used when deciding which symbol will be added to the map instead of using a fixed order formed by attribute priority. At each displacement time, the algorithm creates or updates a global distance matrix for the symbols already shown on the map and the symbols to be handled, choosing the minimum value record to process. In this way, the method will preserve more symbols and holistic distribution patterns compared to previous methods.
Figure 2
shows the main workflow of the idea.
3. Methodology
To actually implement the idea by algorithm, there are four main steps. The overall flowchart of the algorithm is shown in
Figure 3
. More details on the algorithm will be described step by step in the following subsections.
4. Experiment
This section evaluates the effectiveness of the algorithm, both qualitatively and quantitatively, by comparing with the latest sequential displacement strategy proposed by Yang [
1
] on a real POI dataset.
Section 4.1
presents an introduction to dataset and the preprocessing of data before the main displacement.
Section 4.2
shows the experiment and comparison results. An algorithm evaluation is given in
Section 4.3
and
Section 4.4
discusses the proposed method.
5. Summary
Displacement is an important operator of point data generalization, which is very practical at large scales because it can ensure map clarity and preserve more symbols at the same time. This paper introduces a real-time algorithm for the displacement of point data based on spatial distribution characteristics. The proposed algorithm is built upon some cartographic principles and a requirement for real-time processing. We compared the algorithm with the latest sequential point displacement method, using a real POI dataset. The results indicate that the proposed method can conserve more distribution patterns and more symbols under the same conditions, flexibly combined with other operators to achieve better legibility of maps at large scales. To evaluate the generalization effect, the similarities between different point groups are used. Both the visualization and quantitative results verify the effectiveness of the algorithm.
The algorithm has good efficiency due to its sequential processing manner and the use of quadtrees. Since the number of symbols shown on the map is restricted and there is relatively more space among symbols at large scales, the algorithm can meet the requirement of real-time processing, as the brief performance test showed.
This paper also discussed the main limitations of the proposed algorithm and some possible ideas to resolve them. In future work, the issue of when is the right time to use a displacement operator, as well as the usage of network data to make the operator more practical, are worth studying. Furthermore, the method should be extended to take labels into account in order to be more functional. These questions are still open, requiring further research.
Author Contributions
Conceptualization, Ling Zhang and Yi Long; Methodology, Haipeng Liu and Yi Zheng; Validation, Haipeng Liu; Formal Analysis, Haipeng Liu and Ling Zhang; Writing—Original Draft Preparation, Haipeng Liu; Writing—Review & Editing, Haipeng Liu, Ling Zhang and Yi Long; Supervision, Ling Zhang and Yi Long; Funding Acquisition, Yi Long.
Funding
This research was funded by the National Key Research and Development Program of China, grant number 2017YFB0503500; the National Natural Science Foundation of China, grant number 41571382, 41501496; the Guangdong Innovative and Entrepreneurial Research Team Program, grant number 2016ZT06D336; the GDAS' Special Project of Science and Technology Development, grant number 2017GDASCX-0802.
Conflicts of Interest
The authors declare no conflict of interest.

Figure 1. Problems in current point data generalization methods: (a) the red symbols will be abandoned using a selection operation; (b) the blue symbols will drift using a displacement operation; (c) the red symbol will be abandoned in high-density areas.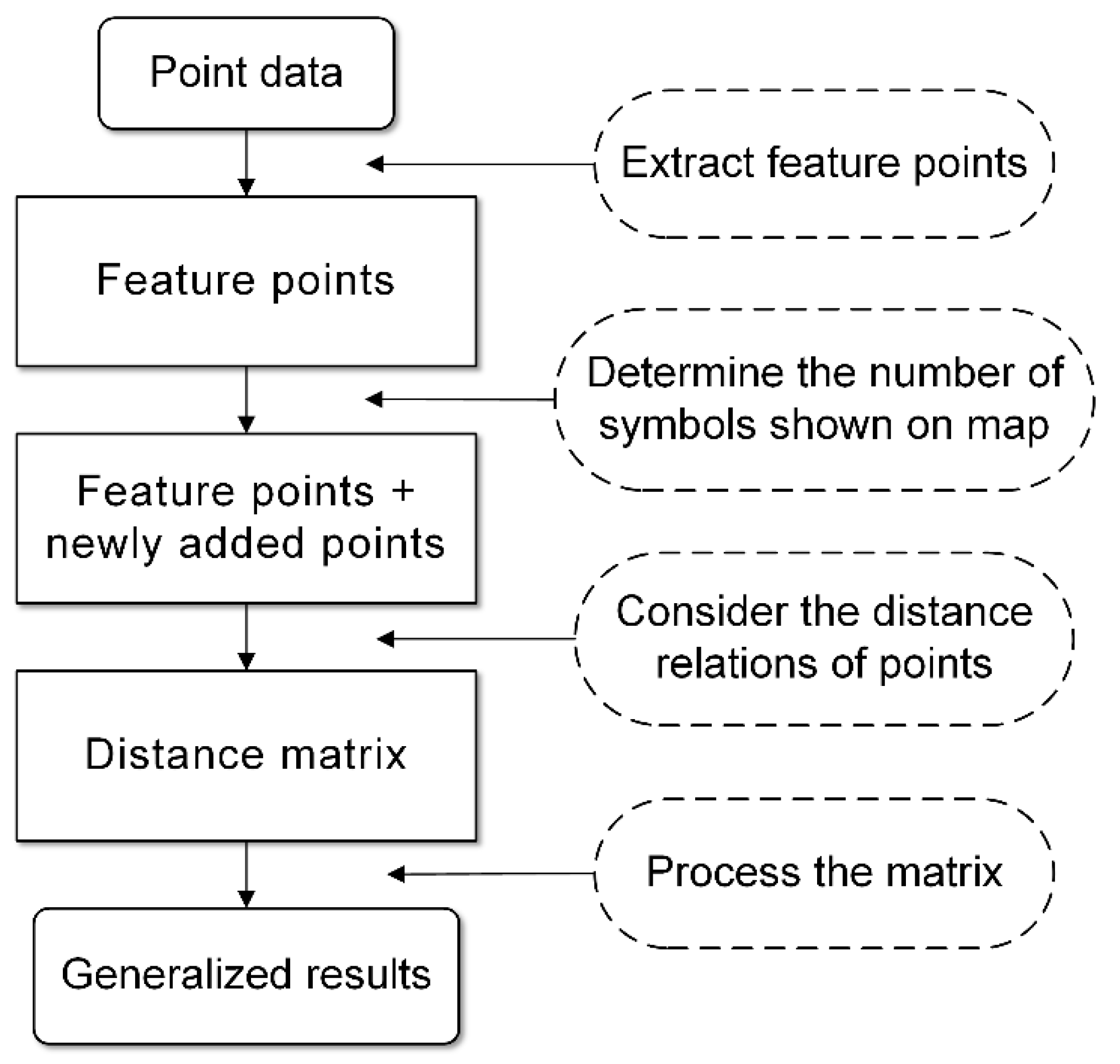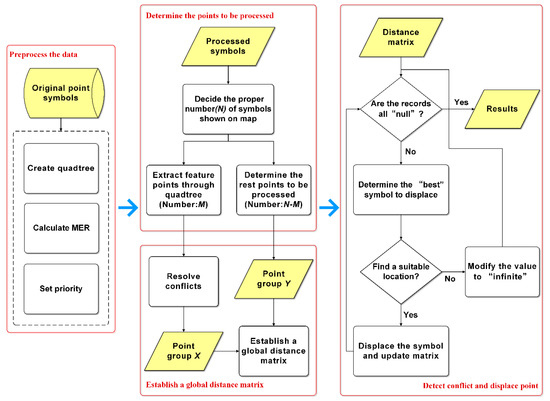 Figure 3. Overall flowchart of the algorithm. Four main steps are shown in the red box and arrows indicate the order in process.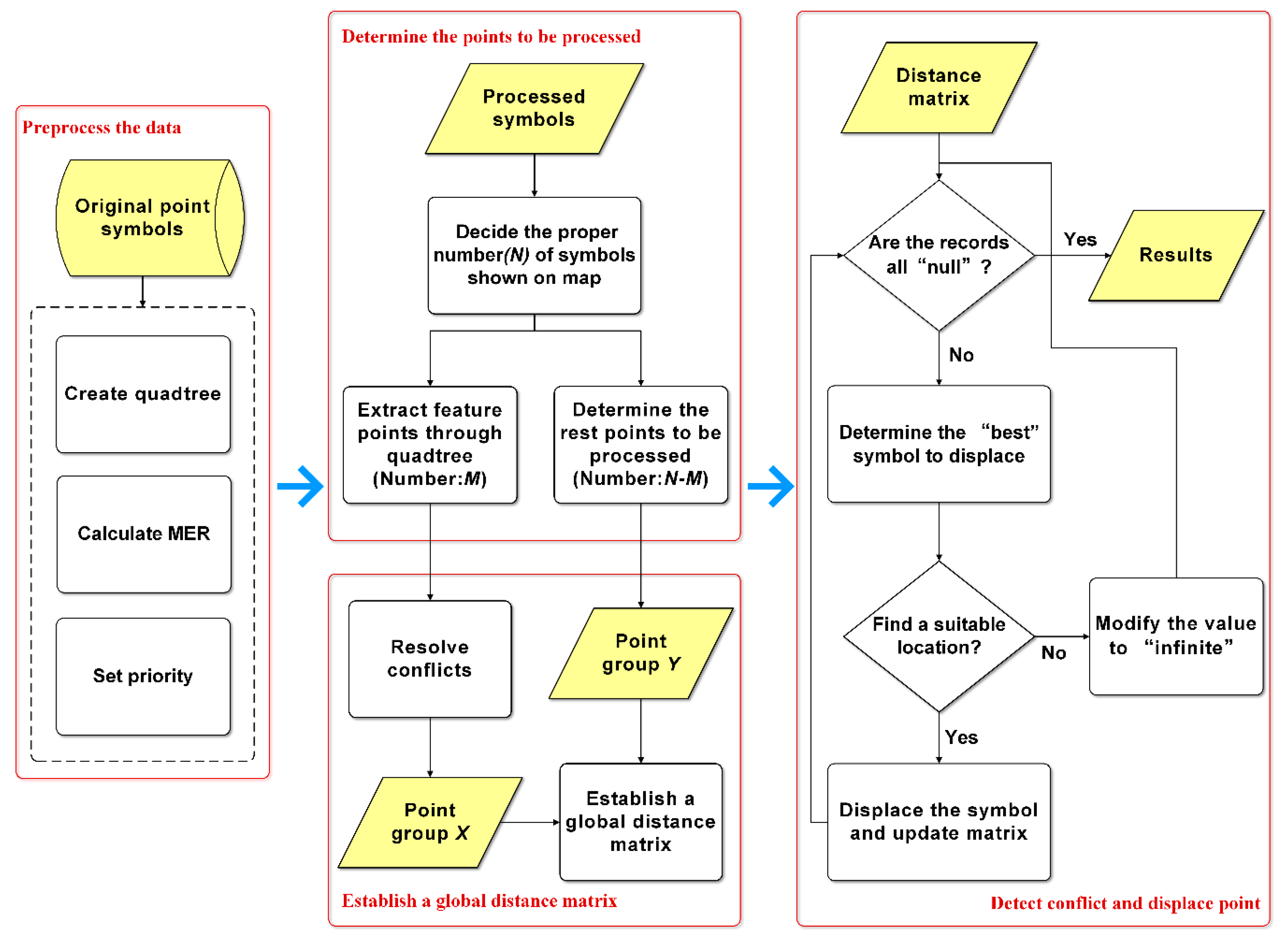 Figure 4. Discovery of spatial structure of a point group and extracting feature points easily by using selection operator: (a) original state of point group; (b) space is divided into several density units by quadtree grids and only one point will be selected in each grid; (c) feature points that conserve the spatial structure of the original point group are selected, the rest points will be further processed.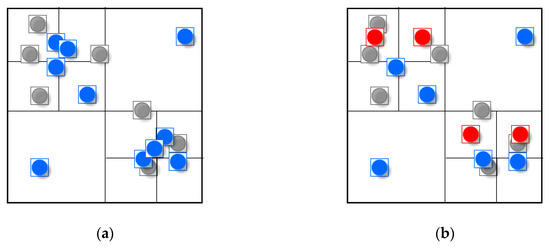 Figure 5.
Preliminarily resolving conflicts among feature points by moving symbols to their grid center: (
a
) the blue symbols are feature points shown in
Figure 4
c; (
b
) once a symbol of feature point overlaps another one, both of them will be moved to their grid center, so that there will be no conflicts among the symbols of feature points.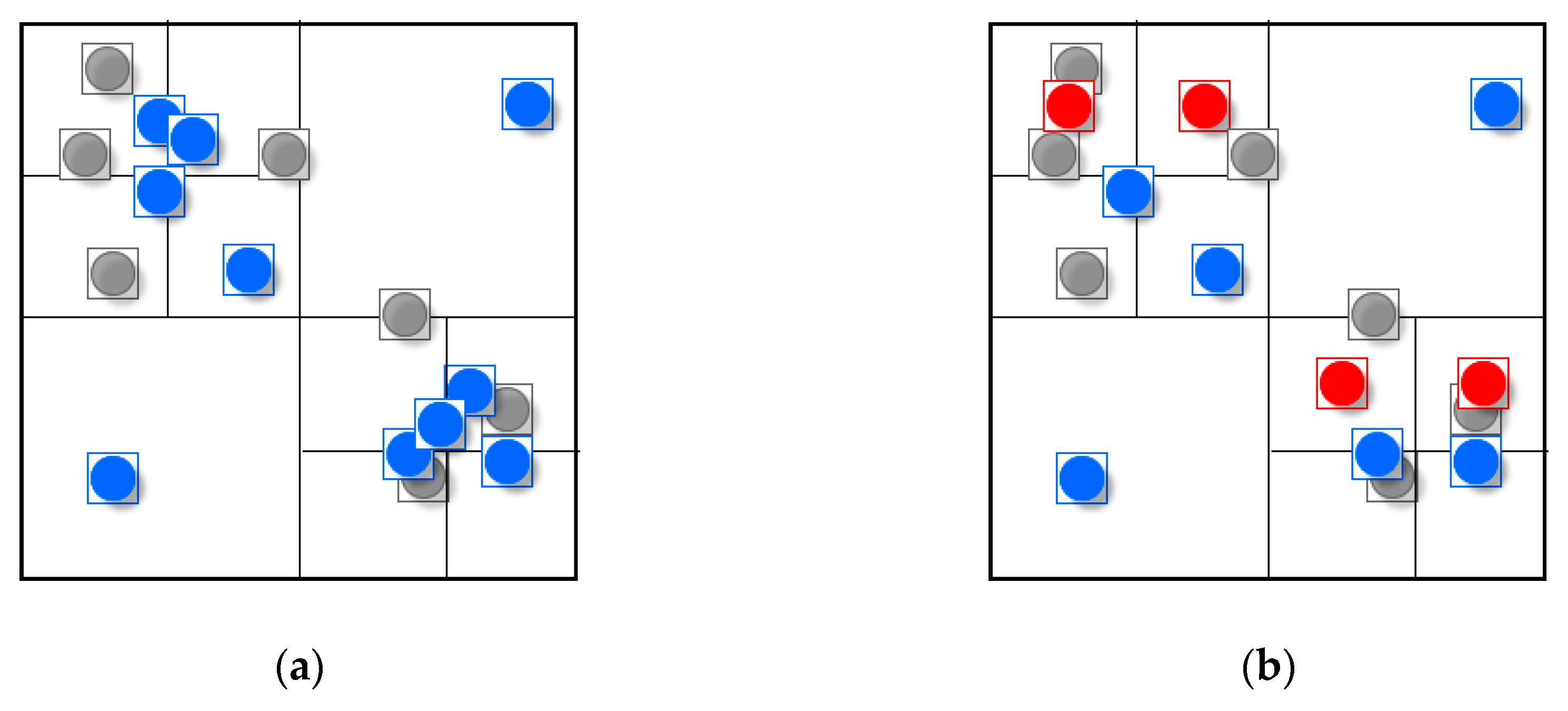 Figure 6. A simple example is used to explain the displacement process: (a) original state; black symbols have been added to the map and red symbols need to be processed; (b) blue symbols have been processed; (c) all the symbols have been added to the map.
Figure 7. Real point of interest (POI) dataset and preprocessing before main displacement process: (a) original points is divided into three groups; (b) feature points selected by quadtree; (c) three point groups represented by different colors.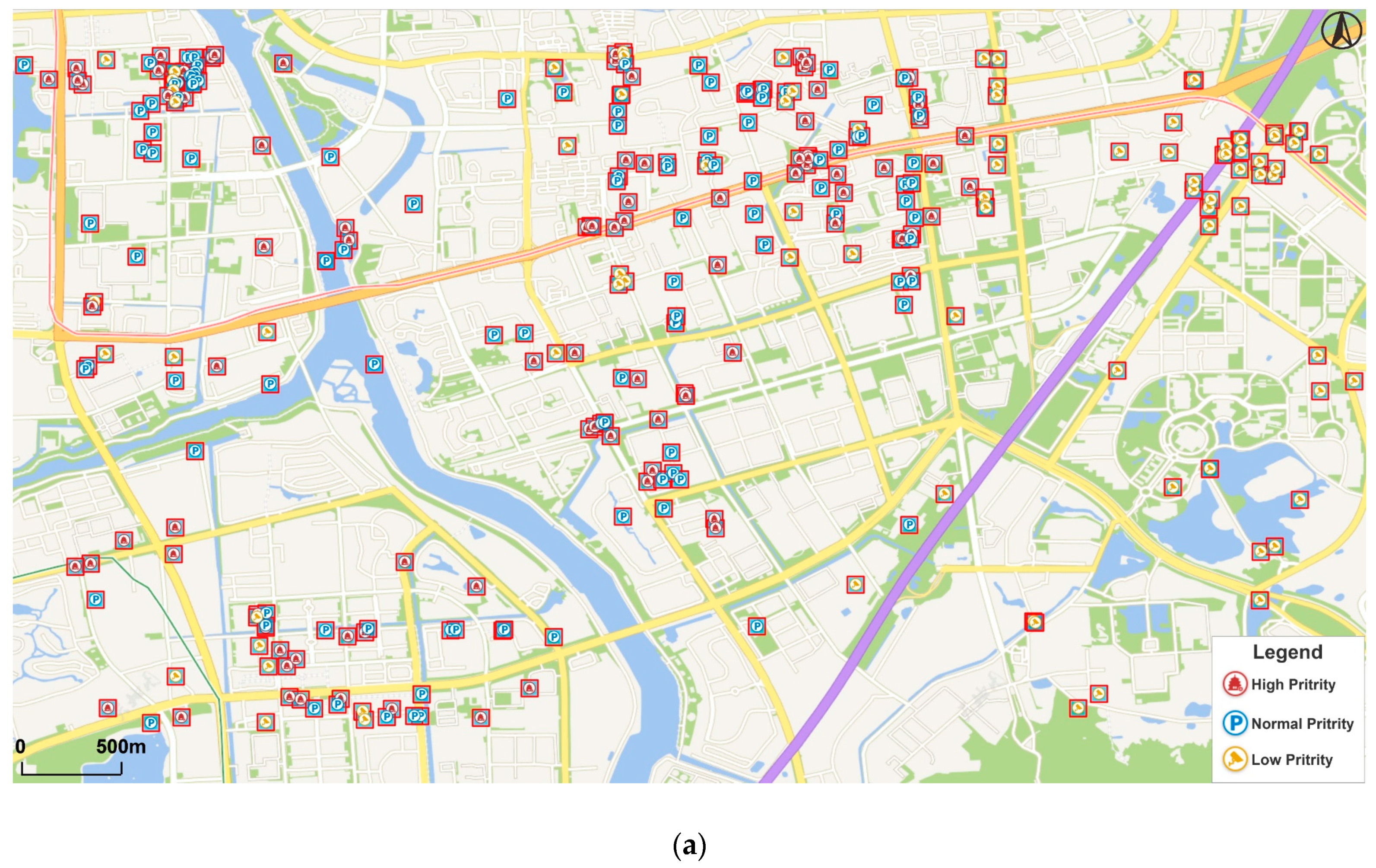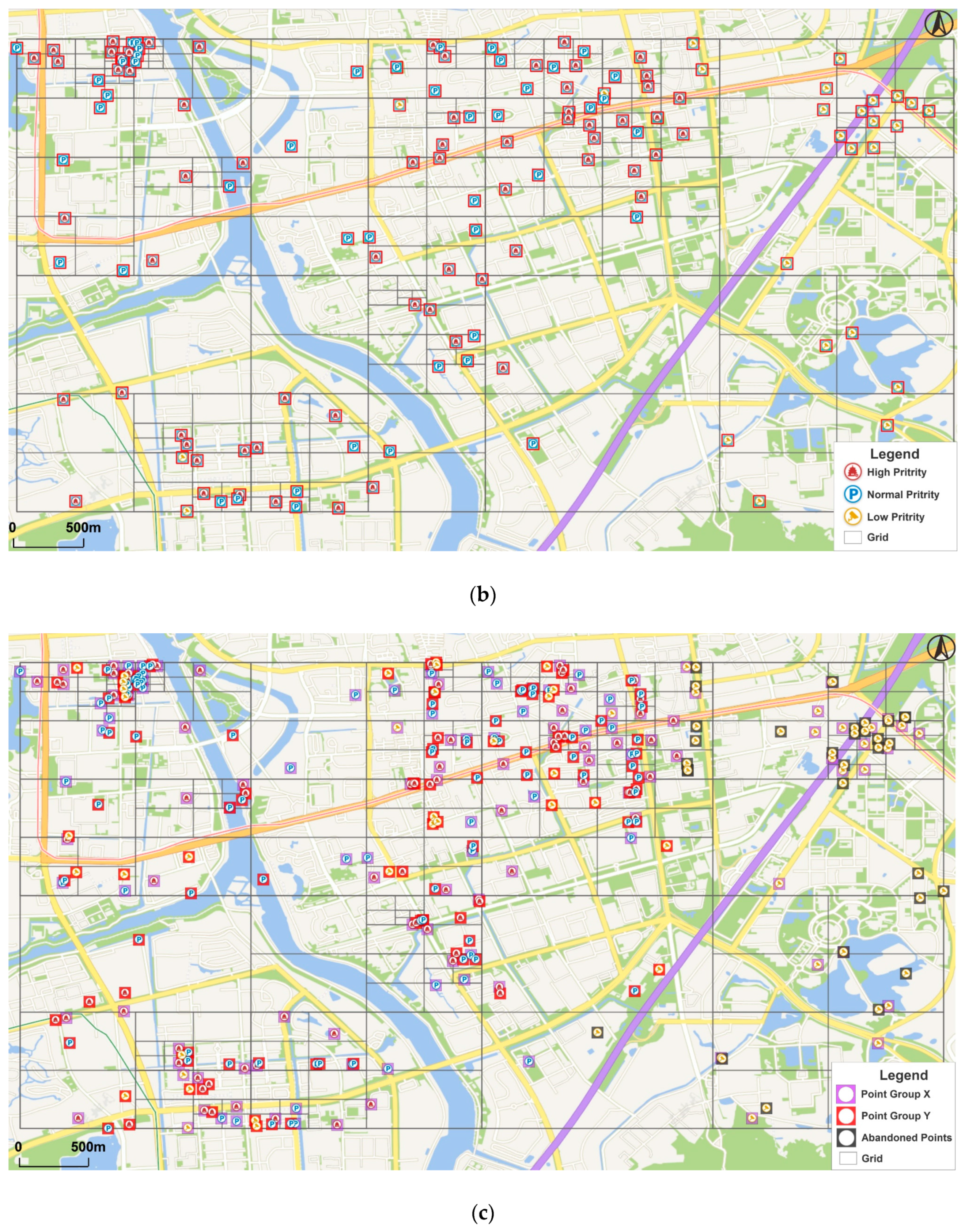 Figure 8. Generalization results of the two methods: (a) point data generalized by the proposed method; (b) point data generalized by Yang's method.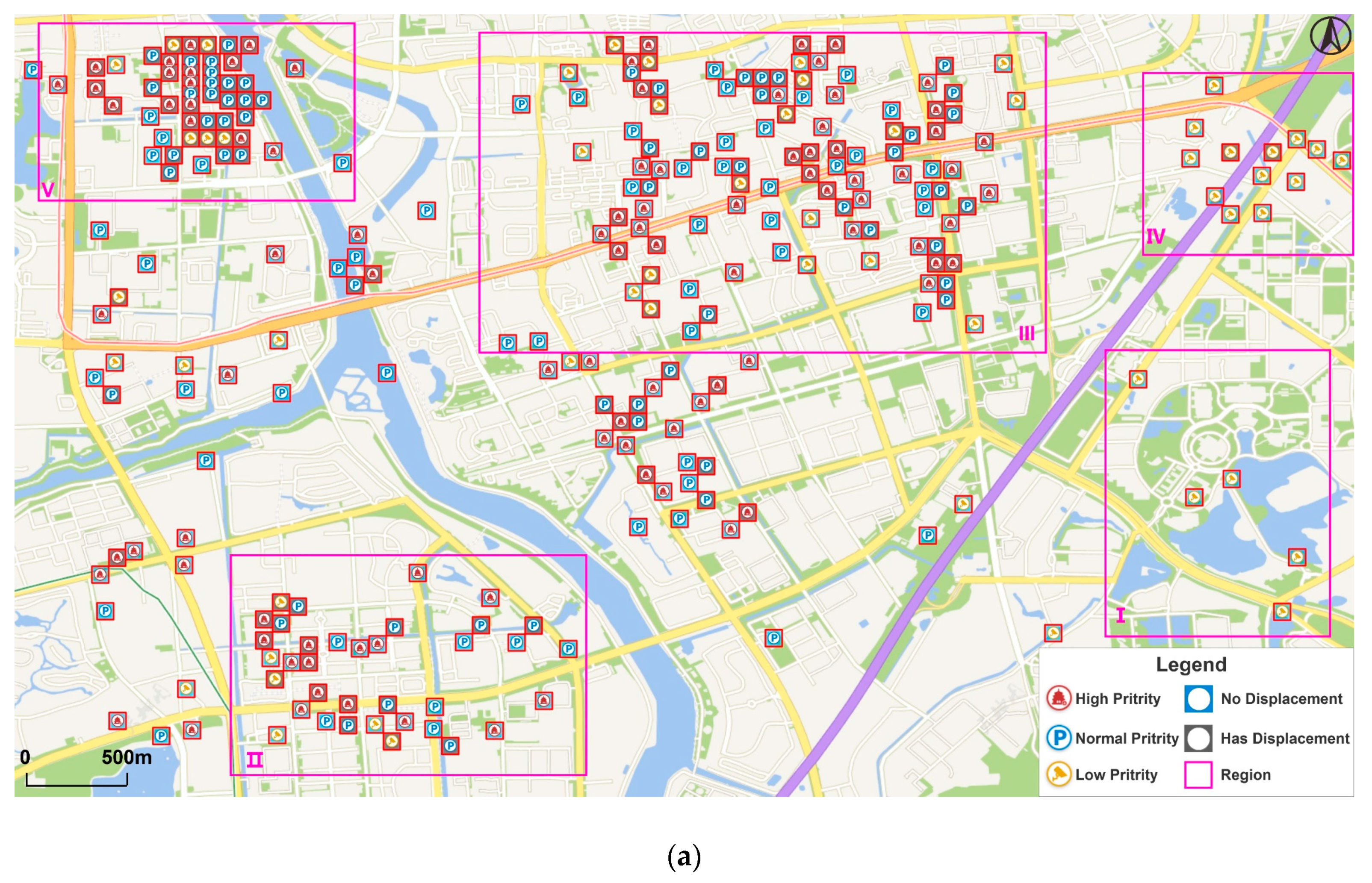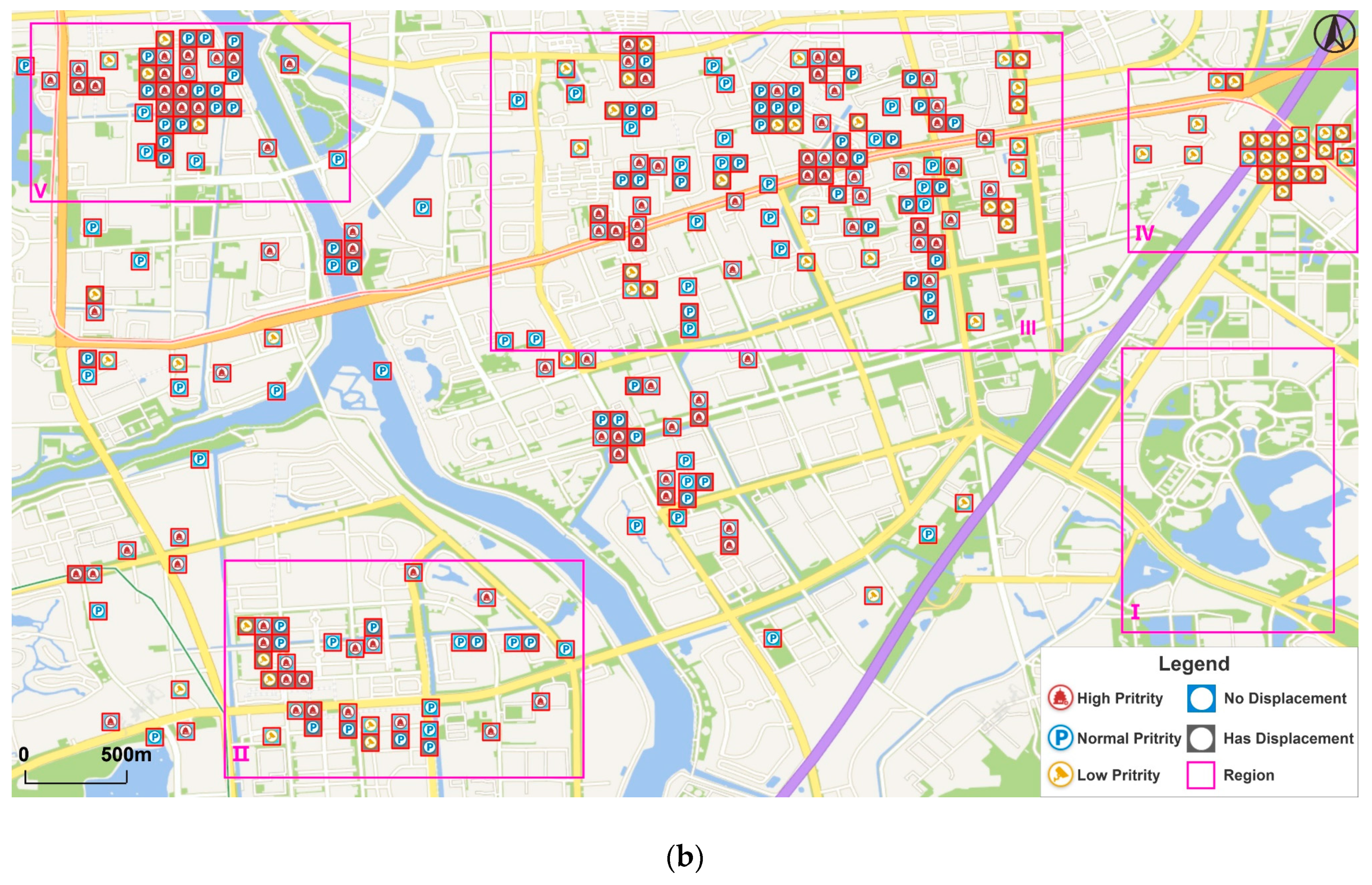 Figure 9. Comparison of points data in Region I: (a) original points data, (b) point data generalized by the proposed method; (c) point data generalized by Yang's method.


Figure 10. Original points and generalization results at LOD 14. (a) original points at LOD 14; (b) generalization results at LOD 14.

Figure 11.
Original points and generalization results at LOD 16. (
a
) original points in three regions (shown in
Figure 10
a) at LOD 16; (
b
) generalization results in these regions at LOD 16.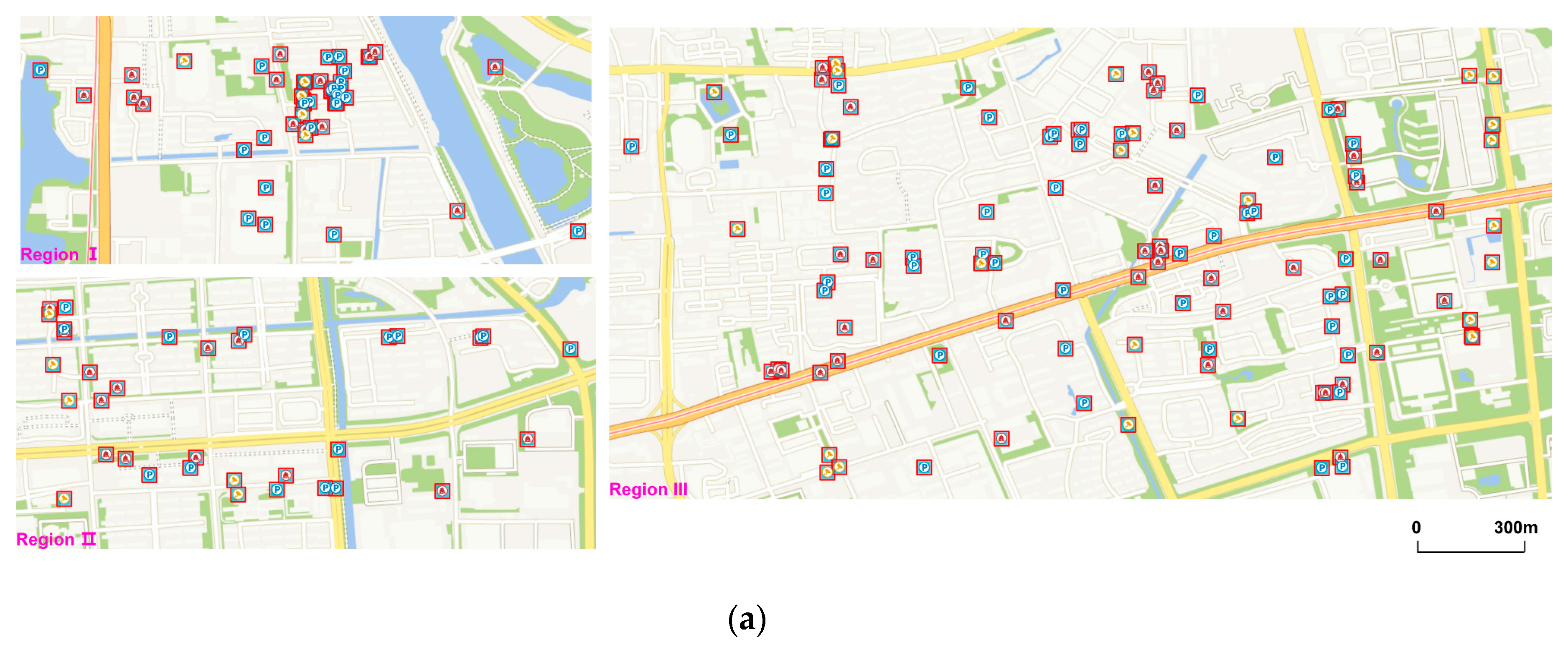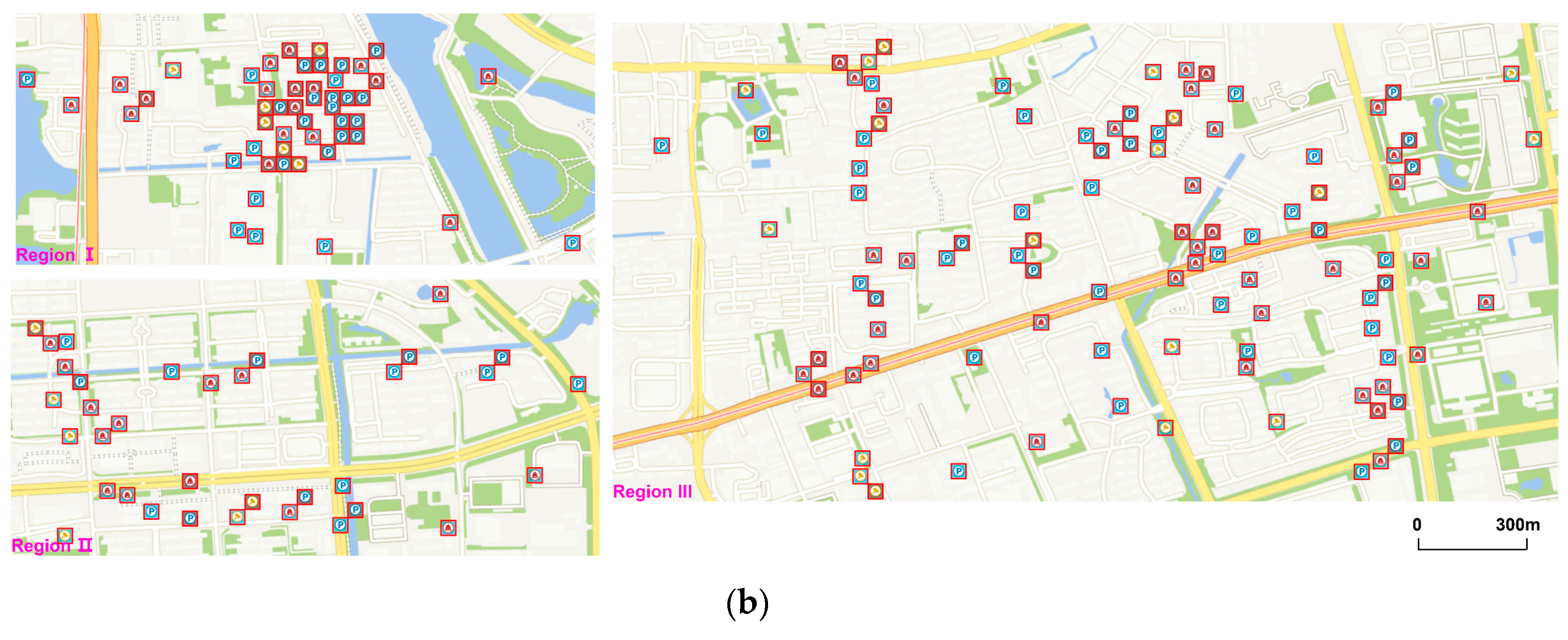 | Resolution (pixel) | Screen Size (in) | Symbol Size (mm) | Number |
| --- | --- | --- | --- |
| 3840 × 2160 | 28 | 20 × 20 | 273 |
| 1920 × 1080 | 13.3 | 10 × 10 | 247 |
| 2048 × 1536 | 9.7 | 10 × 10 | 147 |
| 1920 × 1080 | 6 | 8 × 8 | 78 |
| Point Group | Number of Points | Number of Neighbors | Convex Polygon Area (km2) | Bearing of Diameter (°) | Mean Distance (km) |
| --- | --- | --- | --- | --- | --- |
| a | 304 | 1677 | 22.89 | 117.05 | 2.06 |
| b | 273 | 1451 | 22.87 | 117.05 | 1.95 |
| c | 273 | 1459 | 18.54 | 60.59 | 1.91 |
| Point Groups | | | | | | |
| --- | --- | --- | --- | --- | --- | --- |
| a, b | 0.96 | 0.95 | 1.00 | 0.98 | 0.90 | 0.96 |
| a, c | 0.97 | 0.93 | 0.52 | 0.81 | 0.90 | 0.81 |
| LOD | Amount of Displacement | Time (ms) |
| --- | --- | --- |
| LOD 14 | 207 | 186 |
| LOD 15 | 123 | 110 |
| LOD 16 | 74 | 72 |

© 2019 by the authors. Licensee MDPI, Basel, Switzerland. This article is an open access article distributed under the terms and conditions of the Creative Commons Attribution (CC BY) license (http://creativecommons.org/licenses/by/4.0/).