Open Access This article is
freely available
re-usable
Article
Geo-Tagged Social Media Data-Based Analytical Approach for Perceiving Impacts of Social Events
1
Chair of Cartography, Technical University of Munich, 80333 Munich, Germany
2
State Key Laboratory of Information Engineering in Surveying, Mapping and Remote Sensing, Wuhan University, Wuhan 430079, China
3
School of Resources and Environmental Science, Wuhan University, Wuhan 430079, China
4
KRDB Research Centre, Faculty of Computer Science, Free University of Bozen-Bolzano, 39100 Bolzano, Italy
*
Author to whom correspondence should be addressed.
Received: 19 October 2018 / Accepted: 20 December 2018 / Published: 29 December 2018
Abstract
:
Studying the impact of social events is important for the sustainable development of society. Given the growing popularity of social media applications, social sensing networks with users acting as smart social sensors provide a unique channel for understanding social events. Current research on social events through geo-tagged social media is mainly focused on the extraction of information about when, where, and what happened, i.e., event detection. There is a trend towards the machine learning of more complex events from even larger input data. This research work will undoubtedly lead to a better understanding of big geo-data. In this study, however, we start from known or detected events, raising further questions on how they happened, how they affect people's lives, and for how long. By combining machine learning, natural language processing, and visualization methods in a generic analytical framework, we attempt to interpret the impact of known social events from the dimensions of time, space, and semantics based on geo-tagged social media data. The whole analysis process consists of four parts: (1) preprocessing; (2) extraction of event-related information; (3) analysis of event impact; and (4) visualization. We conducted a case study on the "2014 Shanghai Stampede" event on the basis of Chinese Sina Weibo data. The results are visualized in various ways, thus ensuring the feasibility and effectiveness of our proposed framework. Both the methods and the case study can serve as decision references for situational awareness and city management.
Keywords:
social sensing; machine learning; social opinion mining; topic discovery; visual analysis
2. Related Work
This section introduces, on the one hand, the research progress made by sociologists in applying various sociological methods to study social event impact and, on the other hand, the merits of geo-tagged social media data as well as the current research progress made in using geo-tagged social media data to understand social events.
2.1. Traditional Research on the Impact of Social Events
The impacts of various social events have typically been studied using traditional sociological methods (e.g., interviews, questionnaires and surveys, and documents and records). Regarding sports events, for example, Ohmann et al. studied the impact of the 2006 Football World Cup on the local residents through face-to-face interviews with 132 people [
6
]. Based on a questionnaire approach, Fredline and Faulkner used logistic regression analysis to interpret the influence indicators on residents' different attitudes towards local motor-racing events [
7
,
8
]. Using a social conflict analysis database, Moreno and Miguel analyzed the short-term causal impact of sports events on social unrest events in Africa [
9
]. Using case studies, Scholtens and Peenstra [
10
] and Barreda et al. [
11
] analyzed the impact of sports events on the stock market and hotel industry, respectively. Regarding political aspects, Healy et al. collected original survey data during basketball championships to study the impact of irrelevant events on voters' evaluations of government performance [
12
]. Bariviera et al. studied the effect of geopolitical events on the oil market based on the price dynamics of West Texas Intermediate (WTI) [
13
]. Regarding public safety, Smith et al. analyzed public responses to the 11 September attacks through a random telephone survey of 2126 U.S. residents [
14
]. Arvanitidis et al. studied the impact of terrorist attacks on citizens' risk-perceptions based on European social surveys [
15
]. Regarding the tourism aspect, Breitsohl and Garrod used an online survey to examine people's cognitive reactions to an incident of unethical behavior at a tourist destination [
16
]. By means of questionnaires, Li et al. studied the public preferences for a post-event visit to the host city [
17
]. In recent years, the research potential of multi-sourcing social data has gradually attracted the attention of scholars. Cell phone mobility data was used to explore the relationship between various types of social events and participants' origins [
18
]. Various types of early network communication structures were used to learn and detect political abuse in social media [
19
]. In regard to political opinion mining, an opinion diffusion model was constructed to analyze and predict public reactions based on crowd social media content [
20
].
Current sociological studies on the impacts of social events mainly rely on sample surveys and in-depth interviews. It is irrefutable that the sample survey is the core methodological resource of sociology [
21
]. However, the increasing intensity of in-depth cooperations among sociology, computer science, and linguistics empowers us with new possibilities made possible by new data and methods for recognizing the impact of social events [
22
]. On the basis of widely used social media platforms, we can gather social data that is richer and is able to be used as a new avenue for understanding social events.
2.2. Event-Related Research Based on Geo-Tagged Social Media Data
Several key features of geo-tagged social media data make it feasible and valuable in lives monitoring event information. First, social media platforms like Twitter and China's Sina Weibo enable users to post about what has happened and share their knowledge. Second, users acting as smart social sensors are able to quickly report nearby events to others, thus raising attention to events. Third, social media data with spatial–temporal components can provide events with an explicit time–space description [
23
]. Fourth, given the broad geographic distribution and a huge number of users, events are able to be perceived efficiently. These features make geo-tagged social media data valuable for event study [
24
].
Crooks et al. assessed the potential of people to act as sensors for event monitoring and concluded that social media data could be used to enhance our situational awareness [
25
]. For event detection and tracking, some scholars integrated the temporal burstiness of terms or data volume and location information to find local events [
26
,
27
]. Adjusted classical probabilistic models combined with spatial and temporal features represent another frequently investigated approach of event detection [
28
,
29
]. Furthermore, some researchers have made use of time partitioning and spatial changes to track geo-events from geo-tagged social media data [
30
]. Regarding the extraction of event-related information, Murzintcev and Cheng proposed an automated process to collect event-related messages based on Hashtags, thus proving its availability by comparing it with other keyword-based methods [
31
]. Based on geo-tagged Flickr photos, Yan et al. proposed a workflow to discover spatiotemporal knowledge about post-disaster tourism recovery [
32
]. Yet another research topic dealt with the visualization of events. Nakaji and Yanai proposed a method of visualizing real-word events by showing event-related photos selected from geo-tagged social media [
33
]. Gao discussed different visualization methods to present the influenza activities in the United States [
34
].
As can be seen, geo-tagged social media data contains rich event information, and the current research work is mainly focused on when, where, and what happened, as well as related visualization methods. The immediate perceptions people have of the event tend to prevail, whereas their reflections on the concept, judgment, and inference of events remain less affected. In this study, we attempt to shift the research focus onto how social events have happened and how they affect our lives by taking advantage of widely accessible geo-tagged social media platforms and more advanced data-mining approaches.
3. Methods
The analysis framework described in
Figure 1
includes four steps after social media data retrieval: data preprocessing, event-related information extraction, social event impact analysis, and visualization. Data preprocessing, which is described in
Section 3.1
, aims at improving the quality of data and adapting the data to the subsequent treatment. The extraction of event-related information from geo-tagged social media data is described in
Section 3.2
. The analysis of social event impact is divided into two parts: social sentiment analysis and social opinion mining. The former examines the public perception of events (
Section 3.3
), and the latter emphasizes the rational knowledge that people have of events (
Section 3.4
). Finally, visualization methods for data and analysis results are discussed in
Section 3.5
.
4. Case Study and Results
The proposed method has been implemented and tested using Sina Weibo data in Shanghai to gain insight into a particular event—the Shanghai Stampede Tragedy that happened on New Year's Eve of 2015.
4.1. Data
The stampede tragedy, which occurred in Shanghai, began at about 23:35 local time and lasted almost 15 min. In total, 36 people were killed and 49 were injured [
54
]. The research data used herein was collected via the Chinese social media platform Sina Weibo. The official application programming interface was used to access and download public content from Sina Weibo. The detailed process of data acquisition was described in [
55
]. The whole dataset includes Weibo messages recorded from 29 December, 2013 to 8 April, 2015—11,784,344 records over Shanghai. Each record includes 33 attribute fields. Only location-, text-, and time-related information are used for analysis in the current study.
4.2. Results
4.2.1. Extraction of Event-Related Information
4.2.2. Social Sentiment Analysis
Figure 9
illustrates the results of our statistical analysis on the daily average sentimental changes in different datasets around the week before and after the incident. Blue bars represent the daily average sentimental value of the event-irrelevant information, red bars indicate the daily average sentimental value of all Weibo messages, and gray bars indicate the daily average sentimental value of the event-related information. Some fluctuation of the daily average sentiment in all Weibo data can be perceived. The daily average sentimental value declined gradually from 25 December and went up after 28 December. It peaked on 31 December but dropped back in the following days. A plausible reason for this change is that 25 December is Christmas day, so the public mood is slightly lighter. By the last day of the year, the public's mood peaks due to the coming new year. As can be seen, the Shanghai public's sentiment is very positive in daily life.
Since the stampede took place on New Year's Eve, the average daily sentimental value in the event-related dataset was very low on 1 January, reaching around −1.8; the average daily sentimental value of event-irrelevant data and comprehensive data are more than two. Later, as time went on, it gradually eased up and became slightly positive on the fifth day after the event, but remained below the average daily sentimental value of comprehensive data.
The daily average sentimental value of event-irrelevant data and that of comprehensive data were equal before the event. However, on the first day after the event, the daily average sentimental value of comprehensive data was 11% lower than that of event-irrelevant data, 2% lower on the second day, and 0.6% lower on the third day. Then, public sentiment was slowly recovered to the level prior to the event. This indicates, to some extent, that people's knowledge of social events had undergone a process from perceptual knowledge to rational knowledge. The comparative analysis of the sentiment changes can support us in understanding the impact of events on the public mood, which may be used as the basis for judging the happiness of the public.
Based on the sentimental intensity and the locations where Weibo data were posted, a sentimental map was created, as shown in
Figure 10
, where black, red, and blue, represent negative, positive, and neutral sentiment, respectively; the color intensity corresponds to the intensity of the sentimental feeling. There are obviously more black spots than red spots, which indicates a very negative impact of the stampede event on the public. As for the positive text content, we can see from the following social opinion mining that this is mainly comprised of the public expressing blessings for the victims.
4.2.3. Social Opinion Mining
Based on the term frequency (TF), we performed the LDA calculation of event-related information with topic numbers from one to 20. The 15 most frequently occurring words for each topic were selected and the UMass measure was adopted for the topic evaluation. The result is shown in
Figure 11
a. One topic is outstanding in comparison to other event-related topics. The LDA model was run with 50 iterations for this outstanding topic. The results for the 15 most frequently occurring words on the topic are summarized in
Figure 12
, where the font size represents the probability of the word appearing on the topic. Topic words such as "stampede", "event", and "accident" described the type of event. "Shanghai" and "the Bund" indicate the location of the event. "New Year's Eve" reveals the time of the event. "Candle", "life", "silence", and "the deceased" express people's wishes for the dead. All these keywords reflect the characteristics of the event. They belong to the perceptual knowledge about the event including human feelings and representation of the event.
In order to mine further hidden knowledge, TF-IDF is used as the word feature. This method decreases the weight of words with high frequencies in all documents, such as "stampede" and "Shanghai", and increases the weight of words which appear frequently in parts of the documents but not the whole records. In this way, some hidden knowledge could be discovered. The whole process is as above, except that the word factor changes from TF to TF-IDF. The result of topic evaluation for different topic numbers is shown in
Figure 11
b, where five outstanding topics for event-related information are perceivable. We used the LDA model with 50 iterations for these five topics and obtained the results. Each Weibo text has a corresponding probability for each topic. Based on the maximum probability, we divided each Weibo message into one topic and calculated the average sentimental value of the Weibo messages included in each topic. The analysis results regarding these five topics are shown in
Table 3
.
As shown in
Table 3
, excluding the description of the event itself, we can obtain some interesting events or knowledge from these topic words separately. These results include both the public attitude and people's judgments and inferences about this stampede event.
In topic one, "event investigation", "that night", "officers", "have dinner", and "restaurant" show that the public were aware of a restaurant event which officers attended that night. Official reports show that some local officers used public funds to dine at a nearby restaurant that night, which caused public dissatisfaction. The stampede event also connected the public's attention with this restaurant event.
In topic two, "crowd" shows the reason for this stampede event. "Cancel", "light show", and "crowd" illustrate that, possibly due to concerns related to crowding, the lantern show was canceled. This is a causal event.
In topic three, "district mayor", "dismissed", "Huangpu district", "restaurant", and "event" show that the local mayor was dismissed, which may be due to this event and the restaurant event. This should be a causal event.
In topic four, "people" and "crowd" describe the cause of the stampede. Additionally, "share", "quick", "come to see", and "view" are some words used by the public to spread news of this stampede event to others. This topic shows the public dissemination of this stampede event.
In topic five, "the deceased" and "victim" refer to death in this stampede event. "Rest in peace", "life", "strong", and "silence" are the reactions of the public to these victims. This topic shows the public's wish of peace for the victims of the incident.
It can be seen that the average sentimental value for each topic is negative. This result further illustrates the negative impact of this stampede tragedy on the public. Meanwhile, we can see that the average sentimental values of different topics are significantly different. This implies that the public's emotional responses to different topics on the same event are different. On topic 4, the public did not show strong negative emotions when discussing the cause of the incident and disseminating information about the incident. However, on topic 3, when the discussion involved the government's punishment of the relevant officials for the stampede tragedy and the related restaurant event, the public expressed strong negative emotions.
6. Conclusions
In summary, this article presents a generic framework for analyzing the impacts of social events from geo-tagged social media. Following a discussion of the necessary data preprocessing, an event-related information extraction method combining machine learning and hashtags is adopted to extract unlabeled event-related information from the original dataset. Social sentiment analysis and social opinion mining are then used to explore the public's understanding of and feelings about the event. Finally, various visualization methods are discussed in order to represent the event-related knowledge obtained from the perspective of time, space, and semantics. The case study based on the 2014 Shanghai stampede tragedy revealed why it happened, in what way in affected local citizens, and for how long. Compared with traditional sociological methods, the proposed approach combines the methods of social sensing, machine learning, and natural language processing and can thus facilitate efficient data acquisition and analysis [
6
,
7
,
8
,
9
,
10
,
11
,
12
,
13
,
14
,
15
,
16
,
17
]. Compared with some of the existing social network-based public opinion mining, this paper considers the dimensions of time and geo-space in observing the impact of social events in addition to sentiment analysis and opinion mining [
19
,
20
]. Meanwhile, various visualization methods make knowledge representation more vivid. The proposed analytical method could be easily adapted to various social events (e.g., riots, festivals, exhibitions) and could serve governmental agencies, enterprises, and citizens in tracing the consequences of events as well as taking necessary measures to amplify/reduce the positive/negative impacts.
Our study has some limitations. Firstly, due to the limited accessibility of Weibo data, we may have missed some knowledge aspects in our case study. Secondly, with respect to the sentimental analysis of social media messages, we have not yet included the network vocabulary in order to enhance analytical quality. Thirdly, we are restricted to intrinsic measures of evaluating topic coherence due to the lack of an external Chinese dataset for sudden events. More reliable results can be achieved when external reference datasets are available and accessible.
In the current research, we chose the 2014 Shanghai stampede as a representative case and used geo-tagged Weibo data in Shanghai region to study its social impacts. In the next step, we plan to extend this framework to conduct a comparative analysis between different kinds of events (e.g., political events, festivals, social security events) of varying scales (e.g., international, national, and city level) in order to explore the spatiotemporal behaviors of existing events and their cross-cultural impacts.
Author Contributions
Conceptualization, R.Z.; Data curation, M.J.; Methodology, R.Z. and D.L.; Supervision, L.M.; Visualization, R.Z. and C.Z.; Writing—original draft, R.Z.; Writing—review and editing, D.L., M.J., L.D. and L.M.
Funding
This work was supported by the German Research Foundation (DFG) and the Technical University of Munich (TUM) in the framework of the Open Access Publishing Program.
Acknowledgments
The support provided by the China Scholarship Council (CSC) during the Ph.D. study of 'Ruoxin Zhu' in TUM is acknowledged.
Conflicts of Interest
The authors declare no conflict of interest. The funders had no role in the design of the study; in the collection, analyses, or interpretation of data; in the writing of the manuscript, or in the decision to publish the results.
Abbreviations
| | |
| --- | --- |
| NLP | Natural Language Processing |
| WTI | West Texas Intermediate |
| VSM | Vector Space Model |
| TF | Term Frequency |
| SVM | Support Vector Machine |
| NB | Naive Bayes |
| MultinomialNB | Naive Bayes classifier for multinomial models |
| BernoulliNB | Naive Bayes classifier for multivariate Bernoulli models |
| RBF | Radial Basis Function |
| KNN | K-Nearest Neighbors |
| PLSA | Probabilistic Latent Semantic Analysis |
| LDA | Latent Dirichlet Allocation |
| TF-IDF | Term Frequency-Inverse Document Frequency |
| DBSCAN | Density-Based Spatial Clustering of Applications with Noise |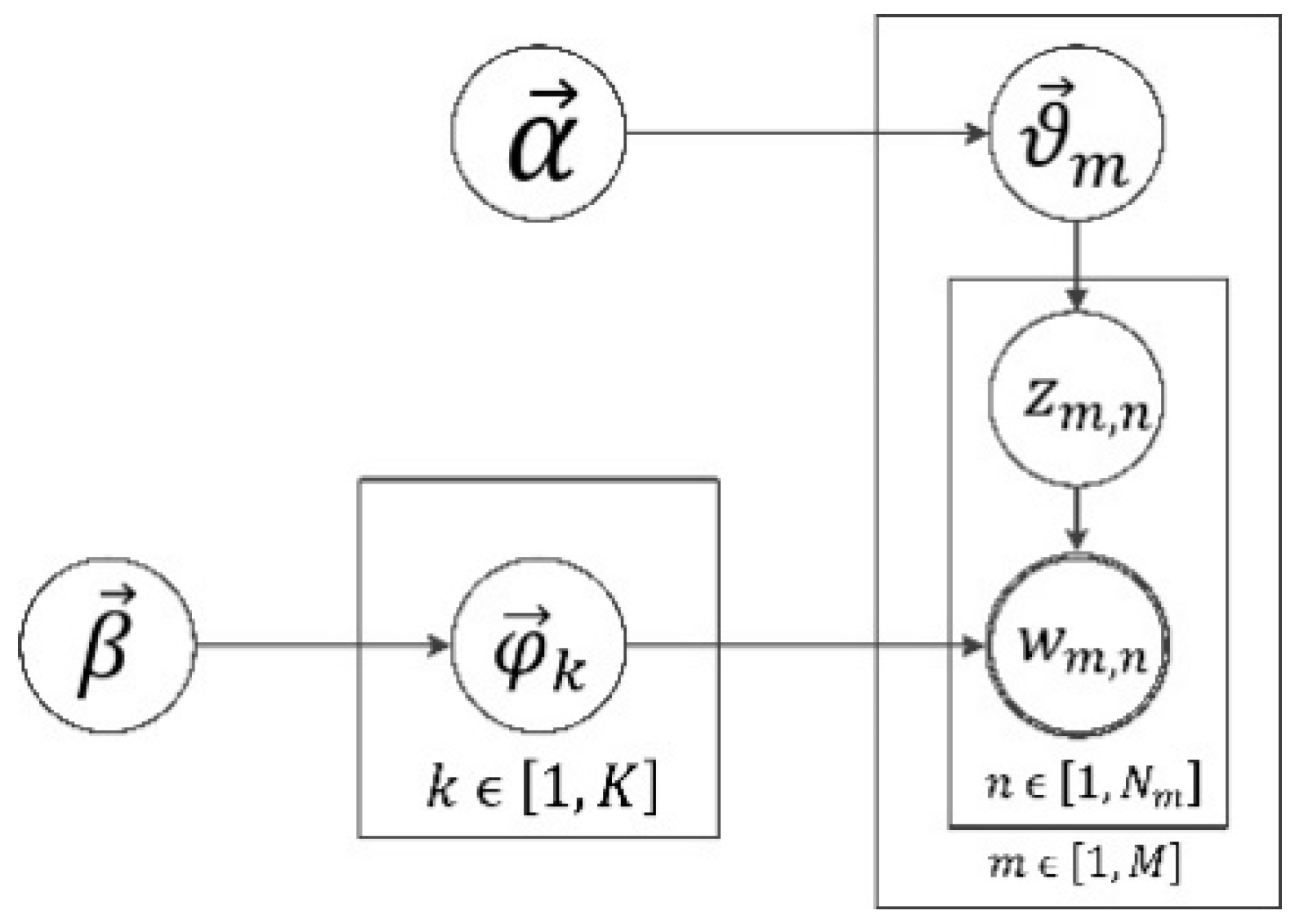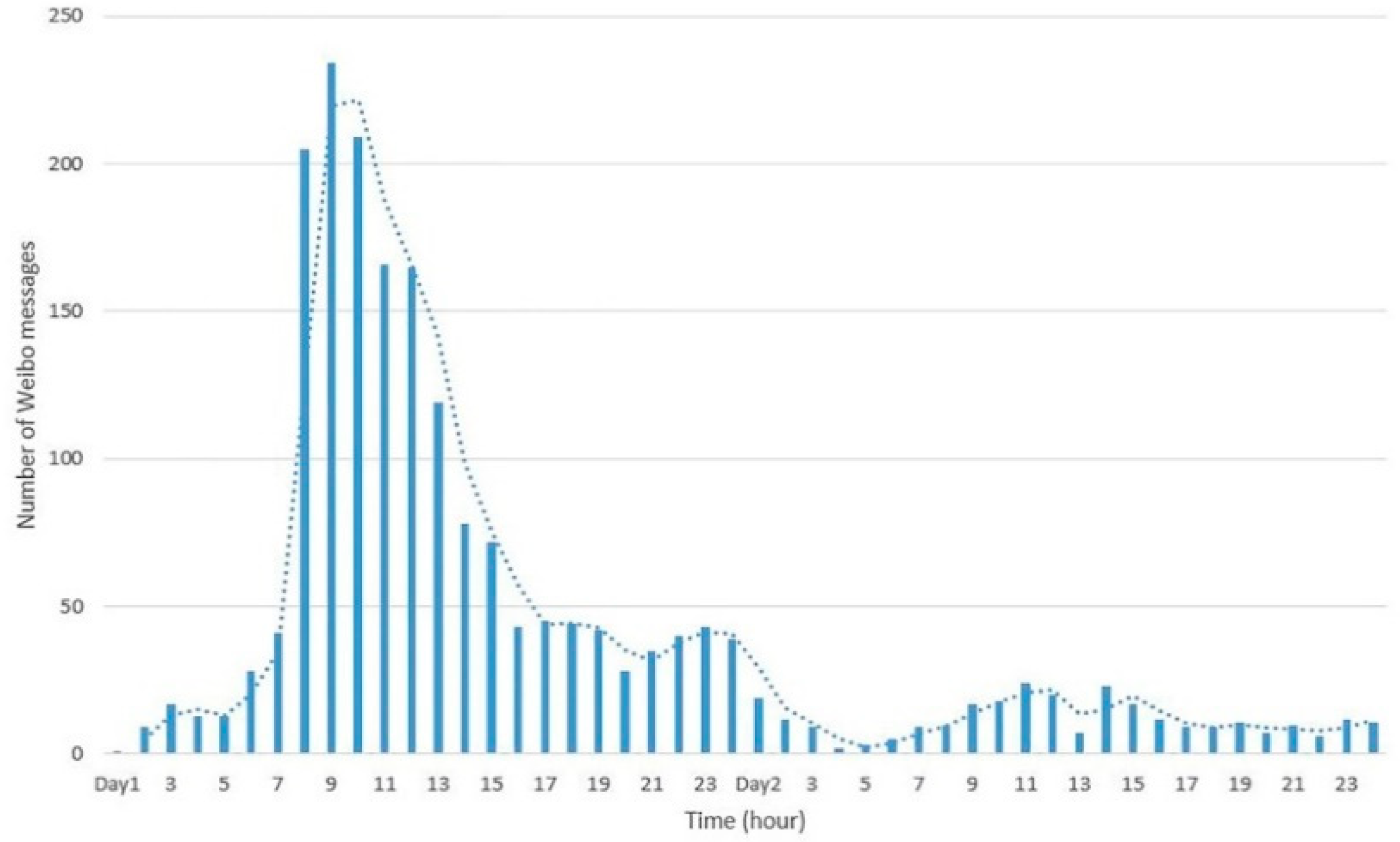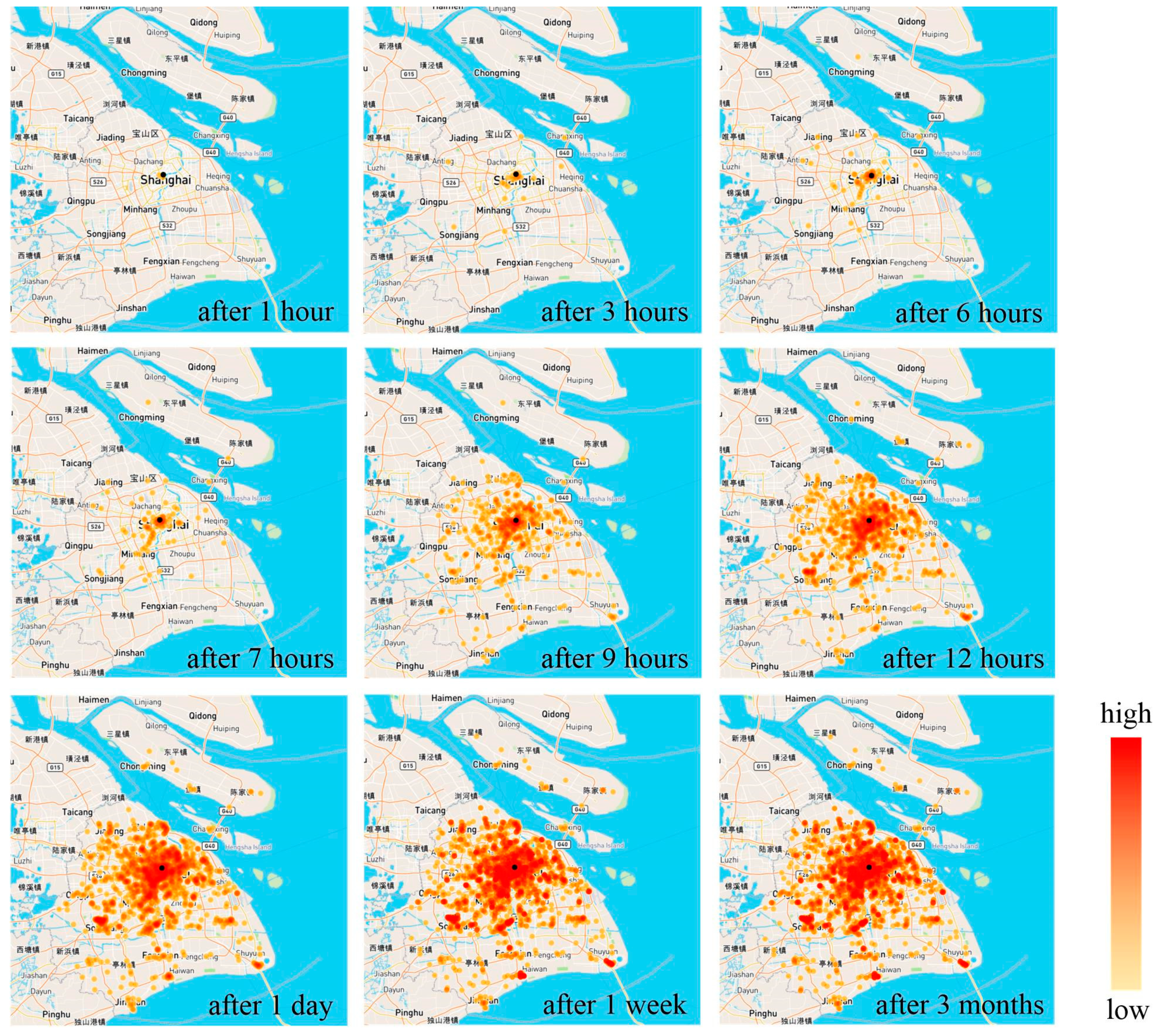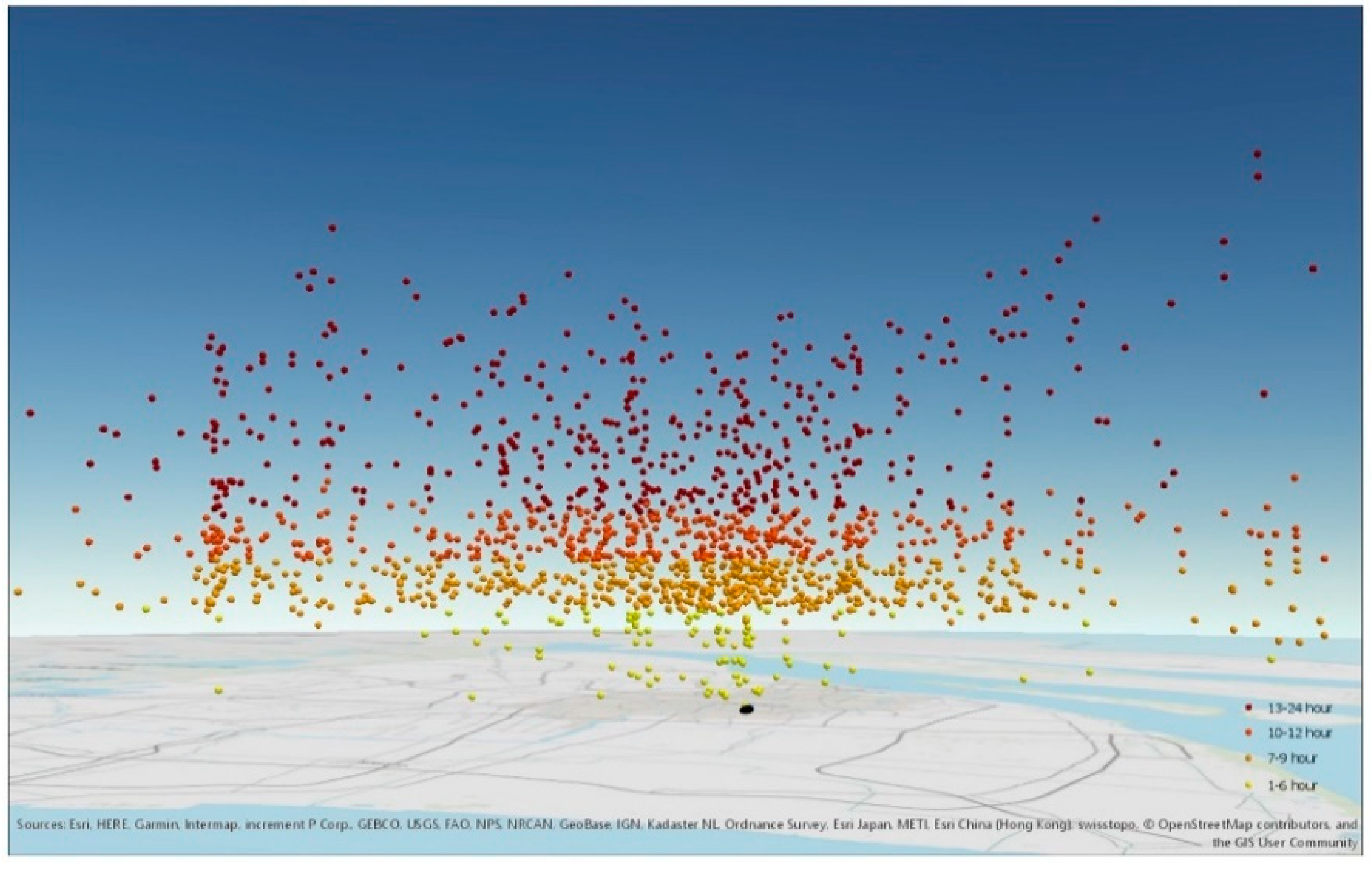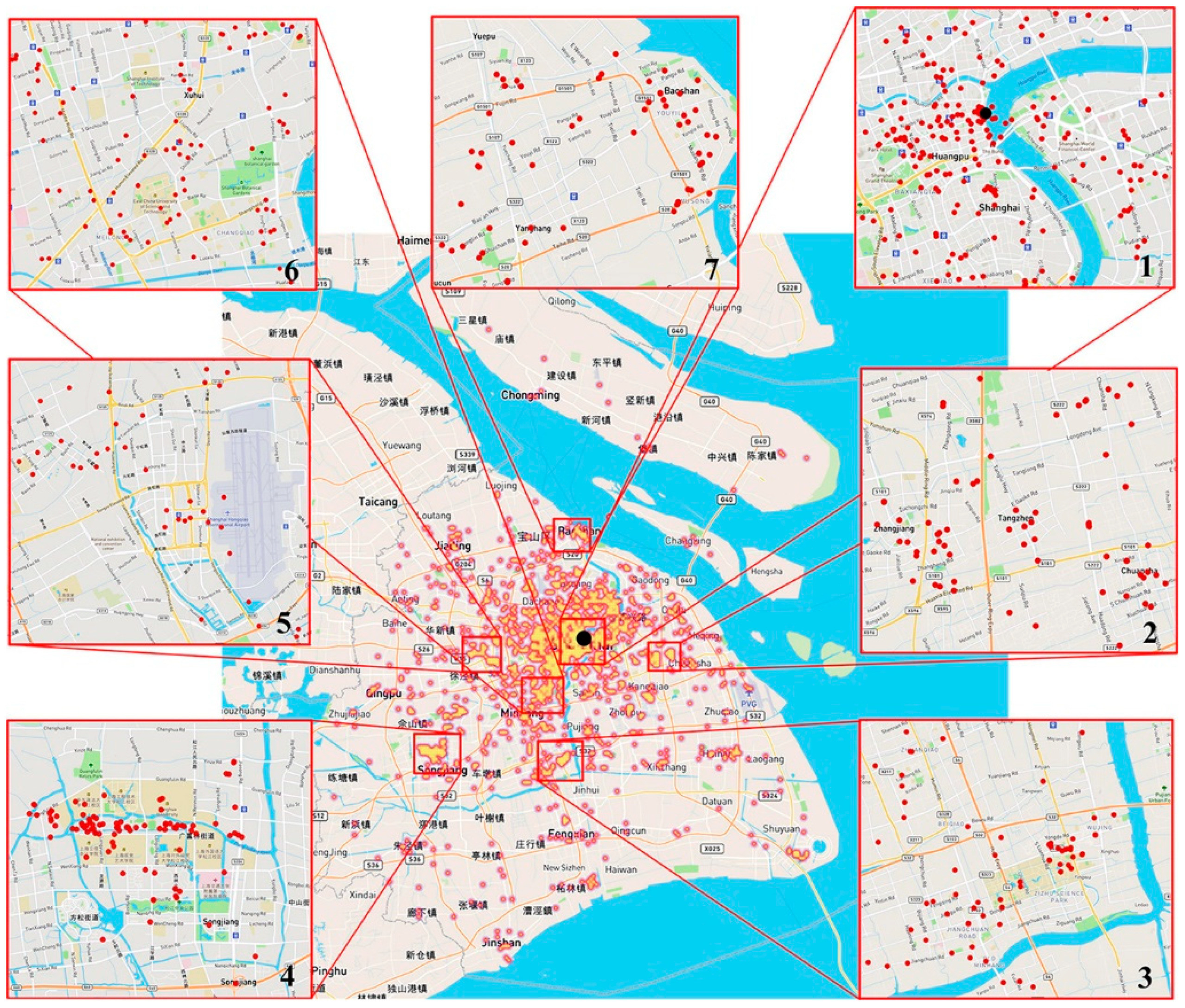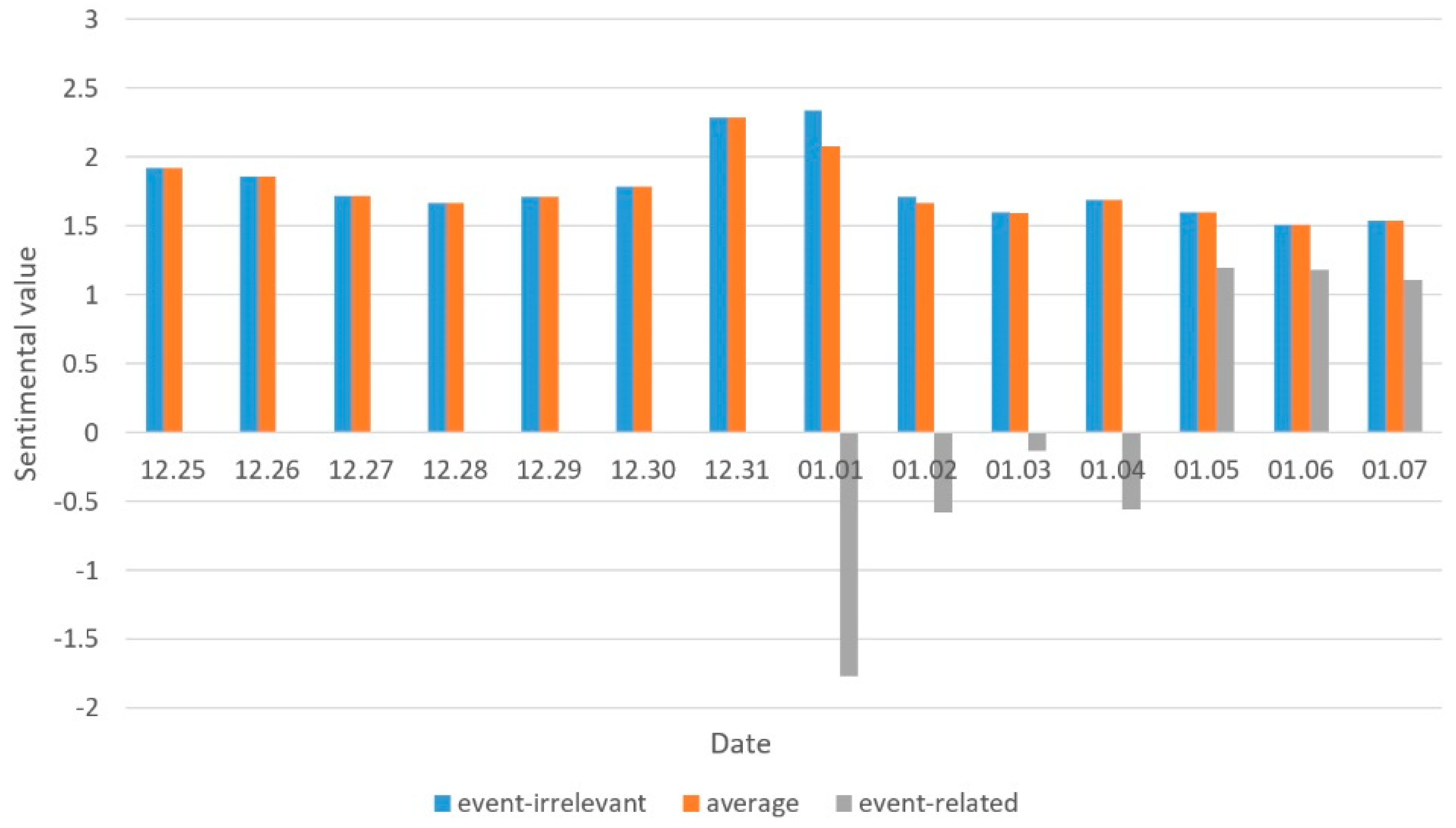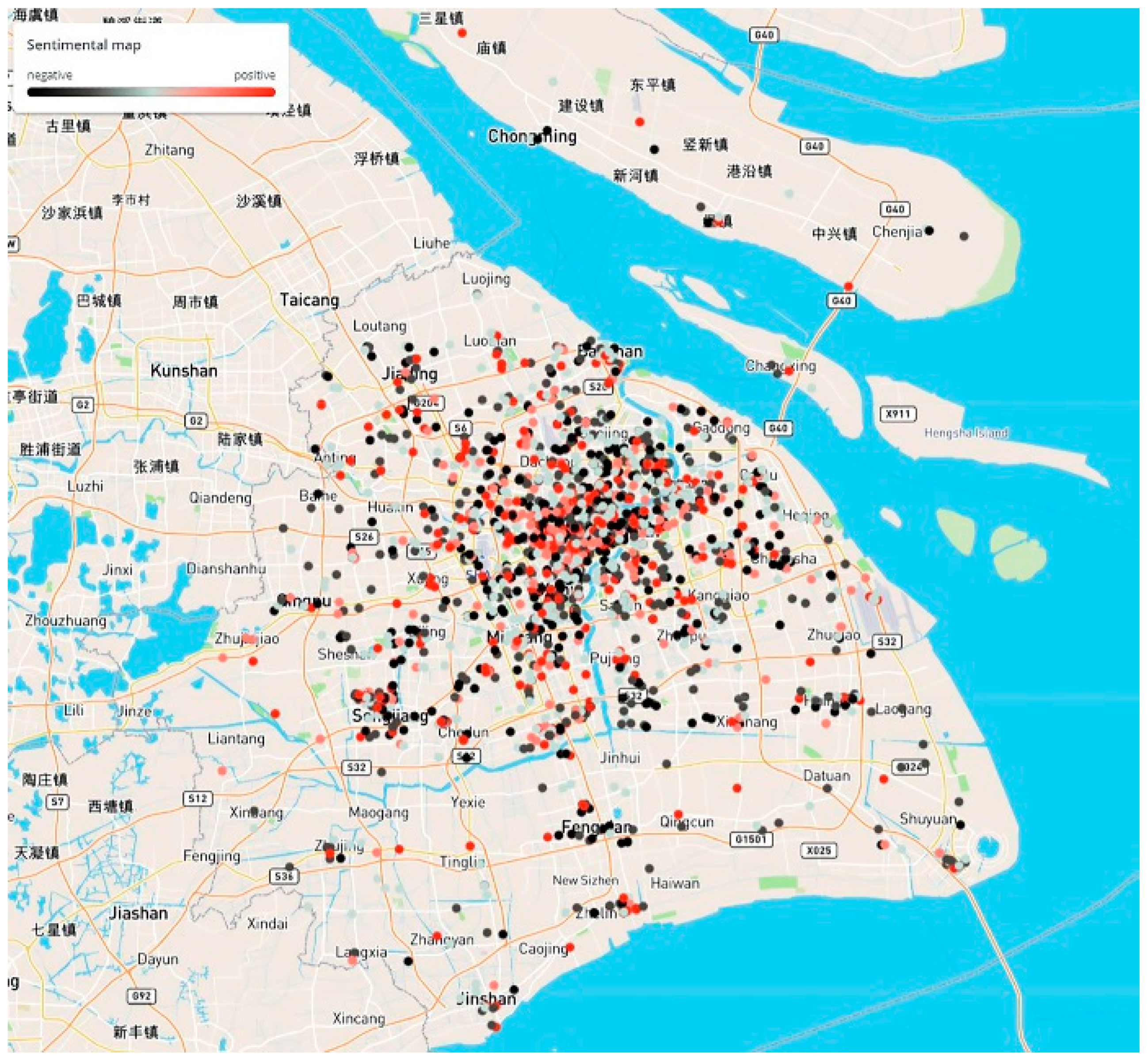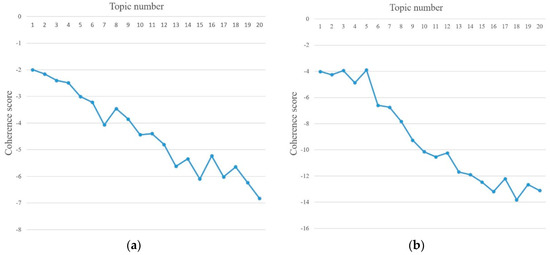 Figure 11. (a) Topic evaluation diagram based on the term frequency (TF); (b) topic evaluation diagram based on the term frequency–inverse document frequency (TF-IDF).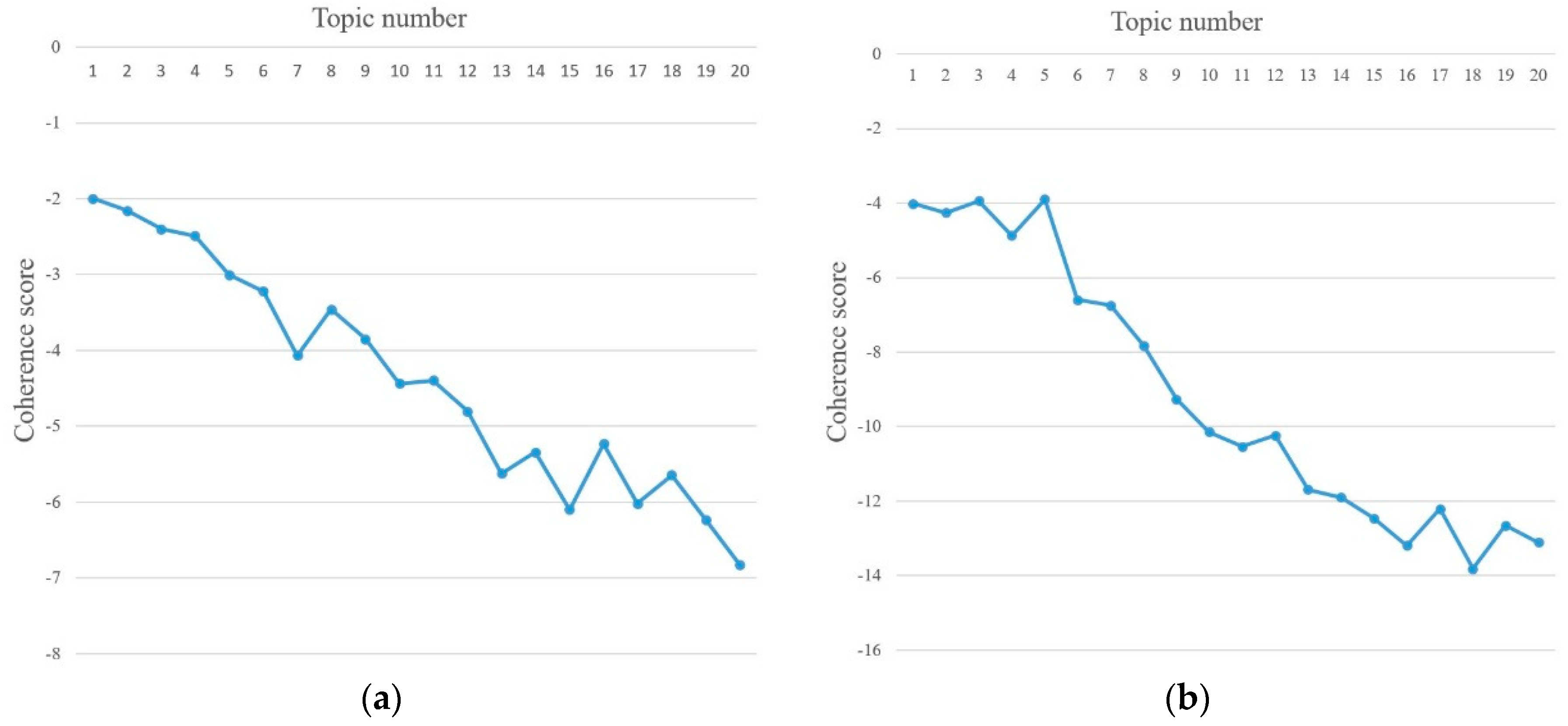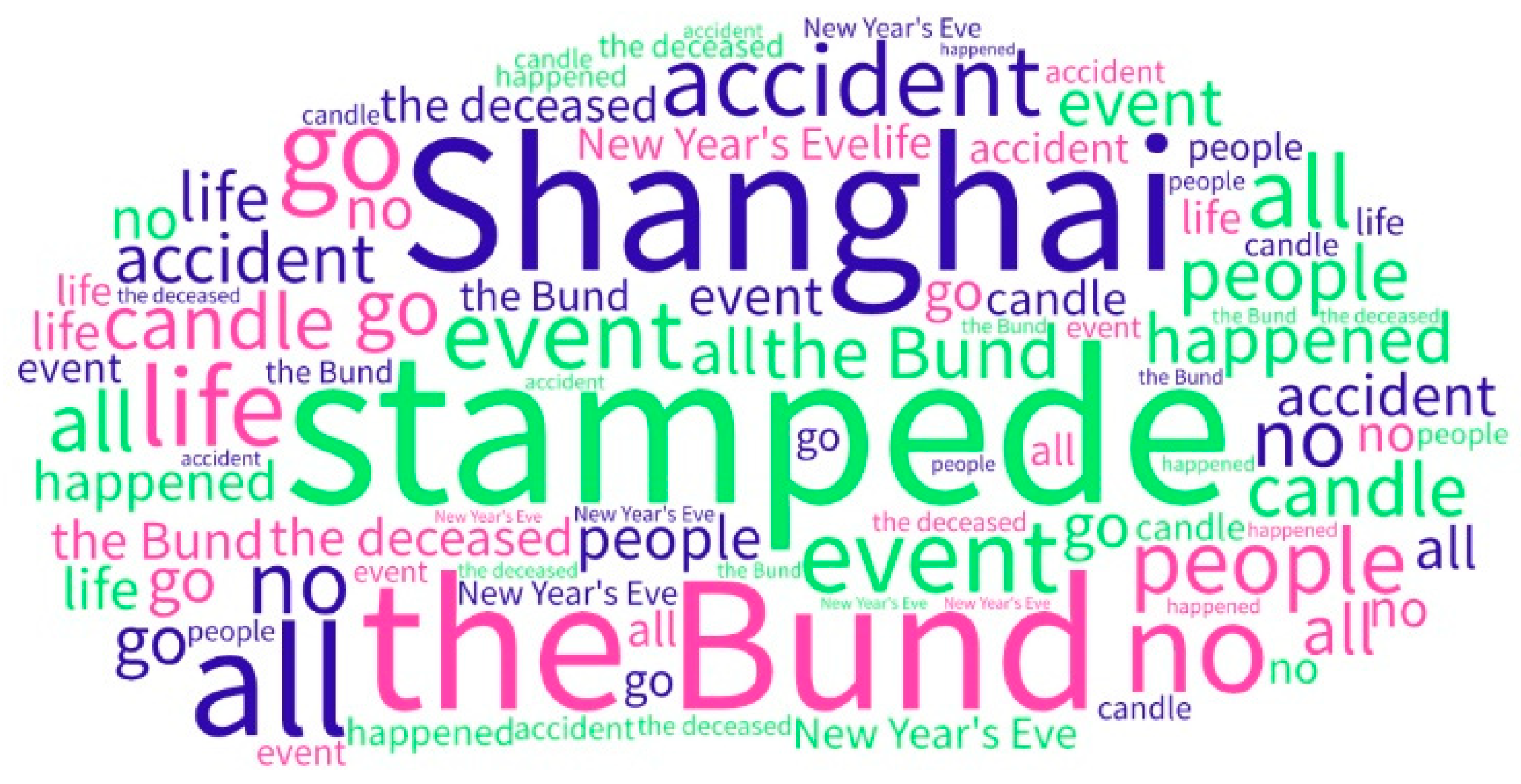 | | The Number of Records | Date | Description |
| --- | --- | --- | --- |
| Event-related dataset | 2093 | January 2015 | Posted with event-related hashtags |
| Event-irrelevant dataset | 61,081 | 1 January 2014 | Posted in the New Year 2014 |
| Method | Parameters | Precision | Recall | F1_Score |
| --- | --- | --- | --- | --- |
| MultinomialNB | alpha = 0.5 | 1.000 | 0.685 | 0.813 |
| BernoulliNB | alpha = 0.001 | 0.995 | 0.972 | 0.984 |
| KNN | K = 3, weights = Euclidean distance | 0.972 | 0.319 | 0.481 |
| SVM (Linear Kernel) | C = 1 | 0.991 | 0.995 | 0.993 |
| SVM (RBF Kernel) | C = 100, gamma = 0.01 | 0.991 | 0.995 | 0.993 |
Topic
Topic Word Content
Interpretation
Relationship
Sentimental Value
1
candle, event, report, event investigation, happened, Shanghai, people, leader, accident, that night, all, officers, went, eat, restaurant
Local officers ate dinner at nearby restaurants during the night of the incident
Related event
−0.85
2
report, event investigation, survey result, event, candle, strong, cancel, light show, crowd, happened, that night, people, Shanghai, all, the deceased,
Because of the stampede event, the light show was canceled in case of another security incident.
Causal relationship
−1.87
3
survey result, leader, people, restaurant, event, die, Shanghai, district mayor, dismissed, go, Huangpu district, courage, happened, accident, the Bund,
The government handled the incident, dismissed the mayor, this may be related to a previous restaurant event
Causal relationship
−3.20
4
accident, Shanghai, the Bund, people, event, center, crowd, happened, mad, share, quick, come to see, candle, view, all
1. Overcrowding caused a stampede
2. The public spreads event-related information through social media
1. Reason
2. Public concentration
−0.55
5
candle, event, people, accident, Shanghai, all, go, the deceased, rest in peace, life, happened, the victim, strong, the Bund, silence
The reaction of the people to the incident, wishing that the dead rest in peace, hoping people can be strong
Public reaction to death people
−1.14

© 2018 by the authors. Licensee MDPI, Basel, Switzerland. This article is an open access article distributed under the terms and conditions of the Creative Commons Attribution (CC BY) license (http://creativecommons.org/licenses/by/4.0/).