Open Access This article is
freely available
re-usable
Article
Progressive Amalgamation of Building Clusters for Map Generalization Based on Scaling Subgroups
1
School of Geography and Planning, Sun Yat-Sen University, Guangzhou 510275, China
2
School of Geographical Science, Guangzhou University, Guangzhou 510275, China
3
Guangdong Key Laboratory for Urbanization and Geo-simulation, Guangzhou 510275, China
*
Author to whom correspondence should be addressed.
Received: 7 January 2018 / Accepted: 13 March 2018 / Published: 15 March 2018
Abstract
:
Map generalization utilizes transformation operations to derive smaller-scale maps from larger-scale maps, and is a key procedure for the modelling and understanding of geographic space. Studies to date have largely applied a fixed tolerance to aggregate clustered buildings into a single object, resulting in the loss of details that meet cartographic constraints and may be of importance for users. This study aims to develop a method that amalgamates clustered buildings gradually without significant modification of geometry, while preserving the map details as much as possible under cartographic constraints. The amalgamation process consists of three key steps. First, individual buildings are grouped into distinct clusters by using the graph-based spatial clustering application with random forest (GSCARF) method. Second, building clusters are decomposed into scaling subgroups according to homogeneity with regard to the mean distance of subgroups. Thus, hierarchies of building clusters can be derived based on scaling subgroups. Finally, an amalgamation operation is progressively performed from the bottom-level subgroups to the top-level subgroups using the maximum distance of each subgroup as the amalgamating tolerance instead of using a fixed tolerance. As a consequence of this step, generalized intermediate scaling results are available, which can form the multi-scale representation of buildings. The experimental results show that the proposed method can generate amalgams with correct details, statistical area balance and orthogonal shape while satisfying cartographic constraints (e.g., minimum distance and minimum area).
Keywords:
progressive amalgamation; building cluster; hierarchy; map generalization
1. Introduction
Map generalization is a procedure that utilizes transformation operations such as elimination, amalgamation, displacement, and simplification to solve spatial conflicts and derive smaller-scale maps from larger-scale maps [
1
]. Map generalization is an important means of modelling and understanding geographical phenomena [
2
]. When updating multi-representation databases, we often implement map generalization in order to propagate updates from the source scale to high-level scales [
3
,
4
]. The process of map generalization can be decomposed into model generalization and cartographic generalization [
5
,
6
]. Model generalization aims to derive higher-level abstractions from a primary geographic database without considering the artistry for visualization, which can be viewed as a preprocessing step prior to visualization via cartographic generalization. Amalgamation that fuses buildings within a cluster into a single object for the next higher-level representation is an essential operation of model generalization for map production [
7
], and attracts scientific interest from cartographic researchers [
8
,
9
,
10
].
The process of amalgamation is challenging for urban environments where buildings with complex spatial distribution need to merge. Specifically, proper amalgamation needs to address the issues of both the identification of building clusters (i.e., the grouping of individual buildings into distinct clusters by analyzing the spatial relations between buildings) [
8
,
11
] and cartographic constraint requirements (e.g., maintain position accuracy, retain balance of the whole area, square shapes, and avoid short gap distance) [
10
]. Nevertheless, a variety of methods have been developed for specific sub-problems of amalgamation. For building patterns recognition, significant achievements have already been made [
12
,
13
,
14
,
15
,
16
,
17
].
Previous research on the amalgamation of building clusters can be categorized into two types according to the processing data structure. The first is developed for raster data (if the source data is vector data, it is converted to raster data), including the method using morphologic operators (i.e., expansion and erosion) [
18
,
19
,
20
], and the method using scanning on raster data in two vertical directions to fill gaps between buildings in order to implement amalgamation [
10
,
21
]. These methods are difficult to fully control, as the solutions are designed for all scenarios without local tuning [
14
], and are inappropriate for other generalization operations (e.g., simplification and rectangularity). In addition, they would result in the loss of position accuracy during the conversion between raster and vector data. The other types of amalgamation methods are developed for vector data, which have been extensively studied. Strategies employed by these methods can be categorized into four types, including aggregation by displacing, aggregation by flooding, aggregation by sampling, and aggregation by connecting objects [
11
]. In this paper we explore the last of these strategies, which uses the triangles connecting objects as connectors to merge objects, which is by far the most commonly used methodology [
22
]. Triangles from the Delaunay triangulation can provide explicit spatial relationships between features, and can used be to guide the amalgamation process [
3
,
7
,
8
,
9
,
23
]. When applying the Delaunay triangulation to aggregate buildings within clusters, it is critical to determine which triangle is to be removed or maintained. The measured parameters include the position, angle, and height of a triangle and the mean length of its three edges [
7
,
24
]. As a result, these methods often involve considerable empirical thresholds for comparison. Moreover, such methods prefer to employ a global and fixed amalgamating distance to aggregate buildings within a cluster, which would result in some details of amalgams being lost, although these details meet cartographic constraints and are important to users.
In this paper, we present a progressive strategy for the amalgamation of building clusters based on the assumption that a building cluster recognized at the target scale may contain different levels of homogeneous subgroups according to certain variable conditions (e.g., mean distance) and that a hierarchy of that cluster can be derived. Thus, by decomposing a building cluster into scaled homogeneous subgroups (i.e., father clusters represent a coarse-scale grouping result, while their subgroups correspond to a fine-scale grouping result) to construct a hierarchy and progressively amalgamating subgroups from the bottom level to the highest level of the hierarchy, it is possible to obtain an amalgam with better preserved details that satisfy cartographic constraints and may be of importance for users. Moreover, it can avoid the necessity of employing considerable empirical parameters. To obtain such amalgams, the following requirements need to be considered: (1) as a prerequisite of amalgamation, an appropriate grouping method to detect building clusters must be found; (2) it must be determined which criteria define the homogeneity of subgroups for decomposing the building clusters; and (3) building subgroups must be amalgamated progressively without significant modification of geometry.
2. Methodology
Figure 1
illustrates the proposed framework for the amalgamation of building clusters, which consists of three major parts with details to be explained in the following sections.
3. Test Data
For this research, an area located in the middle of downtown Guangzhou, Guangdong, was selected (
Figure 4
). The spatial dataset at the scale of 1:2000 was provided by the Guangzhou Urban Planning and Design Survey Research Institute in the Guangdong province in China. The provided spatial dataset includes buildings and a road network in vector format. There are 38 building blocks and 3017 buildings in the study area. Visually, the distribution of buildings is complex, and various patterns are recognizable. For example, unstructured group patterns with high density are easily recognized by narrow roads across blocks (e.g., Block 29, Block 31, and Block 32) from "urban villages" (a unique phenomenon in Chinese urbanization processes wherein villages exist in the core areas of well-developed large cities). In addition, building group patterns such as linear patterns and L-shaped patterns can be identified from the blocks with urban landscapes that were well designed (e.g., Block 17, Block 18, and Block 19). Accordingly, this dataset provides an ideal study case that is representative of the complex urban environment in southern China.
4. Results and Discussion
5. Conclusions
This study set out to amalgamate building clusters gradually without a significant modification of geometry while preserving the details of generalized objects as much as possible under cartographic constraints. To accomplish this goal, this study proposed a progressive strategy of amalgamation based on scaling subgroups, which consists of a building grouping method, a method for deriving hierarchies of building clusters, and a progressive amalgamation algorithm.
We validated our approach on a vector dataset together with some quantitative measurements. Comparative studies first revealed that building grouping is essential to the amalgamation of building clusters. This is because the methods without building grouping would often cause the buildings within multiple distinct clusters to be merged into one large object. The research also showed that the generalized objects derived from simple building clusters that only have one level are almost the same, even though they were generalized by different methods. However, for the complex clusters that have multiple levels, the outlines of fitted polygons derived by the proposed method are more similar to those of clusters. The reason is that the proposed method progressively aggregates buildings within subgroups from the bottom level to the highest level and uses the maximum distance of each subgroup as the amalgamating tolerance in every iterative fusing process. Thus, significant modification of geometry is avoided while the details of generalized objects are preserved as much as possible during the amalgamation process. Taken together, these results suggest that we should pay more attention to the complex clusters with multiple levels and may amalgamate them in a progressive fashion when generating maps. In addition, the proposed method will prove useful in multi-scale representations, as it can generate continuous representations and provide links among building clusters, generalized objects, and scale parameter values.
Further tests are needed to improve the proposed method (e.g., testing it with more spatial datasets from different scales), and more generalization operators (e.g., displacement and typification) should be integrated in the process. More work is also needed to automatically calibrate parameters (e.g., homogeneous criteria and scale index) used in the presented strategy.
Acknowledgments
We would like to thank the anonymous reviewers for their constructive comments. This research was supported by the National Natural Science Foundation of China (Grant No. 41431178), the Natural Science Foundation of Guangdong Province in China (Grant No. 2016A030311016), and the National Administration of Surveying, Mapping and Geoinformation of China (Grant No. GZIT2016-A5-147).
Author Contributions
X.Z. and X.H. conceived and designed the experiments and wrote the paper; J.Y. helped with the experiments.
Conflicts of Interest
The authors declare no conflict of interest.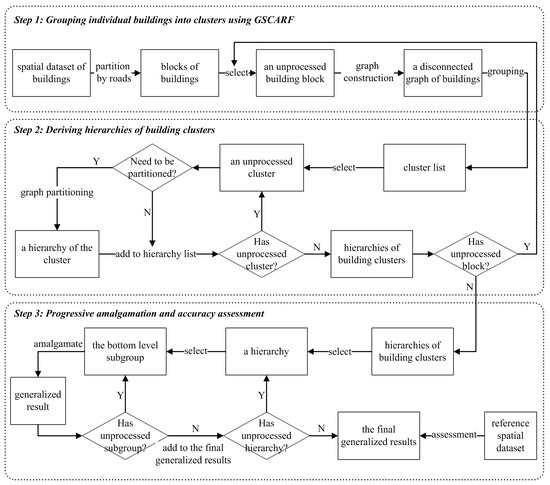 Figure 1. The overall framework for the progressive amalgamation of building clusters. GSCARF: graph-based spatial clustering application with random forest.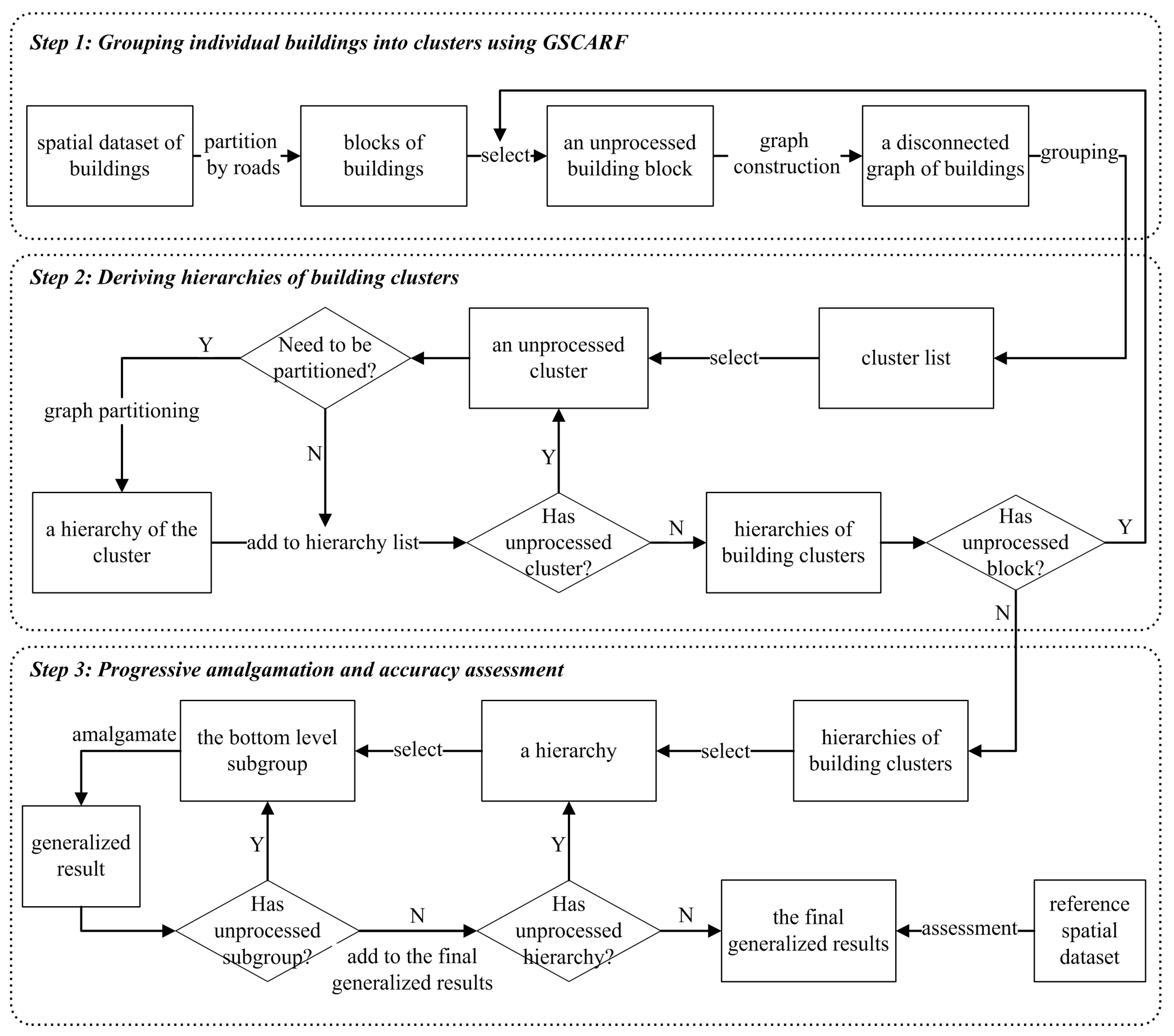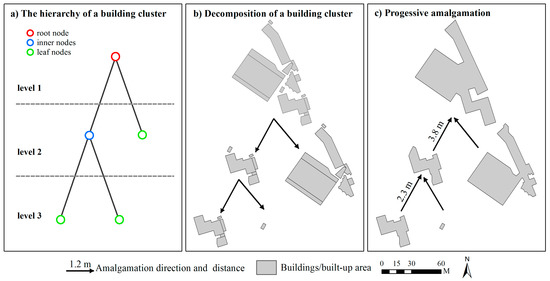 Figure 2. Examples for decomposing a building cluster and progressive amalgamation are shown for (a) the hierarchy of a building cluster; (b) corresponding building subgroups in the hierarchy; (c) generalized results based on (b).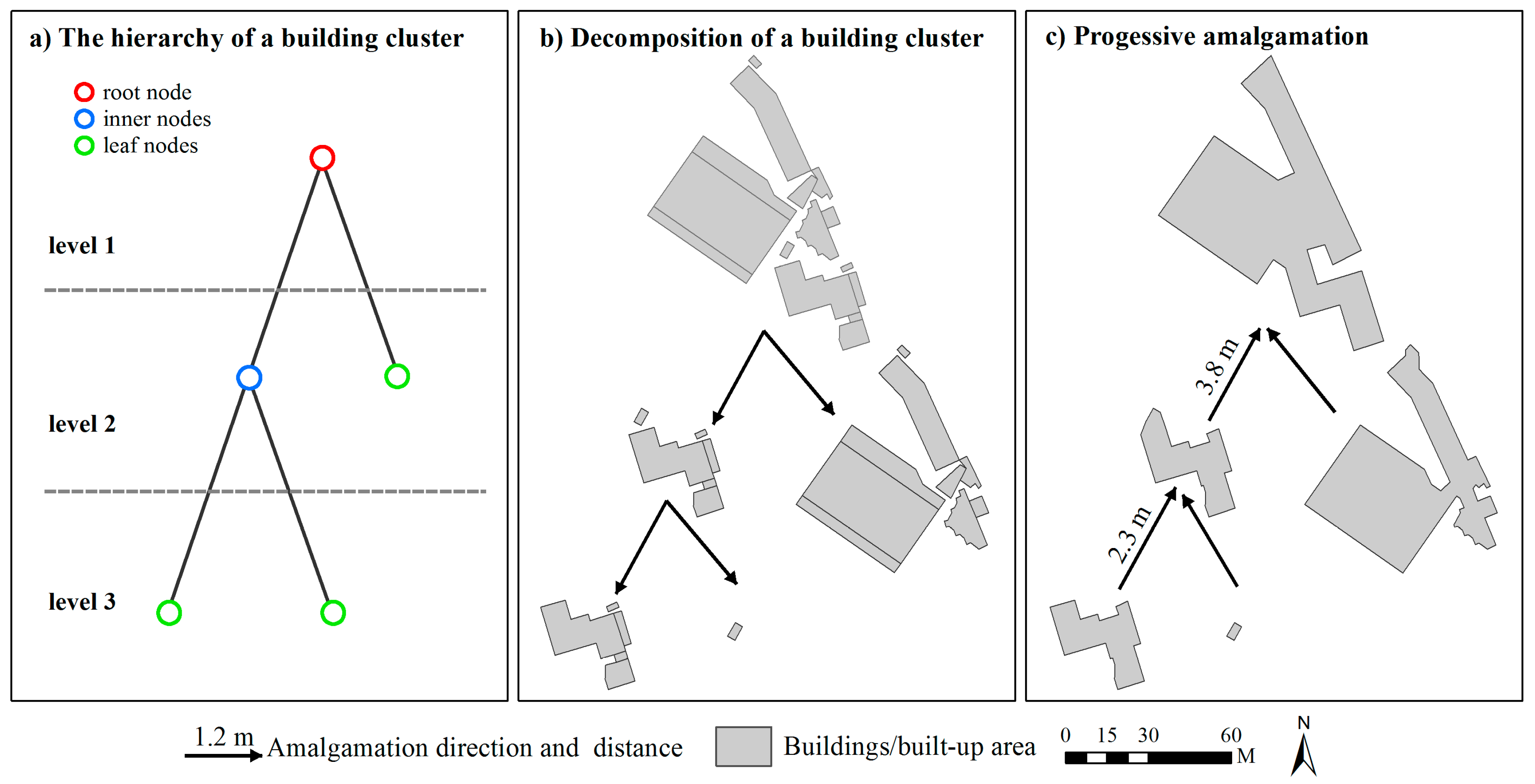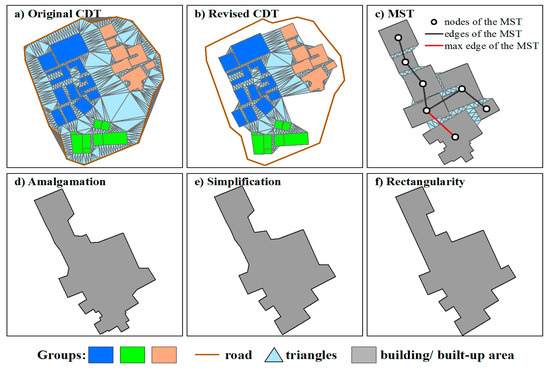 Figure 3. An example of the amalgamation process for (a) a constrained Delaunay triangulation (CDT) is constructed for all buildings within a block; (b) the revised constrained Delaunay triangulation; (c) the minimum spanning tree (MST) is constructed for a building group; (d) the amalgamated result; (e) the post-simplification object; and (f) the rectangularity object.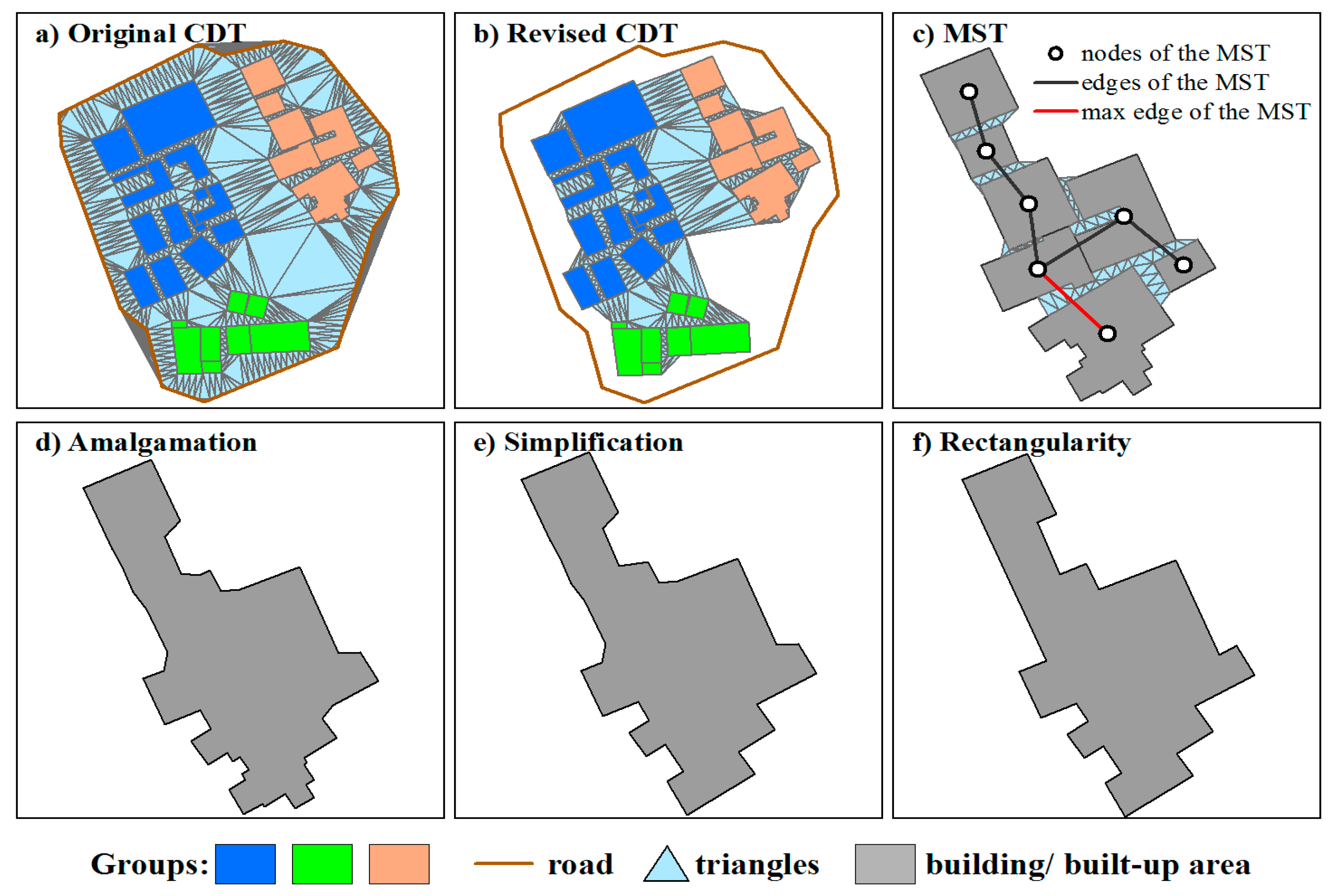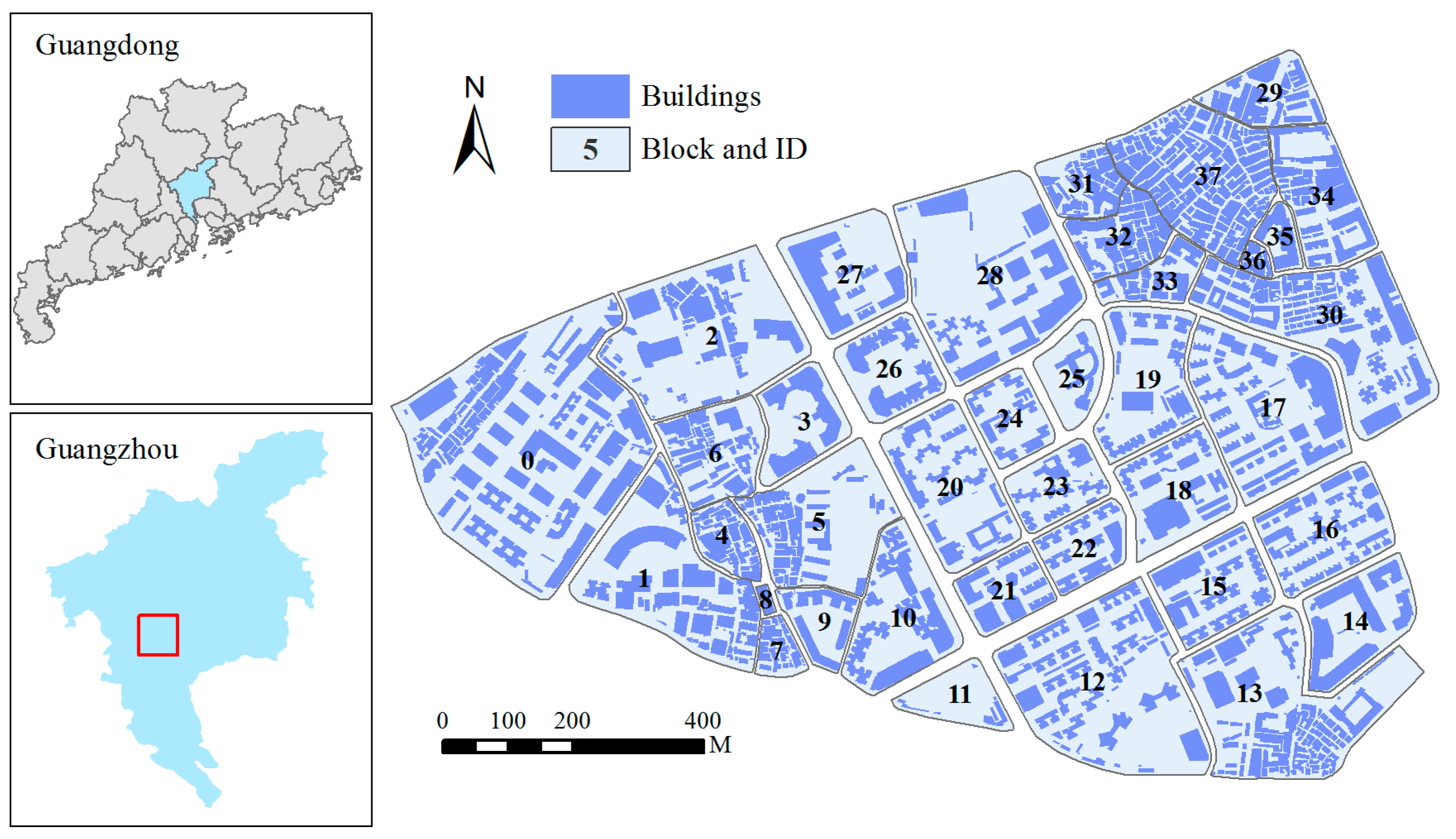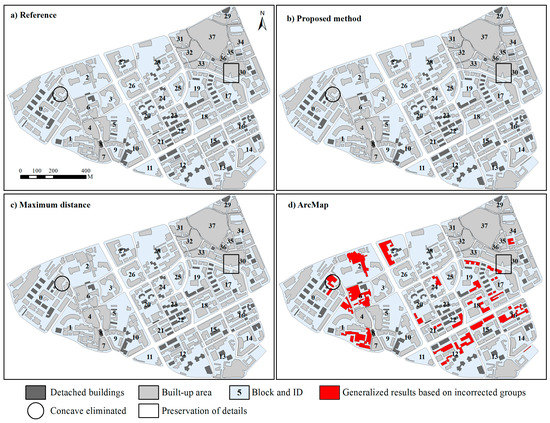 Figure 5.
The same as
Figure 4
with ID block, but generalized results are shown for (
a
) the proposed method; (
b
) Reference; (
c
) Max distance; and (
d
) ArcMap. Note that the displacement operation has been excluded from the experiment.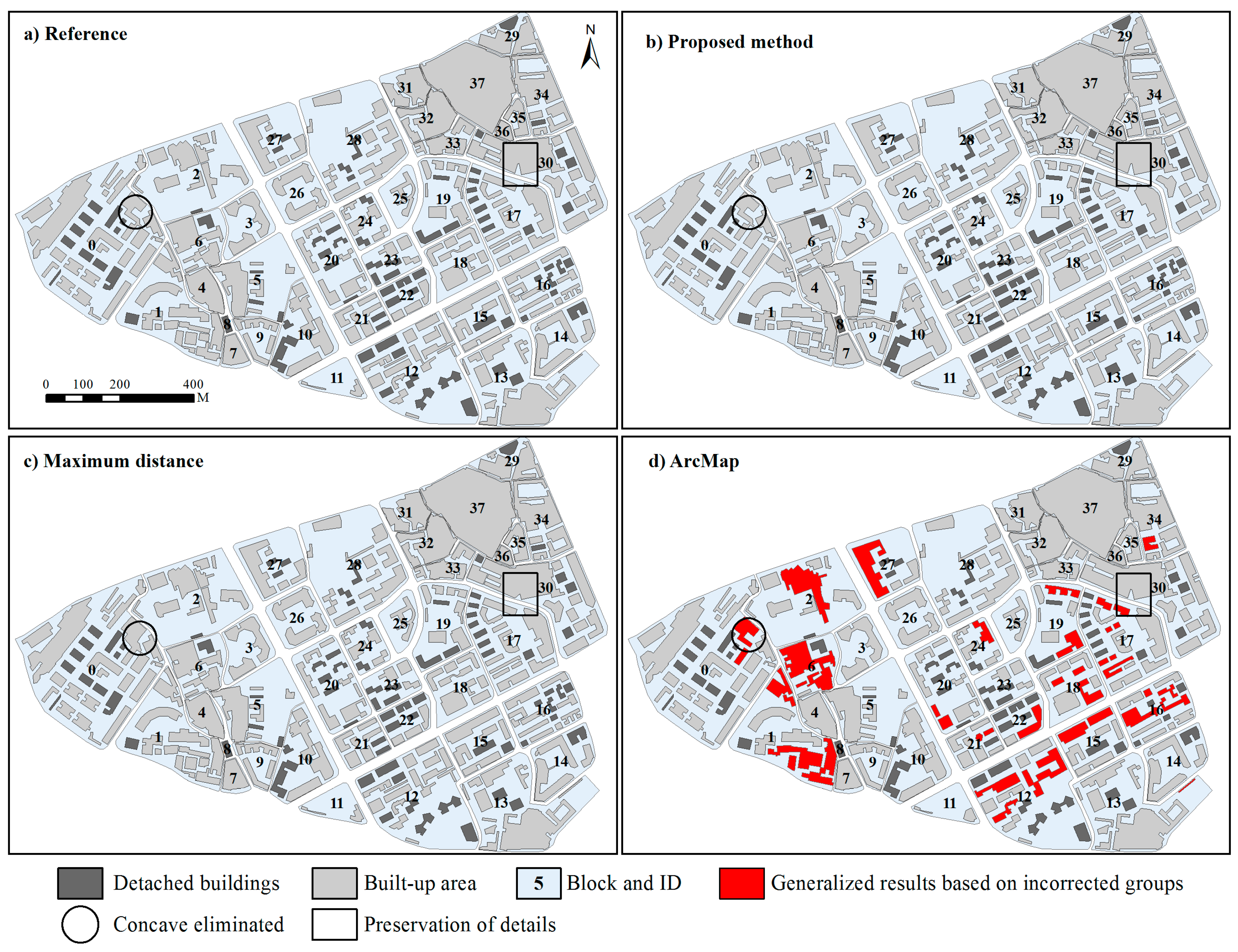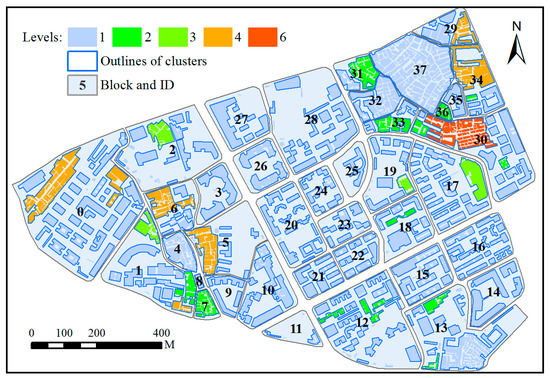 Figure 6.
The same as
Figure 4
with ID block, but the result shows for the number of levels within the hierarchy of each building cluster. Buildings outlined in blue form a building cluster.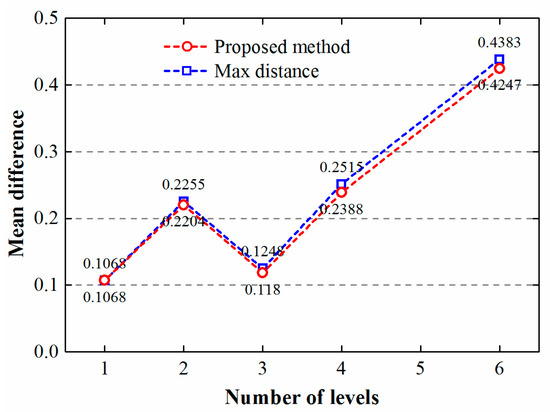 Figure 7. Mean difference of generalized results versus number of levels. Mean difference is the absolute difference between total building area and the total area of generalized objects, normalized by the total building area.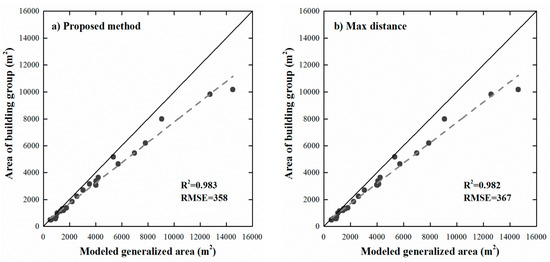 Figure 8. Regressions between the areas of building clusters and the areas of modelled generalized objects that were derived from (a) the proposed method; and (b) the method by using the maximum distance of each building cluster.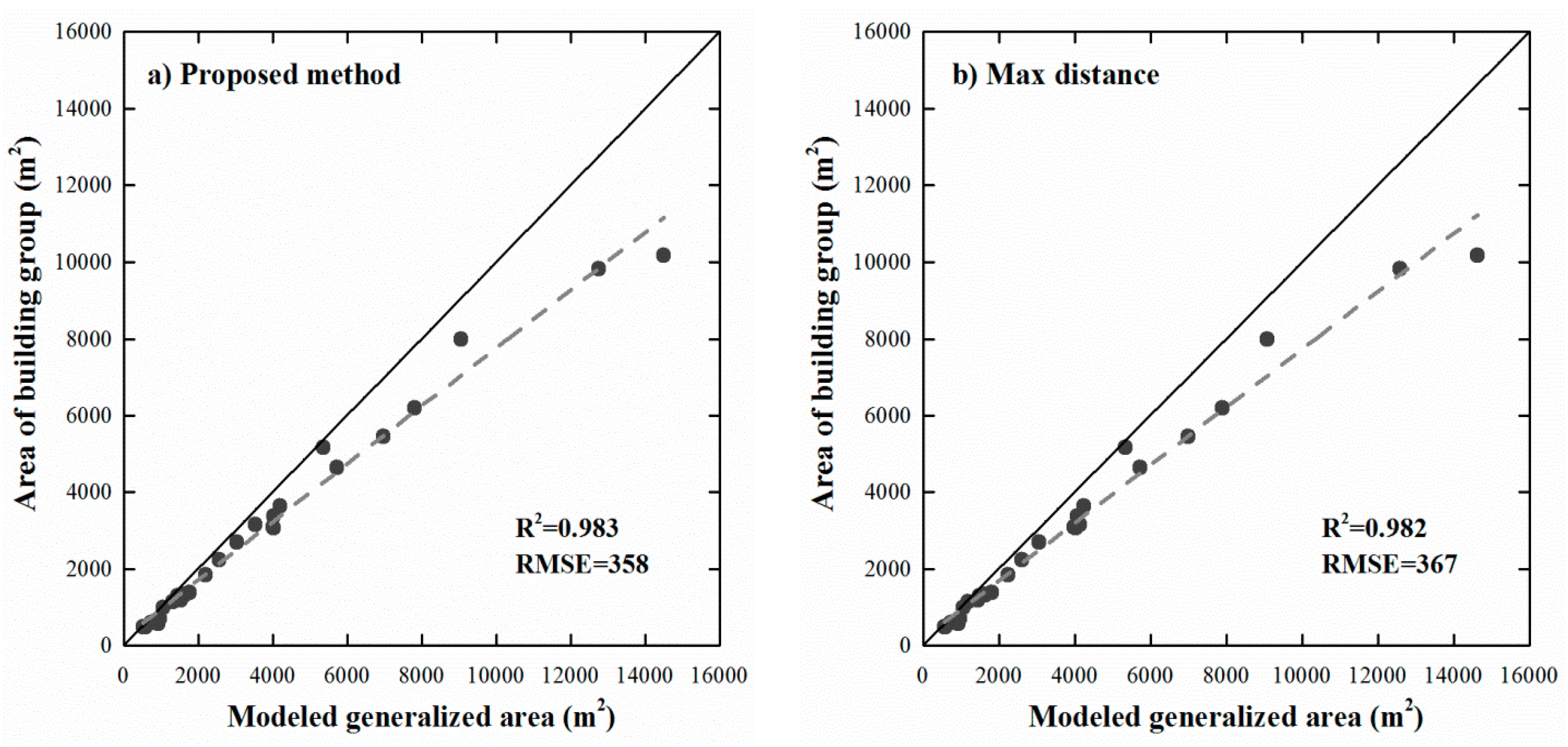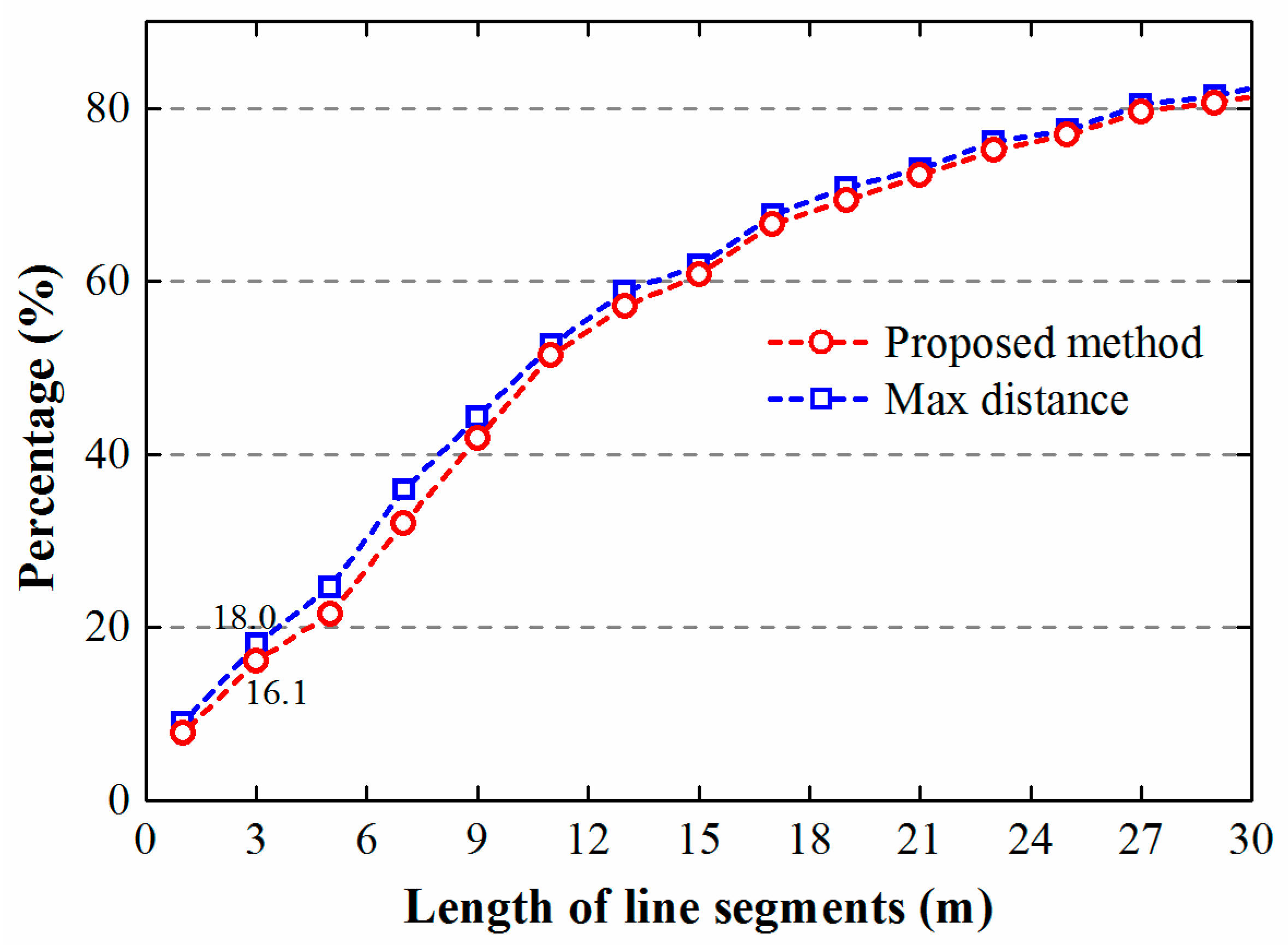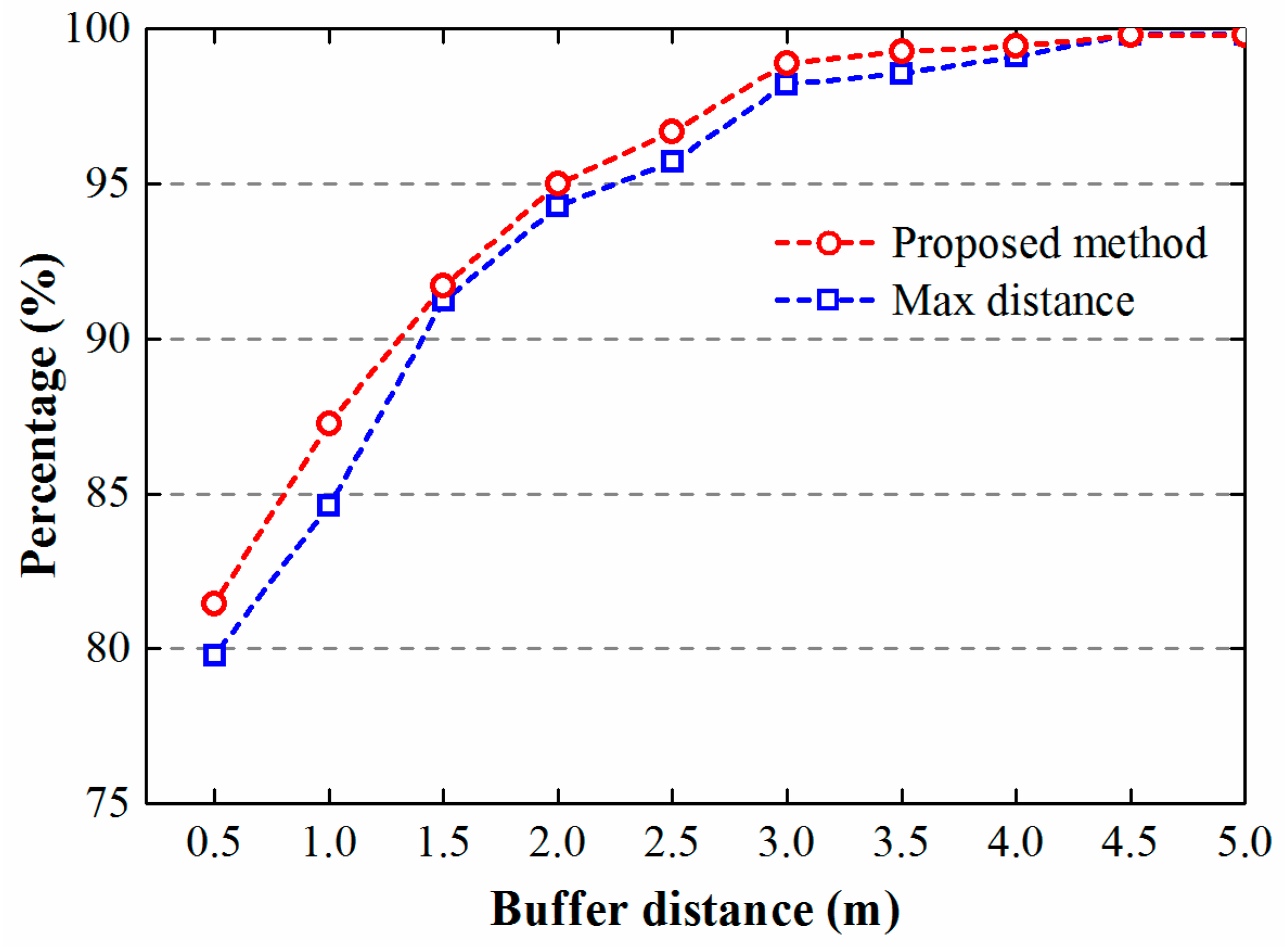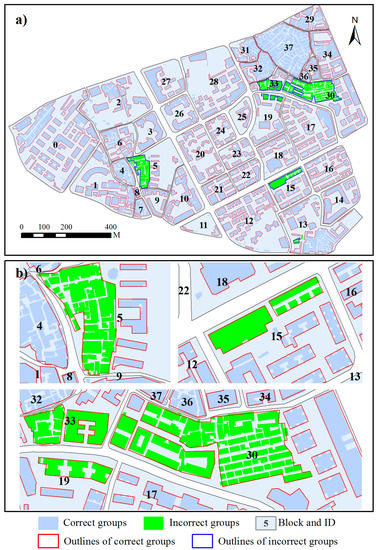 Figure 11.
The same as
Figure 4
with ID block but grouping results of the tested data are shown for (
a
) the proposed method; and (
b
) an enlarged version of incorrect groups. Buildings marked in green with blue edges are incorrect groups.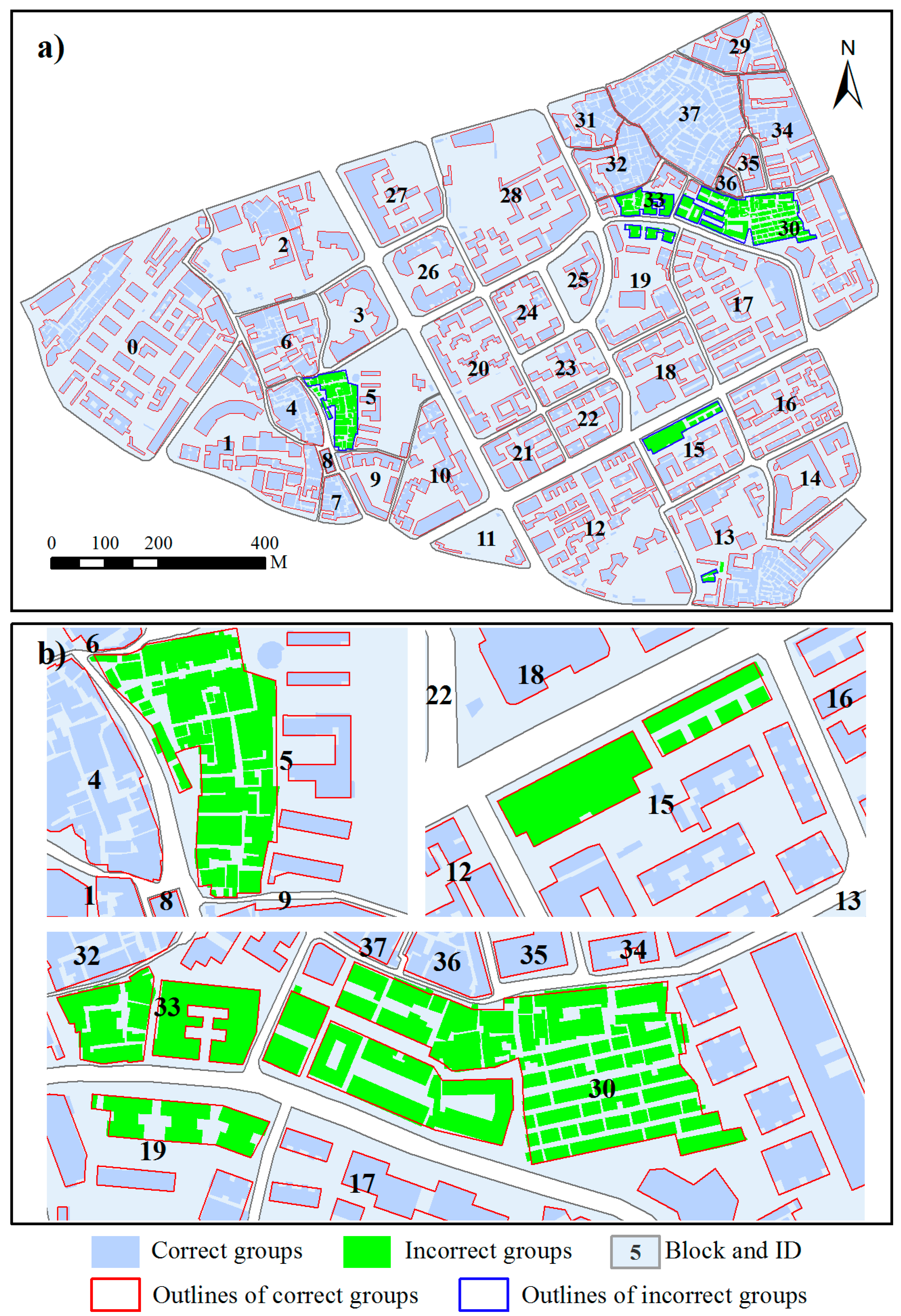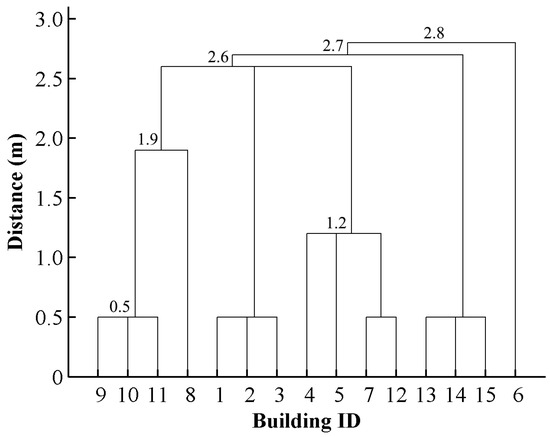 Figure 12. The hierarchy of a building cluster inside Block 1. The maximal distance of each subgroup is used to quantify the scale parameter. Those subgroups with a distance value less than a given threshold form a scaling grouping result. In the hierarchy, nodes denote building subgroups, and the connected lines between nodes represent their hierarchical relationships.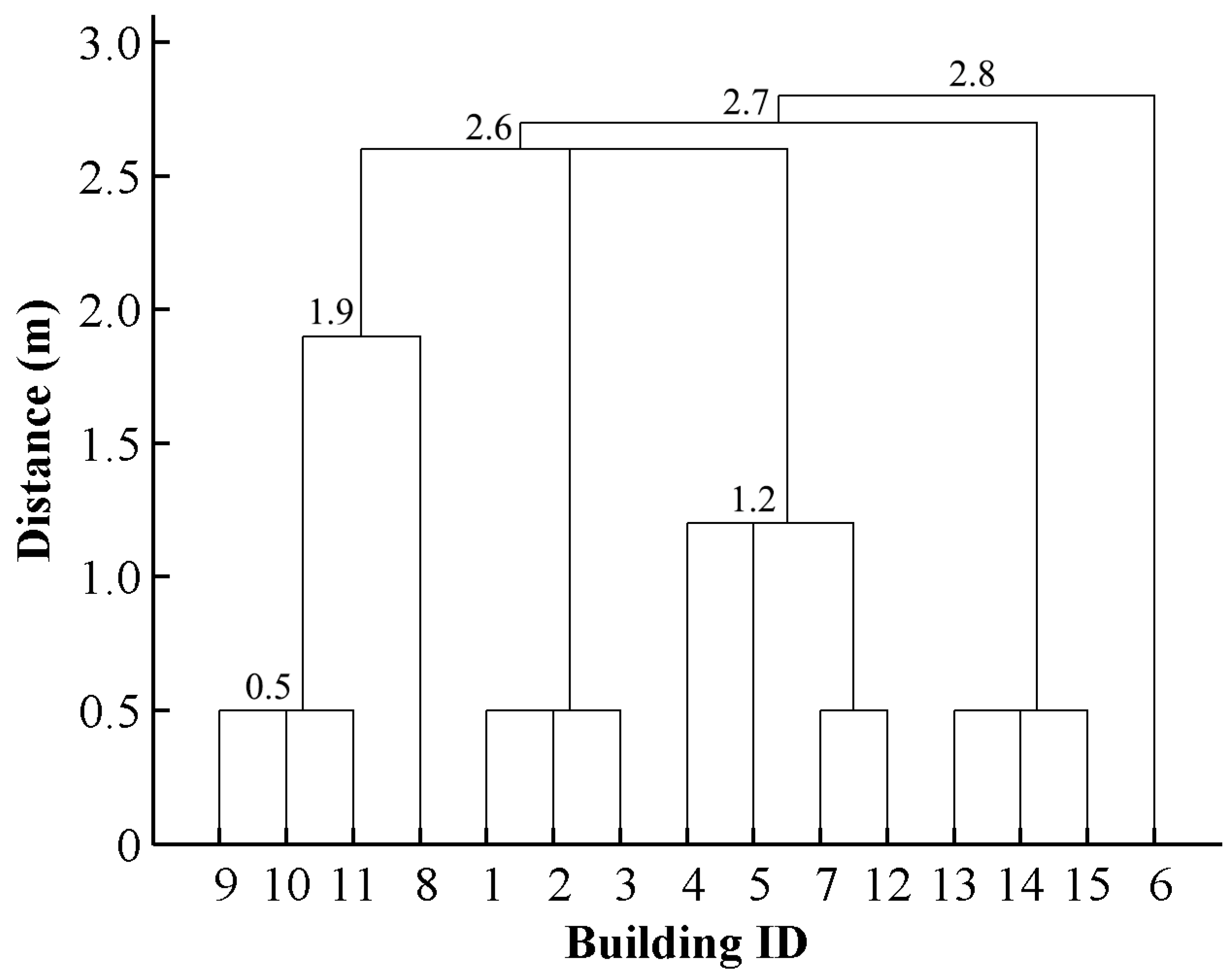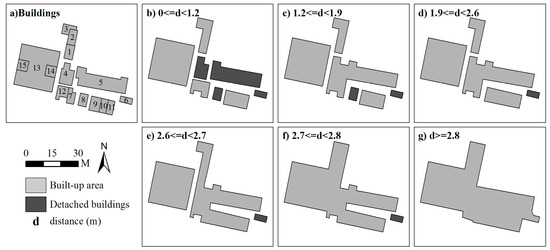 Figure 13. Multi-scale representations of buildings created with the proposed method. The level of detail will not change in a scale interval. The lower limit of a scale interval denotes the moment when a level detail of buildings come into being, whereas the upper limit indicates that the representation of buildings will disappear under this given value. Note that all objects are displayed at the same scale in order to clearly show the effects of the amalgamation process.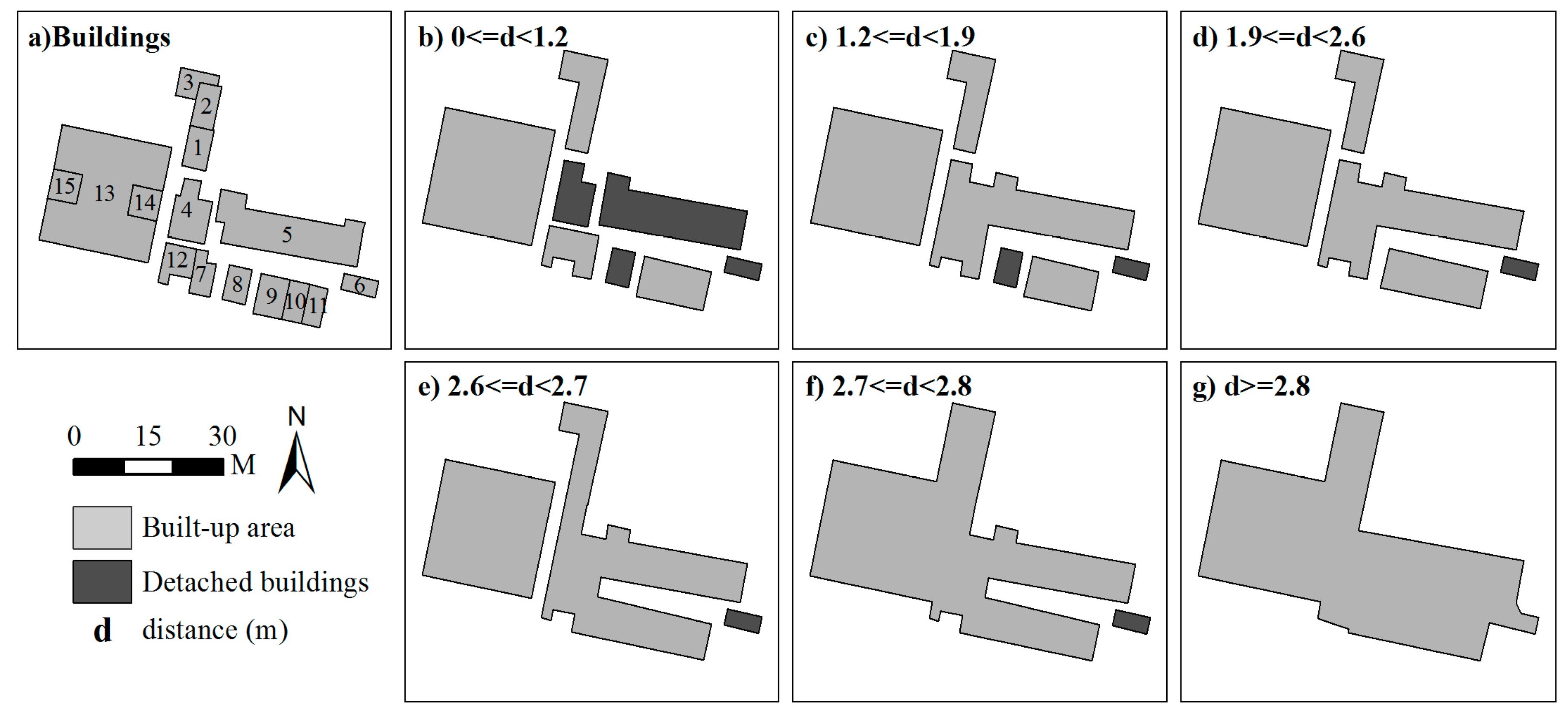 Method
No. of Objects
Min Distance (m)
Area (m2)
Min
Max
Mean
RMSE *
Proposed method
280
2.03
212.67
37,439.73
1597.88
44.47
Max distance
280
2.03
212.67
37,439.73
1600.79
135.26
ArcMap
260
0.36
193.31
37,320.84
1726.28
—
Reference
280
1.98
208.05
37,738.60
1589.37
—
* denotes that the generalized results are compared to the reference map. RMSE: root mean squared error.

© 2018 by the authors. Licensee MDPI, Basel, Switzerland. This article is an open access article distributed under the terms and conditions of the Creative Commons Attribution (CC BY) license (http://creativecommons.org/licenses/by/4.0/).