Open Access This article is
freely available
re-usable
Article
Effect of Size, Shape and Map Background in Cartographic Visualization: Experimental Study on Czech and Chinese Populations
1
Department of Geography, Faculty of Science, Masaryk University, 61137 Brno, Czech Republic
2
Division of Information and Library Studies and HUME Lab, Faculty of Arts, Masaryk University, 60200 Brno, Czech Republic
3
Department of Social Studies, Faculty of Regional Development and International Studies, Mendel University in Brno, 61300 Brno, Czech Republic
4
Department of Geographic Information Science and Cartography, School of Resource and Environmental Science, Wuhan University, Wuhan 430079, China
*
Author to whom correspondence should be addressed.
Received: 19 September 2018 / Accepted: 27 October 2018 / Published: 1 November 2018
Abstract
:
This paper deals with the issue of the perceptual aspects of selected graphic variables (specifically shape and size) and map background in cartographic visualization. The continued experimental study is based on previous findings and the presupposed cross-cultural universality of shape and size as a graphic variable. The results bring a new perspective on the usage of shape, size and presence/absence of background as graphic variables, as well as a comparison to previous studies. The results suggest that all examined variables influence the speed of processing. Respondents (Czech and Chinese, N = 69) identified target stimuli faster without a map background, with larger stimuli, and with triangular and circular shapes. Czech respondents were universally faster than Chinese respondents. The implications of our research were discussed, and further directions were outlined.
Keywords:
cartography; cross-cultural research; geometric map symbols; graphic variables; visual perception; visualization
1. Introduction
Research on methods of cartographic visualization has a long tradition and implications for many fields of human activity, including crisis and disaster visualizations [
1
,
2
]. The issue of graphic variables defined by Jacques Bertin [
3
] is mentioned in many scientific cartographic publications. Most of the works on graphic variables focus on Bertin's work and try to expand on his conclusions, which are considered generally valid in cartography. Many scientific works focus on this theory [
4
,
5
,
6
,
7
,
8
,
9
,
10
,
11
,
12
,
13
], and some papers try to extend the usage of the principles defined [
14
,
15
,
16
,
17
], but only a small part of published research focuses on verifying his theories (see further). For example, in his presentation at the International Cartographic Conference in 2017, Alan MacEachren mentioned that Bertin's work is "…often uncritically accepted" and highlighted the few uses of multivariate data/graphics [
18
]. Another example is the work by Christophe and Hoarau [
19
], where the influence of aesthetics is emphasized, whereas aesthetics in cartographic visualization is missing from Bertin's concept.
Bertin [
3
] postulated that map elements are a specific graphics system: a set of six basic variables mapping each character, of which variable characteristics are dedicated more to the graphic system, describing their features, characters and relationships. Bertin defined the basic variables as follows (see also
Figure 1
):
Size (taille): variation in the area size covered by a sign at a constant shape

Value (valeur): variation in the ratio of the total amount of black and white in the perceived color of a given area

Texture (grain): variation in the amount of discernable uniform marks per unit area at a constant value (there should be no variation in value, which is often ignored in the literature about Bertin's variables)

Hue (couleur): wavelength variation within the visible part of the electromagnetic spectrum between two areas at a constant value

Orientation (orientation): angular difference between several arrays of parallel signs

Shape (forme): variation in the outline character (form) of a sign at a constant size
These variables can be used to express quantitative and qualitative characteristics while also representing an aesthetic function. Bertin assigned five basic characteristics to the six basic variables: association, qualitative difference, selection, arrangement, and proportionality. Features and variables make up a total of 63 combinations available for map symbol creation. For a detailed description of graphic variables, see [
10
,
21
,
22
]. MacEachren [
18
] also mentioned that the main challenge currently is to focus on pre-cognitive perception rather than the further stages of cognitive processing.
Based on the above-mentioned theoretical issues, we researched using methodological approaches inspired by psychology and focused on verifying the perceptual aspects of selected graphic variables (specifically shape and size) in cartography and the cross-cultural universality of selected graphic variables.
2. Perception
A psychophysics movement in psychology was inspired by methods of natural sciences and concerned with the relationship between physical stimuli and the perception they produce was established. It introduced, among others, the key concept of sensory threshold as respectively differential and absolute sensitivity [
23
]. Later, at the start of twentieth century, the perceptual organization was first studied by a Gestalt psychologist, who investigated the principles of how elementary sensation is grouped into more complex structures and how figure-ground segregation proceeds [
24
].
Gestalt laws are also applied in cartographic visualization [
8
,
25
]. The basic assumptions and principles of the Gestalt school are still accepted in the scientific community [
26
], although the influence of top-down processes was later incorporated into this theoretical approach, which formally stressed only a bottom-up direction [
27
]. The work of Ulric Neisser [
28
] led to a cognitive turn in psychology. He highlighted the role of attention and anticipation in perception and stressed the importance of past experience. Based on this, it can be assumed that different individual experiences including socio-cultural context may cause differences in visual perception. Visual perception is determined by neurophysiological aspects (e.g., "the oblique effect" describes the decrease in performance when users deal with oblique shapes compared to cardinally (vertical and horizontal) oriented figures [
29
,
30
]), as well as by environmental (cultural) factors shaping the human experience.
It may be possible to use the findings from psychological research as guidelines for cartographers during map creation. However, in our opinion, several limitations do not allow for the direct application of findings from psychological studies. Psychological experiments do not fit the criteria of representative research design and an ecological approach [
31
,
32
]. Stimulus material in psychological experiments is usually very simplified to ensure the high internal validity of conducted studies and is also abstract without meaning. By contrast, maps are complex visual representations that always communicate meanings. Both factors lead to a lack of external validity in the results and limit their use in the field of cognitive cartography.
3. Research on Graphic Variables in Cartography
4. Cross-Cultural Research and Cartography
6. Results
Data analysis was performed using IBM SPSS Statistics 22 statistical software. Prior to data analysis, an outlier analysis was performed on the reaction times for each of the 48 items. Based on outlying reaction times (values below Q1-1.5 IQR or above Q3+1.5 IQR), 169 data points were deleted from the data matrix. The number of deleted values in each item varied between 0 and 10; the mean number of deleted values per item was 3.5.
As mentioned above, the size of the point symbols in the test items varied (eight size levels). We calculated the average time required to identify the items that contained the three smallest and the three largest point symbols. The items that contained the two medium-sized point symbols were eliminated from further analysis. We analyzed the mean reaction times for each type of stimuli (background—no background, and map background; size of point symbol—large, and small; shape of point symbol—circle, triangle, and diamond). We also calculated the overall mean reaction time for each participant and performed a stepwise linear regression with backward elimination, including gender and nationality as explanatory variables and overall mean reaction time as a dependent variable. We did not include age in the model because of its low variance. Gender was not a significant predictor of overall reaction time. A significant regression equation (F(1, 67) = 18.59,
p
< 0.001, R
2
= 0.35) was found for nationality as a predictor of point symbol detection speed. Descriptions for stimuli with and without map backgrounds, combined point symbol size and shape, and shape are in
Figure 6
and
Figure 7
and
Table 2
respectively.
The results show that reaction times were generally higher for items with a topographic background (M = 4.24 s, SD = 0.79 s) compared to items with no background (M = 3.95 s, SD = 0.79 s). The results were consistent across the subsamples. Czech participants were faster in both conditions (Czechs: no background, M = 3.44 s, SD = 0.60 s; with a topographic background M = 3.84 s, SD = 0.59 s; Chinese: no background, M = 4.41 s, SD = 0.66 s; with a topographic background, M = 4.61 s, SD = 0.79 s; see
Figure 6
).
Reaction times were generally higher for items with small point symbols (M = 4.74 s) compared to items with large point symbols (M = 3.83 s). The results were consistent across subsamples. Czech participants were faster in both conditions.
Diamonds had the highest mean detection times (M = 5.35 s) in the entire sample. The mean detection time for circles (M = 3.64 s) was slightly higher than for triangles (M = 3.30 s). The patterns of detection speed for diamonds, circles, and triangles were consistent across nationalities.
To test the above-mentioned hypotheses, we subjected the mean reaction times to a series of repeated measurements ANOVA, with nationality as a between-subjects factor (nationality—Czech vs. Chinese) and one within-subjects factor (background—no background vs. topographic background; symbol size—small vs. large; symbol shape—circle vs. diamonds or vs. triangles, etc.). Because of the number of groups (2), post hoc tests were not performed.
As predicted, we found that respondents detected symbols on a blank background (M = 3.95 s) significantly faster than symbols on a topographic background (M = 4.24 s), F(1,67) = 20.86,
p
< 0.001, ηp
2
= 0.24. We also found a significant between-subject effect in the Czech respondents, who were faster than the Chinese, F(1,67) = 34.93,
p
< 0.001, ηp
2
= 0.34. The effect of interaction between the background type and nationality was not significant.
Furthermore, we found an expected significant relationship between the speed of detection of small and large point symbols. Large point symbols (M = 3.83 s) were detected universally faster than small point symbols (M = 4.74 s), F(1,67) = 130.24,
p
< 0.001, ηp
2
= 0.66. Again, Czech respondents detected the symbols faster than the Chinese, F(1,67) = 38.10,
p
< 0.001, ηp
2
= 0.36. The effect of interaction between symbol size and nationality was not significant.
Finally, we tested for the potential effects of symbol shape on the detection speed. The detection of triangles was significantly faster in both background conditions (M = 3.30 s), followed by circles (M = 3.64 s), and then diamonds (M = 5.35 s), F(1.5,100.8) = 300.1,
p
< 0.001, ηp
2
= 0.82 (Greenhouse-Geisser correction was applied due to the violations of sphericity). Czech respondents were significantly faster in detecting all point symbol shapes, F(1,67) = 34.93,
p
< 0.001, ηp
2
= 0.34. The effect of interaction between symbol shape and nationality was not significant.
7. Discussion and Conclusions
The obtained results support and extend the previous findings and also bring new directions for future research. Interesting topics are, for example, the comparison of more complex shapes routinely used in cartographic symbolization or the perception of cartographic information by people with different ages, education or profession levels. We are also planning an extension of the experimental sample to include worldwide participants for a better understanding of the identified differences.
Author Contributions
Conceptualization: S.A. and Z.Š.; methodology: S.A., Z.S. and Č.Š.; software: Z.S. and Č.Š; validation: Z.S.; formal analysis: J.Č. and Z.S.; investigation: S.A., Z.S. and Č.Š.; resources: S.A. and Z.S.; data curation: J.Č., Z.S. and Č.Š.; writing of the original draft preparation: S.A., J.Č., Z.S. and Č.Š.; writing of review and editing: S.A., J.Č., P.K., Z.S. and Č.Š.; visualization: Z.Š. and M.B.; supervision: S.A. and Z.S.; project administration: S.A. and Z.S.; funding acquisition: S.A., Z.S., Č.Š. and P.K.
Funding
This research was funded by Masaryk University, Czech Republic, Grant No. MUNI/M/0846/2015, "Influence of cartographic visualization methods on the success of solving practical and educational spatial tasks", by the grant of the Ministry of Education, Youth and Sports of the Czech Republic, Grant No. LTACH-17002, "Dynamic mapping methods oriented to risk and disaster management in the era of big data" and by the State Key Laboratory for Information Engineering in Surveying, Mapping and Remote Sensing, Wuhan University, China, Project No. 904090405, "Special Research Fund". The APC was funded by Masaryk University, Brno, Czech Republic and Wuhan University, Wuhan, PR China.
Acknowledgments
The authors would like to thank the following collaborators: Teng Fei (technical coordinator, technical implementation), Xu Wang-Angsüsser (translations, test evaluation), Yi Lu (test evaluation, test preparation and supervision), Guang Hu (technical implementation), and at the Laboratory Center (responsible for the computer lab): Qinming Zhan (head), Xiuqin Lyu, Yongqiong Liu. The authors would also like to thank all students who participated in this study.
Conflicts of Interest
The authors declare no conflicts of interest.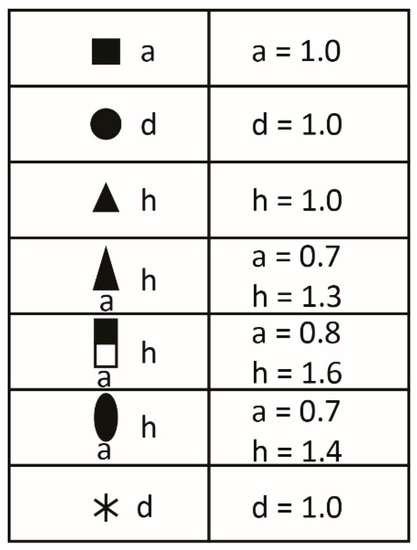 Figure 2.
Minimum size (mm) at a reading distance of 40 cm (adapted from [
34
]).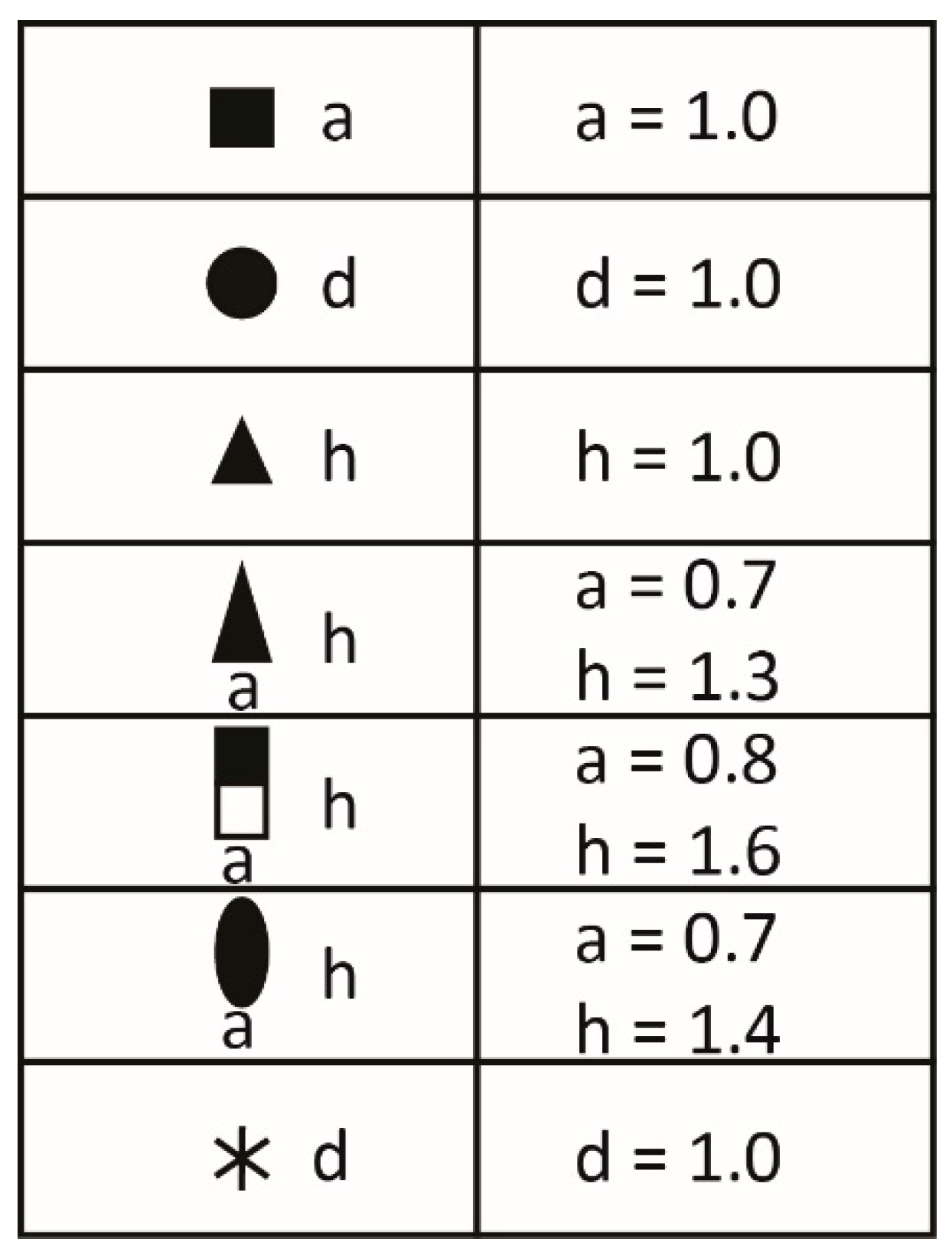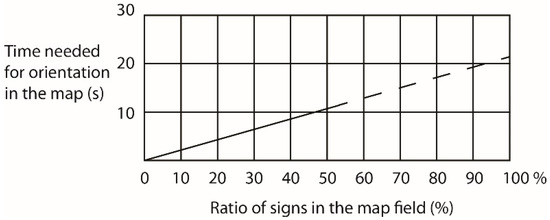 Figure 3.
Map reading speed (adapted from [
34
]).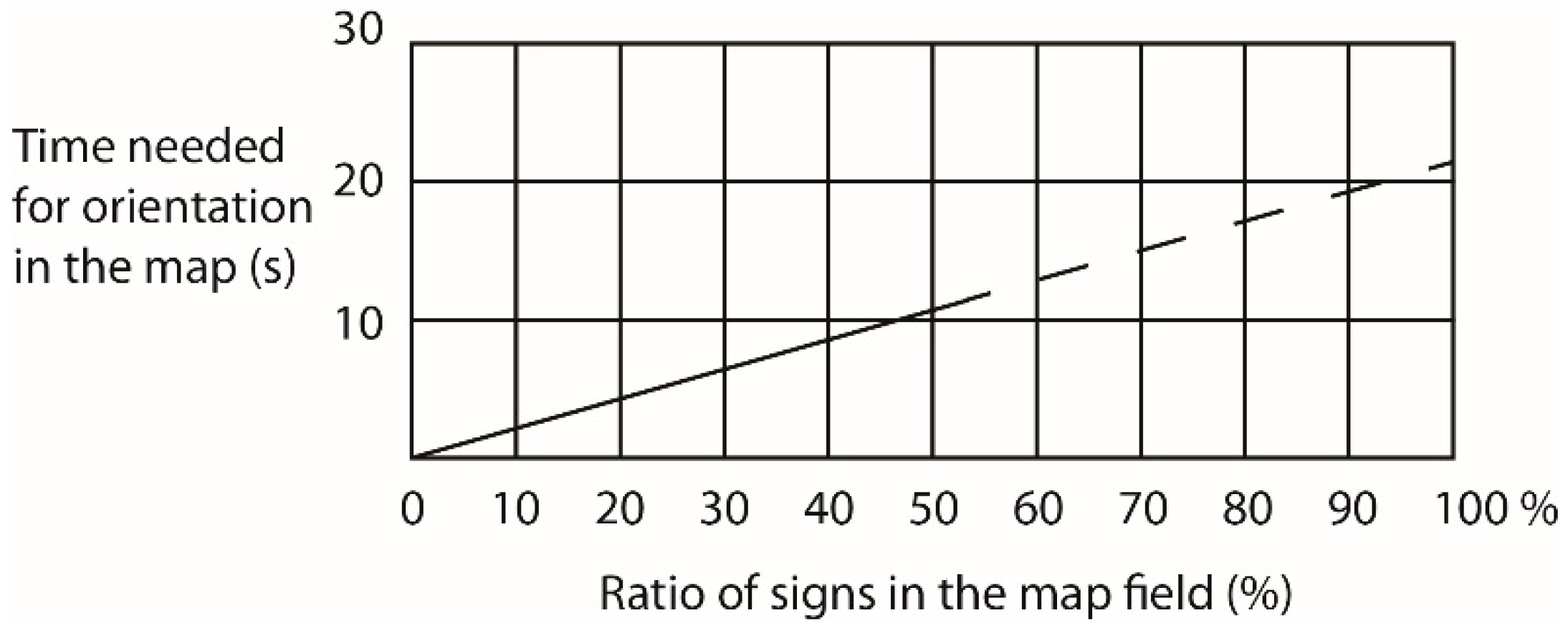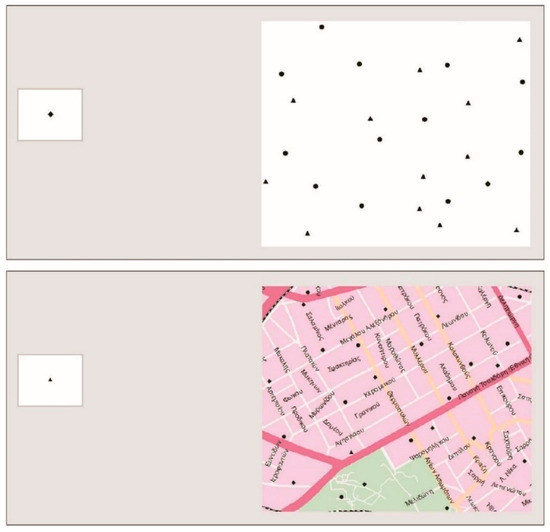 Figure 4. Differences in the stimuli used with and without a map background (task instruction: find the shape shown at the left side of the screen).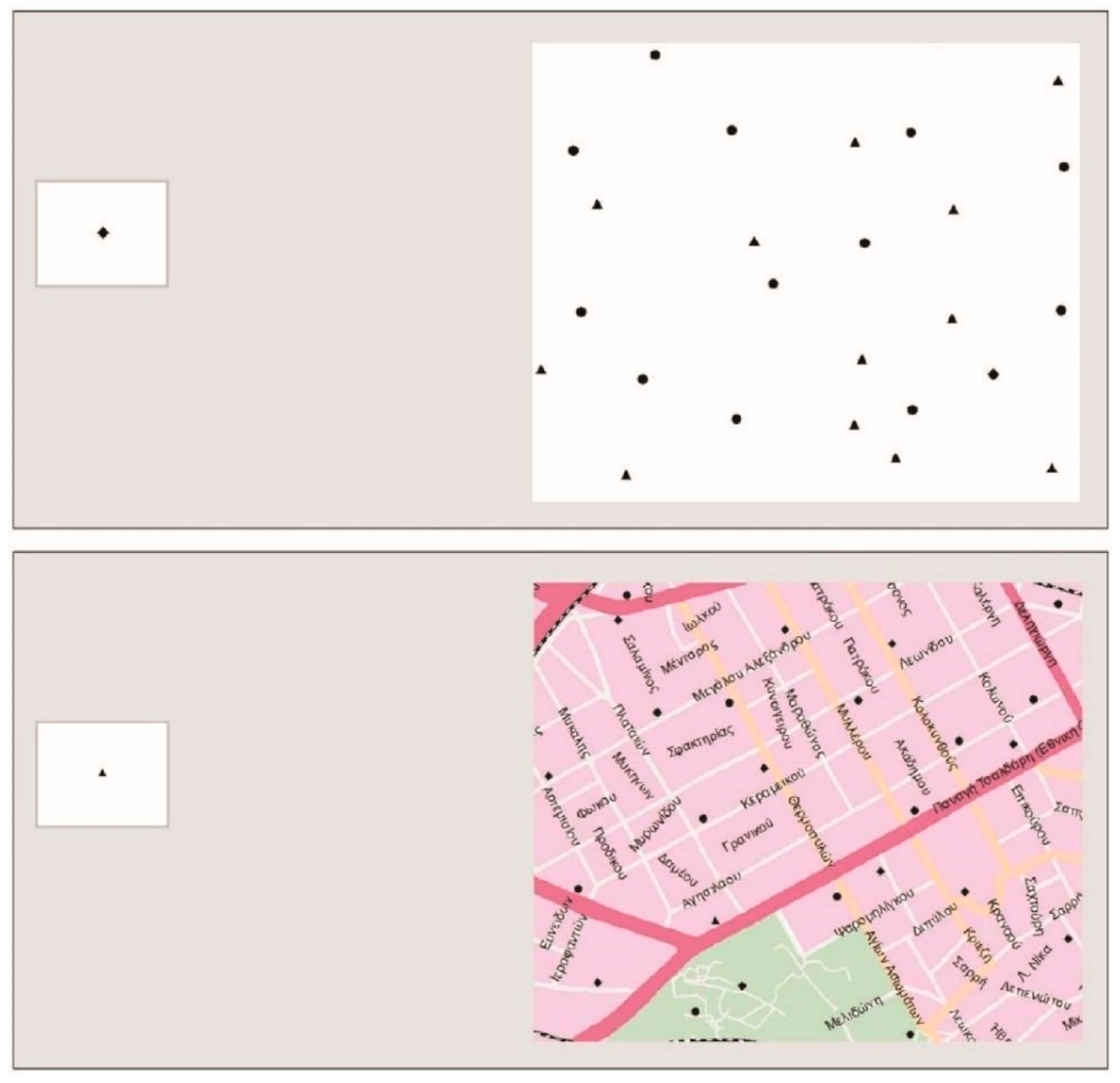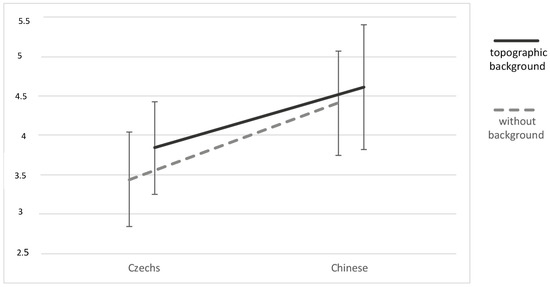 Figure 6. Comparison of mean detection times with background and without background (in seconds, N = 69).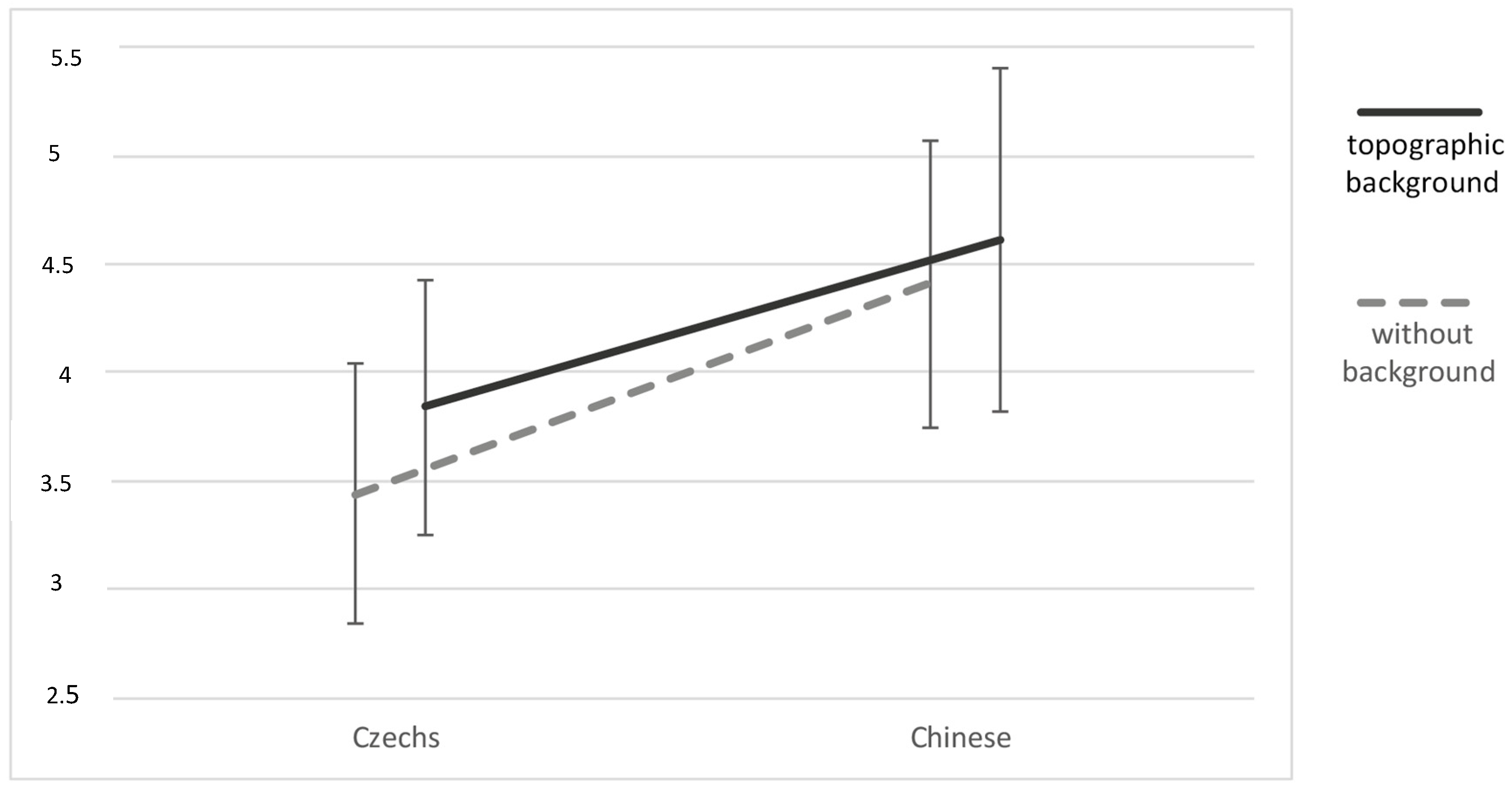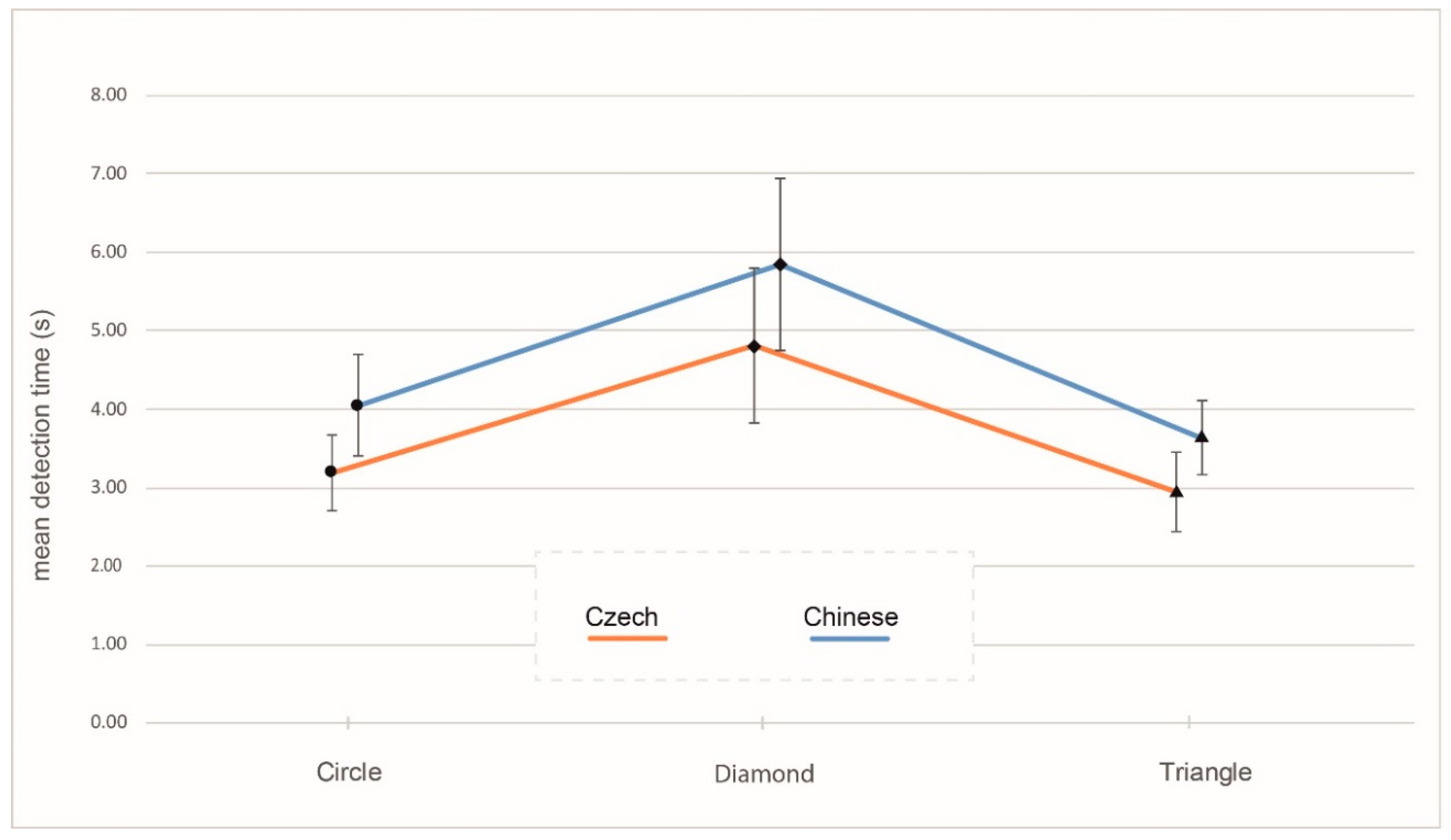 Table 1.
Difference threshold for each shape [
34
].
Shape
Threshold (%)
Square
8
Circle
12
Rectangle
12
Equilateral triangle
8
Isosceles triangle
15
| Symbol Size | Group | All Shapes: Mean Time (SD) | Circle: Mean Time (SD) | Diamond: Mean Time (SD) | Triangle: Mean Time (SD) |
| --- | --- | --- | --- | --- | --- |
| Small | Chinese | 5.24 (0.93) | 4.88 (0.99) | 7.06 (1.73) | 3.75 (0.52) |
| | Czech | 4.19 (0.72) | 3.75 (0.77) | 5.85 (1.57) | 3.12 (0.62) |
| | Total | 4.74 (0.98) | 4.34 (1.05) | 6.48 (1.75) | 3.45 (0.65) |
| Large | Chinese | 4.25 (0.60) | 3.81 (0.58) | 5.51 (0.96) | 3.75 (0.66) |
| | Czech | 3.37 (0.59) | 3.01 (0.49) | 4.15 (1.16) | 3.03 (0.65) |
| | Total | 3.83 (0.74) | 3.43 (0.67) | 4.67 (1.17) | 3.40 (0.75) |

© 2018 by the authors. Licensee MDPI, Basel, Switzerland. This article is an open access article distributed under the terms and conditions of the Creative Commons Attribution (CC BY) license (http://creativecommons.org/licenses/by/4.0/).