Open Access This article is
freely available
re-usable
Article
WebGIS and Geospatial Technologies for Landscape Education on Personalized Learning Contexts
1
Geography Department, Universidad Nacional de Educación a Distancia (UNED), Madrid 28040, Spain
2
GEOT-IUCA Research Group, Universidad de Zaragoza (UNIZAR), Zaragoza 50009, Spain
*
Author to whom correspondence should be addressed.
Received: 24 August 2017 / Accepted: 3 November 2017 / Published: 8 November 2017
Abstract
:
The value of landscape, as part of collective heritage, can be acquired by geographic information systems (GIS) due to the multilayer approach of the spatial configuration. Proficiency in geospatial technologies to collect, process, analyze, interpret, visualize, and communicate geographic information is being increased by undergraduate and graduate students but, in particular, by those who are training to become geography teachers at the secondary education level. Some teaching experiences, using personalized learning, distance learning methodology, and GIS, focused on education aims to integrate students and enhance their understanding of the landscape are shown. Opportunities offered by WebGIS will be described, through quantitative tools and techniques that will allow this modality of learning and improve its effectiveness. Results of this research show that students, through geospatial technologies, learn the landscape as a diversity of elements, but also the complexity of physical and human factors involved. Several conclusions will be highlighted: (i) the contribution of geospatial training to education on the landscape and for sustainable development; (ii) spatial analysis as a means of skills acquisition regarding measures for landscape conservation; and (iii) expanding and applying acquired knowledge to other geographic spaces.
Keywords:
WebGIS; landscape; heritage; personalized learning; the cloud; distance learning
1. Introduction
The increased use of the Internet has made the use of online interactive digital maps based on open data possible instead of conventional cartography on paper. In the late 1990s, "GIS [was] traditionally seen as an enabling technology for improving the understanding of spatial problems by means of engaging students in empirical analysis" [
1
]. After twenty years, learning about the urban world with spatial data visualizing shapes and making metrics online allow Lynch's concepts to be transposed [
2
] to digital format.
All of these challenges have to be faced [
3
]: (i) innovative curriculum: content, cognitive processes, assessment, outcomes, competencies, etc., versus encyclopedic geography; (ii) updated topics: geography for life and spatial challenges in the 21st century: environment, sustainability, climate change, population pressure and migration, food and water supplies, transportation, city growth and housing in urban and metropolitan areas, and energy supplies; and (iii) pedagogies: textbooks versus inquiry-based learning (IBL), problems-based learning (PBL), students simulating scientific tasks of geographers, and learning by doing geography.
All of these aims make geospatial technologies helpful, as they allow obtaining, processing, and presenting geographic information. It has been demonstrated that geospatial technologies using geoinformation and WebGIS [
4
,
5
], Augmented reality [
6
], or 3D [
7
] contribute significantly to the development of students' geospatial thinking
2. The Educational Context
The educational context should reflect and respond to three main questions, what to learn, how to learn, and who will learn, to carry out the construction of a training strategy that integrates the most appropriate resources and tools for each student according to their own background. This approach to personalized learning or personalized education is a pedagogical concept that tries to achieve the best possible integral human development for every student. Thus, efficiency and effectiveness are important elements as learning objectives in order to improve learning outcomes and to reduce university attrition and school leavers. Its application is a challenge, especially in distance learning. Active methodologies, and personal and cooperative work [
8
] are essential to this methodological renewal.
2.1. What to Learn
Landscape, as an expression of the territory, is the main object of study in geography. The landscape is the result of the interrelation of physical and human elements. The European Landscape Convention (2000) [
9
] reflects how important this is.
The visualization of landscape, through digital images, allows observing the most characteristic elements and can help to establish homogeneous units according to them: the physical environment (relief, vegetation, presence of water or climate), but also anthropic action (population, economic activities, and infrastructures). Images of previous times show elements of natural and cultural heritage that still survive or have been lost. Therefore, it is possible to understand the future of the landscapes represented, their quality, and the conservation measures needed. Of course, fieldwork is very important to complete landscape monitoring and environmental assessment [
10
], but this is not always possible. Thus, geospatial technologies arise as an important tool for a landscape approach in learning.
The importance of the existing landscape with respect to the heritage of Spain, and also around the world, is a unanimous fact not only based on the protected natural areas which comprise more than 20% of the Spanish territory, but also the declared world heritage by UNESCO, with 47 sites declared: "Spain has a preferential situation in terms of assets declared world heritage, specifically the third world power behind Italy and China. This privileged position is a clear indicator of the need to manage this wealth in an educational way. The greatest interest lies in the safeguarding of the heritage, its approach to the population, its care, transmission, dissemination and enjoyment" [
11
]. These previous reasons encourage the promotion of heritage education and landscape education in a holistic approach to citizenship education. There are two Spanish documents to define these aims, the National Education and Heritage Plan (2013), and the Heritage Education Observatory in Spain [
12
] coordinated by the State and the Autonomous Communities. Heritage education is understood as an essential discipline to connect natural and cultural heritage with the acquisition of social and civic key competencies and powerful knowledge in geography, history, biology, environment, etc., and, of course, landscape heritage. The school education system reflects this concern in the national curriculum, forcing universities to prepare future teachers and citizens with a basic kit of tools for landscape and environmental assessment.
2.3. Who Will Learn
The increased number of students in the classrooms at all educational levels, after the economic crisis generated on 2007, with great cuts in education in the national budget, undoubtedly makes the application of personalized learning methods difficult because a small number of students seems more suitable. Technologies and geotechnologies (GeoICT) make it possible to introduce custom processes without undue stress. In fact, after a review of the literature related to the personalized learning environments (PLE), it concludes that it is imperative to improve the quality and quantity of technology used to aid the learning process [
26
]. The TPACK model attempts to solve this problem [
27
]. The personalization of learning, nowadays, has an increasing weight in society. Using ICT, however, does not guarantee integral human development for every student, in its broadest sense, with respect to higher-education students, future teachers, and students of primary and secondary level education. On the other hand, there are still complex problems to solve, such as managing knowledge obsolescence and rethinking the roles of educators [
21
] (pp. 32–35).
3. Objectives and Methodology
The present paper shows some learning examples of the usefulness of geospatial technologies and ICT for landscape education underlining the importance of pedagogical methods to achieve personalized learning, particularly focused on distance learning.
The main objectives of the learning experiences are:
To obtain a better understanding of the landscapes using different tools for spatial analysis.

To increase digital and geospatial competencies to apply acquired knowledge to other geographic spaces and different landscapes.

To encourage active student constructivist learning, building up their own knowledge.

To apply territorial knowledge in daily life by acting wisely with responsibility for sustainable development.
Learning and understanding about the landscape is not a new aim, as four different and clear actions [
28
] could be considered as being close to the adapted Bloom taxonomy [
29
]:
Perceiving and observing (territory), some key questions help these tasks.

Using: Acquiring, exploring, organizing, analyzing, and interpreting outdoor and other geospatial technologies used.

Analyzing layered map data to understand the complexity of the elements involved in the organization of territory (physical, social, economic, political, and cultural) resulting from their interaction.

Structuring: Making sense of collected geographical information (geoinformation). Structuring spatial relations, such as identification, comparison, measurement, connections, directions, or hierarchy, among others.

Applying: Acting on the correct and wise use of geographical knowledge (e.g., building new interactive maps with student's own data and obtaining new research conclusions).
The inquiry method is widely applied to spatial analysis to achieve landscape monitoring and environmental assessment.
These steps, focused on learning about the landscape, will be discussed throughout this paper using geoinformation and different tools based on geotechnologies and ICT: (i) WebGIS, defined as a geographic information system on the cloud; (ii) a peer review tool, Aropä, a learning environment which allows the organization of the correction of dissertations, essays, or other works, by double-blind peers, using evaluation rubrics [
30
]; and (iii) electronic portfolios, which are significant elements for personalized learning objectives.
In order to achieve these objectives the learning examples that enhance personalized learning based on geotechnology and ICT to learn about the landscape will be explained in
Section 4
, followed by conclusions and results.
4. Learning Examples Based on Geotechnology, ICT, and Personalized Learning
The growth of open learning environments, such as the Massive Open Online Courses (MOOC), allows creating one's own itinerary of learning between the variety of resources that these courses present, adding opportunities for personalized and collaborative learning.
4.1. Learning Landscape Using WebGIS
WebGIS is a geospatial technology using geoinformation on a geographic information system online, which allows the collection, processing, analysis interpretation, visualization, and communication of data, adding and removing layers, and client-server interaction. The existence of WebGIS comes from three recent developments under the geospatial technologies revolution [
36
]: (i) the widespread use of GPS (Global Positioning System); (ii) access to open data (geodata) and quality images; and (iii) the proliferation of cloud applications and WebGIS platforms, such as ArcGIS Online (AGOL), Boundless, Carto, GeoNode, Mango, or Mapbox.
Therefore, to integrate geodata, images in different layers, gather a data collection on a map for a further analysis [
37
] on a Web map on platforms hosting GIS on the cloud, and integrate other data from participatory methods using a computer or a device (e.g., ESRI Survey123) are easy tasks. The WebGIS platforms offer a great amount of free geodata in layers on which it is possible to add your own geodata. Thus, geodata can be added more easily than some years ago to create interactive maps on the cloud. Geodata can be displayed on different devices for visualization, measurement, and analysis of features of the Earth. This opens new possibilities for teaching and learning geography, for spatial analysis of the information contained in a WebGIS [
38
], for spatial case studies in a particular area.
These geospatial technologies using geoinformation make it possible to understand landscape transformations and, thus, environmental monitoring and assessment. This geospatial approach has been previously used in GIS training by several European projects, such as GeoSkills [
39
], digital-earth.eu, or even by the European Environment Agency initiative called Eye On Earth.
By using WebGIS, students can visualize geographical content on a spatial basis, interacting with other users and contributing to add new content. GIS in the Cloud (WebGIS) makes possible a new approach in geography and landscapes education.
4.1.1. WebGIS on University Projects
Innovative teaching projects at the Complutense University (PIMCD) [
40
,
41
,
42
] allowed the GEODIDAC research group to work on landscape education (a selection of them are in
Table 1
), combining flipped teaching, collaborative methods, and cloud-based GIScience learning [
17
].
The technical advantages of web mapping created from images of agricultural landscapes and geographical itineraries [
43
], among many others, became evident when these georeferenced images—including comments and metadata—were turned into a conventional web page very easily and quickly. This is just the opposite to the previous system: creation of web maps using html, which meant a great investment of time, a location that was not always precise, the inability to integrate other layers of information that enriched the context of the images, and a lack of collaborative work in real-time.
About ten complex mapping projects have created new WebGIS materials for the Master's teachers classroom since 2012 and around five hundred students have benefited from this way of teaching and learning. The published projects on
e-prints
of the Complutense University of Madrid have more than 5000 downloads of the publications in the new system of downloads (17 May 2017), which evidences the acceptance of this way of teaching and learning.
These projects have been key to shifting teaching methodologies of many of the teachers participating in them. The flipped teaching method has been a great help in the creation of web maps, following these main steps: students gather data and materials autonomously (for example, an image of an agricultural landscape), then they interpret it with the help of the teacher. Later, they create their map with the geoinformation previously gathered. The teacher mentor overviews and helps students with the technical difficulties. The last step is to create a collaborative web map with the contents and geodata gathered jointly with the content of the WebGIS, which already covers the subject of study; for example, the vineyard landscapes of Spain. The multi-causality approach to the landscape, from the gathered information, makes students think about it and become aware of sustainable development. This method of working the Spanish landscape can be exported to other places in the world.
The user creates different collaborative web maps by themes that show different landscapes [
44
] or itineraries in zones of heritage or landscape interest, for example, Spanish national parks [
45
] or Madrid old Walls (
Figure 2
), enabling questions and possible teaching activities.
The student teacher's work, future teachers of geography for secondary education at several Spanish universities, showed their satisfaction by constructing their own cartography and applying them to their own classrooms during their traineeship period. Some of those questioned agreed that "it is important to learn how to handle students in a different way than traditional paper as WebGIS are much more visual and it is easier and more comfortable to work with the interactive online maps. It is a more dynamic and close to the student for the applied study of different questions of geography".
It can be concluded that this method using WebGIS reinforces learning that satisfies students, and even in-service geography teachers, who have collaborated asynchronously from different places. These same teaching strategies have been used in topics that are easily outdated on geography school textbooks, such as geopolitics, population, economy geodata, etc.
4.1.2. Digital Atlas for Schools
Information obtained from statistical or cartographic open sources, such as EUROSTAT, International Monetary Fund (IMF), or World Bank (WB) Excel tables and Spatial Data Infrastructures (SDI) services, among others, can be easily integrated into a web map on AGOL. The WebGIS platform allows addressing the geospatial challenges and problems of Europe and the world. Thus, for the preparation of the Atlas, open data are used, previously published by the statistical institutions responsible for every data source, which guarantees its quality. For example, a better knowledge of Spain comes from the open data of the Spatial Data Infrastructures of Spain (IDEE) maintained by the National Geographic Institute (IGN) and the Spanish Statistic Institute (INE). Possibilities for creating and updating the created maps would be increased from a combined use of ArcGIS Online and ArcGIS Desktop.
The Atlas is structured in seven sections (more than one hundred maps and almost four hundred geoinformation layers): (1) How it works; (2) Cartographic tools; (3) Physical geography and environment (landscapes); (4) Population and urban geography; (5) Economic geography and globalization; (6) Spatial imbalances and regional planning; and (7) School projects with AGOL.
The main objectives to be achieved with the Digital School Atlas are:
Every teacher or student (future teacher) using ADE expressed the learning potential of the tool on a survey at the end of ADE activities in geography lectures and lessons. Few problems have been encountered by the Master Teachers students focused on the Wi-Fi, the resources of the class, age of the students, their background, and the theme of the lessons. The tool fits with personalized learning as it allows working different topics at different depths. The ADE has been used with Complutense and Zaragoza Masters´ Teacher since 2015 using IBL and PBL methods.
4.2. The Aropä Learning Environment and a Landscape Approach
The Aropä learning environment helps to establish evaluation rubrics that respond to learning objectives and content, allowing teachers to organize double-blind double-corrections online and offer the accurate results of them, permitting personalized learning using a distance methodology.
The student is invited to fill in a section of observations and the teacher gives some advice on how to correct a dissertation in a constructive way, collaborating in the improvement of the text and not in the disqualification of it. There are no absolute truths; everything has a temporal and spatial context. The value of new questions and reflections on the subject that have been raised will open bridges to subsequent debates and valuable personal contributions.
4.3. The Use of the Portfolio and Landscape Study
For the implementation of a conventional portfolio or an e-portfolio, if the students use the digital format, dedicated to landscape analysis, they must learn to select accurate and meaningful information, analyze it, and draw the appropriate conclusions. In the case of an urbanized landscape, it should represent the location of the general population in its population environment, i.e. neighborhoods, districts, and suburbs, analyzing the morphology of these settlements and obtaining conclusions about the incidence in the construction or transformation of the landscape. Significant indicators, such as population analysis, may also be used; for example, the degree of involvement on the landscape based on the level of education or professions in each neighborhood or district; The analysis of the regime of tenure of the dwellings (in property, rent, or assignment); The study of the number of persons occupying the dwelling and the age of the dwellings, level of personal autonomy (total, partial, or absolute), or the form of resolution in the case of any dependency (public, private, or concerted centers). All of these questions are based on the embodiment of the economic, cultural, or social spaces in which the population is located.
Another important section will consist of a map of facilities and services, including cultural and educational centers (libraries, universities, or centers of popular culture); health services (outpatient clinics, dispensaries, hospitals with geriatric services, among others); facilities for leisure, day centers (indicating ownership: public, private, or concerted), commercial services (pharmacies, banks, shops, and other companies), residences for seniors installed in the urban area (indicating ownership: public, private, or concerted, and the economic cost of the square), map of collective transport and its adaptation to the elderly, current state of the existence of architectural barriers, current state of urban furniture indicating the state of conservation of public toilets, banks in landscaped areas, or endowment indices for over 65 years in the different districts of the city, as well as the accessibility to the services in the different districts of the city.
In the second dimension, items 2 and 7 were grouped, reliability was established between the ordered rhythm of the tasks and the ordered follow-up of the tasks, resulting in very high (0.94) and medium-high values (0.76).
Finally, the third dimension occupies three items (5, 6 and 8) related to the interaction with teachers, the positive evaluation of the results, and personalized attention. In the three areas we obtain relatively high reliability data: personalized education reaches the highest value, above 0.9; while the contribution of the portfolio indicates a greater success in the overall evaluation of students, with indices between 0.90 and 0.80; finally, the interaction with teachers also represents elevated values always below 0.9—in fact, we obtain indices between 0.87 and 0.85, at a minimum.
5. Meta-Analysis of the Learning Experiences on Personalized Learning Indicators
All learning examples are very different with respect to the tools despite the fact that they do not always have the same target audience, for example, using these tools in geography lessons with diverse students: some of them, on the first semester of the Master's Teacher Training course (the beginning of the fifth year at University). For its part, the Aropä tool was used on the last year of an Environmental Sciences degree (second semester, fourth year, undergraduate). However, a meta-analysis can be performed on the experiences provided by indicators dealing with personalized learning and related to the organization used (how), the software used (tools), the learning context or object (what) and, finally, the subjects or actors involved in the case of study (who): teachers and experts in learning and in the field, and a network of peer reviewers, are able to make an assessment of them (
Table 5
).
Meta-analysis shows that personalized learning conducted by teachers is a useful way of learning, particularly with respect to distance learning, as more of the indicators have been put into practice in the learning experiences. The teacher intervention is essential in all cases to orient students and prepare the geoinformation instructional resources, which collaborative learning and the increasing interaction among students will enrich. The use of geoinformation tools, such as WebGIS, in different ways [
66
], combined with the use of other technologies, such as Aropä and e-portfolio, are very useful for a landscape approach. Different authors cited throughout the text have also used them for learning about the landscape, as they have many advantages, especially for those students for whom it is not possible to do fieldwork, as it occurs in distance learning.
6. Conclusions
Some challenges have been shown in distance teaching, such as achieving a personalized learning method, and the understanding and valuation of the landscape, the main object of geography. It has been considered necessary to clarify at the beginning what is understood by personalized teaching and how technology can help in applying it to university classes. Several examples have been set out when showing that it is possible to approach landscape study using geoinformation in the framework of personalized learning.
In this way, the student and the teacher apply a methodology of distance learning in which the teacher will become a discrete mentor of student, learning through the teaching guides of the different subjects. The center of this learning is the student, who makes their own decisions regarding the range of materials and suggestions that the teacher provides.
Access to the virtual campus and other learning environments, such as Aropä, the monitoring of forums, videoconferences, and particularly the use of geoinformation, such as WebGIS, or the delivery of electronic portfolios, are complementary basic elements that contribute to the improvement of educational quality. Student participation and interaction with teachers improve teaching practice and the teaching–learning process, as evidenced by the positive evaluations of students using these tools. The results indicate that these tools have contributed to an improvement in the orderly follow-up of work, the contribution to meaningful learning, and the autonomy generated in the student body that has the peculiarity of working in an educational system based on distance learning. It is also a very useful tool in the process of evaluating the learnings and competencies acquired by the students.
Acknowledgments
The authors would especially like to thank all the core members of the Innovation and Improvement of Teaching Quality Project "Diseño de un modelo didáctico para la educación en paisaje utilizando SIGWeb" (A didactic model for the education in the landscape using WebGIS) (PIMCD 113/2017), which is funded by
Universidad Complutense de Madrid
and coordinated by José Manuel Crespo Castellanos. This research has been funded by the Spanish Ministry for Economy. National Plan for Scientific Research and Technological Development, project CSO2016-7488-C4-3-R,
Indicadores multiescalares y herramientas cartográficas
(GEOT-IUCA, Unizar) and for the dissemination of research results from the Vice-Rectorate for Research and Internationalization of the
Universidad Nacional de Educación a Distancia
(UNED).
Author Contributions
M.L.d.L.T. coordinated the team and conducted the research on personalized learning, WebGIS, and Aropä. R.D.M.G. coordinated the Digital School Atlas (ADE) and reviewed all articles for consistency and English language. F.J.M.Y. conducted research on personalized learning using e-portfolio.
Conflicts of Interest
The authors declare no conflict of interest.
Appendix A
List of PIMCD projects on learning landscape:
"Enseñar Geografía a través del análisis de imágenes con la ayuda del Campus Virtual y la Pizarra Digital Interactiva (PDI)" (Teaching Geography and image analysis using Virtual Campus and the Interactive Whiteboard, IWB), PIMCD 6/2010. (Coordinator Dr. Dª María Luisa de Lázaro y Torres). Available online: <

http://eprints.ucm.es/16849/

> (accessed on 11 September 2017).

"Aprender Geografía con la web 2.0" (Learning Geography using 2.0 Web). PIMCD 133/ 2011. (Coordinator Dr. Dª María Luisa de Lázaro y Torres). Available online: <

http://eprints.ucm.es/21217/

> (accessed on 11 September 2017).

"Aprender Geografía de España con la web 2.0" (Learning Spanish geography on the Web 2.0). PIMCD 165/ 2013. (Coordinator Dr. D. Miguel Ángel Alcolea Moratilla). Available online: <

http://eprints.ucm.es/27995/

> (accessed on 11 September 2017).

"Aprender Geografía con la web 2.0 a través de la evolución de los paisajes agrarios de España"( Learning Geography with the 2.0 Web and Spanish agrarian landscapes changes). PIMCD 98/ 2014. (Coordinator Dr. Dª María Luisa de Lázaro y Torres). Available online: <

http://eprints.ucm.es/28547/

> (accessed on 11 September 2017).

"La potencialidad de la nube para el trabajo de campo en Geografía: El Parque Nacional de la Sierra de Guadarrama" (The challenge of the Cloud for fieldwork in geography: the Sierra de Guadarrama National Park). PIMCD 224/2015. (Coordinator Dr. D. José Manuel Crespo Castellanos). Available online: <

http://eprints.ucm.es/35335/

> (accessed on 11 September 2017).

"Aplicación de las tecnologías de la información geográfica en el diseño de itinerarios para la educación en paisaje en el ámbito de los Parques Nacionales Españoles"(Application of GeoICT in the design of itineraries for landscape education in the field of Spanish National Parks). PIMCD 52/2016. (Coordinator Dr. D. José Manuel Crespo Castellanos.)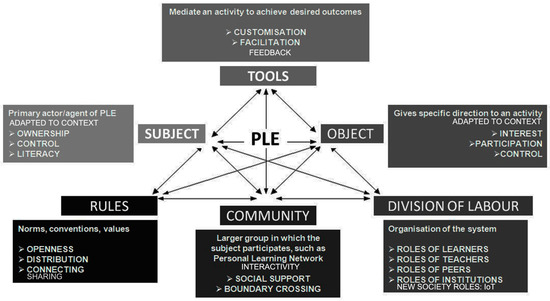 Figure 1.
Elements of a personalized learning system (PLE), adapted from [
33
] (p. 30).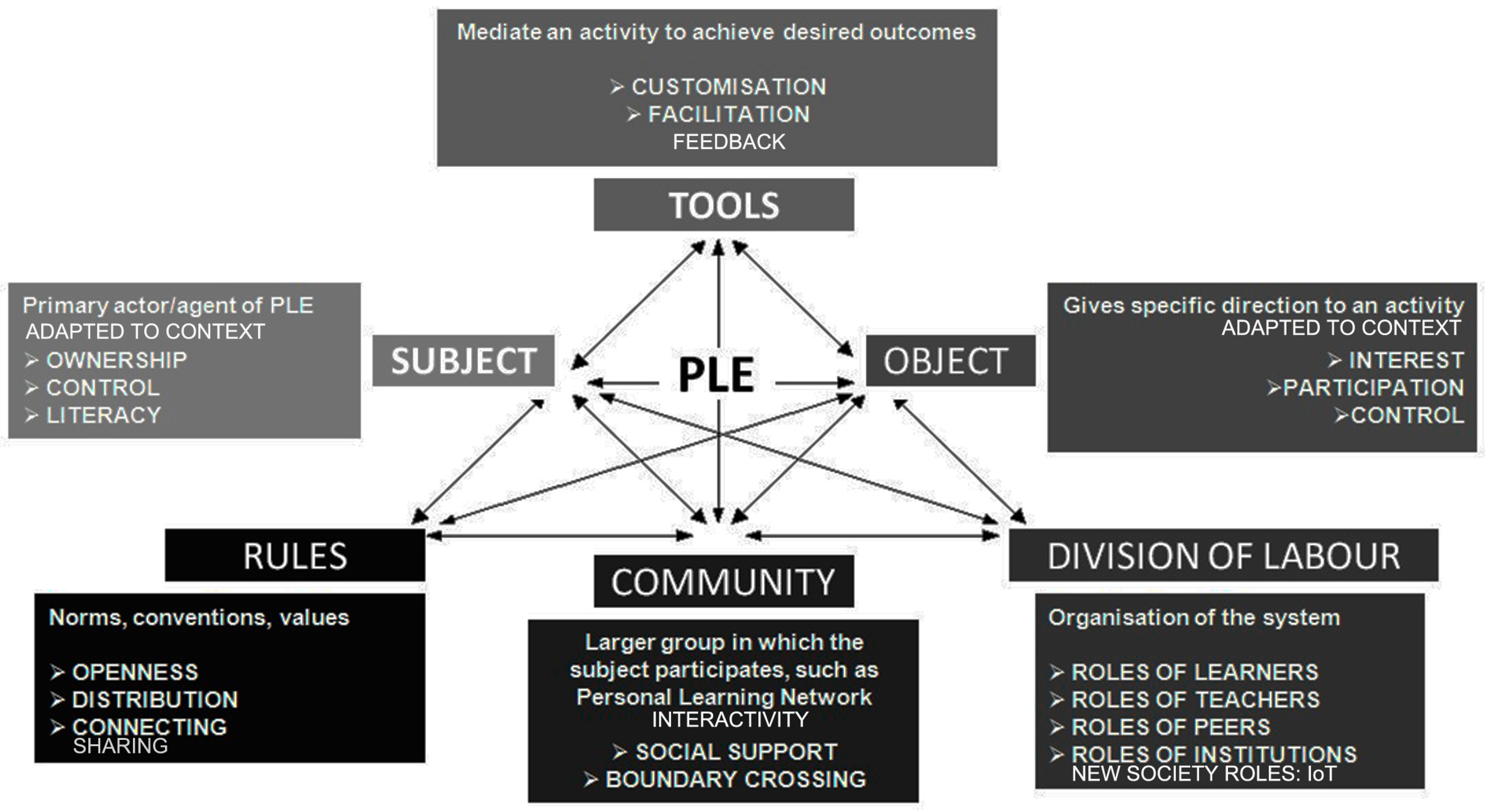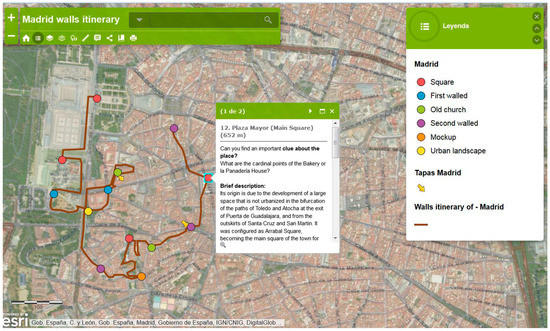 Figure 2. WebGIS about Madrid origin, historical center and heritage using an itinerary around the old walls (Madrid, Spain).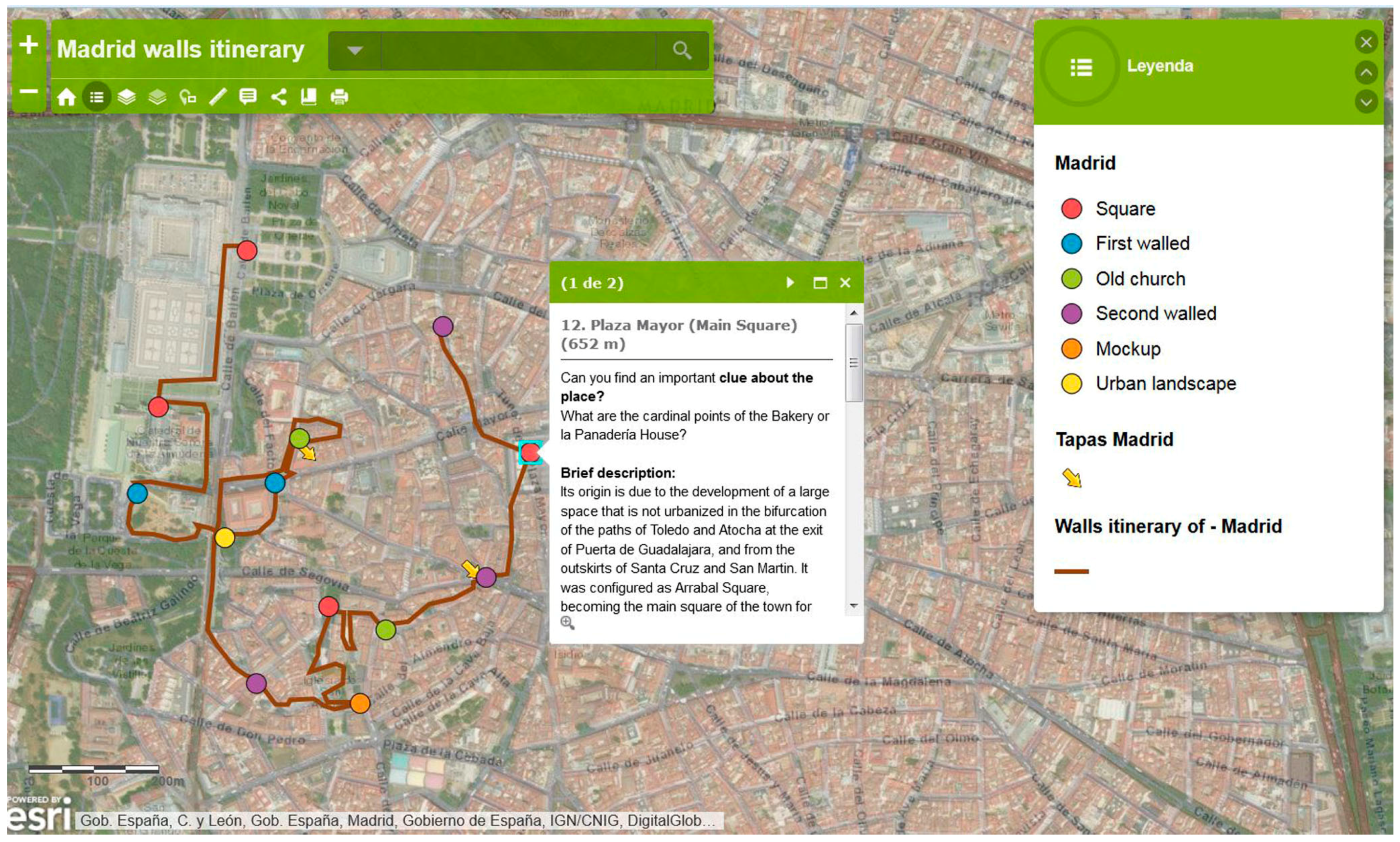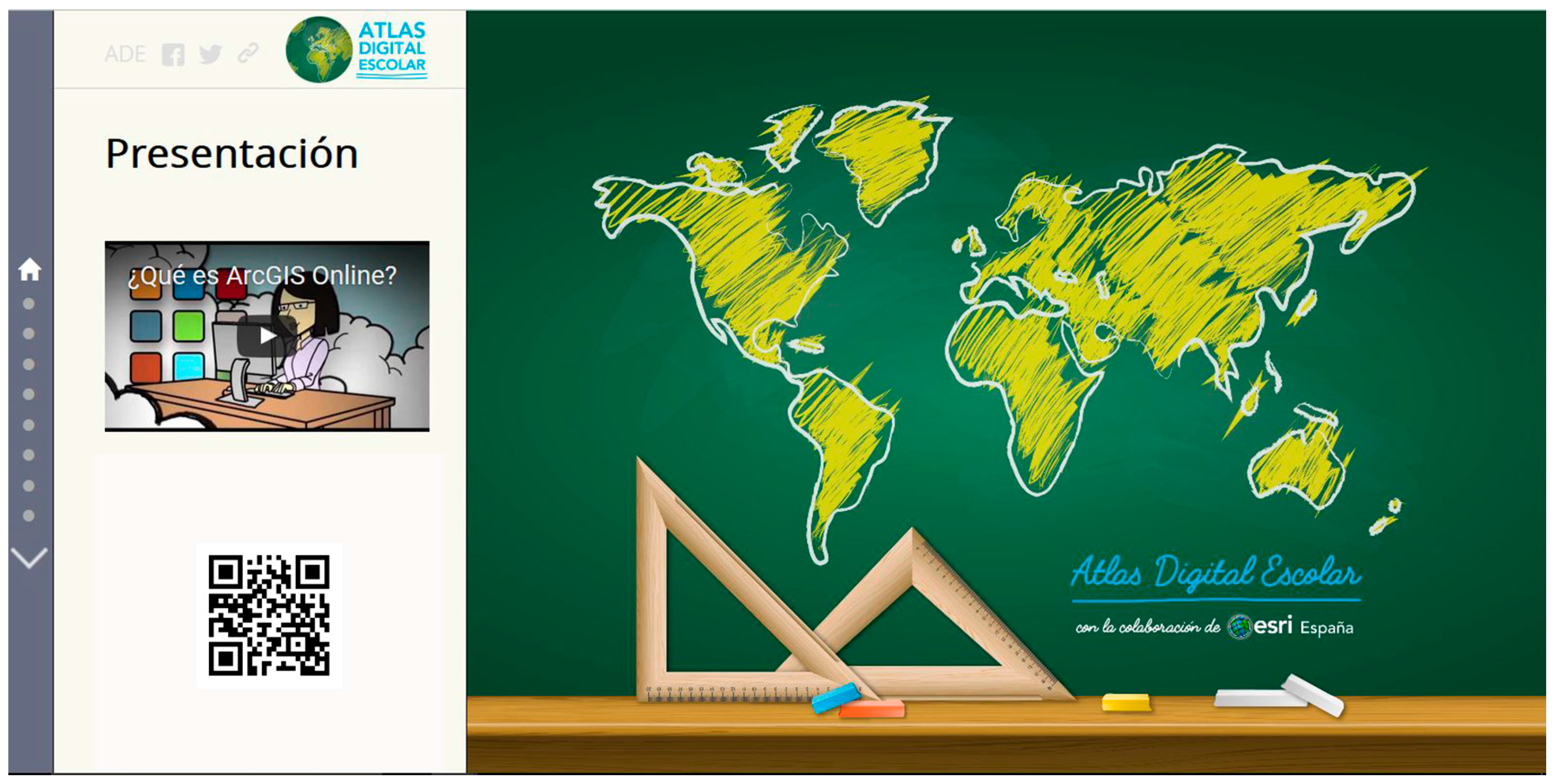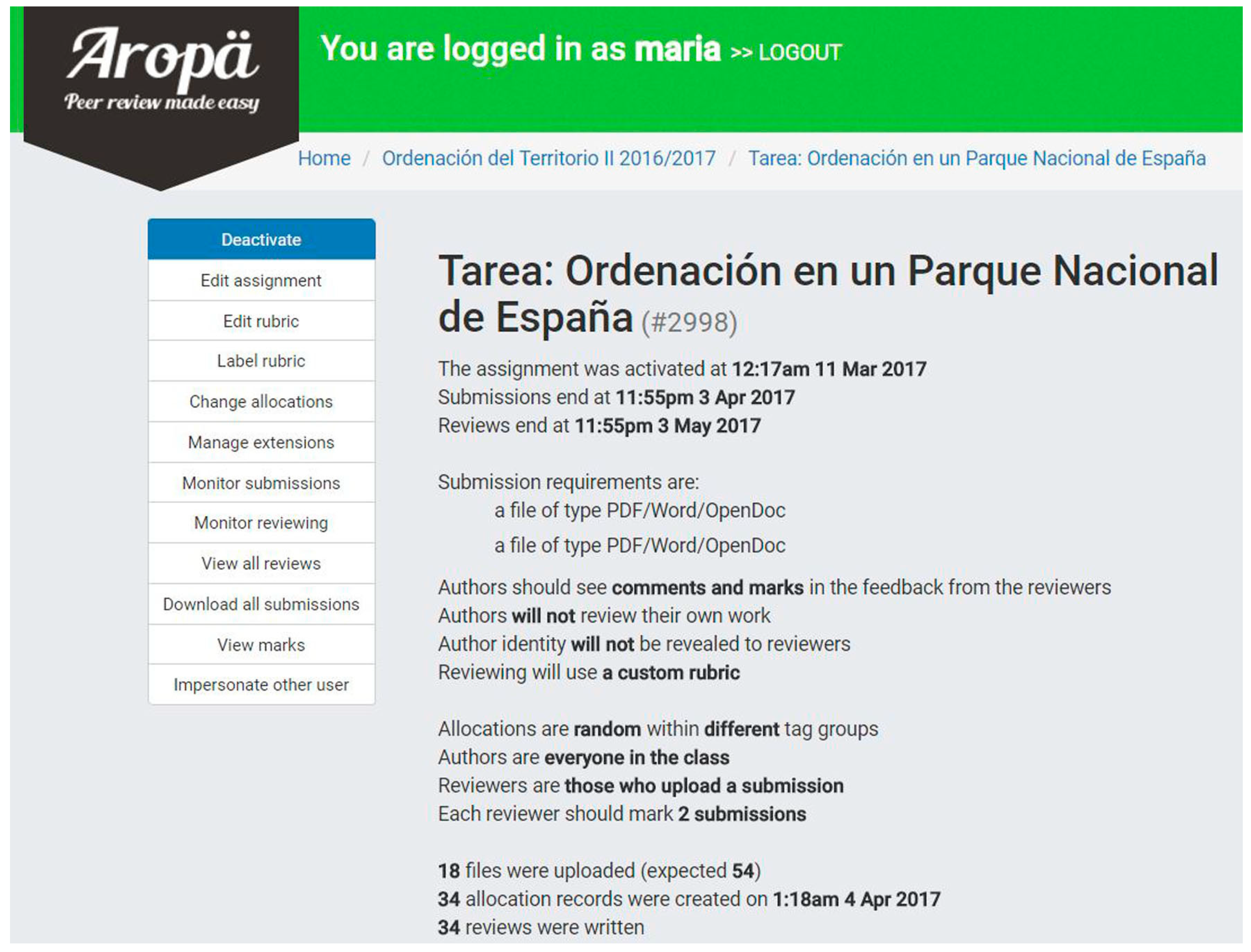 Table 1.
Innovative teaching projects (PIMCD) (see also
Appendix A
).
| Title (No/Year) No Downloads | Main Topic | Approach to Spanish Landscape | Tools |
| --- | --- | --- | --- |
| Teaching Geography, image analysis, Virtual Campus and the Interactive Whiteboard (IWB) (6/2010) 2816 | Analysis of 66 landscape images | Observation, analysis and commentary of landscape elements and units; relationship with the sustainable economy and with society (equilibrium or imbalance of that landscape with its environment and with economic development). | AGOL WebGIS, Google Earth, Picasa, Moodle virtual campus, IWB |
| Learning Geography using 2.0 Web (133/2011) 721 | Analysis of 55 landscape images | Observation, analysis and commentary of landscape elements and units; environmental, economic and social sustainability. Creation of 4 videos (3 lithology, 1 on dehesa). | Web site, Moodle virtual campus |
| Learning Spanish geography on the Web 2.0 (165/2013) 218 | Itineraries on patrimonial and natural landscapes | Observation, analysis, comment and assessment of landscapes creating itineraries to be carried out on foot with a maximum duration of 4–6 h. Images representative of georeferenced points of interest. | AGOL WebGIS, Iberpix, Moodle virtual campus |
| Learning Geography with the 2.0 Web and Spanish agrarian landscapes changes (98/2014) 662 | Agrarian landscapes images (34 analyzed by teachers/50 by students) | Observation, analysis, comment and assessment of agrarian landscapes. Title of the image, location; general description of the agrarian landscape in its agricultural context and protective figures, assessment and future prospects, problems and sustainability. | AGOL WebGIS, Moodle virtual campus |
| The challenge of the Cloud for fieldwork: the Sierra de Guadarrama N.P.l (224/2015) 53 | 4 Itineraries around this National Park | Itinerary description; accessibility; topographic profile; panoramic image; objectives and competencies of each itinerary; points of interest: geolocated image, explanation and activities; references. | AGOL WebGIS, Moodle virtual campus |
| Application of GeoICT in the design of itineraries for landscape education in the field of Spanish National Parks (52/2016) n.d. | Itineraries inside each of the 15 Spanish National Parks | General description of each park, problems; itinerary, accessibility, topographic profile, panoramic image, points of geographic didactic interest, geolocated image of each of them including general explanation, objectives, activities and other aspects; bibliographic references and web pages. | AGOL WebGIS, Moodle virtual campus |
No.
Rubric
Score
1
Meets the standards of the requested work
1
2
The title chosen is attractive and according to the central topic
1
3
Provide relevant information on the topic
1
4
Deal with the main physical characteristics of the national park
1
5
Provide coherent discourse, clarity of ideas and argumentation; the theme or aspects developed are correctly focused
1
6
Apply concept learned on the theme: (choose one)
‒ very good: covers everything, comprehensive, outstanding;
2
‒ good: covers most things,
1
‒ just adequate: some gaps;
1
‒ poor: inadequate, shoes a lack of understanding)
0
7
Contains a personal contribution
1
8
Suggest new questions and reflections that open bridges to further discussion
1
9
Correct content, spelling, and grammatical expressions
1
10
Use an impersonal style or the third person
1
11
Have you enjoyed reading the work?
1
TOTAL
Maximum score
12
| Issues to De Valued about the Use of Portfolios | Complete Disagree 1 | Partly Disagree 2 | Not Sure 3 | Partly Agree 4 | Fully Agree 5 |
| --- | --- | --- | --- | --- | --- |
| 1. Facilitates the progress of learning | 0 | 3 | 12 | 11 | 4 |
| 2. Allows an orderly rhythm in the subject | 0 | 2 | 9 | 13 | 5 |
| 3. Constitute an effective learning tool | 1 | 0 | 4 | 19 | 6 |
| 4. Promotes autonomous learning | 0 | 1 | 8 | 13 | 9 |
| 5. Encourages interaction with teachers | 1 | 4 | 11 | 5 | 9 |
| 6. Allows a positive evaluation | 0 | 1 | 7 | 14 | 8 |
| 7. Directs the monitoring of the contents | 0 | 0 | 5 | 11 | 14 |
| 8. Facilitates personalized attention | 2 | 6 | 10 | 5 | 7 |
Items Grouped
Reliability (α)
Section I. Teaching and learning
Max
Min
1. Facilitates the progress of learning
0.801
0.866
3. Constitute an effective learning tool
0.819
0.741
4. Promotes autonomous learning
0.866
0.756
Section II. Organization of the study
2. Allows an orderly rhythm in the subject /tasks
0.947
0.764
7. Directs the monitoring of the contents
0.941
0.789
Section III. Evaluation and care
5. Encourages interaction with teachers
0.872
0.853
6. Allows a positive evaluation
0.901
0.803
8. Facilitates personalized attention
0.933
0.901

Table 5.
Assessment of proposed activities based on the indicators considered by Zwartjes et al. [
65
] within the framework of personalized learning.
Type
Personalized Learning Indicators
WebGIS
Aropä
E-Portfolio
How
Diagnostic entry test to start a real personalized learning trajectory
Diagnostic tests during the personalized learning trajectory
X
X
X
Assessment at the end (via test and/or portfolio)
X
X
X
m-learning or u-learning instead of e-learning
Take different learning styles into account
X
X
Tools
Social network or other form of contact with co-learners included
X
X
Interactivity
X
X
X
Accessibility and usability of learning materials for everyone
X
X
X
Monitoring via the system
X
X
Motivation (entertainment) tools
X
What
Formal education → core-curriculum
X
X
X
Possibility (not obligatory) to include non-formal and informal learning
X
X
X
Valuing all dimensions of the learner
X
Valuing previous knowledge, competences, life and work skills, also informal
Taking the cognitive background of the target group into consideration
X
X
X
Flexibility in the system (flexible content)
X
X
X
Who
Ownership of personalized learning
X
X
X
Instructor/tutor, experts and teachers to guide and support the learning
X
X
X
Contact with peer group/cooperative learning
X
X

© 2017 by the authors. Licensee MDPI, Basel, Switzerland. This article is an open access article distributed under the terms and conditions of the Creative Commons Attribution (CC BY) license (http://creativecommons.org/licenses/by/4.0/).