Open Access This article is
freely available
re-usable
Article
Simplifying GPS Trajectory Data with Enhanced Spatial-Temporal Constraints
1
Department of Cartography, Zhengzhou Institute of Surveying and Mapping, Zhengzhou 450052, Henan, China
2
Department of Geography, Texas State University, San Marcos, TX 78666, USA
*
Author to whom correspondence should be addressed.
Received: 27 July 2017 / Accepted: 24 October 2017 / Published: 30 October 2017
Abstract
:
Raw GPS trajectory data are often very large and use up excessive storage space. The efficiency and accuracy of activity patterns analysis or individual–environment interaction modeling using such data may be compromised due to data size and computational needs. Line generalization algorithms may be used to simplify GPS trajectories. However, traditional algorithms focus on geometric characteristics of linear features. Trajectory data may record information beyond location. Examples include time and elevation, and inferred information such as speed, transportation mode, and activities. Effective trajectory simplification should preserve these characteristics in addition to location and orientation of spatial-temporal movement. This paper proposes an Enhanced Douglas–Peucker (EDP) algorithm that implements a set of Enhanced Spatial-Temporal Constraints (ESTC) when simplifying trajectory data. These constraints ensure that the essential properties of a trajectory be preserved through preserving critical points. Further, this study argues that speed profile can uniquely identify a trajectory and thus it can be used to evaluate the effectiveness of a trajectory simplification. The proposed ESTC-EDP simplification method is applied to two examples of GPS trajectory. The results of trajectory simplification are reported and compared with that from traditional DP algorithm. The effectiveness of simplification is evaluated.
Keywords:
GPS trajectory; line simplification; spatial-temporal constraints; critical points; speed profile
Acknowledgments
The research was conducted when H. Qian was a visiting scholar at Texas State University. Qian's research was also sponsored by the National Natural Science Foundation of China, No. 41571442 (2016–2019) and No. 41171305 (2012–2015).
Author Contributions
Y.L. conceived and designed the research; H.Q. and Y.L. designed the experiments; H.Q. performed the experiments; H.Q. and Y.L. analyzed the data; and Y.L. and H.Q. wrote the paper.
Conflicts of Interest
The authors declare no conflict of interest. The founding sponsors had no role in the design of the study; in the collection, analyses, or interpretation of data; in the writing of the manuscript, and in the decision to publish the results.
Appendix A: ESTC-EDP Applied on a Secondary GPS Trajectory Dataset
We applied the proposed ESTC-EDP trajectory simplification method to a secondary dataset of GPS trajectory. Microsoft Research Asia's Geolife project collected a series of GPS trajectory data by 182 individuals in a period of over five years (from April 2007 to August 2012). More information about these data can be found at [
34
]. We applied DP and ESTC-EDP methods to one of the GPS trajectories (
Figure A1
), which is identified in the dataset as "001/Trajectory/20081024234405.plt". This trajectory includes 7076 recorded points (
Figure A1
). Considering paper length, we report here only the simplification results from three distance thresholds (0.1-m, 1-m, and 10-m) and the corresponding speed–loss figures.
Table A1
and
Table A2
summarize the results of point preservation by both traditional DP simplification and ESTC-EDP simplification. Speed loss graphs in
Figure A2
show that, when the distance threshold of 1-m is applied, speed loss from DP simplification is much larger than that from ESTC-EDP. With a distance threshold of 10-m, the speed loss of EDP algorithm remains low (
Figure A2
c).

Figure A1. A GPS trajectory with 7076 points from GeoLife Project dataset of Microsoft Research Asia.

Distance Threshold (m)
DP
EDP
Number of Critical Points Deleted by DP Incorrectly
Points Remained
Compression Ratio (%)
Points Remained
Compression Ratio (%)
0.1
6797
3.94
6841
3.32
44
1
5669
19.88
5942
16.03
273
10
2407
65.98
3571
49.53
1164
Distance Threshold (m)
DP
EDP
Total Speed Loss (km/h)
Average Speed Loss (km/h)
Relative Average Speed Loss (%)
Total Speed Loss (km/h)
Average Speed Loss (km/h)
Relative Average Speed Loss (%)
0.1
195.096
0.028
0.296
64.648
0.0091
0.098
1
1055.47
0.15
1.6
419.07
0.059
0.635
10
7004.67
0.989
10.63
2329.49
0.329
3.534
Figure A2. Speed loss in the post-simplification data using DP and EDP algorithms with a distance threshold of: 0.1-m (a); 1-m (b); and 10-m (c).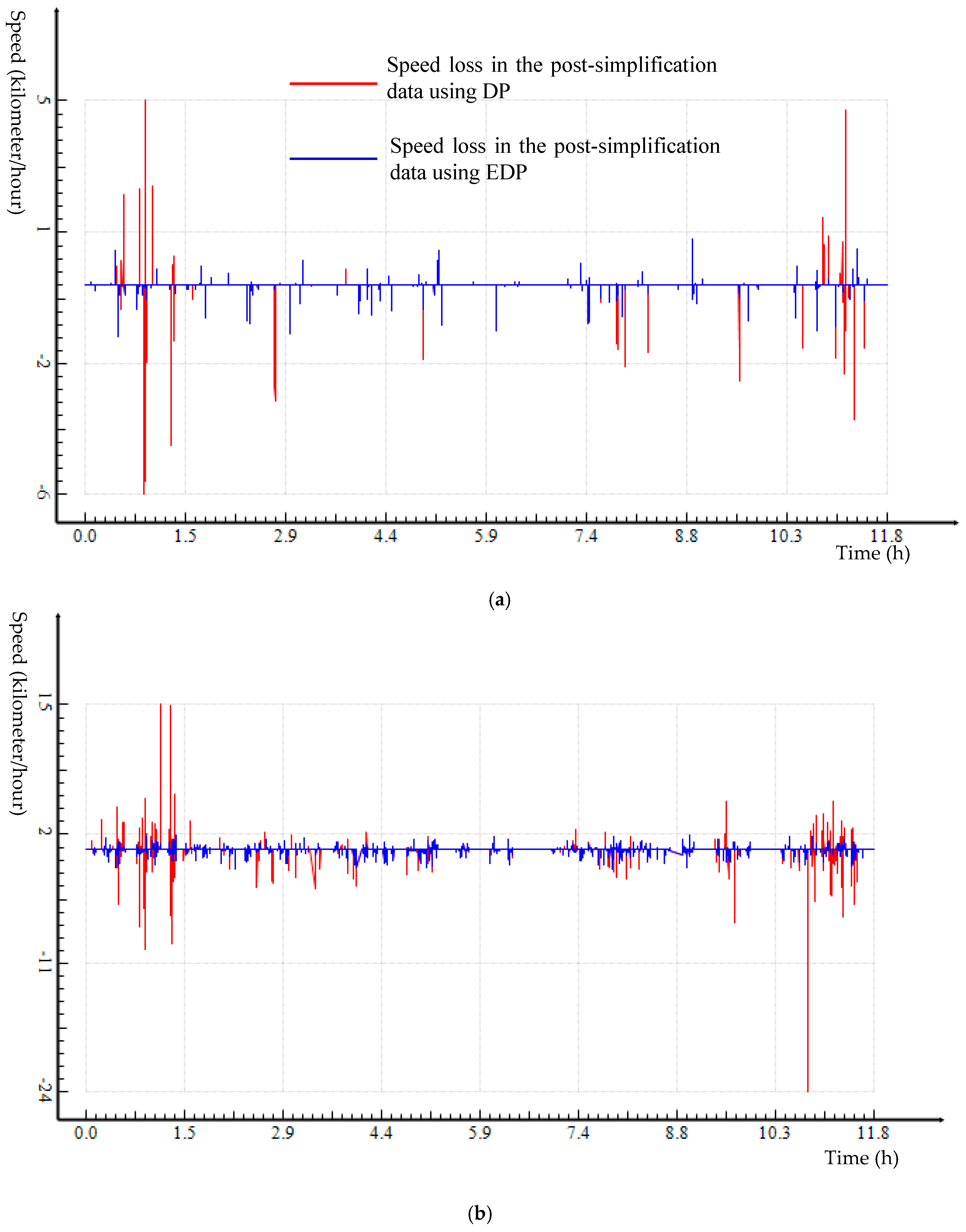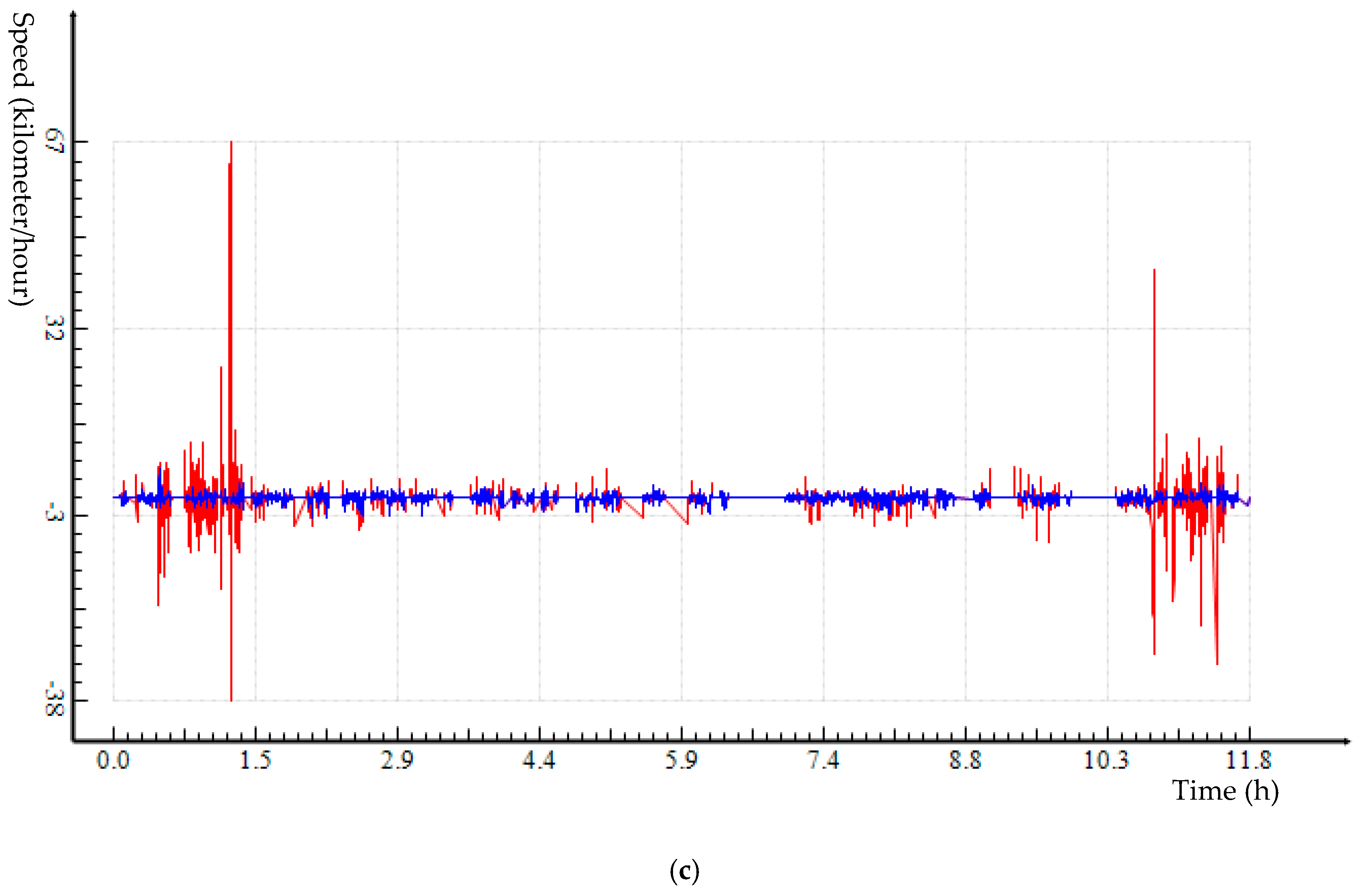 © 2017 by the authors. Licensee MDPI, Basel, Switzerland. This article is an open access article distributed under the terms and conditions of the Creative Commons Attribution (CC BY) license (http://creativecommons.org/licenses/by/4.0/).