Open Access This article is
freely available
re-usable
Article
GIS-Based Borderlands Modeling and Understanding: A Perspective
1
National Geomatics Center of China, Beijing 100830, China
2
School of Geography, Beijing Normal University, Beijing 100875, China
*
Author to whom correspondence should be addressed.
Academic Editor: Wolfgang Kainz
Received: 19 August 2014 / Accepted: 3 February 2015 / Published: 20 April 2015
Abstract
:
Borderland regions are special areas and deserve more attention in global sustainable development. Reliable geo-information and effective analysis tools are requested to support borderlands studies through the integrated utilization of geospatial analysis, web service, as well as the other domain-specific expertise. This paper has reviewed the state-of-the-art of geospatial information sciences, (GIS)-based borderlands modeling, and understanding. From the perspective of GIS, integrated data modeling, comprehensive analysis, and collaborative information service are identified as the three major challenges in this filed. A research agenda is further proposed with four topics,
i.e.
, classification and representation of borderland information, derivation of neighborhood information, development of synergetic analysis, and design and development of a geo-portal for borderlands studies. This interdisciplinary study requires a closer and in-depth collaboration of geopolitics, international relation, geography and geo-spatial information sciences.
Keywords:
borderlands; sustainable development; integrated data modeling; comprehensive analysis; geospatial information science
2. Literature Review
The state-of-the-art of borderlands modeling and understanding is reviewed here with a GIS perspective,
i.e.
, from borderlands data acquisition, theme spatial analysis and visualization, to borderlands monitoring and management.
2.1. Borderlands Data Acquisition
2.2. Theme Spatial Analysis and Visualization
2.3. Borderlands Monitoring and Management
The border and the borderlands between certain countries are very extensive and dynamic [
41
]. Earth observation can play an important role in borderlands monitoring and management. Airborne digital multispectral imagery and interactive image analysis techniques have been used to monitor cross-border trails [
42
]. The European Commission (EC) and the European Space Agency (ESA) have launched a joint program, namely Global Monitoring for Environment and Security (GMES), to monitor the marine and land environment in an operational context [
43
]. It is designed to generate and deliver environmental information to decision makers by gathering and processing satellite,
in situ
and, socio-economic data. One of the GMES components is security service, which aims to provide intelligence and early warning services to support root-cause analysis of regional crises, such as weapons proliferation, fighting for natural resources, population pressure, land degradation, and illegal activities in the domains of migration and border monitoring natural resources and conflicts, nuclear and treaties monitoring and critical assets.
Some institutions conducted the collection of situation information about boundary and borderlands. For instance, the International Boundaries Research Unit (IBRU) at the University of Durham collected information on boundary events and territorial disputes around the world through a variety of international news and information sources [
44
]. US and Canada agreed to work together, "not just at the border, but beyond the border to enhance the security and accelerate the legitimate flow of people, goods and services". Improving cooperative law enforcement capacity and national intelligence- and information-sharing are among the specific measures in implementing this "Beyond the Border action plan" [
45
]. A surrounding transaction plotting and management system has been reported [
46
]. It analyzes the common electronic map service platform by taking into account the surrounding affairs plotting aid management system and provides the efficient real-time online map plotting and sharing tools.
3. Challenges in GIS-Based Borderlands Modeling and Understanding
Nowadays there is an awareness gap between borderlands challenges and UN SDGs. This can be mediated by advancing borderlands studies through a new level of research collaboration among the social, natural and engineering sciences. Three major challenges can be identified in terms of GIS-based borderlands modeling and understanding (
Figure 1
).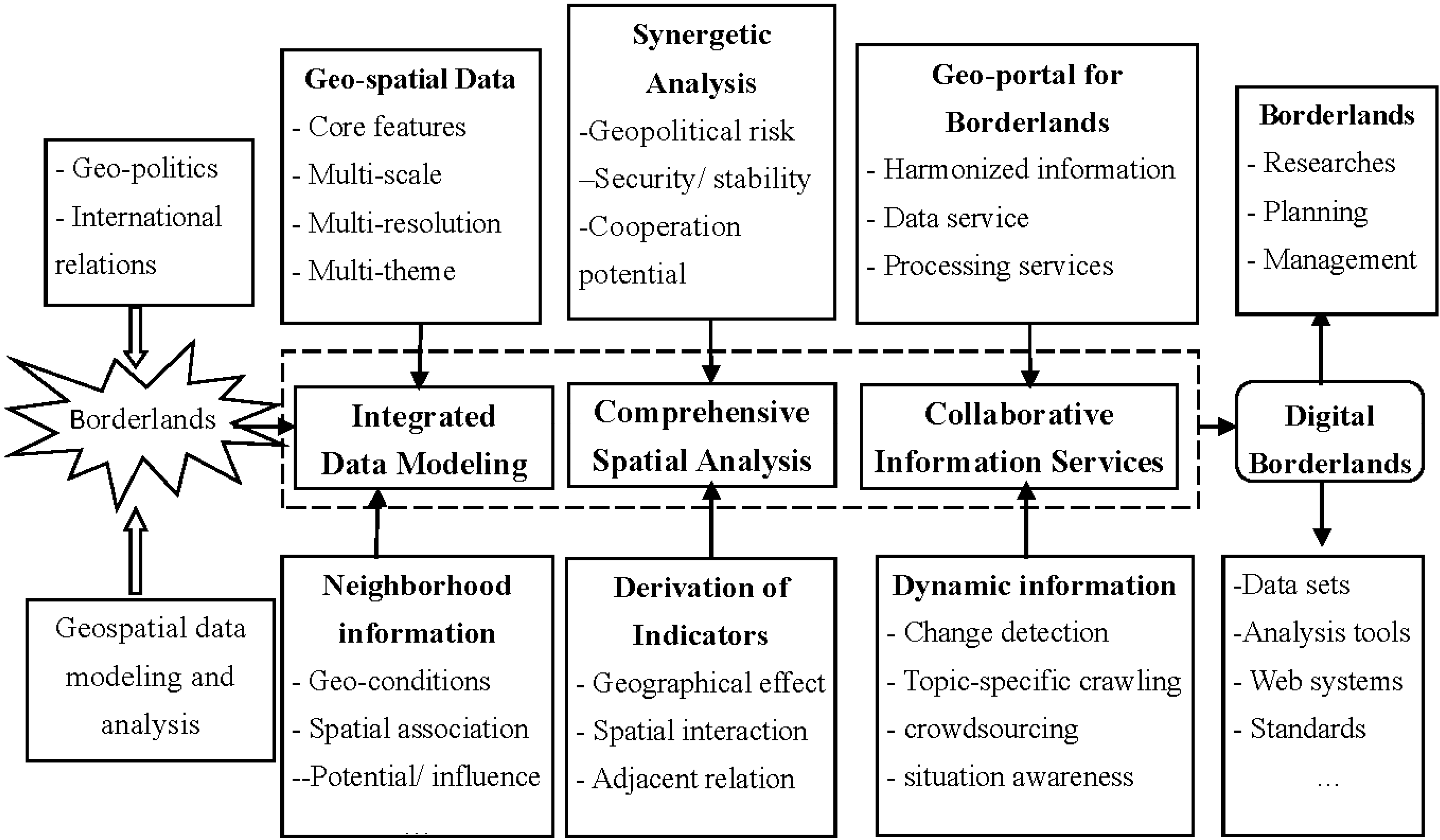 3.1. Integrated Borderlands Data Modeling
The representation of borderlands phenomena and events in a digital environment is one of the major tasks of borderland modeling, and the natural environment and socioeconomic activities of borderlands should be taken into consideration. In comparison with the previously mentioned boundary data modeling, the abstraction and representation of borderlands features (objects) and their relationships take different ways. Some researchers may need basic datasets of directly observed phenomena, while some others might prefer to utilize derived forecast products. It is therefore essential to understand the diverse and evolving range of user needs to identify critical borderlands features (objects). This will lead to the development of a borderland-specific spatial data model for the representation of the borderlands phenomena and events. Due to the extensive and dynamic nature of borderlands, the formulation of borderlands models for analytical concerns is difficult. Brunet-Jailly had suggested a general framework of borders with four major components,
i.e.
, market forces and trade flows, policy activities of multiple levels of governments on adjacent borders, the particular political clout of borderland communities, and the specific culture of borderland communities [
10
]. This Canada-US-border based research result can provide us with some useful thoughts for the conceptual modeling of borderlands phenomena. However, the definition and representation of the key borderlands features (objects) and neighborhood variable needs more in-depth investigation. The following are three factors to be considered:
Multi-scale:

since the geographical extent of borderlands does not follow an absolute area, there are significant differences of natural phenomena and human activities in different geographical scales (national-, regional-, and sub-regional scale). Borderlands data modeling should represent spatial information and related properties in various scales [

47

]. Non-spatial data should be organized hierarchically. Due to the data accessibility and availability, upscaling or downscaling processes are necessary under specific conditions. For example, a downscaling method should be applied to produce population density grids from the country- or province-level census data [

48

]. As the border regions are much larger than the boundary strip areas, a multi-scale and multi-resolution data modeling strategy is becoming necessary to meet different user requirements or priorities from their specific applications.

Dynamic interaction

: the natural process (e.g., seasonal variation of water resources of international rivers) and anthropological activities (e.g., migration over borders) are highly dynamic and interactive over time and space. The dynamic interaction between humankind and environment (e.g., resulting in land use/cover changes) and between different peoples (e.g., migration, trade, cultural exchange, conflicts,

etc.

) raises difficulties in data acquisition and modeling, which should support the analysis of drivers, development and impacts of such dynamics and interactions. Some regression models were developed to represent the interaction between build-up land and population density [

49

] and to simulate interaction between carbon footprint and environment [

50

]. A focused web crawler has been developed and used to collect the dynamic borderlands situation information [

36

], and to derive those news reports about the borderland events to dynamically create borderland-situation charts, both in spatial- and time-series.

Harmonization of dataset:

borderlands data collection and processing can be achieved through the utilization of earth observation, crowdsourcing information, and conversion and harmonization of existing open data sets at global, regional and national scales. However, many existing social-economic and geo-political data often lack a clear spatial context referent, and the specific units and boundaries are often not the same [

22

]. The integration of all the available data sets for consistent and reliable borderlands data sets remains one of the most difficult tasks. New technical standards and data processing methods need to be investigated.
3.2. Comprehensive Borderlands Analysis
Cross-border co-operation and its win-win reciprocity depend significantly on a combination of various facilitating factors, including political leadership, economic competitiveness, cultural interaction, and geographical conditions [
34
,
51
]. A better understanding of these border issues can be realized through historical trend analysis, operational tactical decision analysis, as well as strategic planning and forecasting. Currently, most borderlands analysis are single theme-oriented, such as economic integration of the border regions [
33
,
34
], cross-border cultural diversity and dynamism [
41
], trans-boundary environmental issues [
52
] , combat against cross-border crime [
53
], and foreign diplomatic presence [
54
]. A comprehensive analysis of the effects of geographical conditions and its synergy with social, economic, political and cultural analysis in borderlands affairs is still missing [
55
,
56
]. The development of such comprehensive borderlands analysis is becoming another big challenge. Both GIS-based analysis and multi-disciplinary knowledge need to be incorporated into borderlands studies.
GIS-based spatial analysis:

The geographical location and other geographical conditions have significant impacts or effects on the neighboring environment and borderlands policy. With advanced GIS-based spatial analysis, it is possible to compute their effects or evaluate the impacts, such as the differences of accessibility with or without geographical obstacles [

34

], spatial interaction among various (political, economic, or cultural) neighboring units [

57

], spatial heterogeneity of landscape, and neighborhood [

58

]. There are a number of GIS spatial analysis methods available, such as multi-criteria decision analysis [

59

], spatial relation computation [

60

],

etc.

For instance, neighboring countries share common boundaries or have other kinds of adjacent relations. A Voronoi-based k-order relation model may be used for a quantitative and qualitative analysis modeled [

61

].

Multidisciplinary expert knowledge:

Some borderlands phenomena and affairs require a synergetic analysis of both geographic condition and other socio-economic, cultural and environmental factors. For instance, international or regional emergency rescue and peacekeeping activities are based on geopolitical risk analysis and forecasting. The security and stability status, potential for cooperation and possible conflicts are among other subjects of synergetic analysis. This requires an integration of multi-disciplinary expert knowledge from academia, government sectors, and international organizations. Effort has been made to model geo-political influence among nations using a set of indicators and multi-variables estimate method [

62

]. The geo-political influence of China and the United States (US) in South Asia during 2007–2012 was also modeled [

63

]. The geo-advantages of border-cities in cross-border industrial and enterprise cooperation were studied to reveal a geo-political and geo-economic mode for border-cities [

64

]. The framework for analyzing re-scaling processes was proposed and applied to a case study of the Dutch-German EUREGIO cross-border region [

65

].
3.3. Collaborative Borderland Geospatial Service
At present, most research institutions and organizations in the field of borderlands studies have kept their developed data sets for internal use, for both historical and sensitive reasons. However, there are a few websites where some common data sets are published and can be downloaded, such as CShapes dataset, international river boundaries database [
17
], U.S.-Mexico Border Dataset [
66
], Shared River Basin Database [
67
], and international freshwater treaties database [
68
]. From the point view of web services, the data and services provided by these websites are fragmented in terms of coverage and are not connected, forming de facto "information islands". In addition, they provide only static or snapshot-based borderlands information. As border regions have a dynamic nature, a number of natural features or social-economic phenomena change over time, such as the changes in boundary watercourse bed, expansion of built up areas, economic growth, population increase, biodiversity degradation as well as territorial change. Establishing collaborative geospatial services that provide data sharing, analysis, visualization and mapping services in an efficient way is becoming the third challenge in borderlands modeling and understanding. This can be supported by a web service-based collaborative borderland geospatial service platform that provides geospatial resource, geo-processing and mapping tools [
69
].
Distributed borderland data sharing:

The first objective of such a collaborative borderland geospatial service platform is to connect all the borderlands related open data sources scattered around the world and to provide "one stop" information sharing. This will enable researchers and users to have an easy access to historical and up-to-date borderlands data and to share their own data with the others. One of the key challenges is how to ensure a continuous updating of these borderlands data sets. While earth observation approaches can be used for spatial change detection [

70

], some other situation changes can be collected using topic-specific web crawlers from the huge source of information contained in the Internet [

71

].

Borderlands geo-processing services:

While data sharing is a lower level of collaborative geospatial services, the analytical models or paradigms of data processing and analysis from different borderland research groups and relevant scientific communities can be shared through geo-processing services. Visualization and mapping service can be one of the geo-processing services that will facilitate the interactive data exploration and efficient presentation of analysis results. A high performance of geo-computation infrastructure is required to achieve this goal [

72

].
4. A Research Agenda
In order to address the abovementioned challenges, it is natural to expend the study areas from the traditional narrow strip area (normally 5–10 km wide) of an international boundary to a much larger surrounding area (about several tens to hundreds of kilometers wide). In addition, more kinds of information are required to support regional emergency rescue, peacekeeping activities, natural disaster assessment, and other borderlands studies. This leads to a natural move from previous "digital boundary" to "digital borderlands" with the advance of Earth Observation, GISs and Web technologies [
15
,
73
]. The so-called "digital borderlands" refer to a digital representation of borderlands phenomena and events, special borderlands analysis and simulation tools, as well as "one stop" information portal [
74
]. It aims at providing more reliable information and more efficient tools to support borderlands studies, cross-boundary planning, development and management. Several theoretical and technological issues need further investigation.
4.1. Classification and Representation of Borderland Information
Geo-spatial data and neighborhood information are two major kinds of data in "digital borderlands" [
74
]. The former consists of multi-scale topographic data, multi-resolution imagery and land cover data, geographic names, as well as core borderlands features. The latter comprises geo-conditions, spatial association and geo-potential or influence. Their conceptual representation and logical data modeling all require sound formal classification and description of the core features (objects), relationships, operations and rules.
While topography, space imagery, land cover and land use, place names, administrative and other political units serve as the basic geo-spatial data, there are some core features (objects) and relations that are specific for borderlands studies. Some of these features (objects) are critical for a particular field, and others support a broad range of borderlands studies. This gap can be filled by a cross-sectoral meta-analysis of borderlands study priorities from the perspective of users [
75
]. As far as the neighborhood information is concerned, a set of spatial association indicators need to be identified for representing integration in different domains, such as population migration, trans-boundary ethnics/religion/transportation for social association, bilateral trade, regional groups and FDI (I/O) for economic association, trans-boundary water, energy and minerals for resource association.
It is known that information uncertainty exists during the process of data generation, acquisition, modeling, analysis and visualization. For example, public generated data (e.g., OSM, social network data) produce uncertainties because of lacking data quality control mechanism. In addition, the process of data handling (e.g., upscaling and downscaling) can also bring and propagate uncertainties [
76
]. Therefore, components of uncertainty and their relationships should be understood and how information uncertainty affect analysis and decision-making should be addressed [
77
].
4.2. Derivation of Neighborhood Information
The derivation of neighborhood information raises some methodological and technical questions. Firstly, some neighborhood phenomena do not necessarily follow state boundaries, such as economic association and environmental influences. Well-designed multi-granular neighborhood tessellations as the basic spatial units will facilitate the collection, aggregation and processing of the indicators of the geo-conditions, spatial association and geo-potential or influences. Secondly, special algorithms and approaches remain to be developed for deriving these indicators through the calculation or derivation of socio-economic statistics and other theme data.
Recently, the world's first 30 m-resolution global land cover dataset, GlobeLand30, wasdeveloped [
78
,
79
] and released for open access (
www.globeland30.org
). It has been used to derive neighborhood information, such as spatial relations of ethnic groups and their land cover activities, and the impact of borderlands land cover changes on ecological environment as well as cross-border influence.
4.3. Development of Synergetic Analysis
There are increasing demands for synergetic analysis of geopolitical risk, security and stability status, cooperation potentials for an entire neighborhood region, a specific transportation lifeline, or some other specific areas. Domain-specific analysis models should be developed, including the definition of appropriate evaluation criteria and models, comparison of alternative actions and the formulation of policy advices. This will depend on the understanding of the borderlands phenomena or affair concerned and can be supported by a good combination of geopolitical thinking, international relation analysis and GIS-based geo-computation.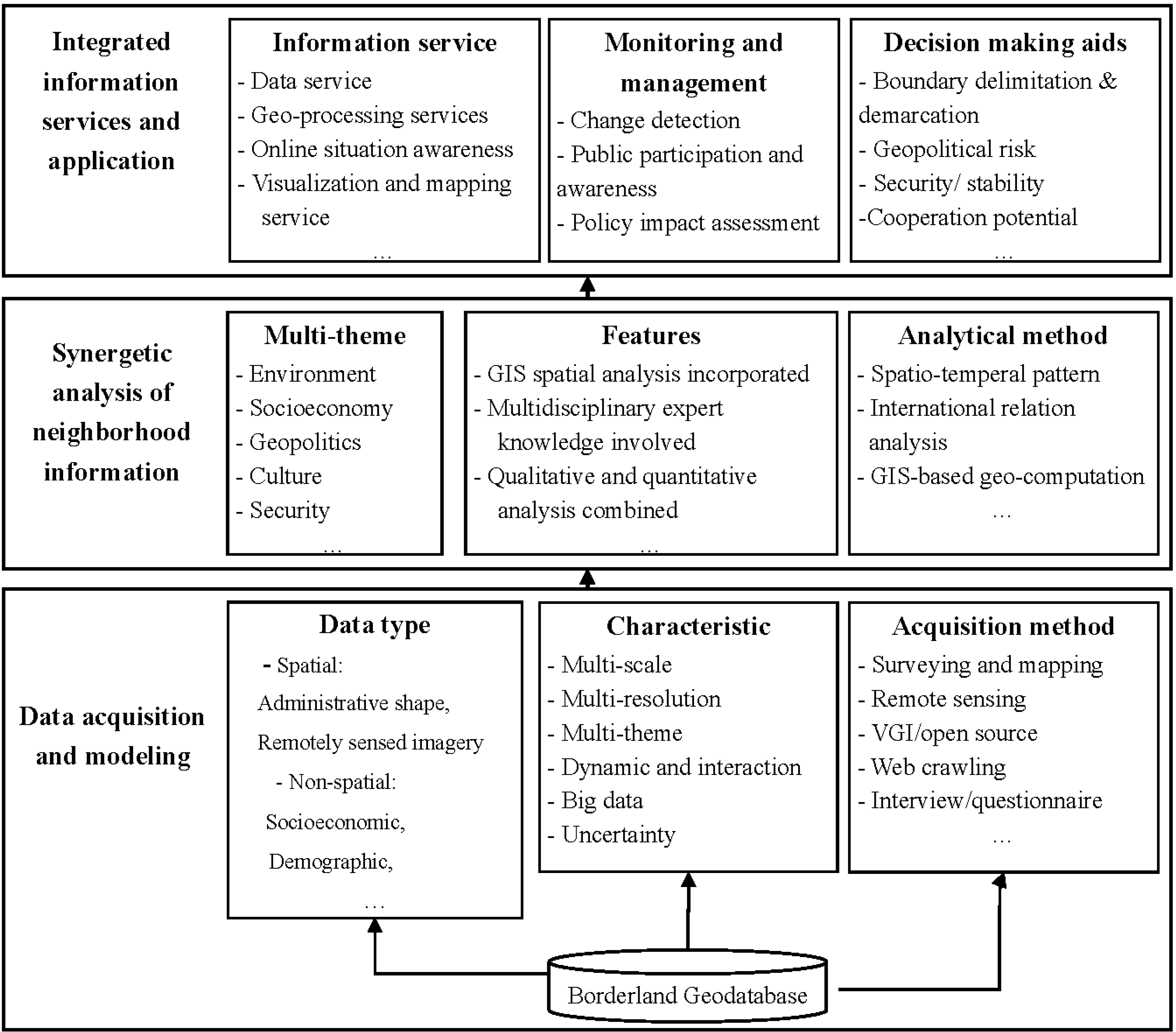 For example, comprehensive key indicators need to be developed for the quantitative measurement of the geo-influence among countries by taking into account of the hard power, soft power and interdependent power factors. In addition, the comprehensive distance system (centroid distance, boundary distance, time distance and friction distance), the relationship and geo-political structure should also be incorporated into the study of geo-influence.
4.4. Design and Development of a Geo-Portal for Borderlands Studies
The harmonized borderlands information and collaborative information service can be embedded through the design and development of a geoportal, which is a special type of web portal, dealing with geospatial data and geospatial processing services [
80
].
This geo-portal will not only serve as a data dissemination platform, but also as an open system that supports the discovery, exchange, advertisement and delivery of borderlands information resources on the Web [
56
,
75
]. Highest level of semantic interoperability, crowdsourcing information collection, topic-specific web crawling, change monitoring with multi-temporal imagery, and ontology-based online situation awareness are among the key issues to be investigated. Some of the key technical design and implementation issues of such a geo-portal is shown in
Figure 2
.
5. Summary
Border regions are very important areas in our changing world and deserve more attention in the global sustainable development. A clearer awareness and well-coordinated development of the border regions will reinforce the UN SDGs and benefit humanity. This can be advanced by promoting borderlands modeling as well as understanding with new modeling and analysis capabilities. This paper identified integrated data modeling, comprehensive analysis and collaborative information service as the three major challenges in this field from a GIS perspective. A research agenda was further proposed with four major topics,
i.e.
, classification and representation of borderland information, derivation of neighborhood information, development of synergetic analysis, and design and development of a geo-portal for borderlands studies.
GIS-based borderlands modeling and understanding is an interdisciplinary study. A new level of research collaboration among the social, natural and engineering sciences is requested to develop innovative concept, methods, algorithms, as well as advanced computing platforms. In particular, a closer and in-depth collaboration of geo-politics, international relation, geography and geo-spatial information sciences is obligatory.
Acknowledgments
This study was funded by Ministry of Science and Technology of China (Project No. 2012BAK12B00). All the authors gratefully thank the reviewers and editors.
Conflicts of Interest
The authors declare no conflicts of interest.
© 2015 by the authors; licensee MDPI, Basel, Switzerland. This article is an open access article distributed under the terms and conditions of the Creative Commons Attribution license (http://creativecommons.org/licenses/by/4.0/).