In Vitro Interactions of Moroccan Propolis Phytochemical's on Human Tumor Cell Lines and Anti-Inflammatory Properties
1
Centro de Investigação de Montanha (CIMO), Instituto Politécnico de Bragança, Campus de Santa Apolónia, 5300-253 Bragança, Portugal
2
Laboratory of Physiology, Pharmacology & Environmental Health, Faculty of Science, University Sidi Mohamed Ben Abdellah, Fez 30050, Morocco
*
Authors to whom correspondence should be addressed.
Received: 6 July 2019 / Revised: 22 July 2019 / Accepted: 23 July 2019 / Published: 29 July 2019
Abstract
Propolis is a resin manufactured by bees through the mixture of plant exudates and waxes with secreted substances from their metabolism, resulting in a complex mixture of natural substances of which quality depends on the phytogeographic and climatic conditions around the hive. The present study investigated the contribution of phenolic compounds to the cytotoxic and anti-inflammatory activities of propolis. The phenolic composition was evaluated by liquid chromatography with diode-array detection coupled to electrospray ionization tandem mass spectrometry (LC/DAD/ESI-MS
n
) analysis after phenolic extraction. The cytotoxicity of the extracts was checked using human tumor cell lines (MCF7- breast adenocarcinoma, NCI-H460- non-small cell lung carcinoma, HeLa- cervical carcinoma, HepG2- hepatocellular carcinoma, and MM127- malignant melanoma), as well as non-tumor cells (a porcine liver primary culture-PLP2). The anti-inflammatory activity was assessed using the murine macrophage (RAW 264.7) cell line. The results showed a composition rich in phenolic acids, such as caffeic and p-coumaric acid, as well as flavonoids, such as pinocembrin, pinobanksin, and pinobanksin-3-O-butyrate. Samples MP2 from Sefrou and MP3 from Moulay Yaâcoub presented a high concentration in phenolic compounds, while MP1 and MP4 from Boulemane and Immouzzer Mermoucha, respectively, showed similar composition with low bioactivity. The higher concentration of phenolic compound derivatives, which seems to be the most cytotoxic phenolic class, can explain the pronounced antitumor and anti-inflammatory activity observed for sample MP2.
View Full-Text
►

▼

Figures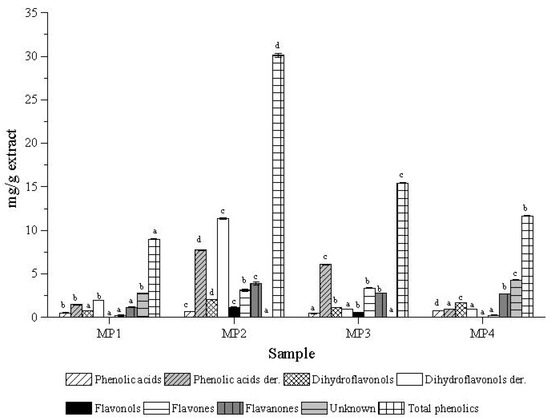 Figure 1
This is an open access article distributed under the
Creative Commons Attribution License
which permits unrestricted use, distribution, and reproduction in any medium, provided the original work is properly cited (CC BY 4.0).

Share & Cite This Article
MDPI and ACS Style
Falcão, S.I.; Calhelha, R.C.; Touzani, S.; Lyoussi, B.; Ferreira, I.C.F.R.; Vilas-Boas, M. In Vitro Interactions of Moroccan Propolis Phytochemical's on Human Tumor Cell Lines and Anti-Inflammatory Properties. Biomolecules 2019, 9, 315.
Note that from the first issue of 2016, MDPI journals use article numbers instead of page numbers. See further details here.
Related Articles
Comments
[Return to top]