Open Access This article is
freely available
re-usable
Article
Inhibiting Extracellular Cathepsin D Reduces Hepatic Steatosis in Sprague–Dawley Rats
†
1
Aten Porus Lifesciences Pvt Ltd., Bengaluru, Karnataka 560068, India
2
Department of Molecular Genetics, School of Nutrition and Translational Research in Metabolism (NUTRIM), Maastricht University, 6229 ER Maastricht, The Netherlands
3
Department of Chemistry, CHRIST (Deemed to be University), Bengaluru, Karnataka 560029, India
4
Avaliv Therapeutics, Naples, FL 34120, USA
†
Short title: Extracellular cathepsin D inhibitor for fatty liver disease.

‡
These authors contributed equally to this work.

Received: 26 March 2019 / Accepted: 2 May 2019 / Published: 4 May 2019
Abstract
:
Dietary and lifestyle changes are leading to an increased occurrence of non-alcoholic fatty liver disease (NAFLD). Using a hyperlipidemic murine model for non-alcoholic steatohepatitis (NASH), we have previously demonstrated that the lysosomal protease cathepsin D (CTSD) is involved with lipid dysregulation and inflammation. However, despite identifying CTSD as a major player in NAFLD pathogenesis, the specific role of extracellular CTSD in NAFLD has not yet been investigated. Given that inhibition of intracellular CTSD is highly unfavorable due to its fundamental physiological function, we here investigated the impact of a highly specific and potent small-molecule inhibitor of extracellular CTSD (CTD-002) in the context of NAFLD. Treatment of bone marrow-derived macrophages with CTD-002, and incubation of hepatic HepG2 cells with a conditioned medium derived from CTD-002-treated macrophages, resulted in reduced levels of inflammation and improved cholesterol metabolism. Treatment with CTD-002 improved hepatic steatosis in high fat diet-fed rats. Additionally, plasma levels of insulin and hepatic transaminases were significantly reduced upon CTD-002 administration. Collectively, our findings demonstrate for the first time that modulation of extracellular CTSD can serve as a novel therapeutic modality for NAFLD.
Keywords:
NAFLD; lysosomal enzyme; extracellular cathepsin D; small-molecule inhibitor
2. Materials and Methods
2.1. Design and Development of CTD-002
CTD-002 was designed using the Schrodinger Small Molecule Drug Design Suite and medicinal chemistry efforts. In this process, a library of ~500,000 commercially available compounds were screened in silico using the pharmacophore modelling [
22
,
23
] in PHASE module and docking the top 10,000 molecules via the GLIDE XP [
24
,
25
] module of the Schrodinger suite (v7.2, Schrödinger, LLC). This resulted in the identification of a set of 100 molecules with diverse chemical structures. These molecules were then further screened against CTSD in a cell-free assay to identify those compounds that had micromolar or higher potency. The compounds with the lowest permeability and efflux were selected as exerting most of its effects extracellularly. Finally, these compounds were further refined and modified to create a library of compounds with nanomolar efficacy against CTSD, with CTD-002 being the most potent small-molecule inhibitor, showing a dose-dependent inhibition of CTSD activity (
Figure S1
). While the compound may have minor effects of intracellular CTSD, toxicity studies in Sprague–Dawley rats and BALB/c mice, a widely used mouse strain, showed no toxic reactions at the therapeutic dose of 50 mg/kg, which was injected twice a week for six weeks.
2.2. Isolation and Culturing of Bone Marrow-Derived Macrophages
Tibiae and femurs of wild type mice belonging to C75Bl/6 strain were broken and used for harvesting bone marrow-derived macrophages (BMDMs). The culture medium in which the BMDMs were cultured was an RPMI medium (GIBCO Invitrogen, Breda, the Netherlands) supplemented with 10% heat-inactivated fetal calf serum (Bodinco B.V. Alkmaar, the Netherlands), penicillin (100 U/mL), streptomycin (100 μg/mL) and L-glutamine 2 mM (all derived from GIBCO Invitrogen, Breda, The Netherlands). To differentiate between monocytes and macrophages, the culture medium was also supplemented with 20% L929-conditioned medium (LCM) for 9 days. At day 10, BMDMs were cultured in a 24-well plate at 350,000 cells per well. Next, the BMDMs' culture medium was enriched with oxidized low-density lipoprotein (oxLDL) for 24 h (25 μg/mL; Alfa Aesar: J65591, Wardhill, MA, USA). Then, the macrophages were treated with CTD-002 (Aten Porus Lifesciences Pvt Ltd., India) or with carrier-control dimethyl sulphoxide (DMSO) for 4 h. In order to increase the effects on inflammation, cells were washed and further stimulated with lipopolysaccharide (LPS; 100 ng/mL) for 4 h.
To explore the possible effects of secreted CTSD on neighboring cells, hepatic HepG2 (ATCC HB-8065) cells were incubated with the conditioned medium from CTD-002-treated BMDMs, or control-treated BMDMs, for 4 h. Subsequently, cells were washed and stimulated with LPS (100 ng/mL) for 4 h, after which the supernatant was collected for protein measurements and cells were lysed for mRNA expression analyses.
2.3. Rats, Diet and Intervention
Animal experiments were conducted at TheraIndx Lifesciences Private Limited, following all ethical practices as formulated in the guidelines for animal care and approved by the Institutional Animals Ethics Committee (IAEC; protocol no. IAEC/05/2017/064), India. SD rats were given free access to food and water and were housed under standard conditions. Following an acclimatization period of seven days, rats were fed with either low-fat (LFD) or HFD for three weeks. The composition of the diets is listed in
Table S1
. To test its therapeutic efficacy, CTD-002 was administered twice a week intraperitoneally (dose 50 mg/kg) for three weeks. The experimental conditions are also shown in
Figure S2
. After three weeks, the animals were sacrificed using CO2 anesthesia. Following blood collection, the rats were dissected, liver tissues were excised, weighed and cut into small pieces weighing ~100 to 200 mg. These liver tissues were frozen immediately in liquid nitrogen and stored at −80 °C for further analyses. In addition, liver samples were also fixed in 4% formaldehyde for histologic examination. Blood was collected by cardiac puncture followed by termination, centrifuged and plasma was harvested for biochemical analyses.
2.4. Histological Analyses
Formalin-fixed liver samples were stained with Hematoxylin-Eosin (H&E) in order to score fat vesicles as minimal, mild, moderate and severe steatosis. Lobular inflammatory activity was scored as follows: (1) focal collections of mononuclear inflammatory cells; (2) diffuse infiltrates of mononuclear inflammatory cells and (3) focal collections of polymorphonuclear cells in addition to mononuclear cell infiltrates. In addition to H&E, formalin-fixed liver samples stained with Chromotrope Aniline Blue and Sirius Red were quantified for total hepatic fat percentage by means of digital image analysis in ImageJ.
2.5. Plasma Measurements
Plasma concentrations of alanine aminotransferase (ALT) [S.G.P.T ERBA kit, 120903; Baddi, India] and aspartate aminotransferase (AST) [S.G.O.T ERBA kit, B081717; Baddi, India] were measured with an enzymatic color test according to the manufacturer's protocols and were measured using an ERBA semi-automated biochemistry analyzer. Plasma insulin was measured using a rat enzyme-linked immunosorbent assay kit [ab100578, Abcam; Cambridge, MA, USA].
2.6. Liver Tumor Necrosis Factor-Alpha Levels
The rat tumor necrosis factor-alpha (TNF-α) ELISA assay was performed on liver homogenates according to the manufacturer's instructions [ab100785, Abcam; Cambridge, MA, USA] using a microplate reader.
2.7. Statistical Analyses
Data were statistically analyzed by performing two-tailed non-paired
t
-tests using GraphPad Prism, version 6.0 for Windows. Data were expressed as mean ± SEM and considered significant at
p
< 0.05. *, ** and *** indicate
p
< 0.05, 0.01 and 0.001, respectively.
4. Discussion
Treating NAFLD is of critical importance to prevent further progression to liver cirrhosis and end-stage liver disease. The present study provides the first evidence that modulating extracellular CTSD activity can significantly improve metabolic parameters associated with NAFLD. These findings suggest the potential therapeutic benefits of targeting extracellular CTSD within the context of metabolic diseases and opens new perspectives for therapeutic interventions in NAFLD.
In conclusion, we provide for the first time evidence that extracellular CTSD has a central role in the progression of NAFLD. In contrast to conventional therapeutic targeting of cathepsins, our data demonstrate that inhibiting specifically the extracellular fraction of CTSD can be a valuable therapeutic strategy for NAFLD. Further studies that investigate the downstream targets regulated by extracellular CTSD will provide deeper understanding of the mechanisms of NAFLD pathogenesis.
Supplementary Materials
The following are available online at
https://www.mdpi.com/2218-273X/9/5/171/s1
,
Figure S1:
Inhibitory activity of CTD-002 on CTSD activity.
Figure S2:
Schematic representation of the in vivo setup.
Figure S3
: Effect of CTD-002 in bone marrow-derived macrophages under control conditions.
Figure S4:
Cd36
gene expression levels of BMDMs and HepG2 cells.
Figure S5:
Food consumption of Sprague–Dawley rats.
Figure S6:
Representative images of fat droplets stained by haematoxylin and eosin.
Figure S7:
Impact of high-fat diet on hepatic fat deposition in Sprague–Dawley rats. Upper panels, Chromotrope Aniline Blue staining; bottom panels, Sirius Red staining.
Table S1:
Composition of low and high fat diets.
Table S2
: Relative liver weight (per 100 g of body weight) of the experimental groups of rats.
Author Contributions
Conceptualization, T.H., A.K. and R.S.-S.; Data curation, P.K., T.Y., S.G. and A.D.; Formal analysis, P.K., T.Y., T.H. and Y.O.; Funding acquisition, A.K. and R.S.-S.; Methodology, P.K., T.Y., S.G., A.D., T.H., A.A. and R.S.-S.; Project administration, A.K.; Resources, A.K. and R.S.-S.; Supervision, A.K. and R.S.-S.; Writing—original draft, P.K. and T.Y.; Writing—review & editing, S.G., A.D., T.H., Y.O., A.A., A.K. and R.S.-S.
Funding
This work was jointly supported by Avaliv Therapeutics and the Netherlands Organisation for Scientific Research (NWO) VIDI (grant number: 016.126.327), ASPASIA (grant no. 015.008.043) and by Top consortia for Knowledge and Innovation (TKI; grant number: 40-41200-98-9306).
Conflicts of Interest
RSS is on the advisory board of Avaliv Therapeutics, which has filed intellectual property protecting the inhibitors. The terms of this arrangement have been reviewed and approved by Maastricht University in accordance with its policy on objectivity in research. AK is a co-founder of Avaliv Therapeutics.
Abbreviations
| | |
| --- | --- |
| NAFLD | non-alcoholic fatty liver disease |
| NASH | non-alcoholic steatohepatitis |
| CTSD | cathepsin D |
| HFD | high-fat diet |
| LFD | low-fat diet |
| BMDMs | Bone Marrow-derived macrophages |
| oxLDL | oxidized low-density lipoprotein |
| Wt | wildtype |
| LDL(R) | low-density lipoprotein (receptor) |
| SD | Sprague–Dawley |
| ELISA | enzyme-linked immune sorbent assay |
| LCM | L929-conditioned medium |
| TNF | tumor necrosis factor |
| LPS | lipopolysaccharide |
| AST | aspartate transaminase |
| ALT | alanine transaminase |
| MetS | metabolic syndrome |
| Pep-A | Pepstatin-A |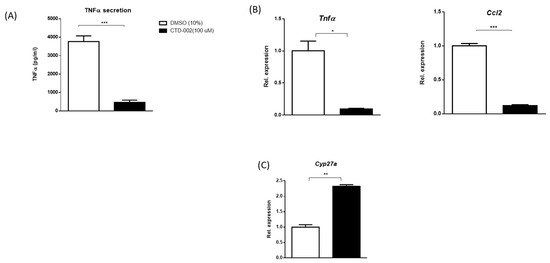 Figure 1.
Effects of CTD-002 on inflammation and cholesterol metabolism in bone marrow-derived macrophages. (
A
) TNFα protein levels measured from supernatant of oxidized low-density lipoprotein (oxLDL)-loaded bone marrow-derived macrophages (BMDMs). (
B
) Gene expression of inflammation-related genes
Tnfα
and
Ccl2
and (
C
) the cholesterol breakdown enzyme
Cyp27a1
in oxLDL-loaded bone marrow-derived macrophages. Each bar represents a technical triplicate ± SEM; * means
p
< 0.05, **
p
< 0.01 and ***
p
< 0.001 compared to dimethyl sulfoxide (DMSO)-treated BMDMs by means of two-tailed unpaired
t
-test.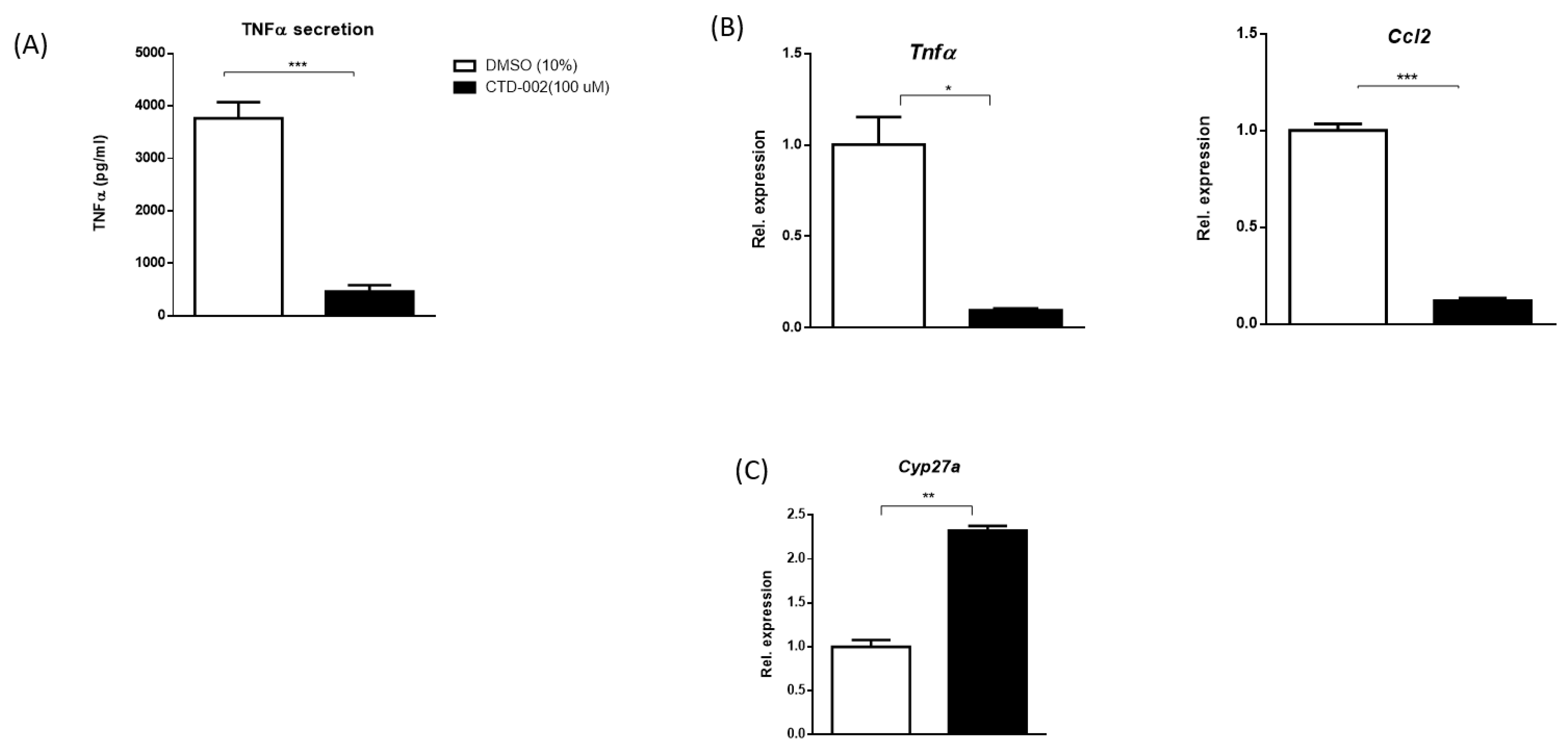 Figure 2.
Effect of medium derived from CTD-002-treated BMDMs on HepG2 cells. (
A
) TNFα cytokine secretion of HepG2 cells cultured in a macrophage-conditioned medium that was treated with or without CTD-002. (
B
) Gene expression levels of
Tnfα
and
Ccl2
measured in HepG2 cells. Error bars represent mean ± SEM.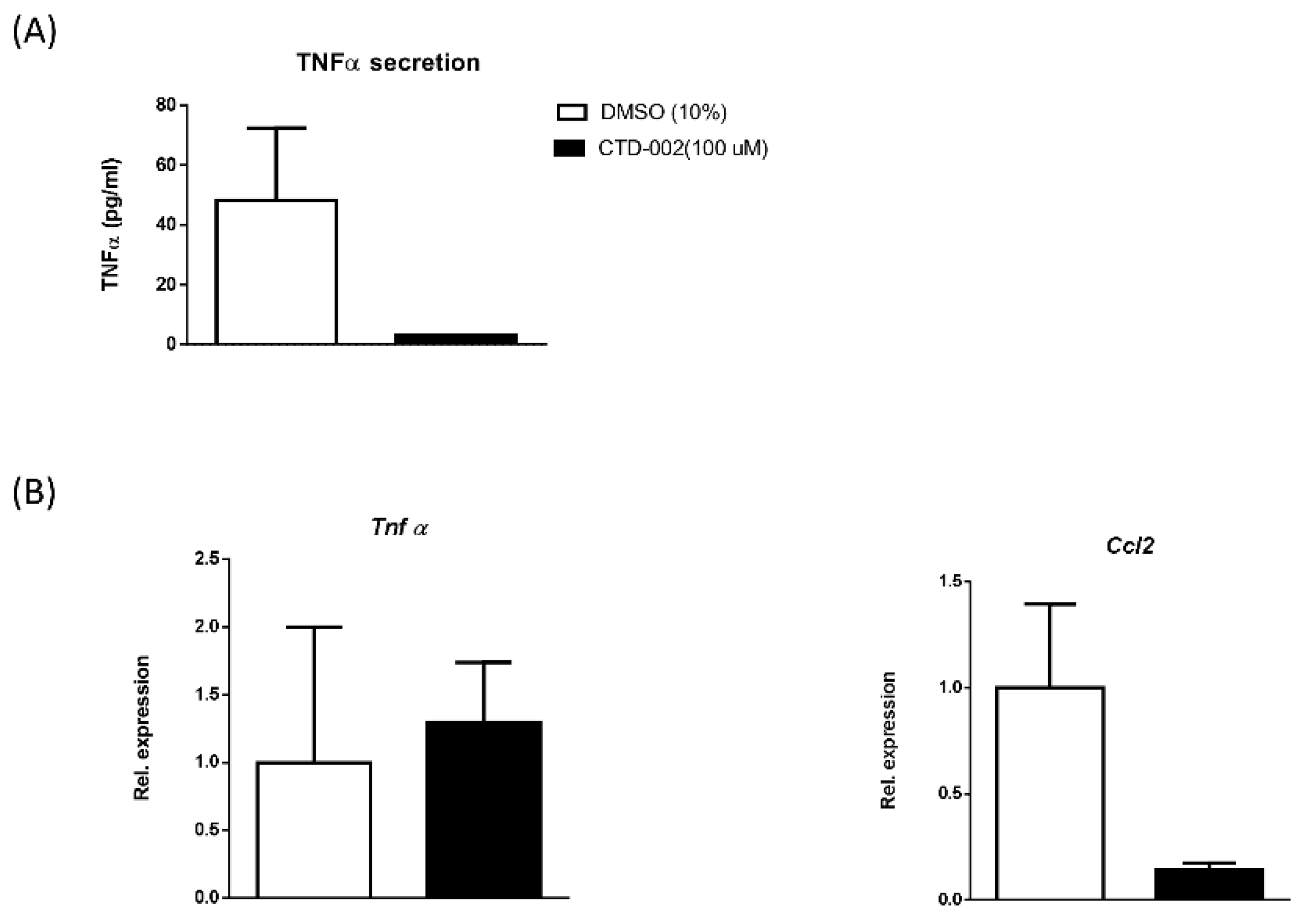 Figure 3.
Metabolic parameters of high-fat diet (HFD)-fed Sprague–Dawley (SD) rats treated with or without the extracellular inhibitor CTD-002. (
A
) Scoring of hepatic steatosis by means of Hematoxylin-Eosin (H&E) staining. (
B
) Plasma levels of insulin. Error bars represent mean ± SEM;
n
= 6 for each group; * represents
p
< 0.05 and ***
p
< 0.001 compared to rats on HFD; ### represents
p
< 0.001 compared to the rats on low-fat diet (LFD) by means of two-tailed unpaired
t
-test.


Figure 4.
Hepatic TNFα levels and aspartate transaminase/alanine transaminase (AST/ALT) ratio in HFD-fed SD rats treated with or without the extracellular inhibitor of cathepsin D (CTSD). (
A
) Hepatic TNFα levels. (
B
) Plasma transaminase levels. Error bars represent mean ± SEM;
n
= 6 for each group. * indicates
p
< 0.05 compared to rats on the HFD.


© 2019 by the authors. Licensee MDPI, Basel, Switzerland. This article is an open access article distributed under the terms and conditions of the Creative Commons Attribution (CC BY) license (http://creativecommons.org/licenses/by/4.0/).