Membrane Localization of HspA1A, a Stress Inducible 70-kDa Heat-Shock Protein, Depends on Its Interaction with Intracellular Phosphatidylserine
1
Department of Biological Science, Center for Applied Biotechnology Studies, and Center for Computational and Applied Mathematics, College of Natural Sciences and Mathematics, California State University Fullerton, Fullerton, CA 92831, USA
2
Department of Medicinal Chemistry and Molecular Pharmacology and the Purdue University Cancer Center, Purdue University, West Lafayette, IN 47907, USA
*
Author to whom correspondence should be addressed.
†
These authors contributed equally to this work.
Received: 16 February 2019 / Revised: 25 March 2019 / Accepted: 15 April 2019 / Published: 17 April 2019
Abstract
HspA1A is a cytosolic molecular chaperone essential for cellular homeostasis. HspA1A also localizes at the plasma membrane (PM) of tumor and stressed cells. However, it is currently unknown how this cytosolic protein translocates to the PM. Taking into account that HspA1A interacts with lipids, including phosphatidylserine (PS), and that lipids recruit proteins to the PM, we hypothesized that the interaction of HspA1A with PS allows the chaperone to localize at the PM. To test this hypothesis, we subjected cells to mild heat-shock and the PM-localized HspA1A was quantified using confocal microscopy and cell surface biotinylation. These experiments revealed that HspA1A's membrane localization increased during recovery from non-apoptotic heat-shock. Next, we selectively reduced PS targets by overexpressing the C2 domain of lactadherin (Lact-C2), a known PS-biosensor, and determined that HspA1A's membrane localization was greatly reduced. In contrast, the reduction of PI(4,5)P
2
availability by overexpression of the PLCδ-PH biosensor had minimal effects on HspA1A's PM-localization. Implementation of a fluorescent PS analog, TopFluor-PS, established that PS co-localizes with HspA1A. Collectively, these results reveal that HspA1A's PM localization and anchorage depend on its selective interaction with intracellular PS. This discovery institutes PS as a new and dynamic partner in the cellular stress response.
View Full-Text
►

▼

Figures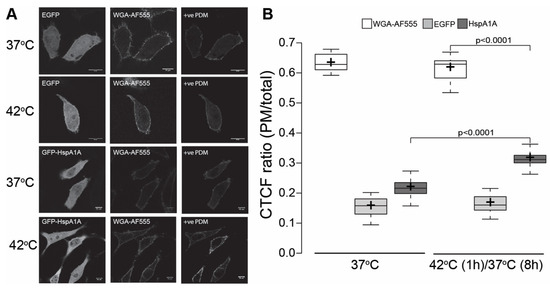 Figure 1
This is an open access article distributed under the
Creative Commons Attribution License
which permits unrestricted use, distribution, and reproduction in any medium, provided the original work is properly cited (CC BY 4.0).

Share & Cite This Article
MDPI and ACS Style
Bilog, A.D.; Smulders, L.; Oliverio, R.; Labanieh, C.; Zapanta, J.; Stahelin, R.V.; Nikolaidis, N. Membrane Localization of HspA1A, a Stress Inducible 70-kDa Heat-Shock Protein, Depends on Its Interaction with Intracellular Phosphatidylserine. Biomolecules 2019, 9, 152.
Note that from the first issue of 2016, MDPI journals use article numbers instead of page numbers. See further details here.
Related Articles
Comments
[Return to top]