Impact of
DARC

rs12075 Variants on Liver Fibrosis Progression in Patients with Chronic Hepatitis C: A Retrospective Study

1

Unidad de Infección Viral e Inmunidad, Centro Nacional de Microbiología, Instituto de Salud Carlos III, 28220 Majadahonda, Spain

2

Servicio de Digestivo, Hospital Virgen de la Salud, 45004 Toledo, Spain

3

Servicio de Laboratorio Clínico, Hospital de Antequera, 29200 Málaga, Spain

*

Authors to whom correspondence should be addressed.

†

Both authors contributed equally to this study.

Received: 26 February 2019 / Revised: 5 April 2019 / Accepted: 7 April 2019 / Published: 9 April 2019
Abstract
The Duffy antigen receptor for chemokines (
DARC
) rs12075 polymorphism regulates leukocyte trafficking and proinflammatory chemokine homeostasis. Hepatitis C virus (HCV)-mediated liver fibrosis is associated with an uncontrolled inflammatory response. In this study, we evaluate the association between the
DARC
rs12075 polymorphism and liver stiffness progression in HCV-infected patients. We carried out a retrospective cohort study (repeated measures design) in 208 noncirrhotic patients with chronic hepatitis C (CHC) who had at least two liver stiffness measurements (LSM) with a separation of at least 12 months. We used generalized linear models to analyze the association between
DARC
rs12075 polymorphism and outcome variables. During a follow-up of 46.6 months, the percentage of patients with stages of fibrosis F0/F1 decreased (
p
< 0.001), while LSM values and the percentage of patients with cirrhosis increased (
p
< 0.001). This pattern of changes was maintained in each of the groups of patients analyzed according to their rs12075 genotypes (AA or AG/GG). However, the variations in liver stiffness characteristics were lower in patients with the rs12075 AG/GG genotype (AG/GG versus AA). Thereby, in the adjusted analysis, patients with the rs12075 AG/GG genotype had a lower risk of an increased value of LSM2/LSM1 arithmetic mean ratio (AMR = 0.83;
p
= 0.001) and of an increase in LSM ≥ 5 kPa (odds ratio (OR) = 0.28;
p
= 0.009). Besides, patients with rs12075 AG/GG had a lower risk of cirrhosis progression (OR = 0.24;
p
= 0.009). No significant associations were found for an increase in LSM ≥ 10 kPa. We found an association between the
DARC
rs12075 single nucleotide polymorphism (SNP) and CHC progression. Specifically, patients with the
DARC
rs12075 AG/GG genotype had a lower risk of liver fibrosis progression and development of cirrhosis.
View Full-Text
►

▼

Figures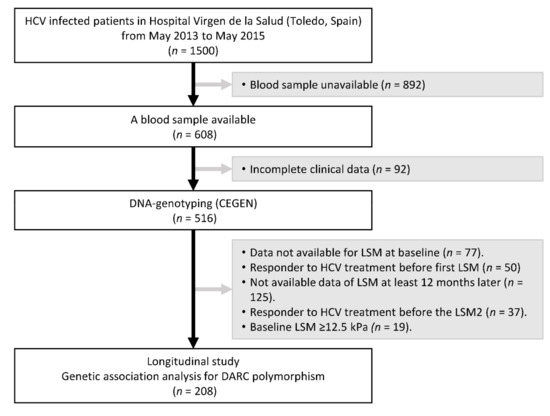 Figure 1
This is an open access article distributed under the
Creative Commons Attribution License
which permits unrestricted use, distribution, and reproduction in any medium, provided the original work is properly cited (CC BY 4.0).

Share & Cite This Article
MDPI and ACS Style
Jiménez-Sousa, M.Á.; Gómez-Moreno, A.Z.; Pineda-Tenor, D.; Sánchez-Ruano, J.J.; Artaza-Varasa, T.; Martin-Vicente, M.; Fernández-Rodríguez, A.; Martínez, I.; Resino, S. Impact of DARC rs12075 Variants on Liver Fibrosis Progression in Patients with Chronic Hepatitis C: A Retrospective Study. Biomolecules 2019, 9, 143.
Note that from the first issue of 2016, MDPI journals use article numbers instead of page numbers. See further details here.
Related Articles
Comments
[Return to top]