CRISPR/Cas9-Mediated Knock-Out of dUTPase in Mice Leads to Early Embryonic Lethality
1
Institute of Enzymology, RCNS, Hungarian Academy of Sciences, H-1117 Budapest, Hungary
2
Doctoral School of Multidisciplinary Medical Science, University of Szeged, H-6720 Szeged, Hungary
3
Department of Applied Biotechnology and Food Sciences, Budapest University of Technology and Economics, H-1111 Budapest, Hungary
4
Department of Animal Biotechnology, Agricultural Biotechnology Institute, National Agricultural Research and Innovation Centre, H-2100 Gödöllő, Hungary
5
Department of Biochemistry and Molecular Pharmacology, New York University School of Medicine, New York, NY 10016, USA
6
Perlmutter Cancer Center, New York University School of Medicine, New York, NY 10016, USA
*
Authors to whom correspondence should be addressed.
Received: 14 March 2019 / Revised: 1 April 2019 / Accepted: 2 April 2019 / Published: 4 April 2019
Abstract
Sanitization of nucleotide pools is essential for genome maintenance. Deoxyuridine 5′-triphosphate nucleotidohydrolase (dUTPase) is a key enzyme in this pathway since it catalyzes the cleavage of 2′-deoxyuridine 5′-triphosphate (dUTP) into 2′-deoxyuridine 5′-monophosphate (dUMP) and inorganic pyrophosphate. Through its action dUTPase efficiently prevents uracil misincorporation into DNA and at the same time provides dUMP, the substrate for de novo thymidylate biosynthesis. Despite its physiological significance, knock-out models of dUTPase have not yet been investigated in mammals, but only in unicellular organisms, such as bacteria and yeast. Here we generate CRISPR/Cas9-mediated dUTPase knock-out in mice. We find that heterozygous
dut
+/– animals are viable while having decreased dUTPase levels. Importantly, we show that dUTPase is essential for embryonic development since early
dut
−/− embryos reach the blastocyst stage, however, they die shortly after implantation. Analysis of pre-implantation embryos indicates perturbed growth of both inner cell mass (ICM) and trophectoderm (TE). We conclude that dUTPase is indispensable for post-implantation development in mice.
View Full-Text
►

▼

Figures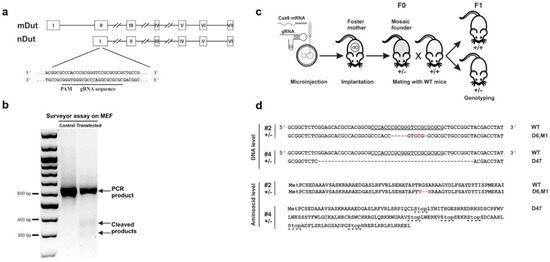 Figure 1
This is an open access article distributed under the
Creative Commons Attribution License
which permits unrestricted use, distribution, and reproduction in any medium, provided the original work is properly cited (CC BY 4.0).
Supplementary materials
Supplementary File 1:

PDF-Document (PDF, 3113 KB)

Externally hosted supplementary file 1
Doi: https://doi.org/10.1101/335422
Link: https://www.biorxiv.org/content/10.1101/335422v1.supplementary-material
Description: Figure S1: Sequencing analysis of dut gene from founder mouse #2 and #4, Figure S2: Alignment of the sequencing results from wild type and mouse #4 animals, Figure S3.:Phase contrast images of embryos obtained by crossing D47 heterozygous mice, Figure S4: Outgrowth assay of preimplantation embryos obtained by intercrossing D47 heterozygous mice, Figure S5: Images of embryos at 8.5 dpc obtained by crossing D47 heterozygous mice, Figure S6: Images of embryos at 9.5 dpc obtained by crossing D47 heterozygous mice, Figure S7: Full-length agarose gel of Figure 2b, Figure S8: Full-length membrane of Figure 5a, Table S1: Oligonucleotides used in this study.

Share & Cite This Article
MDPI and ACS Style
Pálinkás, H.L.; Rácz, G.A.; Gál, Z.; Hoffmann, O.I.; Tihanyi, G.; Róna, G.; Gócza, E.; Hiripi, L.; Vértessy, B.G. CRISPR/Cas9-Mediated Knock-Out of dUTPase in Mice Leads to Early Embryonic Lethality. Biomolecules 2019, 9, 136.
Note that from the first issue of 2016, MDPI journals use article numbers instead of page numbers. See further details here.
Related Articles
Comments
[Return to top]