Silver Nanoparticle-Induced Phosphorylation of Histone H3 at Serine 10 Involves MAPK Pathways
1
College of Environmental and Biological Engineering, Putian University, Putian 351100, China
2
Fujian Provincial Key Laboratory of Ecology-Toxicological Effects & Control for Emerging Contaminants, Putian 351100, China
3
Key Laboratory of Ecological Environment and Information Atlas (Putian University) Fujian Provincial University, Putian 351100, China
*
Author to whom correspondence should be addressed.
Received: 31 January 2019 / Revised: 15 February 2019 / Accepted: 18 February 2019 / Published: 22 February 2019
Abstract
The phosphorylation of histone H3 at serine 10 (p-H3S10) has been shown to be closely correlated with mitotic chromosome condensation. We previously reported that intracellular silver nanoparticles (AgNPs) release Ag ions that alter actin filament dynamics, leading to the activation of Aurora kinases and the formation of p-H3S10 through a mechanism clearly different from that occurring during mitosis. In the present study, we examined other mechanisms underlying the induction of p-H3S10 formation by AgNPs. We observed that the early formation of p-H3S10 induced by AgNPs occurred via the activation of mitogen-activated protein kinase (MAPK) pathways, specifically the Jun N-terminal protein kinase (JNK) and extracellular signal-regulated kinase (ERK) pathways. The late AgNP-induced p-H3S10 formation occurred via the activation of the entire MAPK cascade. On the other hand, p-H3S10 formation was not due to DNA damage induced by AgNPs, or the activation of the kinases ataxia telangiectasia-mutated (ATM) and ATM-Rad3-related (ATR). Several studies have compared the mechanism of AgNP toxicity to a Trojan horse-type molecular pathway. We observed different effects of AgNO
3
(Ag
+
) and AgNPs on cells, and only the JNK inhibitor suppressed the temporary AgNO
3
-induced formation of p-H3S10. These results strongly indicate that AgNP-induced p-H3S10 formation does not rely solely on one signaling pathway, but rather may involve two or more pathways.
View Full-Text
►

▼

Figures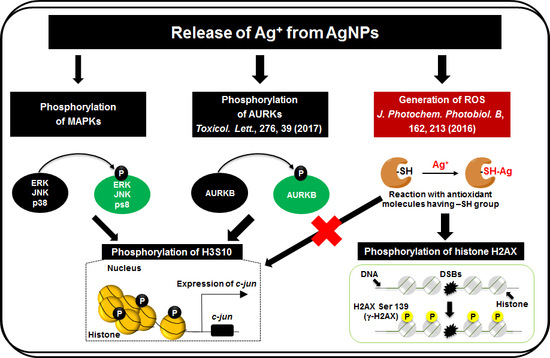 Graphical abstract
This is an open access article distributed under the
Creative Commons Attribution License
which permits unrestricted use, distribution, and reproduction in any medium, provided the original work is properly cited (CC BY 4.0).

Share & Cite This Article
MDPI and ACS Style
Zhao, X.; Rao, Y.; Liang, J.; Lin, S.; Wang, X.; Li, Z.; Huang, J. Silver Nanoparticle-Induced Phosphorylation of Histone H3 at Serine 10 Involves MAPK Pathways. Biomolecules 2019, 9, 78.
Note that from the first issue of 2016, MDPI journals use article numbers instead of page numbers. See further details here.
Related Articles
Comments
[Return to top]