Biological Actions of the Hsp90-binding Immunophilins FKBP51 and FKBP52
1
Instituto de Biología y Medicina Experimental/CONICET, Buenos Aires 1428, Argentina
2
Departamento de Química Biológica, Facultad de Ciencias Exactas y Naturales, Universidad de Buenos Aires-CONICET, Buenos Aires 1428, Argentina
*
Author to whom correspondence should be addressed.
Received: 27 November 2018 / Revised: 16 January 2019 / Accepted: 17 January 2019 / Published: 1 February 2019
Abstract
Immunophilins are a family of proteins whose signature domain is the peptidylprolyl-isomerase domain. High molecular weight immunophilins are characterized by the additional presence of tetratricopeptide-repeats (TPR) through which they bind to the 90-kDa heat-shock protein (Hsp90), and via this chaperone, immunophilins contribute to the regulation of the biological functions of several client-proteins. Among these Hsp90-binding immunophilins, there are two highly homologous members named FKBP51 and FKBP52 (FK506-binding protein of 51-kDa and 52-kDa, respectively) that were first characterized as components of the Hsp90-based heterocomplex associated to steroid receptors. Afterwards, they emerged as likely contributors to a variety of other hormone-dependent diseases, stress-related pathologies, psychiatric disorders, cancer, and other syndromes characterized by misfolded proteins. The differential biological actions of these immunophilins have been assigned to the structurally similar, but functionally divergent enzymatic domain. Nonetheless, they also require the complementary input of the TPR domain, most likely due to their dependence with the association to Hsp90 as a functional unit. FKBP51 and FKBP52 regulate a variety of biological processes such as steroid receptor action, transcriptional activity, protein conformation, protein trafficking, cell differentiation, apoptosis, cancer progression, telomerase activity, cytoskeleton architecture, etc. In this article we discuss the biology of these events and some mechanistic aspects.
View Full-Text
►

▼

Figures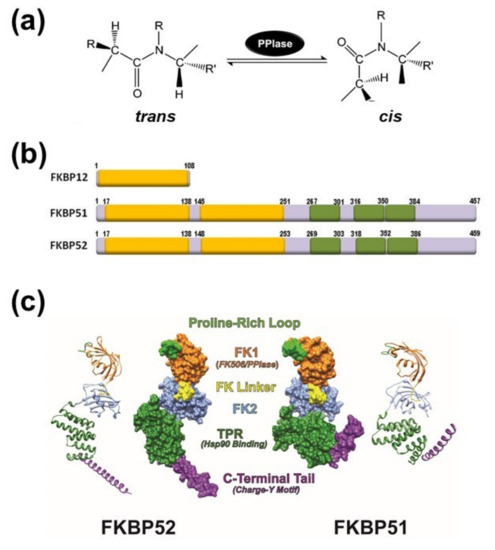 Figure 1
This is an open access article distributed under the
Creative Commons Attribution License
which permits unrestricted use, distribution, and reproduction in any medium, provided the original work is properly cited (CC BY 4.0).

Share & Cite This Article
MDPI and ACS Style
Zgajnar, N.R.; De Leo, S.A.; Lotufo, C.M.; Erlejman, A.G.; Piwien-Pilipuk, G.; Galigniana, M.D. Biological Actions of the Hsp90-binding Immunophilins FKBP51 and FKBP52. Biomolecules 2019, 9, 52.
Note that from the first issue of 2016, MDPI journals use article numbers instead of page numbers. See further details here.
Related Articles
Comments
[Return to top]