Proteomic and Phosphoproteomic Analysis in Tobacco Mosaic Virus-Infected Tobacco (
Nicotiana tabacum

)

1

College of Chemistry and Molecular Engineering, Zhengzhou University, Zhengzhou 450000, China

2

Zhengzhou Tobacco Research Institute of CNTC, Zhengzhou 450000, China

3

Key Laboratory of Sensor Analysis of Tumor Marker, Ministry of Education, College of Chemistry and Molecular Engineering, Qingdao University of Science and Technology, Qingdao 266042, China

*

Authors to whom correspondence should be addressed.

†

These authors contributed equally to this work.

Received: 26 November 2018 / Revised: 12 January 2019 / Accepted: 14 January 2019 / Published: 23 January 2019
Abstract
Tobacco mosaic virus (TMV) is a common source of biological stress that significantly affects plant growth and development. It is also useful as a model in studies designed to clarify the mechanisms involved in plant viral disease. Plant responses to abiotic stress were recently reported to be regulated by complex mechanisms at the post-translational modification (PTM) level. Protein phosphorylation is one of the most widespread and major PTMs in organisms. Using immobilized metal ion affinity chromatography (IMAC) enrichment, high-pH C18 chromatography fraction, and high-accuracy mass spectrometry (MS), a set of proteins and phosphopeptides in both TMV-infected tobacco and control tobacco were identified. A total of 4905 proteins and 3998 phosphopeptides with 3063 phosphorylation sites were identified. These 3998 phosphopeptides were assigned to 1311 phosphoproteins, as some proteins carried multiple phosphorylation sites. Among them, 530 proteins and 337 phosphopeptides corresponding to 277 phosphoproteins differed between the two groups. There were 43 upregulated phosphoproteins, including phosphoglycerate kinase, pyruvate phosphate dikinase, protein phosphatase 2C, and serine/threonine protein kinase. To the best of our knowledge, this is the first phosphoproteomic analysis of leaves from a tobacco cultivar, K326. The results of this study advance our understanding of tobacco development and TMV action at the protein phosphorylation level.
View Full-Text
►

▼

Figures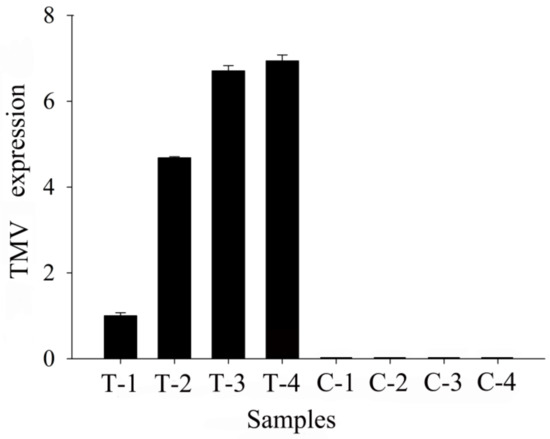 Figure 1
This is an open access article distributed under the
Creative Commons Attribution License
which permits unrestricted use, distribution, and reproduction in any medium, provided the original work is properly cited (CC BY 4.0).

Share & Cite This Article
MDPI and ACS Style
Lu, Z.-S.; Chen, Q.-S.; Zheng, Q.-X.; Shen, J.-J.; Luo, Z.-P.; Fan, K.; Xu, S.-H.; Shen, Q.; Liu, P.-P. Proteomic and Phosphoproteomic Analysis in Tobacco Mosaic Virus-Infected Tobacco (Nicotiana tabacum). Biomolecules 2019, 9, 39.
Note that from the first issue of 2016, MDPI journals use article numbers instead of page numbers. See further details here.
Related Articles
Comments
[Return to top]