Macrophage Migration Inhibitory Factor (MIF) Expression Increases during Myocardial Infarction and Supports Pro-Inflammatory Signaling in Cardiac Fibroblasts
1
Clinic for General and Interventional Cardiology, University Heart Center Hamburg, University Hospital Hamburg-Eppendorf, 20246 Hamburg, Germany
2
Partner Site Hamburg/Kiel/Lübeck, DZHK (German Center for Cardiovascular Research), 20246 Hamburg, Germany
3
Clinic for Cardiology—Electrophysiology, University Heart Center Hamburg, University Hospital Hamburg-Eppendorf, 20246 Hamburg, Germany
4
Clinic for Cardiovascular Surgery, University Heart Center Hamburg, University Hospital Hamburg-Eppendorf, 20246 Hamburg, Germany
*
Author to whom correspondence should be addressed.
†
Both authors contributed equally to this work.
Received: 1 December 2018 / Revised: 11 January 2019 / Accepted: 17 January 2019 / Published: 23 January 2019
Abstract
Macrophage migration inhibitory factor (MIF) is a pleiotropic cytokine known to play a major role in inflammatory diseases such as myocardial infarction (MI), where its expression increases. Cardio-protective functions of MIF during ischemia have been reported. Recently, the structurally related MIF-2 was identified and similar effects are assumed. We wanted to further investigate the role of MIF and MIF-2 on inflammatory processes during MI. Therefore, we subjected mice to experimentally induced MI by coronary occlusion for one and five days. During the acute phase of MI, the gene expression of
Mif
was upregulated in the infarct zone, whereas
Mif-2
was downregulated, suggesting a minor role of MIF-2. Simulating ischemic conditions or mechanical stress in vitro, we demonstrated that
Mif
expression was induced in resident cardiac cells. To investigate possible auto-/paracrine effects, cardiomyocytes and cardiac fibroblasts were individually treated with recombinant murine MIF, which in turn induced
Mif
expression and the expression of pro-inflammatory genes in cardiac fibroblasts. Cardiomyocytes did not respond to recombinant MIF with pro-inflammatory gene expression. While MIF stimulation alone did not change the expression of pro-fibrotic genes in cardiac fibroblasts, ischemia reduced their expression. Mimicking the increased MIF levels during MI, we exposed cardiac fibroblasts to simulated ischemia in the presence of MIF, which led to further reduced expression of pro-fibrotic genes. The presented data show that MIF was expressed by resident cardiac cells during MI. In vitro,
Mif
expression was induced by different external stimuli in cardiomyocytes and cardiac fibroblasts. Addition of recombinant MIF protein increased the expression of pro-inflammatory genes in cardiac fibroblasts including
Mif
expression itself. Thereby, cardiac fibroblasts may amplify
Mif
expression during ischemia promoting cardiomyocyte survival.
View Full-Text
►

▼

Figures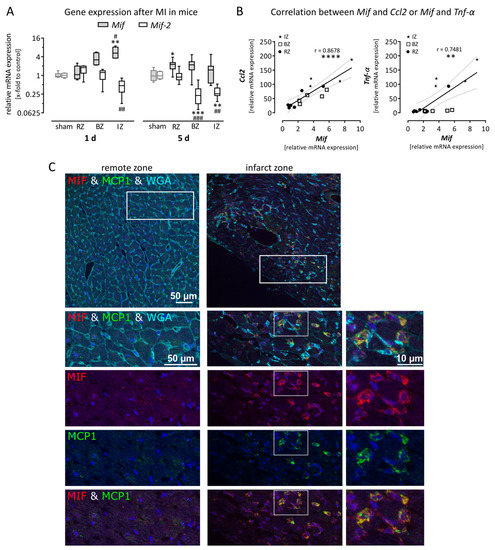 Figure 1
This is an open access article distributed under the
Creative Commons Attribution License
which permits unrestricted use, distribution, and reproduction in any medium, provided the original work is properly cited (CC BY 4.0).

Share & Cite This Article
MDPI and ACS Style
Voss, S.; Krüger, S.; Scherschel, K.; Warnke, S.; Schwarzl, M.; Schrage, B.; Girdauskas, E.; Meyer, C.; Blankenberg, S.; Westermann, D.; Lindner, D. Macrophage Migration Inhibitory Factor (MIF) Expression Increases during Myocardial Infarction and Supports Pro-Inflammatory Signaling in Cardiac Fibroblasts. Biomolecules 2019, 9, 38.
Note that from the first issue of 2016, MDPI journals use article numbers instead of page numbers. See further details here.
Related Articles
Comments
[Return to top]