Open Access This article is
freely available
re-usable
Article
Interaction of a Polyarginine Peptide with Membranes of Different Mechanical Properties
1
Facultad de Ciencias Químicas, Departamento de Química Biológica Ranwel Caputto, Universidad Nacional de Córdoba, X5000HUA Córdoba, Argentina
2
Centro de Investigaciones en Química Biológica de Córdoba (CIQUIBIC), CONICET, Universidad Nacional de Córdoba, X5000HUA Córdoba, Argentina
3
ICB-CONICET & Facultad de Ciencias Exactas y Naturales, Universidad Nacional de Cuyo, M5502JMA Mendoza, Argentina
4
Facultad de Ciencias Químicas, Departamento de Fisicoquímica, Universidad Nacional de Cordoba, X5000HUA Córdoba, Argentina
5
Consejo Nacional de Investigaciones Científicas y Tecnicas, CONICET, Instituto de Investigaciones en Fisicoquímica de Córdoba, INFIQC, X5000HUA Córdoba, Argentina
6
Instituto de Investigación Médica Mercedes y Martín Ferreyra (INIMEC-CONICET-Universidad Nacional de Córdoba), X5016NST Córdoba, Argentina
*
Author to whom correspondence should be addressed.
Received: 26 September 2019 / Accepted: 17 October 2019 / Published: 18 October 2019
Abstract
:
The membrane translocation efficiency of cell penetrating peptides (CPPs) has been largely studied, and poly-arginines have been highlighted as particularly active CPPs, especially upon negatively charged membranes. Here we inquire about the influence of membrane mechanical properties in poly-arginine adsorption, penetration and translocation, as well as the subsequent effect on the host membrane. For this, we selected anionic membranes exhibiting different rigidity and fluidity, and exposed them to the nona-arginine KR9C. Three different membrane compositions were investigated, all of them having 50% of the anionic lipid 1,2-dioleoyl-sn-glycero-3-phospho-(1'-rac-glycerol) (DOPG), thus, ensuring a high affinity of the peptide for membrane surfaces. The remaining 50% was a saturated PC (1,2-dipalmitoyl-sn-glycero-3-phosphocholine, DPPC), an unsaturated PC (1,2-dioleoyl-sn-glycero-3-phosphocholine, DOPC) or a mixture of DOPC with cholesterol. Peptide-membrane interactions were studied using four complementary models for membranes: Langmuir monolayers, Large Unilamellar Vesicles, Black Lipid Membranes and Giant Unilamellar Vesicles. The patterns of interaction of KR9C varied within the different membrane compositions. The peptide strongly adsorbed on membranes with cholesterol, but did not incorporate or translocate them. KR9C stabilized phase segregation in DPPC/DOPG films and promoted vesicle rupture. DOPC/DOPG appeared like the better host for peptide translocation: KR9C adsorbed, inserted and translocated these membranes without breaking them, despite softening was observed.
Keywords:
cell penetration peptides; liquid-ordered phase; membrane heterogeneities; membrane rheology
Supplementary Materials
The following are available online at
https://www.mdpi.com/2218-273X/9/10/625/s1
, Figure S1: Structures of the used lipids; Figure S2: Analysis of the fluorescence of 5-FAM-KR
9
C on the GUV's rim; Figure S3: Thermal fluctuation of DOPG/DOPC GUVs; Figure S4: Test for BLM formation; Figure S5: Representative conductivity experiments; Figure S6: Compression isotherms and calculation of ∆A upon peptide incorporation; Figure S7: Size distribution of LUVs in the presence of KR
9
C; Figure S8: Kinetic of peptide accumulation at the membrane.
Author Contributions
Conceptualization, N.W.; methodology, M.A.C., M.A.V. C.I.C. and N.W.; validation, M.A.C., M.A.V., C.I.C. and A.M.; formal analysis, M.A.C., M.A.V., C.I.C., A.M. and N.W.; investigation, M.A.C., M.A.V., C.I.C. and A.M.; resources, M.G.D.P. and N.W.; writing—original draft preparation, M.A.C., C.I.C. and N.W.; writing—review and editing, M.G.D.P. and N.W.; supervision, N.W.; project administration, M.G.D.P. and N.W.; funding acquisition, M.G.D.P. and N.W.
Funding
This research was funded by SeCyT-UNC, grant numbers 05/C836 and 336201800211CB, and FonCyT, grant numbers: PICT 2015-0662 and 1835.
Acknowledgments
All images were taken with microscopes from CEMINCO (Centro de Microscopia y Nanoscopia de Córdoba) Argentina. We thank SNM (Sistema Nacional de Microscopia) for the resources that helped with the mounting of the optical tweezers. N.W. wants to thank Bruno Maggio, Thomas Fischer and Lia Pietrasanta for stimulating and helping her to construct the optical trap equipment. N.W. C.I.C. and M.G.D.P. are researchers, and A.M. is a fellow from CONICET. M.C. thanks FonCyT for the postdoctoral fellowship.
Conflicts of Interest
The authors declare no conflict of interest.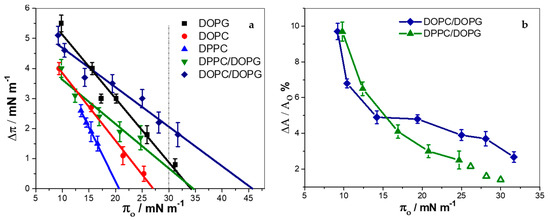 Figure 1. Insertion of KR9C into monolayers of the indicated composition (average ± SD of at least three experiments). Changes in surface pressure (a), or in mean molecular area (b) upon addition of 10 μM of peptide as a function of the initial surface pressure. The open symbols in panel (b) were calculated from data obtained from the linear fit in panel (a). πe is the value of π in which Δπ = 0.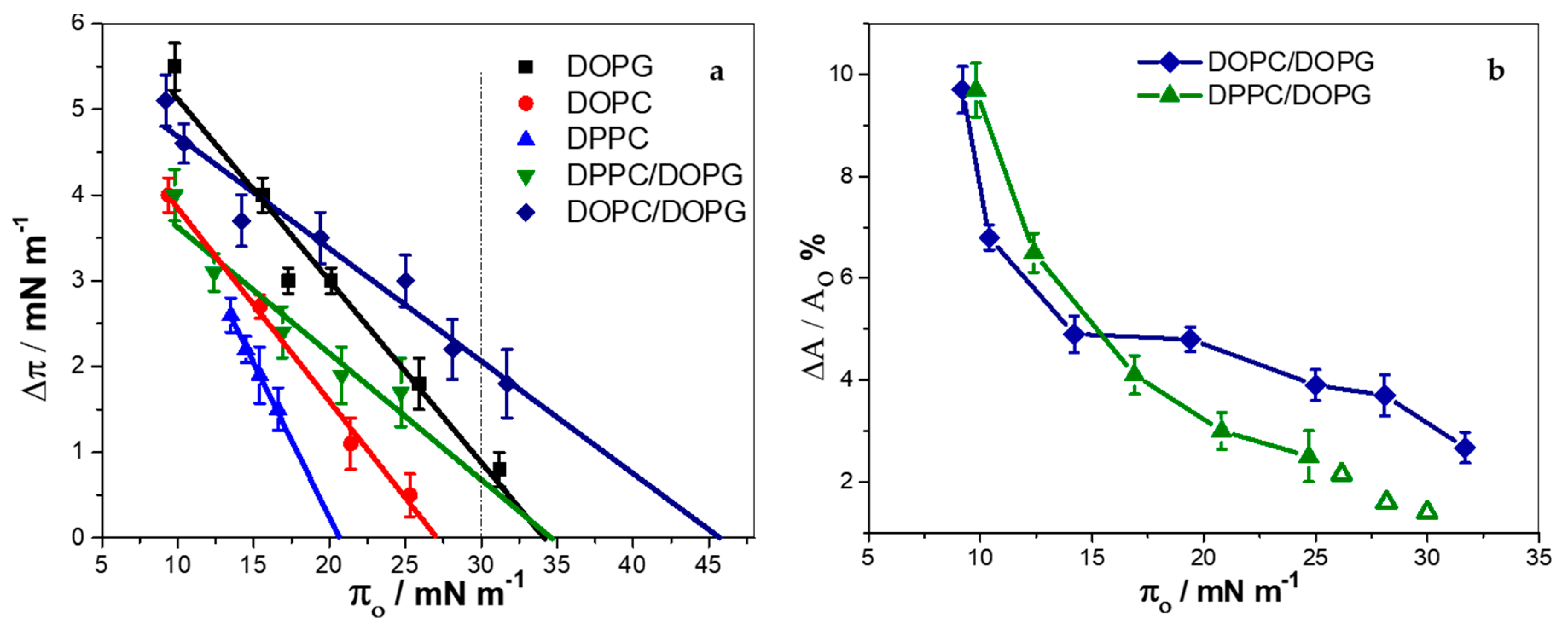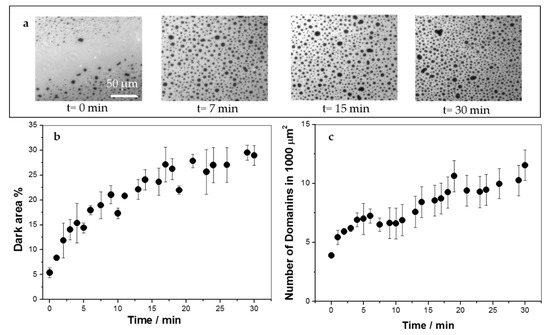 Figure 2. Insertion of KR9C into 1,2-dipalmitoyl-sn-glycero-3-phosphocholine (DPPC)/DOPG monolayers at 30 mN/m and 23 °C followed by fluorescence microscopy. Ten micrometers of the peptide were injected into the subphase at t = 0. (a) Representative images at the indicated times after peptide addition. (b) Percent of the area occupied by the darker regions, which corresponds to liquid-condensed phase state. (c) Number of domains in a 100 μm2 region.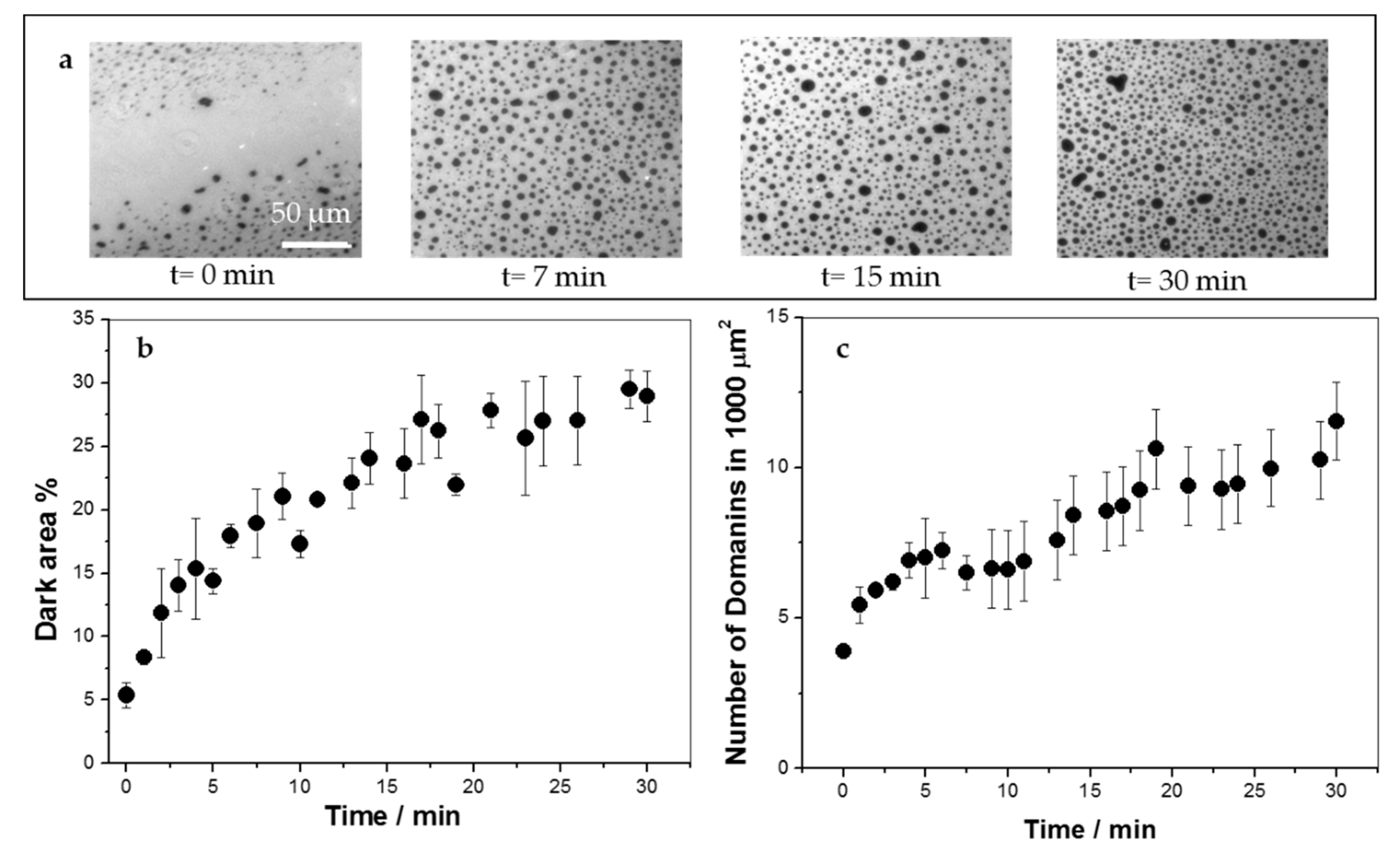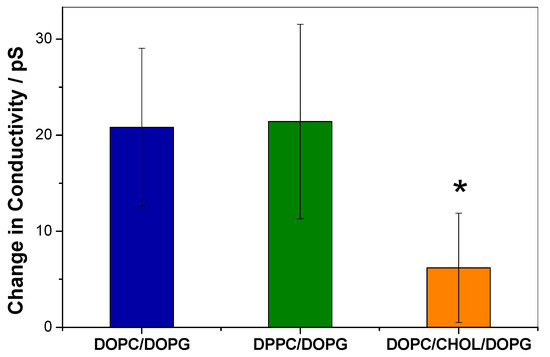 Figure 3.
Increase in conductivity of black lipid membranes (BLMs) of the indicated compositions after addition of 1 µM KR
9
C. ANOVA test indicated that there is at least one different data with a 5% confidence (α = 0.05); the obtained *
p
-value was 0.01. The asterisk denotes a statistically significant difference between 1,2-dioleoyl-sn-glycero-3-phosphocholine (DOPC)/ cholesterol (CHOL)/DOPG and DOPC/DOPG and DPPC/DOP, according to the Tukey test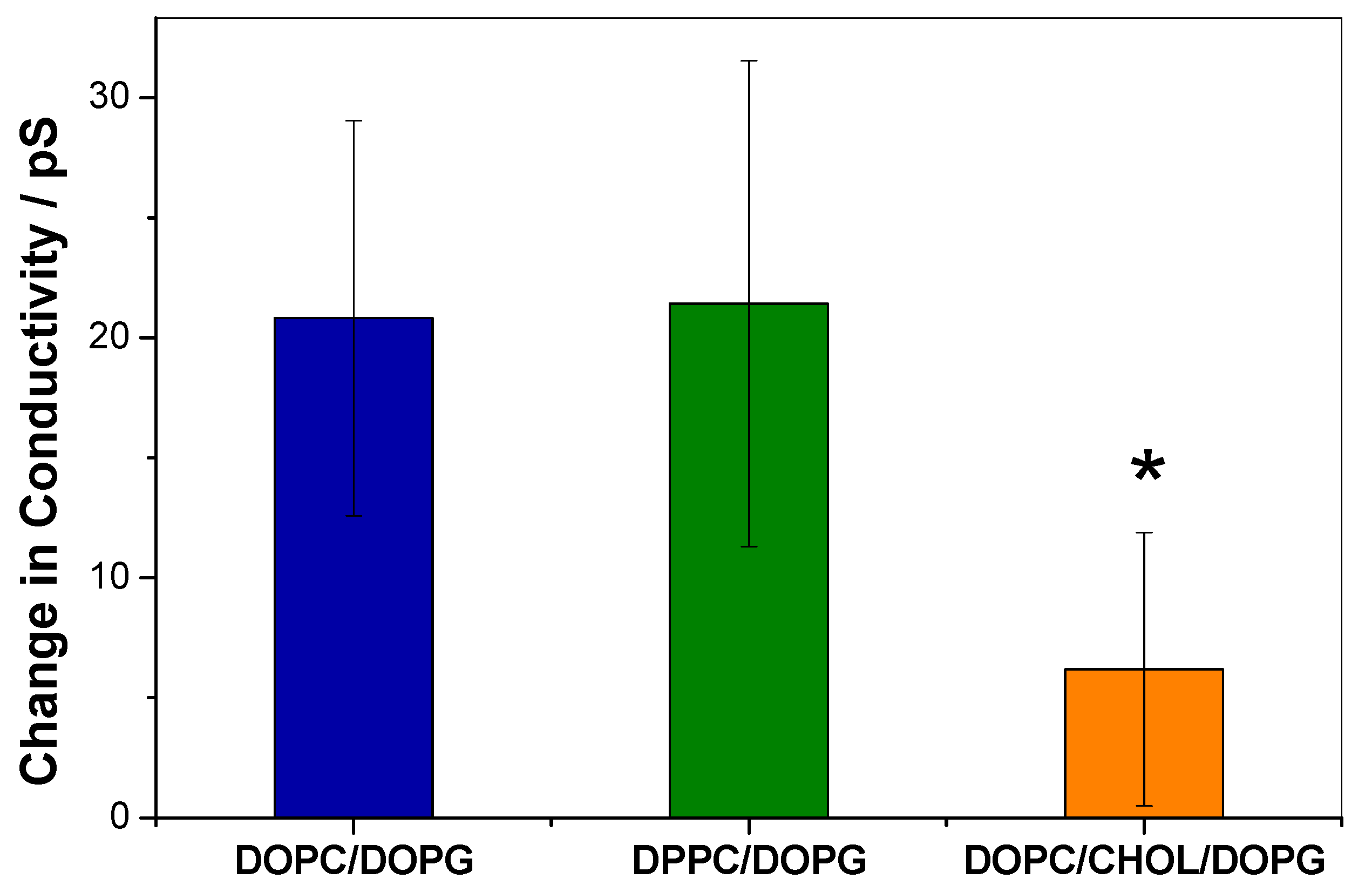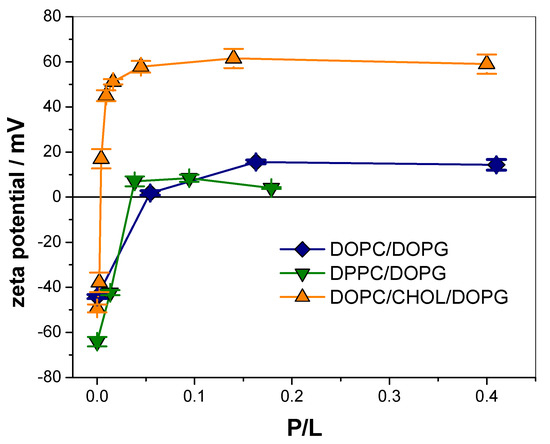 Figure 4. Z-potential values for LUVs of the indicated compositions incubated with increasing concentration of KR9C. Average ± SD of two independent experiments.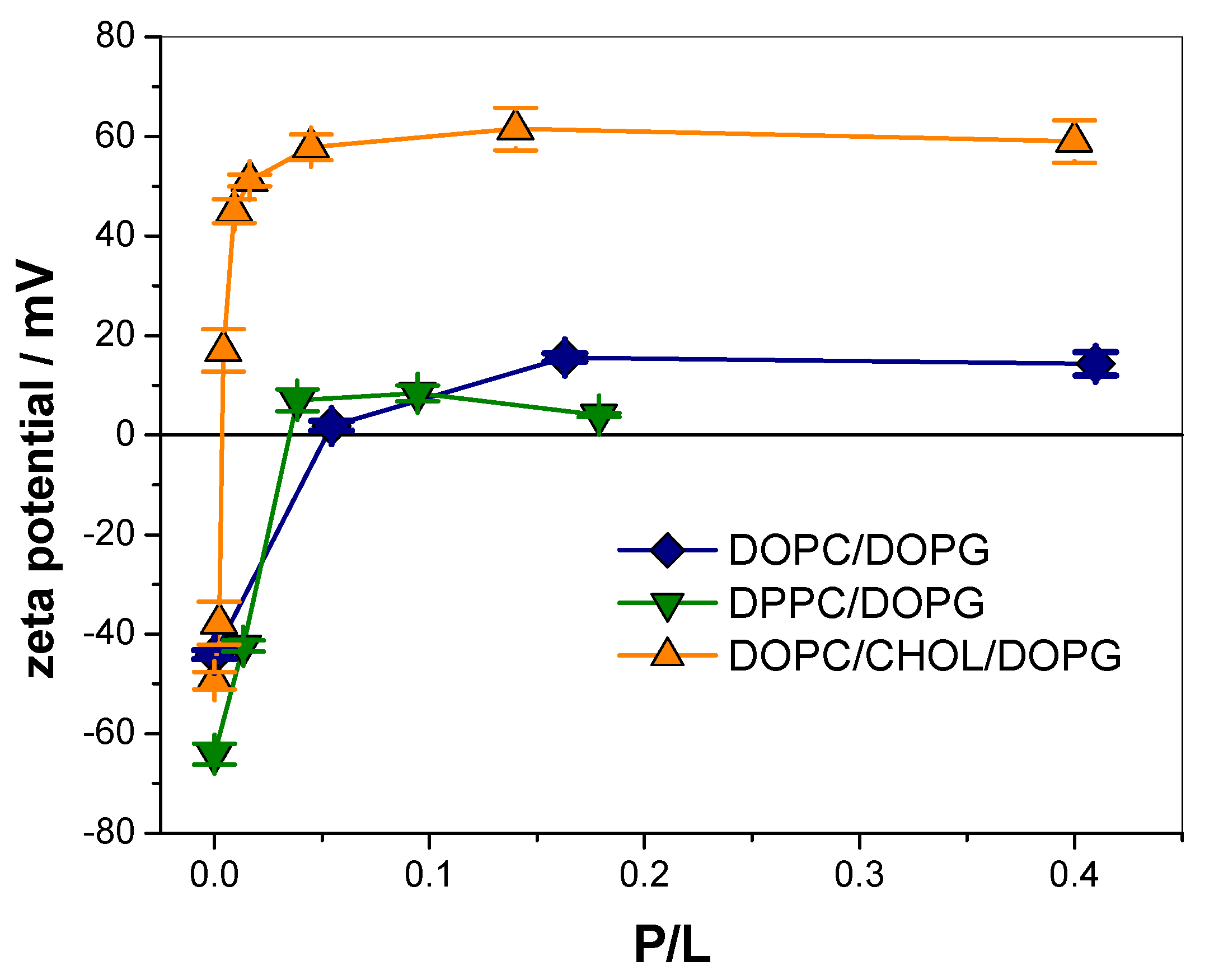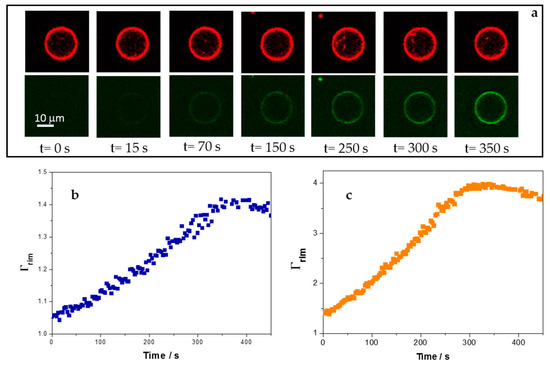 Figure 5. Interaction of 5-FAM-KR9C with giant unilamellar vesicles (GUVs) composed of DOPC/DOPG and DOPC/CHOL/DOPG. (a) Representative images of a single DOPC/CHOL/DOPG GUV at the indicated times after the outside fluoresce reached a constant value (2.5 µM peptide). Top panels: Rho-PE, bottom panels: 5-Figure. (b) Γrim = ratio of the fluorescence at the GUV's rim and at regions outside the GUV after addition of 2.5 µM peptide for membranes of DOPC/DOPG. (c) Γrim after addition of 2.5 µM peptide for DOPC/CHOL/DOPG membranes. (b,c) correspond to the data of a single GUV in a representative experiment.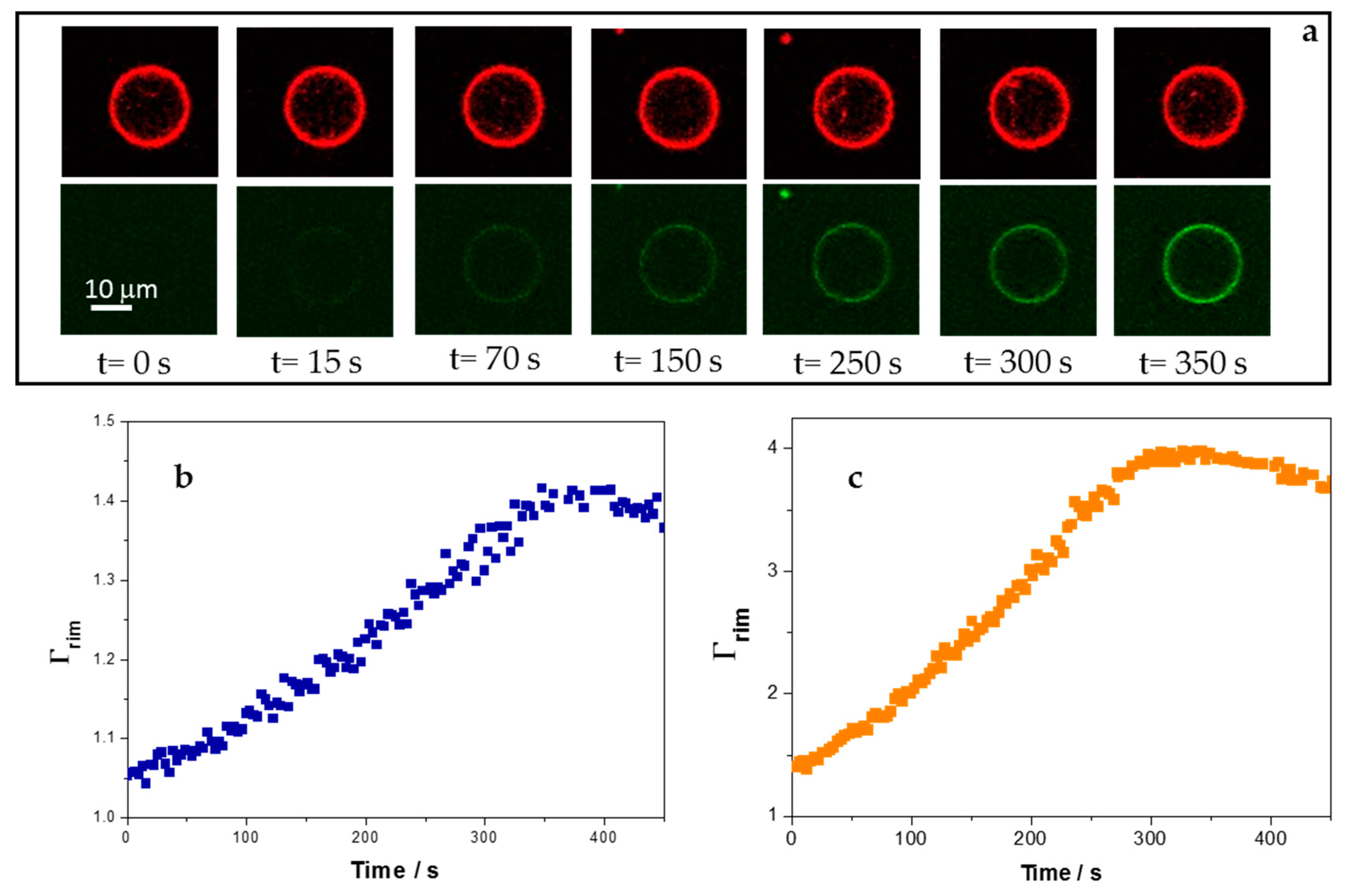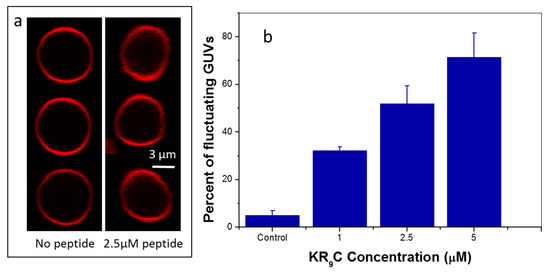 Figure 6. Shape fluctuations of GUVs composed of DOPC/DOPG. (a) Representative images. (b) Percent of fluctuating GUVs at each peptide concentration.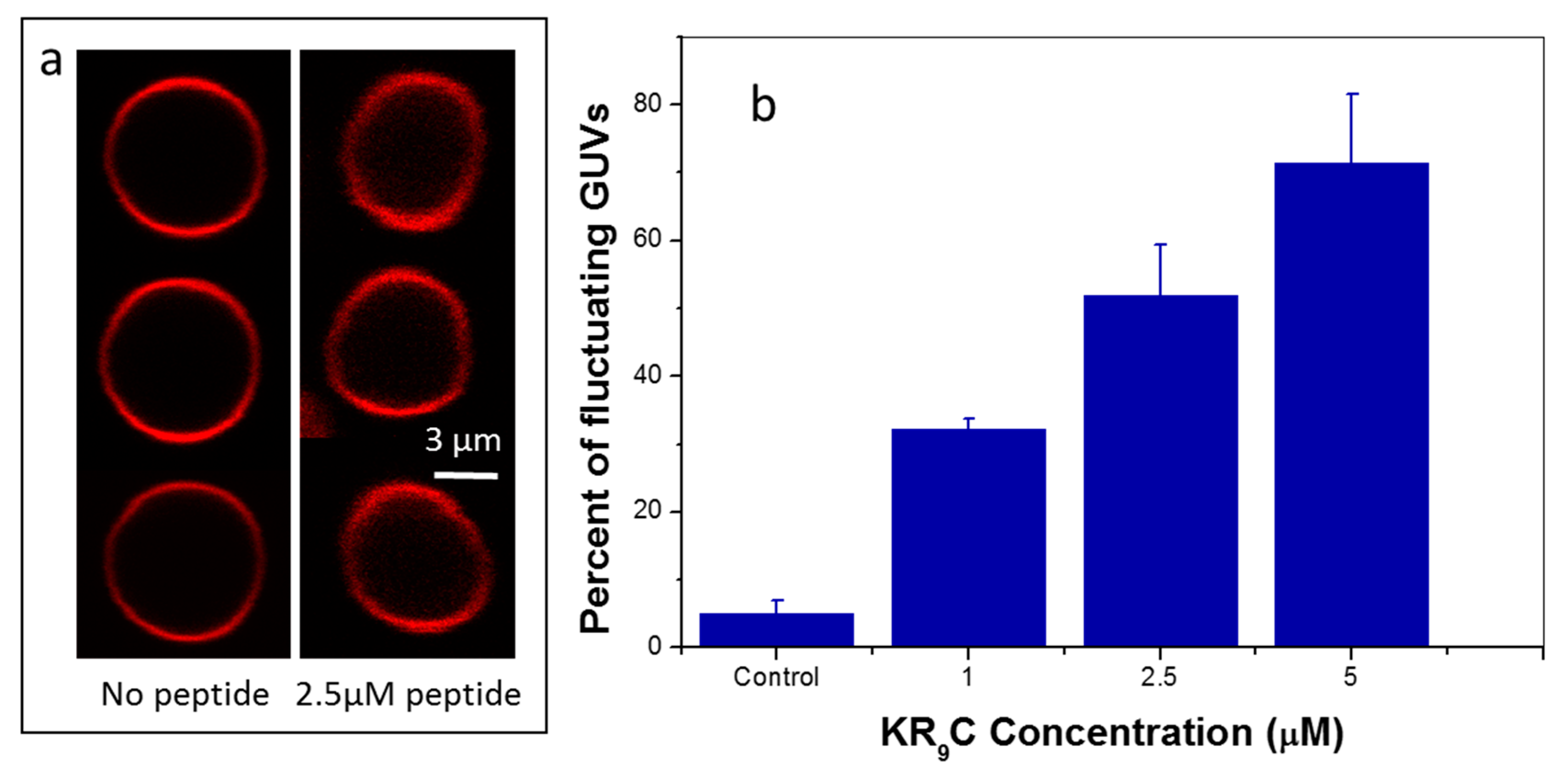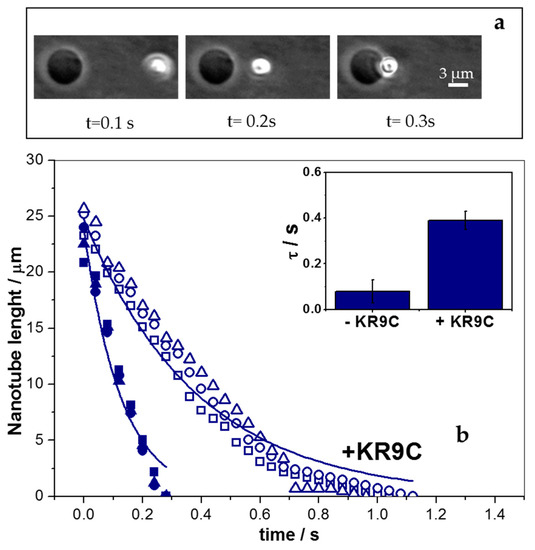 Figure 7. Nano-tube retraction experiments for GUVs composed of DOPC/DOPG. (a) Representative images at the indicated experimental times after switching off the trap in the absence of peptide. (b) Quantification of 3 nano-tube lengths as a function of time obtained from images, such as that in figure (a) in the presence (open symbols) and in the absence (closed symbols) of 2.5 μM peptide. Each symbol type corresponds to a nano-tube retraction. The two lines correspond to the fitting of the data with circles of each set of experiments. Inset: Average values for τ (±SE), obtained from two GUVs of two independent experiments.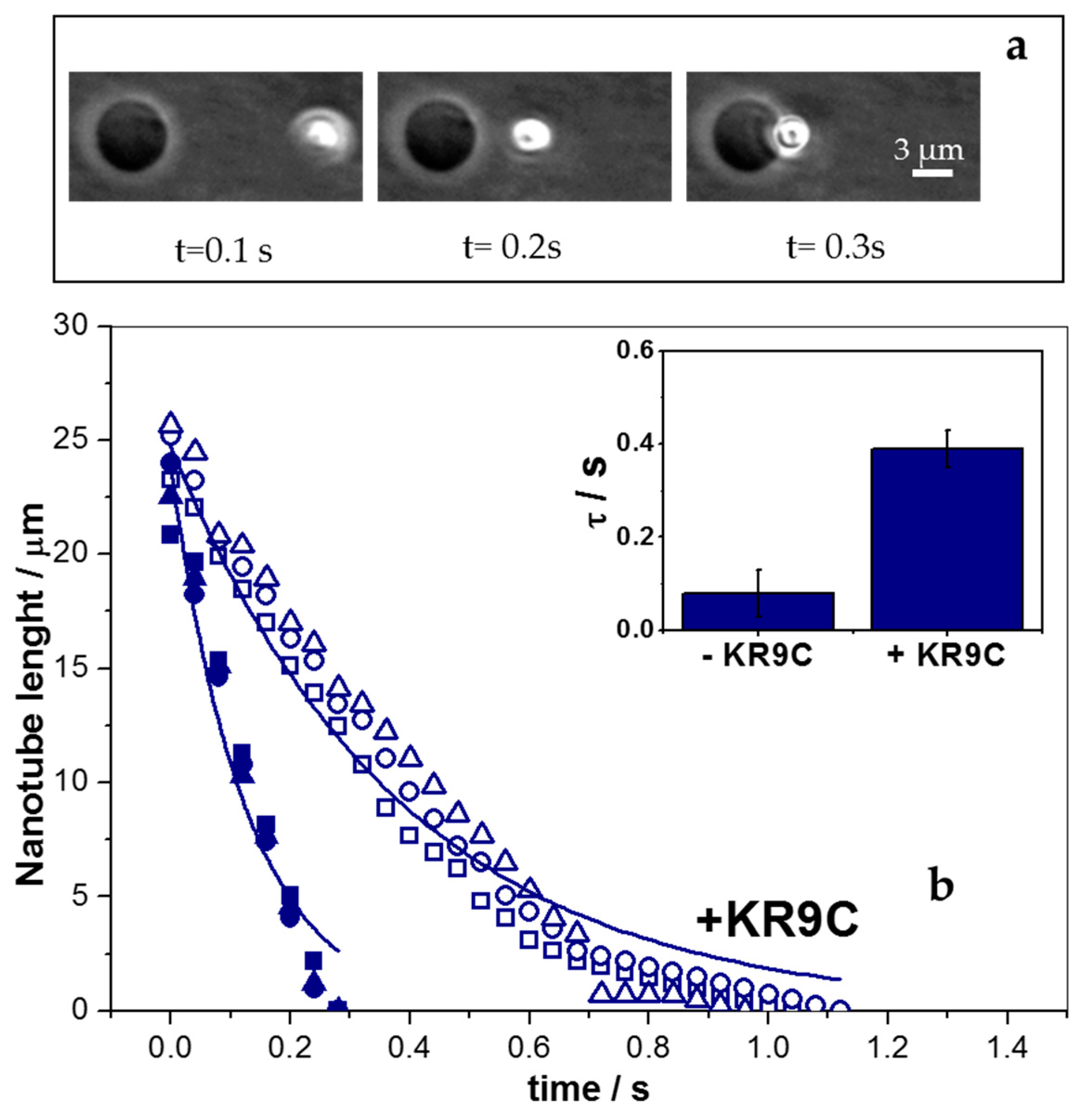 Table 1. Data from the z-potential measurements. Total change in the ζ value (Δζ) and peptide to lipid ratio for half the total change in ζ (P/L50).
| Membrane Composition | ∆ζ (mV) | P/L50 |
| --- | --- | --- |
| DOPC/DOPG | 55 ± 1 | 0.030 ± 0.005 |
| DPPC/DOPG | 68 ± 2 | 0.017 ± 0.002 |
| DOPC/CHOL/DOPG | 108 ± 3 | 0.003 ± 0.001 |

Table 2.
Parameters for the interaction between the fluorescently marked peptide and GUVs. Apparent constant for the kinetics of adsorption (
k
), and maximal value of fluorescence at the rim normalized by the fluorescence outside the GUV (Γ
rim
at long times).
Membrane Composition

k

1/103 s−1
Γrim at Long Times
1 µM
2.5 µM
DOPC/DOPG
3.1 ± 0.7
1.18 ± 0.07
1.4 ± 0.1
DOPC/CHOL/DOPG
4.9 ± 0.9
1.7 ± 0.3
4 ± 1
1 Mean ± SD of the average values at 1 and 2.5 µM peptide concentrations.

© 2019 by the authors. Licensee MDPI, Basel, Switzerland. This article is an open access article distributed under the terms and conditions of the Creative Commons Attribution (CC BY) license (http://creativecommons.org/licenses/by/4.0/).