Open Access This article is
freely available
re-usable
Review
Epibatidine: A Promising Natural Alkaloid in Health
1
Student Research Committee, School of Medicine, Bam University of Medical Sciences, Bam 44340847, Iran
2
Department of Pharmacy, University of Pisa, Via Bonanno 6, 56126 Pisa, Italy
3
Interdepartmental Research Centre for Biology and Pathology of Aging, University of Pisa, 55126 Pisa, Italy
4
Department of Pharmaceutical and Pharmacological Sciences, University of Padova, Via Francesco Marzolo, 5, 35131 Padova (PD), Italy
5
Department of Clinical Pharmacy, University of Medicine and Pharmacy Craiova, Craiova 200349, Romania
6
Department of Medical Parasitology, Zabol University of Medical Sciences, Zabol 61663-335, Iran
7
Department of Pharmaceutical Technology, Avicenna Tajik State Medical University, Rudaki 139, Dushanbe 734003, Tajikistan
8
Faculty of Medicine, University of Porto, Alameda Prof. Hernâni Monteiro, 4200-319 Porto, Portugal
9
Institute for Research and Innovation in Health (i3S), University of Porto, 4200-135 Porto, Portugal
10
Zabol Medicinal Plants Research Center, Zabol University of Medical Sciences, Zabol 61615-585, Iran
11
Department of Chemistry, Richardson College for the Environmental Science Complex, The University of Winnipeg, Winnipeg, MB R3B 2G3, Canada
*
Authors to whom correspondence should be addressed.
Received: 20 November 2018 / Accepted: 17 December 2018 / Published: 23 December 2018
Abstract
:
Epibatidine is a natural alkaloid that acts at nicotinic acetylcholine receptors (nAChRs). The present review aims to carefully discuss the affinity of epibatidine and its synthetic derivatives, analogues to nAChRs for α4β2 subtype, pharmacokinetic parameters, and its role in health. Published literature shows a low affinity and lack of binding of epibatidine and its synthetic analogues to plasma proteins, indicating their availability for metabolism. Because of its high toxicity, the therapeutic use of epibatidine is hampered. However, new synthetic analogs endowed from this molecule have been developed, with a better therapeutic window and improved selectivity. All these aspects are also discussed here. On the other hand, many reports are devoted to structure–activity relationships to obtain optically active epibatidine and its analogues, and to access its pharmacological effects. Although pharmacological results are obtained from experimental studies and only a few clinical trials, new perspectives are open for the discovery of new drug therapies.
Keywords:
epibatidine; nicotinic acetylcholine receptors; analgesics; ABT-594; ABT-418
2. Pharmacokinetics of Epibatidine and Its Synthetic Derivatives
3. Role of Epibatidine in Health
4. Conclusions
Epibatidine and its analogues have revealed a promising therapeutic potential in further diseases as well as pain. Data published show a low affinity and scarce binding of either epibatidine and its synthetic analogues to plasma proteins, indicating their availability for metabolism. However, quantitative data show that the amounts of both plasma and urinary metabolites are negligible compared to the amounts of underivatized compounds, indicating that, in general, they are not prone to metabolism. Due to severe gastrointestinal side effects, the first analogue of epibatidine, ABT-594, is not included in current pain therapies in humans. However, another new synthetic derivative of epibatidine ABT-418 is used in treatment of less severe ADHD in adult patients. ABT-418 has been well-tolerated by patients with minor side effects, such us nausea, dizziness, headaches, or skin irritations. Thus, epibatidine pharmacological effects open new perspectives in drug therapies and also represent an important research tool to investigate nAChR activity.
Author Contributions
All authors contributed equally to this work. B.S., M.S.-R., S.P., N.M., and J.S.-R. critically reviewed the manuscript. All authors read and approved the final manuscript.
Funding
The APC was funded by N.M.
Acknowledgments
Martins N. would like to thank the Portuguese Foundation for Science and Technology (FCT–Portugal) for the Strategic project reference UID/BIM/04293/2013 and "NORTE2020—Programa Operacional Regional do Norte" (NORTE-01-0145-FEDER-000012).
Conflicts of Interest
The authors declare no conflict of interest.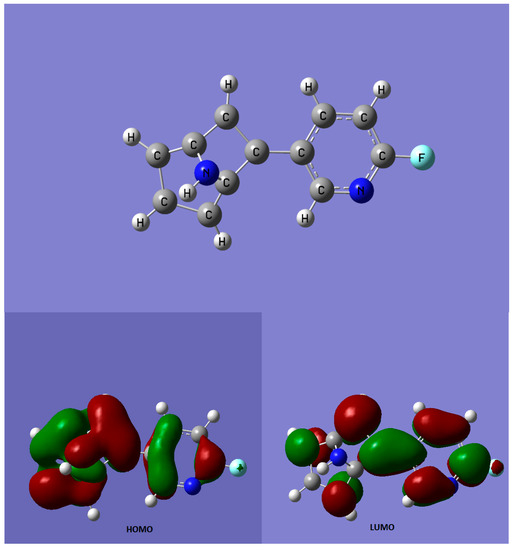 Figure 1. Chemical structure of flubatine (up) and charge distribution for the highest occupied molecular orbital (HOMO) and lowest unoccupied molecular orbital (LUMO) states (down). Methods: The ab initio calculations were performed with Gaussian 16w B.01 and modeled with GaussView 6.0.16 (Andreescu Labor Soft S.R.L., Bucharest, Romania). The optimization of the molecule and HOMO and LUMO states were calculated based on semi-empirical method PM6. It is easy to observe that the fluorine atom, for the HOMO statehas a positive charge; all the electrons are attracted on the rings. On LUMO state, the fluorine atom is partially shielded.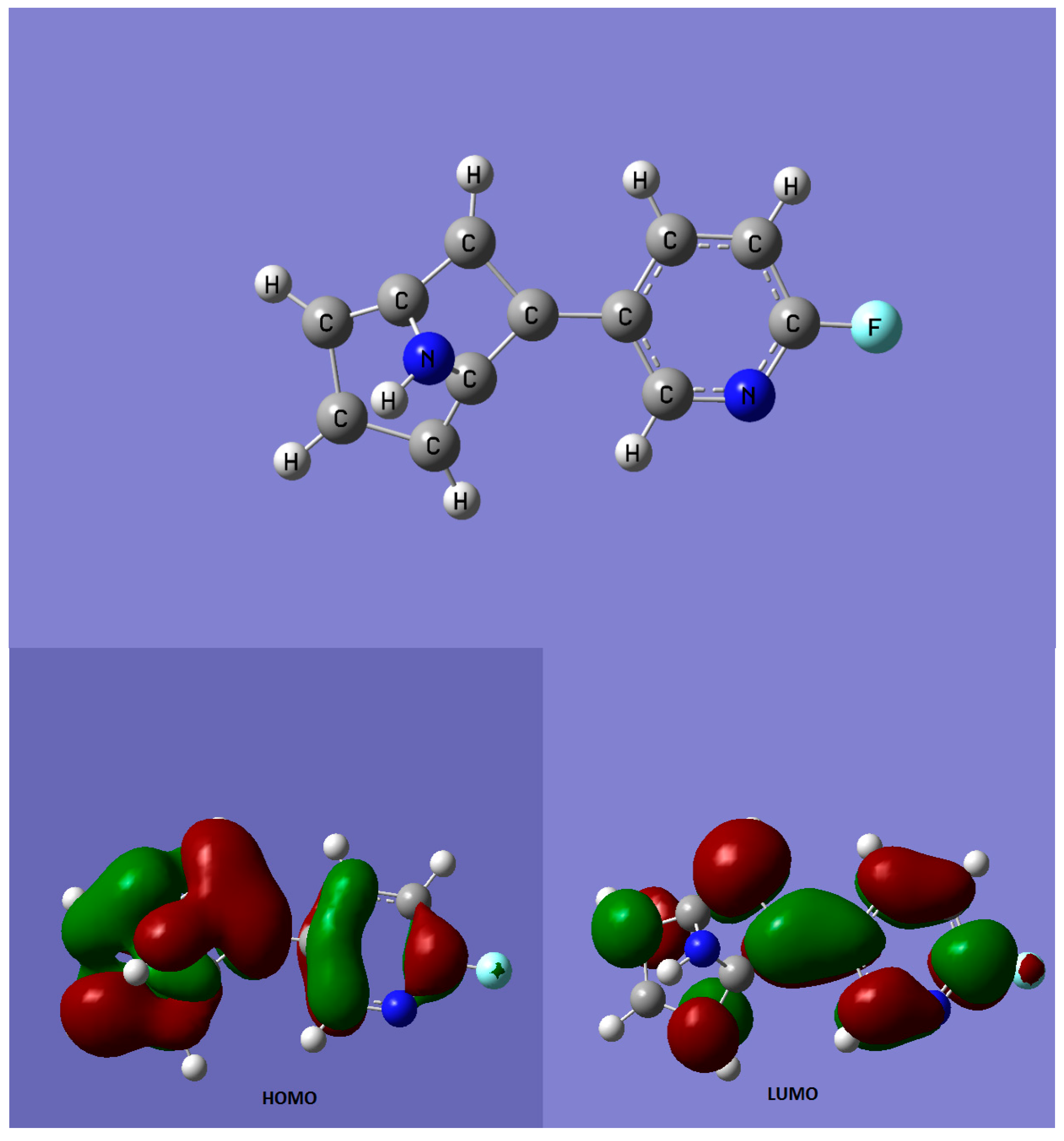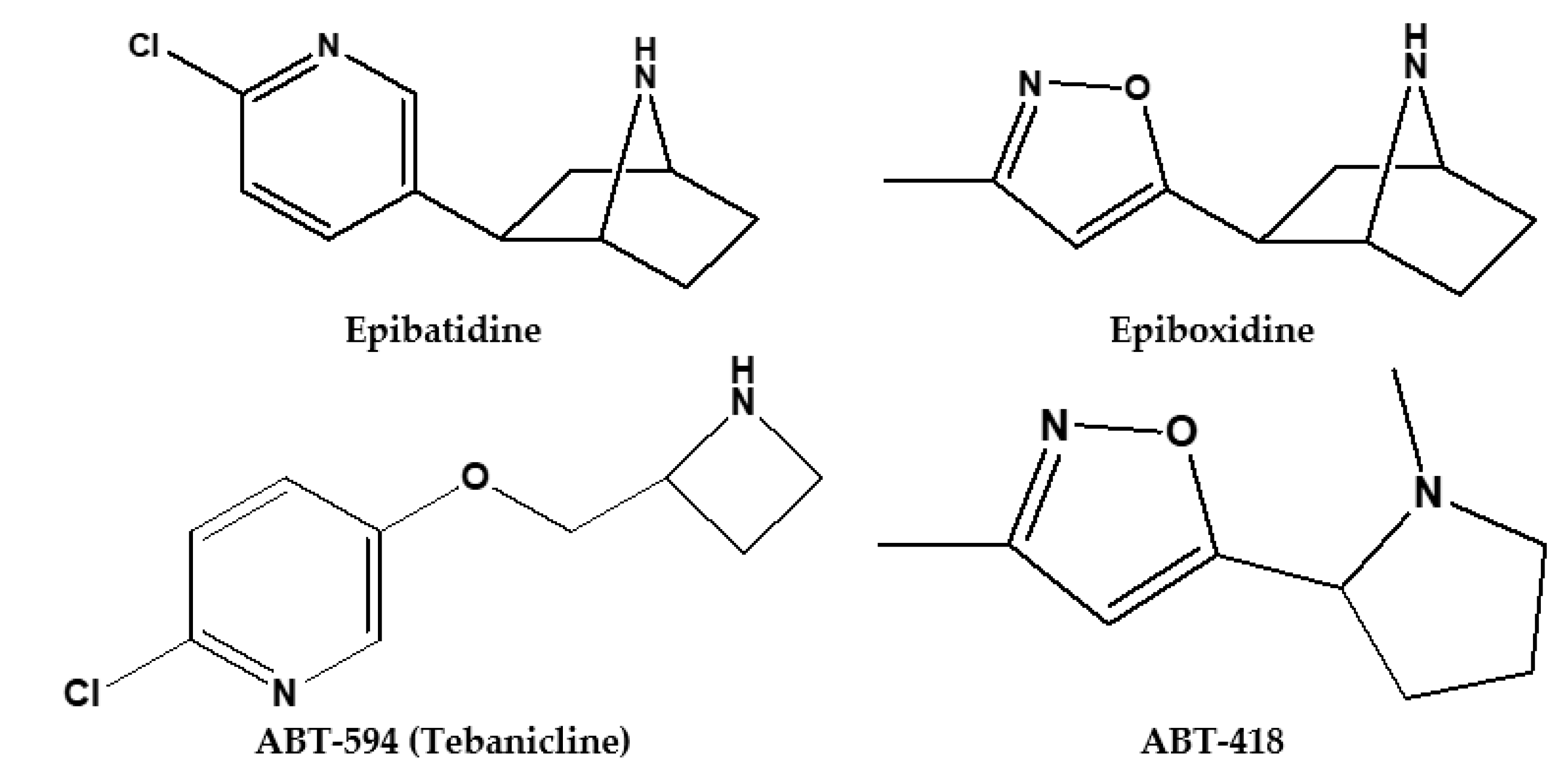 Compound
Type of Study
References

In Vivo

Studies Using Animal Models
Epibatidine
Animal model
Primary outcomes
Mice and rats
Antinociceptive
[6]
Rats
Increased adrenaline and noradrenaline neuromediators
[12]
Pregnant goats
Lack of completely inhibition of fetal movement
[11]
Rats
Neuroprotective
[39]
ABT-594 tebanicline
Rodent pain models (rats, mice)
Antinociceptive
[27,28,30,31,35]
Rat formalin test
Analgesic (multimodal analgesia)
[32]
Epiboxidine
Rats
Cognitive disfunction treatment
[26]
Mice
Antinociceptive

In vitro

studies using cell lines
Epibatidine
Bovine chromaffin cells
Antioxidant, antiapoptotic
[40]
Human clinical studies
ABT-594tebanicline
Study design
Primary outcomes
[29]
Randomized, multicenter, double-blind, placebo-controlled study (phase 2)
Analgesic in diabetic patients with neuropathic pain
ABT-418Epiboxidine
Double-blind, placebo-controlled study
Cognitive enhancement in moderate Alzheimer's disease
[41]
Double-blind, randomized, placebo-controlled, crossover trial
Increased attention in deficit hyperactivity disorder (ADHD) in adults
[42]

© 2018 by the authors. Licensee MDPI, Basel, Switzerland. This article is an open access article distributed under the terms and conditions of the Creative Commons Attribution (CC BY) license (http://creativecommons.org/licenses/by/4.0/).