Protein Phosphatase Sit4 Affects Lipid Droplet Synthesis and Soraphen A Resistance Independent of Its Role in Regulating Elongator Dependent tRNA Modification
1
Instituto de Bioquímica Médica Leopoldo de Meis, Universidade Federal do Rio de Janeiro, Rio de Janeiro 21941-902, Brazil
2
Institut für Biologie, Fachgebiet Mikrobiologie, Universität Kassel, 34132 Kassel, Germany
*
Authors to whom correspondence should be addressed.
Received: 4 June 2018 / Revised: 5 July 2018 / Accepted: 9 July 2018 / Published: 11 July 2018
Abstract
The protein phosphatase Sit4 has been shown to be required for lipogenesis and resistance against the acetyl-CoA carboxylase inhibitor soraphen A. Since Sit4 is also required for biosynthesis of Elongator dependent tRNA modifications such as 5-methoxycarbonylmethyluridine (mcm
5
U), we investigated the relevance of tRNA modifications in lipogenesis and soraphen A response. While
sit4
and Elongator (
elp3
) mutants copy defects in mcm
5
U formation and stress sensitivity, they do not share soraphen A sensitivity and low lipid droplet (LD) phenotypes. In contrast to
sit4
, we found
elp3
mutants to display partial soraphen A resistance and a high LD phenotype. Screening a collection of tRNA modification mutants additionally identified the tRNA pseudo-uridine synthase gene
DEG1
to be required for soraphen A sensitivity. Since
deg1
and
elp3
share high LD and soraphen A resistance phenotypes, these are likely caused by translational defects. In support of this notion, we observe overexpression of tRNA
Gln
UUG suppresses lipolysis defects of
deg1
mutants. Hence, the
sit4
mutation results in a composite defect including tRNA modification deficiency and loss of Snf1 kinase dephosphorylation, which induce opposite effects on LD regulation. Importantly, however, the Snf1 kinase regulatory defects of the phosphatase mutant dominate over effects on LD regulation imposed by loss of the tRNA modification alone.
View Full-Text
►

▼

Figures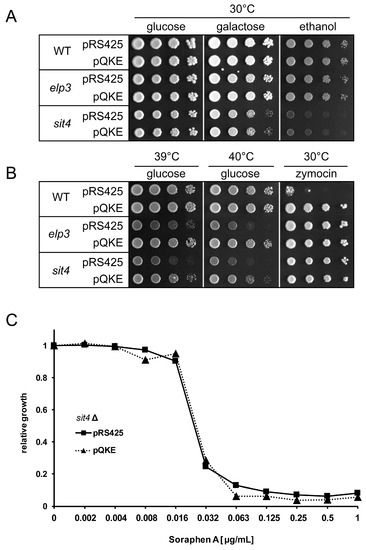 Figure 1
This is an open access article distributed under the
Creative Commons Attribution License
which permits unrestricted use, distribution, and reproduction in any medium, provided the original work is properly cited (CC BY 4.0).

Share & Cite This Article
MDPI and ACS Style
Bozaquel-Morais, B.L.; Vogt, L.; D'Angelo, V.; Schaffrath, R.; Klassen, R.; Montero-Lomelí, M. Protein Phosphatase Sit4 Affects Lipid Droplet Synthesis and Soraphen A Resistance Independent of Its Role in Regulating Elongator Dependent tRNA Modification. Biomolecules 2018, 8, 49.
Note that from the first issue of 2016, MDPI journals use article numbers instead of page numbers. See further details here.
Related Articles
Comments
[Return to top]