Open Access This article is
freely available
re-usable
Review
Biophysical Investigations Elucidating the Mechanisms of Action of Antimicrobial Peptides and Their Synergism
Université de Strasbourg/CNRS, UMR7177, Institut de Chimie, 4, rue Blaise Pascal, 67070 Strasbourg, France
*
Author to whom correspondence should be addressed.
Received: 29 March 2018 / Accepted: 16 April 2018 / Published: 18 April 2018
Abstract
:
Biophysical and structural investigations are presented with a focus on the membrane lipid interactions of cationic linear antibiotic peptides such as magainin, PGLa, LL37, and melittin. Observations made with these peptides are distinct as seen from data obtained with the hydrophobic peptide alamethicin. The cationic amphipathic peptides predominantly adopt membrane alignments parallel to the bilayer surface; thus the distribution of polar and non-polar side chains of the amphipathic helices mirror the environmental changes at the membrane interface. Such a membrane partitioning of an amphipathic helix has been shown to cause considerable disruptions in the lipid packing arrangements, transient openings at low peptide concentration, and membrane disintegration at higher peptide-to-lipid ratios. The manifold supramolecular arrangements adopted by lipids and peptides are represented by the 'soft membranes adapt and respond, also transiently' (SMART) model. Whereas molecular dynamics simulations provide atomistic views on lipid membranes in the presence of antimicrobial peptides, the biophysical investigations reveal interesting details on a molecular and supramolecular level, and recent microscopic imaging experiments delineate interesting sequences of events when bacterial cells are exposed to such peptides. Finally, biophysical studies that aim to reveal the mechanisms of synergistic interactions of magainin 2 and PGLa are presented, including unpublished isothermal titration calorimetry (ITC), circular dichroism (CD) and dynamic light scattering (DLS) measurements that suggest that the peptides are involved in liposome agglutination by mediating intermembrane interactions. A number of structural events are presented in schematic models that relate to the antimicrobial and synergistic mechanism of amphipathic peptides when they are aligned parallel to the membrane surface.
Keywords:
magainin; cecropin; membrane topology; local disorder; membrane pore; membrane macroscopic phase; soft membrane adapt and respond, also transiently (SMART) model; carpet model; toroidal pore; peptide-lipid interactions
2. Synergistic Enhancement of the Activities of Antimicrobial Peptides
Acknowledgments
We gratefully acknowledge the many co-workers and colleagues from our own team and from outside that over many years have contributed to this work. In particular, the collaborative efforts and discussion with Karl Lohner, Georg Pabst, Martin Hof, Mariana Amaro, Marina Rautenbach, Robert Vácha, Jarbas Resende, Rodrigo Verly, and their teams are much appreciated. The financial contributions of the Agence Nationale de la Recherche (projects TRANSPEP 07-PCV-0018, ProLipIn 10-BLAN-731, membraneDNP 12-BSV5-0012, MemPepSyn 14-CE34-0001-01, InMembrane 15-CE11-0017-01, Biosupramol 17-CE18-0033-3 and the LabEx Chemistry of Complex Systems 10-LABX-0026_CSC), the IRTG Soft Matter Science (Freiburg, Strasbourg), the Marie-Curie Research and Training Network 33439 of the European Commission BIOCONTROL, the University of Strasbourg, the CNRS, the Région Alsace and the RTRA International Center of Frontier Research in Chemistry, and the French Foundation for Medical Research (FRM) are gratefully acknowledged. BB is grateful to the Institut Universitaire de France for providing additional time to be dedicated to research.
Conflicts of Interest
The authors declare no conflict of interest. The founding sponsors had no role in the design of the study; in the collection, analyses, or interpretation of data; in the writing of the manuscript, and in the decision to publish the results.
Abbreviations
Aib
α-aminobutyric acid
AMP
antimicrobial peptide
CD
circular dichroism
DLPC
1, 2-lauroyl-

sn

-glycero-3-phosphocholine
DLS
dynamic light scattering
DMPC
1, 2-dimyristoyl-

sn

-glycero-3-phosphocholine
DMPG
1, 2-dimyristoyl-

sn

-glycero-3-phospho-(1′-

rac

-glycerol)
DOPC
1, 2-dioleoyl-

sn

-glycero-3-phosphocholine
DOPG
1, 2-dioleoyl-

sn

-glycero-3-phospho-(1′-

rac

-glycerol)
GUV
giant unilamellar vesicle
IP
in-plane
ITC
isothermal titration calorimetry
LUV
large unilamellar vesicle
MD
molecular dynamics
NMR
nuclear magnetic resonance
PC
phosphatidylcholine
PE
phosphatidylethanolamine
PG
phosphatidylglycerol
POPC
1-palmitoyl-2-oleoyl-

sn

-glycero-3-phosphocholine
POPE
1-palmitoyl-2-oleoyl-

sn

-glycero-3-phosphoethanolamine
POPG
1-palmitoyl-2-oleoyl -

sn

-glycero-3- phospho-(1′-

rac

-glycerol)
POPS
1-palmitoyl-2-oleoyl-

sn

-glycero-3-phosphoserine
SMART
Soft Membranes Adapt and Respond, also Transiently
TM
transmembrane
Figure 1.
Schematic models illustrating how antimicrobial peptides work and interact with membranes (
A
–
D
), and how two peptides can interact synergistically in a membrane environment (
E
–
G
). (
A
) Peptides such as magainin partition into the membrane interface and cause disordering of the lipid packing. (
B
) Bilayer openings form stochastically when the peptide concentration increases locally, or when the membrane disrupts at high peptide-to-lipid ratios [
72
]. Along the openings, the peptides can insert and cross in in-planar or at tilted alignments. (
C
) In molecular dynamics calculations schematic, amphipathic helices have been simulated to form double belts [
73
], an arrangement which also agrees with the in-planar alignment of the peptide helices observed by solid-state nuclear magnetic resonance NMR spectroscopy [
38
]. (
D
) Fluorescence quenching experiments suggest mesophase structures formed by in-plane oriented helices [
74
]. (
E
) The membrane disruptive properties of one peptide (yellow) help the insertion of another one (blue), which by itself is less likely to partition into membranes of high negative curvature [
75
]. (
F
) Peptide-peptide contacts result in the agglutination of liposomes (Figure 3) [
76
], and could be responsible for synergistic enhancement of activities. (
G
) A more densely packed mesophase arrangement forms in the presence of two peptides with complementary charge distribution such as magainin 2 and PGLa [
77
]. Notably, multiple mechanisms, such as a combination of
E
,
F
, and
G
may apply. Panels
A
,
B
,
E
, and
F
show side views, panels
C
,
D
, and
G
show top views of the lipid bilayer.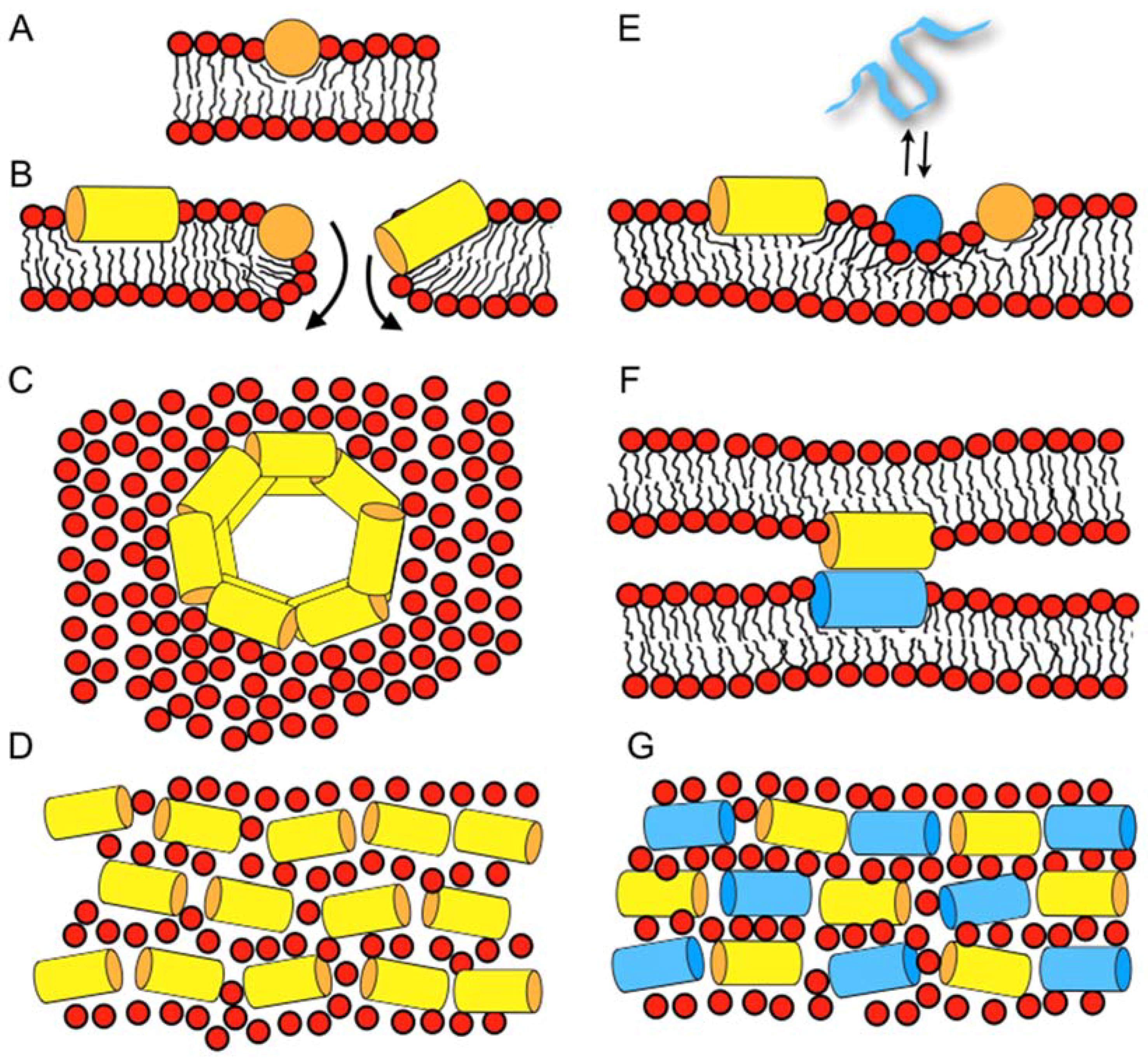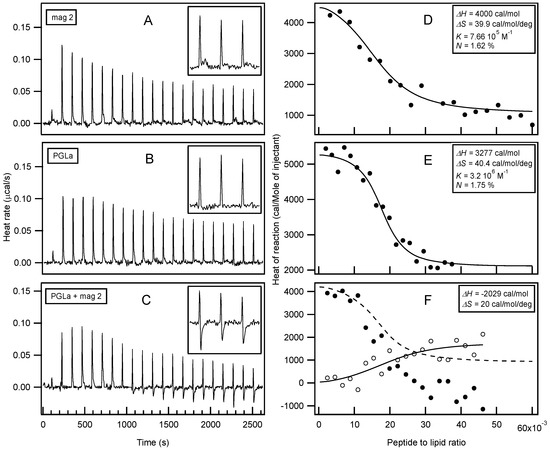 Figure 2.
Isothermal Titration Calorimetry measurements of large unilamellar vesicles (LUVs) made of palmitoyl-oleoyl-phosphatidylethanolamine/ palmitoyl-oleoyl-phosphatidylglycerol POPE/POPG (3/1) at 440 µM total lipid concentration, into which solutions of 85 µM magainin 2 (
A
), 140 µM PGLa (
B
), and the equimolar mixture of PGLa and magainin 2 at 105 µM total peptide concentration (
C
) have been injected successively. Buffer: 10 mM Tris-HCl, pH 7, 100 mM NaCl. The inserts show close-ups of the regions
t
> 2215 s. The fittings of the data with a single binding site model are displayed as solid lines in panels
D
–
F
. The open circles in panel
F
show the difference of the heat of reactions when comparing the mixture of peptides with the sums obtained from the magainin 2 and PGLa titrations (i.e., half the intensities of the fitted curves shown in panels
D
and
E
, dashed line). The values of the enthalpies (Δ
H
), entropies (Δ
S
), binding constant (
K
), and apparent stoichiometry (
N
) are reported in the corresponding graphs.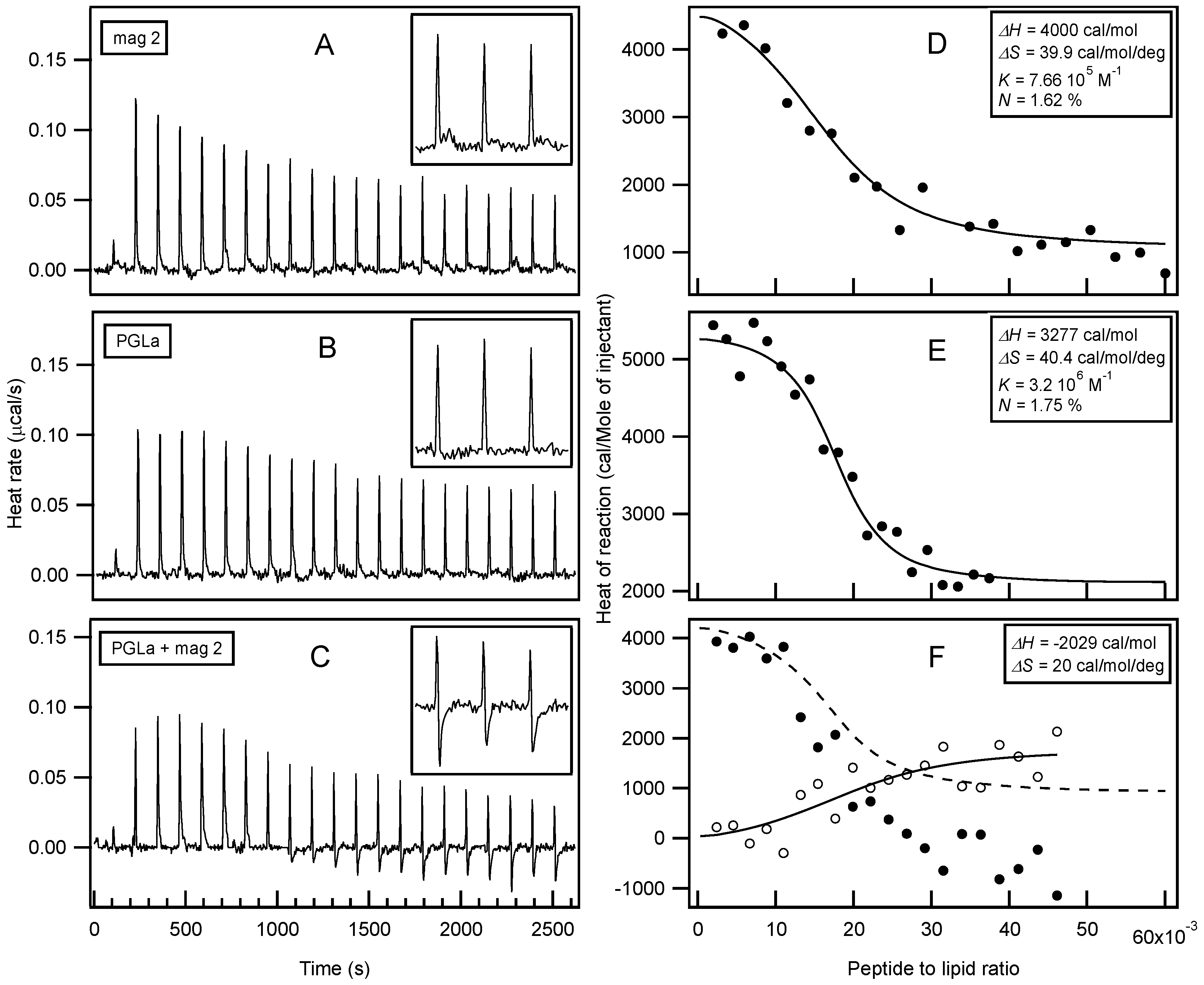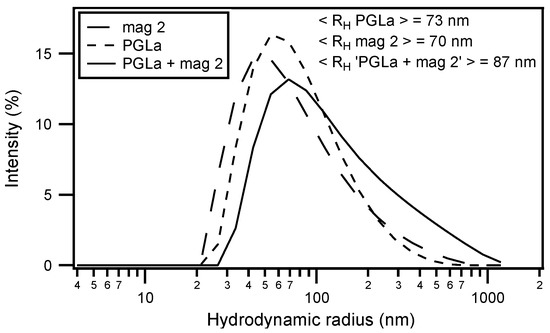 Figure 3.
Dynamic light s cattering (DLS) size measurement of LUVs made of 440 µM POPE/POPG (3/1) and incubated with magainin 2 (long dashed line), PGLa (short dashed line) or an equimolar mixture of PGLa and magainin 2 (continuous line) in 10 mM Tris-HCl buffer pH 7. The vesicles were made by mechanical extrusion through a 100 nm pore filter and the peptide to lipid ratio was kept constant at P/L = 3.6% for all tree measurements (this corresponds to the same condition for peptide injection at
t
≈ 2030 s in
Figure 2
C). The averaged hydrodynamic radius < R
H
> is indicated in the upper right of the graphs.

Table 1. Sequences of peptides discussed in this paper. The one-letter code is used for peptides made from conventional amino acids only. The alamethicin sequence is given by the three-letter code with the following non-standard residues: Aib: α-aminoisobutyric acid, Phl: L-phenylalaninol, Ac- for acetyl- and -NH2 for the carboxamide terminus, respectively.
| | |
| --- | --- |
| magainin 2 | GIGKF LHSAK KFGKA FVGEI MNS |
| PGLa | GMASK AGAIA GKIAK VALKA L-NH2 |
| cecropin A | KWKLF KKIEK VGQNI RDGII KAGPA VAVVG QATQI AK-NH2 |
| LL37 | LLGDF FRKSK EKIGK EFKRI VQRIK DFLRN LVPRT ES |
| melittin | GIGAV LKVLT TGLPA LISWI KRKRQ Q-NH2 |
| LAH4 | KKALL ALALH HLAHL ALHLA LALKK A-NH2 |
| alamethicin (F50/7) | Ac-Aib-Pro-Aib-Ala-Aib-Aib-Gln-Aib-Val-Aib-Gly-Leu-Aib-Pro-Val-Aib-Aib-Gln-Gln-Phl |

© 2018 by the authors. Licensee MDPI, Basel, Switzerland. This article is an open access article distributed under the terms and conditions of the Creative Commons Attribution (CC BY) license (http://creativecommons.org/licenses/by/4.0/).