Open Access This article is
freely available
re-usable
Review
Repair of DNA Double-Strand Breaks in Heterochromatin
Genome Damage and Stability Centre, School of Life Sciences, University of Sussex, Falmer, Brighton BN1 9RR , UK
Academic Editor: Rob de Bruin
Received: 18 October 2016 / Accepted: 5 December 2016 / Published: 16 December 2016
Abstract
:
DNA double-strand breaks (DSBs) are among the most damaging lesions in DNA, since, if not identified and repaired, they can lead to insertions, deletions or chromosomal rearrangements. DSBs can be in the form of simple or complex breaks, and may be repaired by one of a number of processes, the nature of which depends on the complexity of the break or the position of the break within the chromatin. In eukaryotic cells, nuclear DNA is maintained as either euchromatin (EC) which is loosely packed, or in a denser form, much of which is heterochromatin (HC). Due to the less accessible nature of the DNA in HC as compared to that in EC, repair of damage in HC is not as straightforward as repair in EC. Here we review the literature on how cells deal with DSBs in HC.
Keywords:
HP1; 53BP1; BRCA1; γH2AX; homologous recombination; c-NHEJ; alt-NHEJ
1. Introduction
DNA double-strand breaks (DSBs) pose serious threats to genetic integrity and cell viability, since, if not identified and repaired, they can lead to insertions or deletions (indels) or gross chromosomal rearrangements. They can be simple blunt-ended breaks or more complex breaks such as DSBs with incompatible termini, clustered oxidative lesions (base damage, crosslinks, etc.) or breaks that are in close proximity to other single-strand breaks (SSBs) or DSB lesions. They are produced by a variety of different agents. For example, ionising radiation (IR) and high-energy linear energy transfer (LET) radiation can produce complex breaks, while some DSB repair assays, dependent on the activity of site-specific nucleases such as I-SceI, create simple breaks. There are several processes in cells for the repair of DSBs, the choice of which is dependent partly on the nature of the break, and partly on the location of the break within the chromatin.
Eukaryotic DNA is composed of euchromatin and heterochromatin, with the majority of the chromatin being maintained as euchromatin. The relative amounts of euchromatin (EC) and heterochromatin (HC) in cells depend on a range of factors, including cell types, cell age and gender [
1
]. Euchromatin contains the majority of the transcribed genes, and is a loosely packed form that allows access to the DNA by proteins including transcription factors which control gene expression. In contrast, heterochromatin is a more tightly packed form of chromatin (
Figure 1
) [
2
,
3
] where there is limited access to transcription factors and DNA repair proteins. The aim here is to review the literature on the repair of DSBs in heterochromatin, focusing on repair in mammalian cells, unless otherwise stated.
2. The Structure, Importance and Maintenance of Heterochromatin
Heterochromatin has several specific and important roles in cells. Contained within it are the centromeres, pericentromeric regions, telomeres and highly repetitive sequences. These regions comprise constitutive HC, while silenced and/or developmentally regulated genes make up the facultative HC [
4
]. Constitutive HC contains histones that are generally hypoacetylated and hypermethylated at histone H3 lysine 9 (H3K9me2/3) and lysine 27 (H3K27me3), as well as at histone H4 lysine 20 (H4K20me2/3) [
5
] (
Figure 1
). These marks have been demonstrated to be associated with tethering of the chromatin to the nuclear lamina [
6
]. The processes associated with the creation of the histone modifications, and the maintenance of HC requires a large number of proteins, including the histone modifiers SET domain bifurcated 1 (SETDB1) and methyltransferase suppressor of variegation 3–9 (SUV39), both of which are required for methylation of H3K9. Also required are histone deacetylases (HDACs) [
7
] and heterochromatin protein 1 (HP1) which recognises and interacts with H3K9me2/3 (
Figure 1
). Two other proteins which affect chromatin structure, and which are relevant to the discussion of DSB repair in HC, are KRAB domain associated protein 1 (KAP-1) which interacts with HP1, and SWI/SNF-related matrix-associated actin-dependent regulator of chromatin, subfamily A, containing DEAD/H box 1 (SMARCAD1). KAP-1 has multiple cellular functions brought about through its ability to maintain chromatin compaction. It is recruited to HC via KRAB domain-containing, DNA sequence-specific repressor proteins [
8
,
9
]. Additionally, it interacts with HP1 and subsequently with SETDB1 [
5
,
10
], histone deacetylase 1 (HDAC1) and histone deacetylase 2 (HDAC2), and the nucleosome-remodeling factor CHD3 isoform 1 (CHD3.1) [
11
]. SMARCAD1 acts at replication sites to facilitate the deacetylation of newly assembled histones and thus acts to maintain correct silencing [
12
]. It has also been proposed to weaken histone–DNA interactions in nucleosomes flanking DSBs, facilitating the resection of DNA at DSBs in preparation for homologous recombination (HR) [
13
]. SMARCAD1 knock-down reduces the level of methylation of H3K9 and results in the delocalisation of HP1, HDAC1 and KAP-1 from the chromatin [
14
].
4. DSBs and Heterochromatin
A number of studies have demonstrated that chromatin organisation has a striking effect on mutation rates, with rates being significantly higher in HC compared to levels in EC [
39
,
40
]. The reason for this is not clear, and could be accounted for by a number of factors associated with HC, such as different accessibility to DNA repair factors, difficulty in signaling the presence of DNA damage or increased sensitivity to mutagenic agents.
5. Summary
Due to the compacted nature of HC compared to EC, it is clear that different mechanisms are needed to signal and repair DSBs in these two types of chromatin. As HC comprises many different types of chromosomal regions, it would not be unexpected that the repair of damage in different regions involves different processes. For example, it has been observed that DSBs in pericentromeric DNA are treated differently compared to those within centromeres [
72
], and that repair in the rDNA and fragile sites is likely to be different than that in centromeres and centromeric regions [
73
]. Further work will be needed to fully elucidate the repair mechanisms utilised and how they are regulated. In summary, 53BP1 and BRCA1, key proteins influencing how DSBs are repaired, both have functions that are dependent on HC and HC-interacting proteins. The data provide evidence for a complex role for HC in the recognition, response to and repair of DSBs, and that extensive chromatin remodeling is likely to be required for the repair of many of the DSBs that occur in cells.
Acknowledgments
We thank Jessica Downs (The Institute of Cancer Research, London) and Penny Jeggo (Genome Damage and Stability Centre, University of Sussex) for helpful comments on the manuscript. We gratefully acknowledge receipt of funding from CRUK grant number C1206/A11978.
Conflicts of Interest
The author declares no conflicts of interest.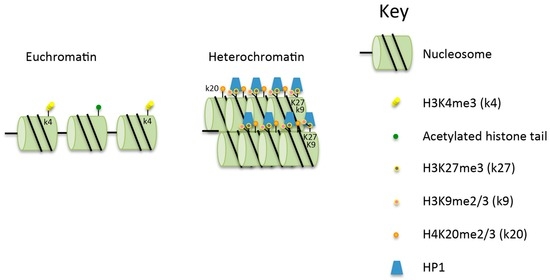 Figure 1. Comparison of the structure of euchromatin and heterochromatin. Heterochromatin is hypoacetylated and hypermethylated on histone H3K9 (H3k9me2/3 (k9), H3k27me3 (k27) and H4k20me2/3 (k20) compared to euchromatin. See text for further details. HP1: heterochromatin protein 1.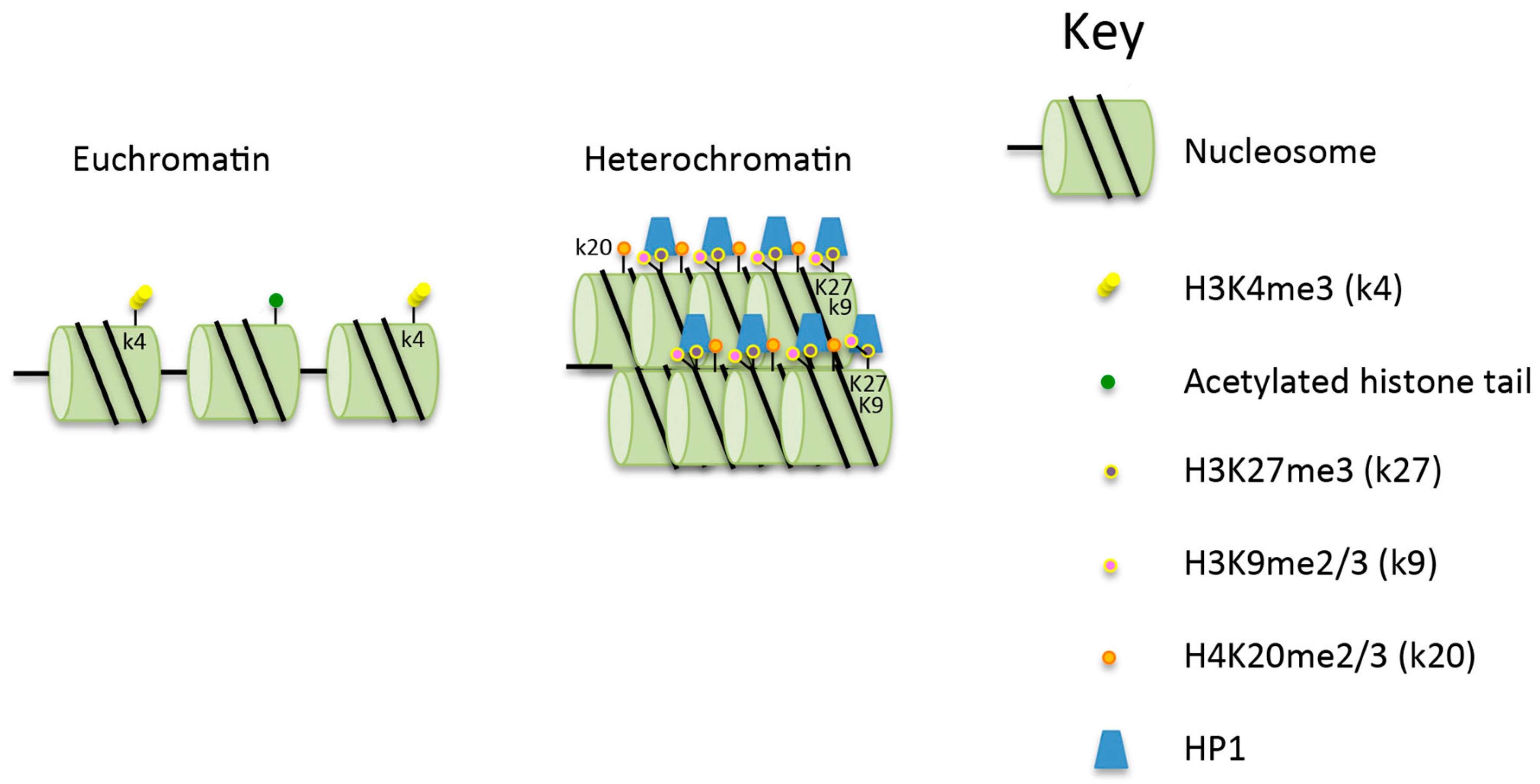 Figure 2. Pathways for repair of DNA double-strand breaks (DSBs). Repair of DSBs can occur by canonical non-homologous end-joining (c-NHEJ), alternative non-homologous end-joining (alt-NHEJ) or homologous recombination (HR). DNA-PKcs: DNA-dependent protein kinase catalytic subunit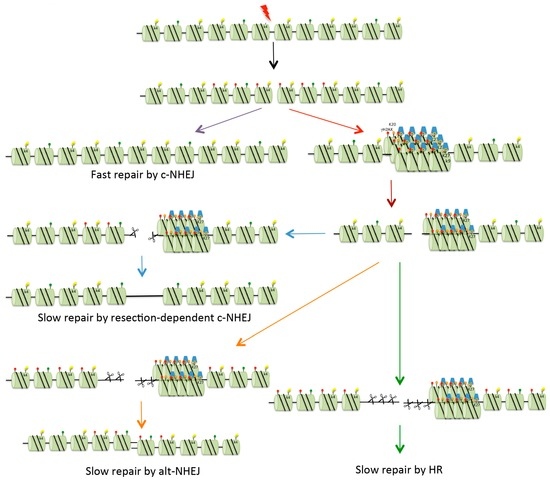 Figure 3.
Repair of DSBs in heterochromatin. Four possible mechanisms exist for the repair of DSBs. Fast c-NHEJ (purple arrow) involves the religation of broken ends in a Ku70/80-dependent process. DSBs that cannot be repaired quickly might be those present in heterochromatin (HC), or might be breaks occurring in euchromatin that are sequestered into HC for protection (red arrow). In order for repair to take place, the DSBs are relocated on the surface of the HC (brown arrow). These breaks can be repaired with slow kinetics by resection-mediated c-NHEJ, involving the nuclease Artemis (blue arrows). In mice and under certain conditions (see text for details), DSBs can be repaired by alt-NHEJ (orange arrows). In G2, if NHEJ is unable to repair DSBs, there is further resection with repair occurring via HR (either gene conversion or single-strand annealing, see
Figure 2
) (green arrows). Red dots indicate histone H2AX phosphorylation (γH2AX). For key to other histone modifications see
Figure 2
.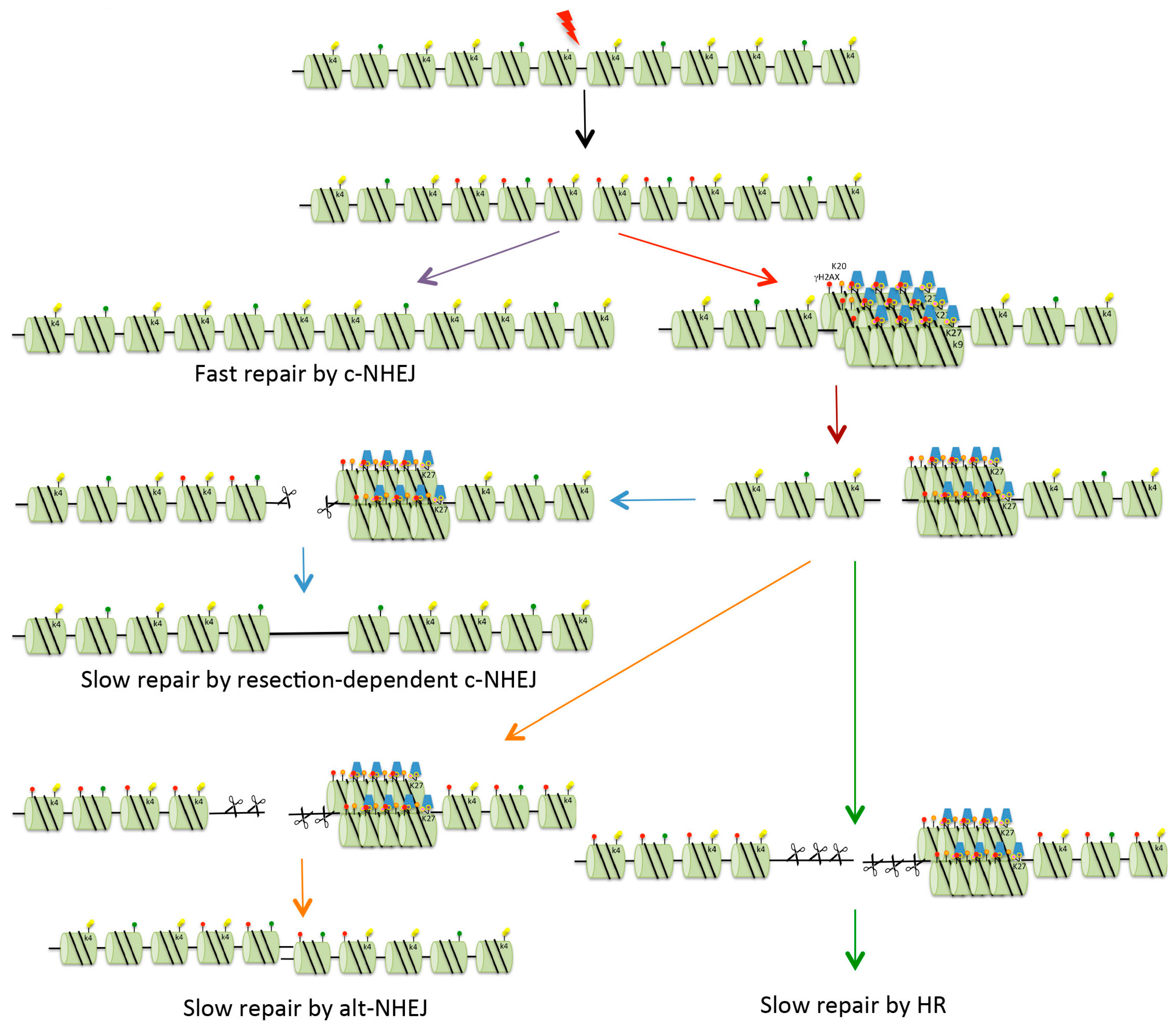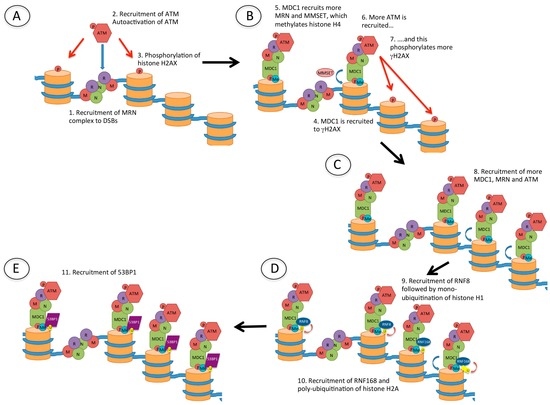 Figure 4. Recruitment of p53 binding protein 1 (53BP1) to DSBs. (A) Following the creation of a DSB, the Mre11/Rad50/Nbs1 (MRN) complex is recruited to the DNA ends. MRN recruits ataxia-telangiectasia mutated (ATM), which is autophosphorylated and phosphorylates (red arrow) histone H2AX (γH2AX); (B) Mediator of DNA damage checkpoint 1 (MDC1) is then recruited to γH2AX, and this recruits more MRN, as well as multiple myeloma SET domain (MMSET) protein which methylates histone H4. MDC1 recruits more ATM and this amplifies the γH2AX signal; (C) The damage signal is further amplified by recruitment of more MDC1, MRN and ATM which phosphorylates further histone H2AX; (D) The ubiquitin E3 ligases RNF8 and RNF168 are then recruited, resulting in mono-ubiquitination of histone H1 and poly-ubiquitination of histone H2, respectively; (E) 53BP1 is finally recruited to methylated histone H4 (H4K20me2) and ubiquitinated histone H2A (H2AK15Ub).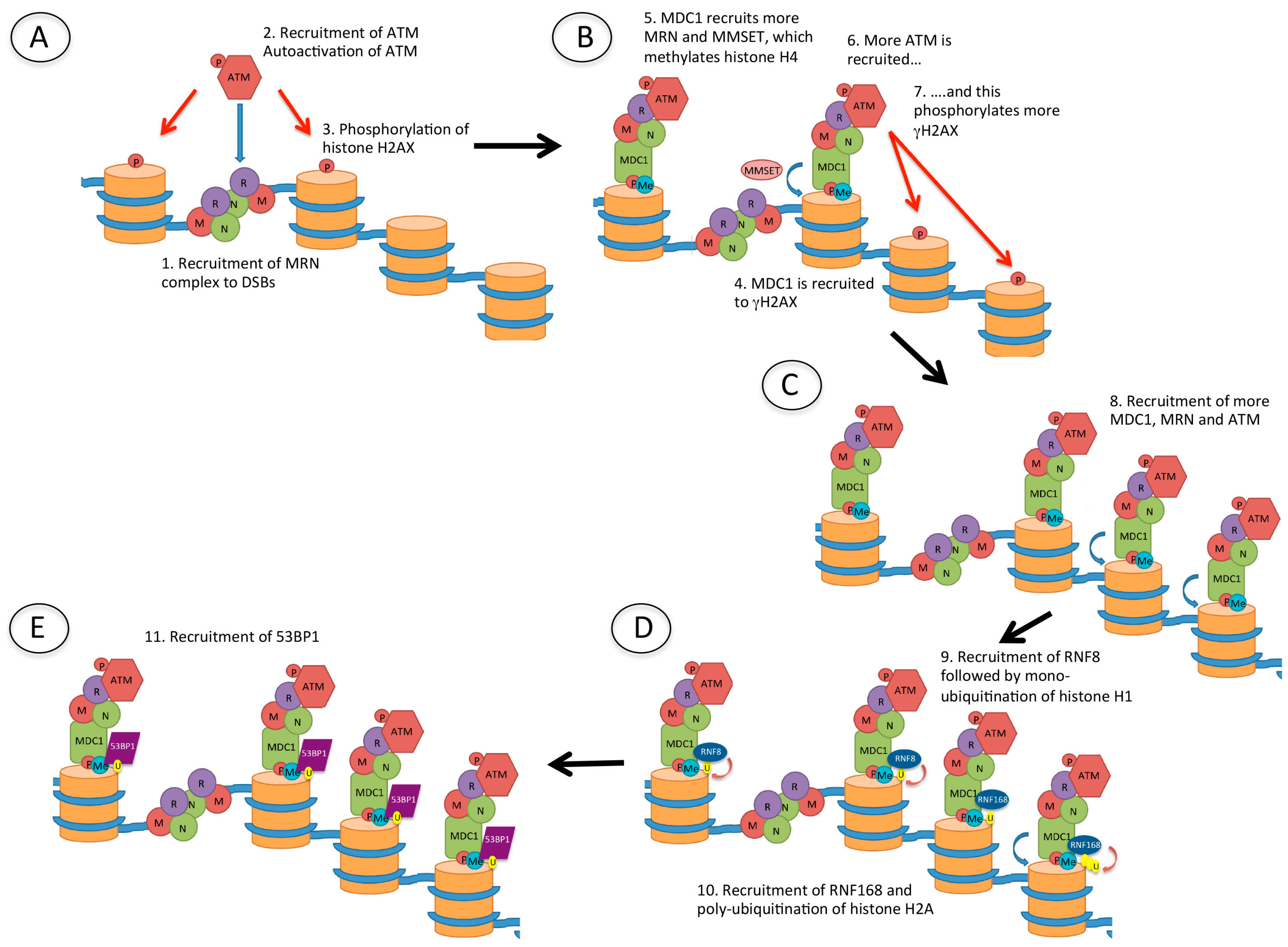 © 2016 by the author; licensee MDPI, Basel, Switzerland. This article is an open access article distributed under the terms and conditions of the Creative Commons Attribution (CC-BY) license (http://creativecommons.org/licenses/by/4.0/).