Alcohol, Aldehydes, Adducts and Airways
1
Department of Environmental, Agricultural and Occupational Health, College of Public Health, University of Nebraska Medical Center, Omaha, NE 68198, USA
2
Department of Internal Medicine, Division of Pulmonary, Critical Care, Sleep and Allergy, University of Nebraska Medical Center, Omaha, NE 68198, USA
3
VA Nebraska-Western Iowa Health Care System, Omaha, NE 68105, USA
*
Author to whom correspondence should be addressed.
Academic Editors: Natalia Osna and Kusum Kharbanda
Received: 29 July 2015 / Revised: 13 October 2015 / Accepted: 16 October 2015 / Published: 5 November 2015
Abstract
Drinking alcohol and smoking cigarettes results in the formation of reactive aldehydes in the lung, which are capable of forming adducts with several proteins and DNA. Acetaldehyde and malondialdehyde are the major aldehydes generated in high levels in the lung of subjects with alcohol use disorder who smoke cigarettes. In addition to the above aldehydes, several other aldehydes like 4-hydroxynonenal, formaldehyde and acrolein are also detected in the lung due to exposure to toxic gases, vapors and chemicals. These aldehydes react with nucleophilic targets in cells such as DNA, lipids and proteins to form both stable and unstable adducts. This adduction may disturb cellular functions as well as damage proteins, nucleic acids and lipids. Among several adducts formed in the lung, malondialdehyde DNA (MDA-DNA) adduct and hybrid malondialdehyde-acetaldehyde (MAA) protein adducts have been shown to initiate several pathological conditions in the lung. MDA-DNA adducts are pre-mutagenic in mammalian cells and induce frame shift and base-pair substitution mutations, whereas MAA protein adducts have been shown to induce inflammation and inhibit wound healing. This review provides an insight into different reactive aldehyde adducts and their role in the pathogenesis of lung disease.
View Full-Text
►

▼

Figures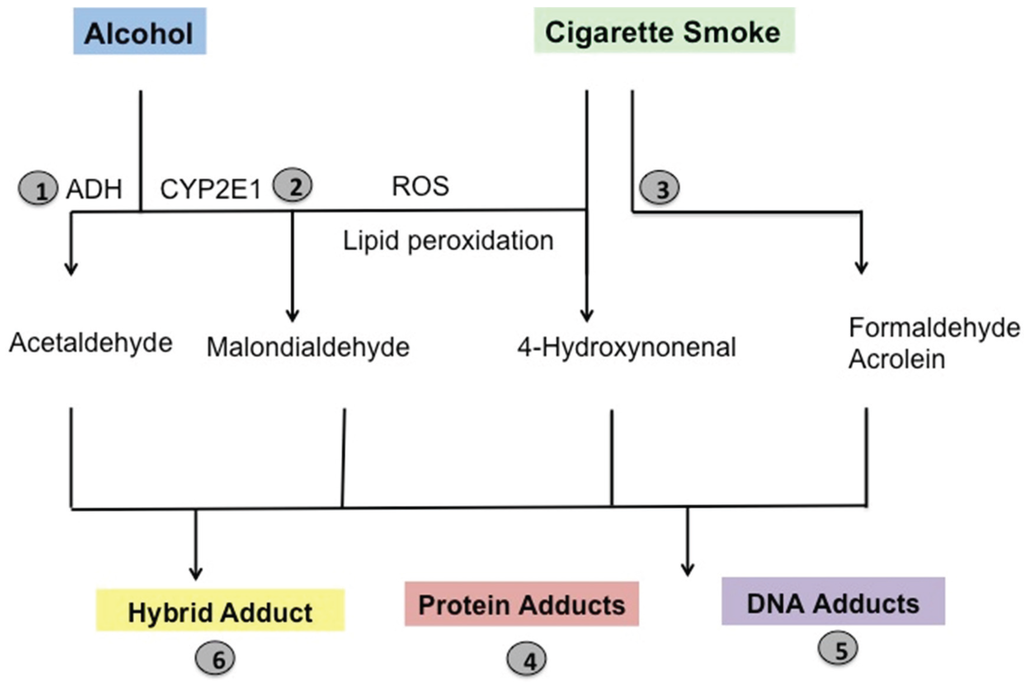 Figure 1
This is an open access article distributed under the
Creative Commons Attribution License
which permits unrestricted use, distribution, and reproduction in any medium, provided the original work is properly cited (CC BY 4.0).

Share & Cite This Article
MDPI and ACS Style
Sapkota, M.; Wyatt, T.A. Alcohol, Aldehydes, Adducts and Airways. Biomolecules 2015, 5, 2987-3008.
Related Articles
Comments
[Return to top]