Skin Immunization Obviates Alcohol-Related Immune Dysfunction
1
Department of Dermatology, School of Medicine, University of Pittsburgh, Pittsburgh, PA 15213, USA
2
Division of Gastroenterology, Hepatology and Nutrition, Department of Medicine, School of Medicine, University of Pittsburgh, Pittsburgh, PA 15213, USA
3
Magee Women's Research Institute, Pittsburgh, PA 15213, USA
4
Department of Bioengineering, University of Pittsburgh, Pittsburgh, PA 15213, USA
5
Clinical and Translational Science Institute, School of Medicine, University of Pittsburgh, Pittsburgh, PA 15213, USA
6
The University of Pittsburgh Cancer Institute, Pittsburgh, PA 15232, USA
7
The McGowan Institute for Regenerative Medicine, School of Medicine, University of Pittsburgh, Pittsburgh, PA 15219, USA
*
Author to whom correspondence should be addressed.
Academic Editors: Natalia Osna and Kusum Kharbanda
Received: 9 July 2015 / Revised: 21 September 2015 / Accepted: 30 September 2015 / Published: 6 November 2015
Abstract
Alcoholics suffer from immune dysfunction that can impede vaccine efficacy. If ethanol (EtOH)-induced immune impairment is in part a result of direct exposure of immune cells to EtOH, then reduced levels of exposure could result in less immune dysfunction. As alcohol ingestion results in lower alcohol levels in skin than blood, we hypothesized that the skin immune network may be relatively preserved, enabling skin-targeted immunizations to obviate the immune inhibitory effects of alcohol consumption on conventional vaccines. We employed the two most common chronic EtOH mouse feeding models, the liver-damaging Lieber-DeCarli (LD) and liver-sparing Meadows-Cook (MC) diets, to examine the roles of EtOH and/or EtOH-induced liver dysfunction on alcohol related immunosuppression. Pair-fed mice were immunized against the model antigen ovalbumin (OVA) by DNA immunization or against flu by administering the protein-based influenza vaccine either systemically (IV, IM), directly to liver (hydrodynamic), or cutaneously (biolistic, ID). We measured resulting tissue EtOH levels, liver stress, regulatory T cell (Treg), and myeloid-derived suppressor cell (MDSC) populations. We compared immune responsiveness by measuring delayed-type hypersensitivity (DTH), antigen-specific cytotoxic T lymphocyte (CTL), and antibody induction as a function of delivery route and feeding model. We found that, as expected, and independent of the feeding model, EtOH ingestion inhibits DTH, CTL lysis, and antigen-specific total IgG induced by traditional systemic vaccines. On the other hand, skin-targeted vaccines were equally immunogenic in alcohol-exposed and non-exposed subjects, suggesting that cutaneous immunization may result in more efficacious vaccination in alcohol-ingesting subjects.
View Full-Text
►

▼

Figures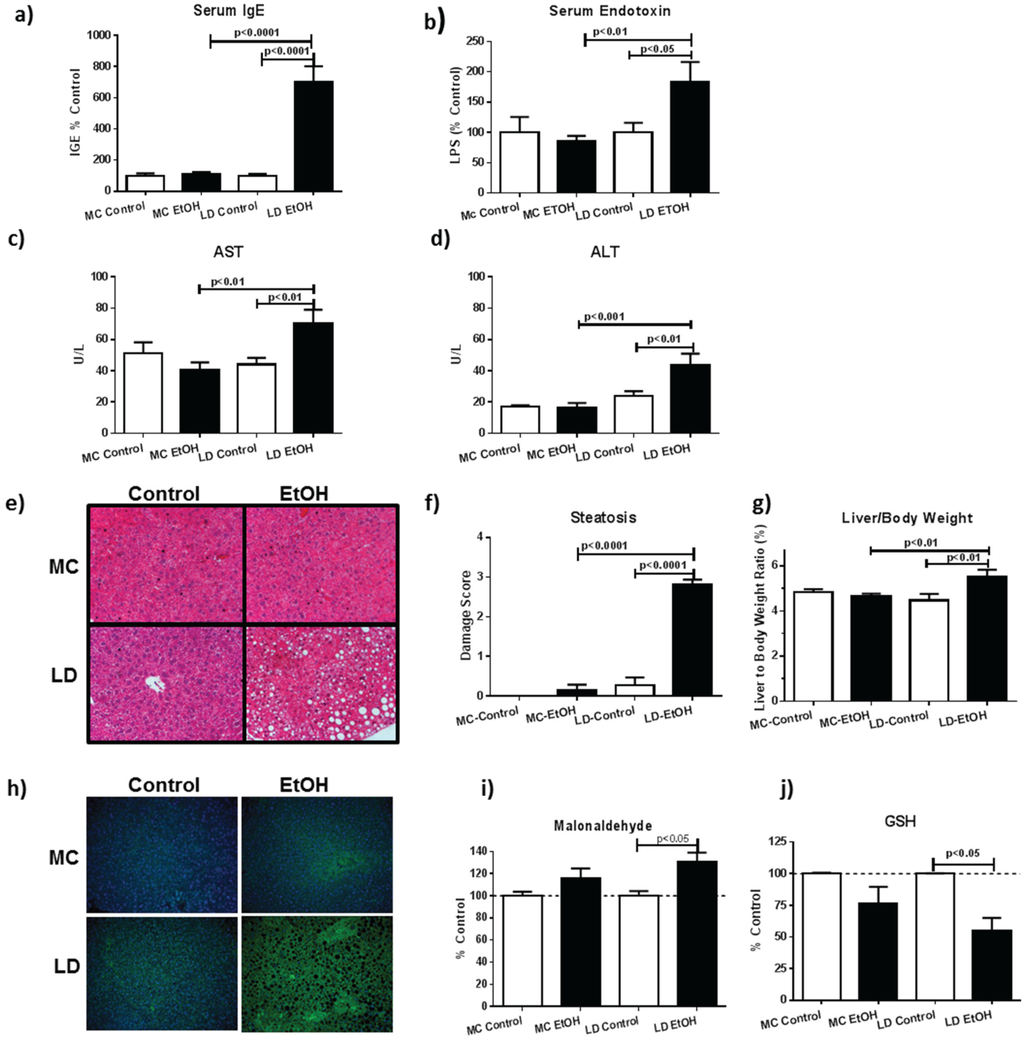 Figure 1
This is an open access article distributed under the
Creative Commons Attribution License
which permits unrestricted use, distribution, and reproduction in any medium, provided the original work is properly cited (CC BY 4.0).

Share & Cite This Article
MDPI and ACS Style
Brand, R.M.; Stottlemyer, J.M.; Cline, R.A.; Donahue, C.; Behari, J.; Falo Jr., L.D. Skin Immunization Obviates Alcohol-Related Immune Dysfunction. Biomolecules 2015, 5, 3009-3028.
Related Articles
Comments
[Return to top]