Oxysterols and Their Cellular Effectors
1
Minerva Foundation Institute for Medical Research, Biomedicum 2U, Tukholmankatu 8, FI-00290 Helsinki, Finland
2
Institute of Biomedicine, Anatomy, Biomedicum 1, Haartmaninkatu 8, FI-00014 University of Helsinki, Finland
*
Author to whom correspondence should be addressed.
Received: 29 December 2011 / Revised: 3 February 2012 / Accepted: 7 February 2012 / Published: 15 February 2012
Abstract
Oxysterols are oxidized 27-carbon cholesterol derivatives or by-products of cholesterol biosynthesis, with a spectrum of biologic activities. Several oxysterols have cytotoxic and pro-apoptotic activities, the ability to interfere with the lateral domain organization, and packing of membrane lipids. These properties may account for their suggested roles in the pathology of diseases such as atherosclerosis, age-onset macular degeneration and Alzheimer's disease. Oxysterols also have the capacity to induce inflammatory responses and play roles in cell differentiation processes. The functions of oxysterols as intermediates in the synthesis of bile acids and steroid hormones, and as readily transportable forms of sterol, are well established. Furthermore, their actions as endogenous regulators of gene expression in lipid metabolism via liver X receptors and the Insig (insulin-induced gene) proteins have been investigated in detail. The cytoplasmic oxysterol-binding protein (OSBP) homologues form a group of oxysterol/cholesterol sensors that has recently attracted a lot of attention. However, their mode of action is, as yet, poorly understood. Retinoic acid receptor-related orphan receptors (ROR) α and γ, and Epstein-Barr virus induced gene 2 (EBI2) have been identified as novel oxysterol receptors, revealing new physiologic oxysterol effector mechanisms in development, metabolism, and immunity, and evoking enhanced interest in these compounds in the field of biomedicine.
View Full-Text
►

▼

Figures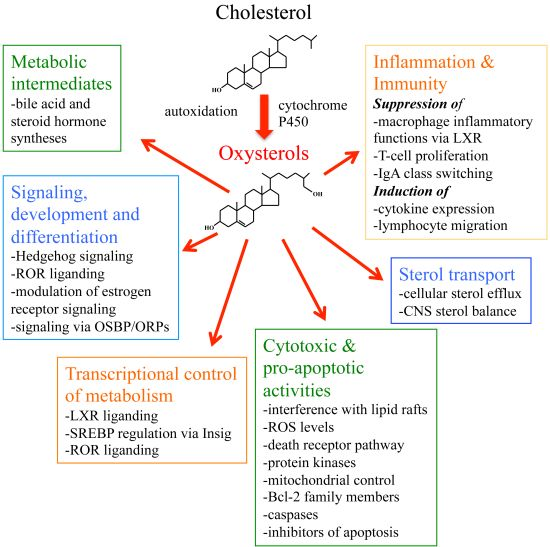 Graphical abstract

Share & Cite This Article
MDPI and ACS Style
Olkkonen, V.M.; Béaslas, O.; Nissilä, E. Oxysterols and Their Cellular Effectors. Biomolecules 2012, 2, 76-103.
Related Articles
Comments
[Return to top]