Factor H: A Complement Regulator in Health and Disease, and a Mediator of Cellular Interactions
Junior Research Group Cellular Immunobiology, Leibniz Institute for Natural Product Research and Infection Biology, Jena 07745, Germany
*
Author to whom correspondence should be addressed.
Received: 21 December 2011 / Revised: 23 January 2012 / Accepted: 26 January 2012 / Published: 7 February 2012
Abstract
Complement is an essential part of innate immunity as it participates in host defense against infections, disposal of cellular debris and apoptotic cells, inflammatory processes and modulation of adaptive immune responses. Several soluble and membrane-bound regulators protect the host from the potentially deleterious effects of uncontrolled and misdirected complement activation. Factor H is a major soluble regulator of the alternative complement pathway, but it can also bind to host cells and tissues, protecting them from complement attack. Interactions of factor H with various endogenous ligands, such as pentraxins, extracellular matrix proteins and DNA are important in limiting local complement-mediated inflammation. Impaired regulatory as well as ligand and cell recognition functions of factor H, caused by mutations or autoantibodies, are associated with the kidney diseases: atypical hemolytic uremic syndrome and dense deposit disease and the eye disorder: age-related macular degeneration. In addition, factor H binds to receptors on host cells and is involved in adhesion, phagocytosis and modulation of cell activation. In this review we discuss current concepts on the physiological and pathophysiological roles of factor H in light of new data and recent developments in our understanding of the versatile roles of factor H as an inhibitor of complement activation and inflammation, as well as a mediator of cellular interactions. A detailed knowledge of the functions of factor H in health and disease is expected to unravel novel therapeutic intervention possibilities and to facilitate the development or improvement of therapies.
View Full-Text
►

▼

Figures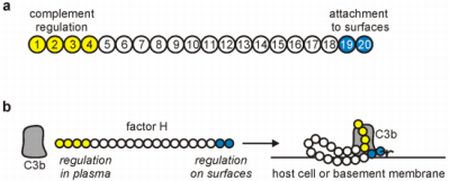 Graphical abstract

Share & Cite This Article
MDPI and ACS Style
Kopp, A.; Hebecker, M.; Svobodová, E.; Józsi, M. Factor H: A Complement Regulator in Health and Disease, and a Mediator of Cellular Interactions. Biomolecules 2012, 2, 46-75.
Related Articles
Comments
[Return to top]