Ursolic Acid Inhibits Na+/K+-ATPase Activity and Prevents TNF-α-Induced Gene Expression by Blocking Amino Acid Transport and Cellular Protein Synthesis
1
Department of Applied Biology, Kyoto Institute of Technology, Matsugasaki, Sakyo-ku, Kyoto 606-8585, Japan
2
Center for Biological Resources and Informatics, Tokyo Institute of Technology, 4259 Nagatsuta-cho, Midori-ku, Yokohama 226-8501, Japan
3
Graduate School of Science and Technology, Niigata University, Igarashi 2-8501, Nishi-ku, Niigata 950-2181, Japan
4
Department of Chemistry and Chemical Engineering, Niigata University, Ikarashi 2-8501, Nishi-ku, Niigata 950-2181, Japan
*
Author to whom correspondence should be addressed.
Received: 20 August 2011 / Revised: 26 October 2011 / Accepted: 27 October 2011 / Published: 7 November 2011
Abstract
Pro-inflammatory cytokines, such as tumor necrosis factor (TNF)-α, induce the expression of a wide variety of genes, including intercellular adhesion molecule-1 (ICAM-1). Ursolic acid (3
β
-hydroxy-urs-12-en-28-oic acid) was identified to inhibit the cell-surface ICAM-1 expression induced by pro-inflammatory cytokines in human lung carcinoma A549 cells. Ursolic acid was found to inhibit the TNF-α-induced ICAM-1 protein expression almost completely, whereas the TNF-α-induced ICAM-1 mRNA expression and NF-κB signaling pathway were decreased only partially by ursolic acid. In line with these findings, ursolic acid prevented cellular protein synthesis as well as amino acid uptake, but did not obviously affect nucleoside uptake and the subsequent DNA/RNA syntheses. This inhibitory profile of ursolic acid was similar to that of the Na
+
/K
+
-ATPase inhibitor, ouabain, but not the translation inhibitor, cycloheximide. Consistent with this notion, ursolic acid was found to inhibit the catalytic activity of Na
+
/K
+
-ATPase. Thus, our present study reveals a novel molecular mechanism in which ursolic acid inhibits Na
+
/K
+
-ATPase activity and prevents the TNF-α-induced gene expression by blocking amino acid transport and cellular protein synthesis.
View Full-Text
►

▼

Figures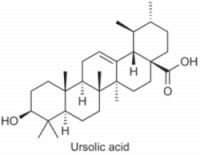 Graphical abstract

Share & Cite This Article
MDPI and ACS Style
Yokomichi, T.; Morimoto, K.; Oshima, N.; Yamada, Y.; Fu, L.; Taketani, S.; Ando, M.; Kataoka, T. Ursolic Acid Inhibits Na+/K+-ATPase Activity and Prevents TNF-α-Induced Gene Expression by Blocking Amino Acid Transport and Cellular Protein Synthesis. Biomolecules 2011, 1, 32-47.
Related Articles
Comments
[Return to top]