Open Access This article is
freely available
re-usable
Article
Bose–Einstein Correlations in pp and pPb Collisions at LHCb
†
Institute of Nuclear Physics Polish Academy of Sciences, PL-31342 Krakow, Poland
†
Presented at the 18. Zimanyi School, Budapest 2018.

‡
On behalf of the LHCb Collaboration.

Received: 1 April 2019 / Accepted: 22 April 2019 / Published: 25 April 2019
Abstract
:
Bose–Einstein correlations for same-sign charged pions from proton–proton collisions at are studied by the Large Hadron Collider beauty (LHCb) experiment. Correlation radii and chaoticity parameters are determined for different regions of charged-particle multiplicity using a double-ratio technique and a Levy parametrization of the correlation function. The correlation radius increases with the charged-particle multiplicity, while the chaoticity parameter decreases, which is consistent with observations from other experiments. A similar study for proton-lead collisions at is proposed. These results can give valuable input for the theoretical models that describe the evolution of the particle source, probing both its potential dependence on pseudorapidity region and differences between proton–proton and proton–lead systems.
Keywords:
femtoscopy; small systems; Bose-Einstein correlations; HBT
Funding
This research was funded by Narodowe Centrum Nauki grant number 2013/11/B/ST2/03829 and 2018/29/N/ST2/01641.
Acknowledgments
This study was partially performed using the PL-GRID infrastructure.
Conflicts of Interest
The authors declare no conflict of interest. The funders had no role in the design of the study; in the collection, analyses, or interpretation of data; in the writing of the manuscript, or in the decision to publish the results.
Figure 1.
A schematic view of the LHCb detector in y-z plane. The z-axis is the beam axis and the x-axis is perpendicular to the page surface (figure from
http://cds.cern.ch/record/1087860
; 25 March 2019).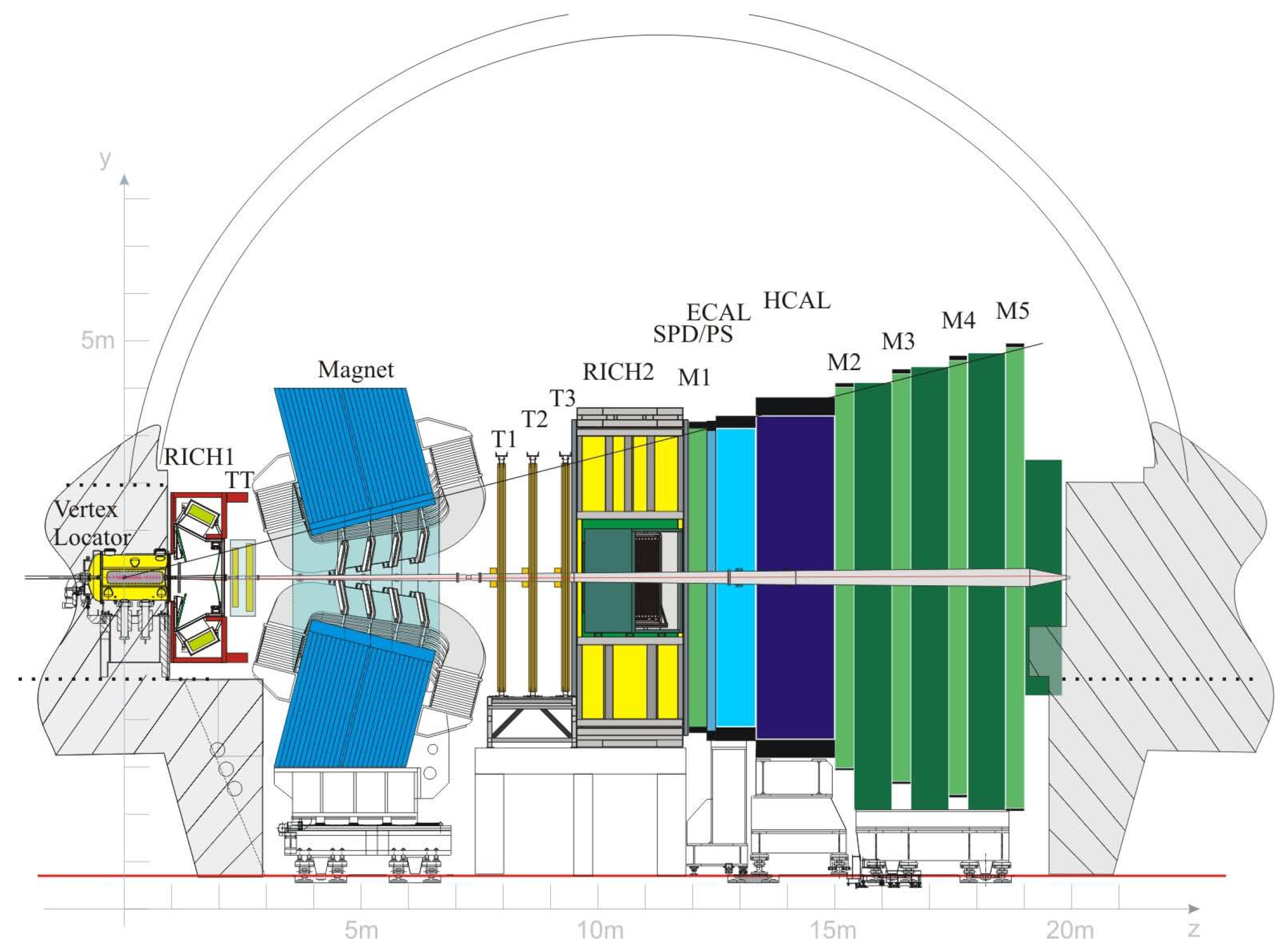 Figure 2.
Multiplicity of the reconstructed VELO tracks assigned to a PV for the data. Different colors indicate three activity classes defined as fractions of the full distribution. The Figure is taken from [
28
].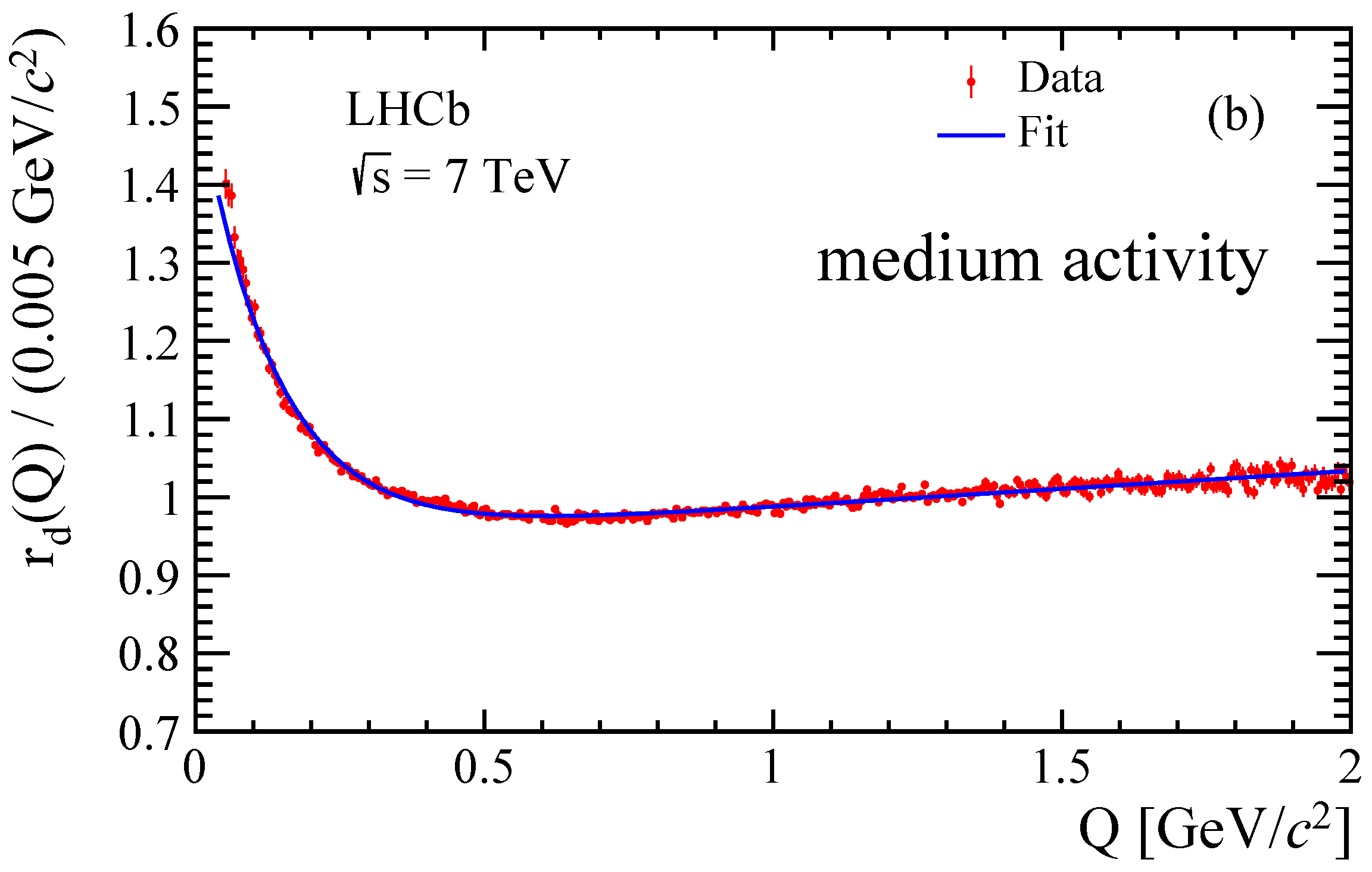 Figure 4.
(
left
) Correlation radius
R
and (
right
) chaoticity parameter as a function of activity. Error bars indicate the sum in quadrature of the statistical and systematic uncertainties. The points are placed at the centres of the activity bins. The Figures are taken from [
28
].

Activity

R

(fm)
(GeV)
Low
[8, 18]
1.01 ± 0.01 ± 0.10
0.72 ± 0.01 ± 0.05
0.089 ± 0.002 ± 0.044
Medium
[19, 35]
1.48 ± 0.02 ± 0.17
0.63 ± 0.01 ± 0.05
0.049 ± 0.001 ± 0.009
High
[36, 96]
1.80 ± 0.03 ± 0.16
0.57 ± 0.01 ± 0.03
0.026 ± 0.001 ± 0.010

© 2019 by the author. Licensee MDPI, Basel, Switzerland. This article is an open access article distributed under the terms and conditions of the Creative Commons Attribution (CC BY) license (http://creativecommons.org/licenses/by/4.0/).