Metabolites Associated with Vigor to Frailty Among Community-Dwelling Older Black Men
1
Department of Epidemiology, University of Pittsburgh, Pittsburgh, PA 15213, USA
2
Laboratory of Epidemiology and Population Sciences, Intramural Research Program, National Institute on Aging, Bethesda, MD 20814, USA
3
Broad Institute of MIT and Harvard, Cambridge, MA 02142, USA
4
Division of Cancer Epidemiology, and Genetics, National Cancer Institute, Rockville, MD 20850, USA
5
Centre of Excellence in Cancer Prevention, School of Population and Public Health, University of British Columbia, Vancouver, BC V6T 1Z3, Canada
6
Department of Internal Medicine, University of Michigan at Ann Arbor, Ann Arbor, MI 48109, USA
7
Division of Pulmonary and Critical Care Medicine, Brigham and Women's Hospital, Boston, MA 02115, USA
8
Department of Medicine, Massachusetts General Hospital, Boston, MA 02114, USA
9
Departments of Biostatistics and Computational & Systems Biology, University of Pittsburgh, Pittsburgh, PA 15213, USA
10
Department of Human Genetics, University of Pittsburgh, Pittsburgh, PA 15213, USA
11
Departments of Pharmacology and Chemical Biology and Clinical and Translational Science, University of Pittsburgh, Pittsburgh, PA 15213, USA
12
Departments of Medicine and Clinical and Translational Science, University of Pittsburgh, Pittsburgh, PA 15213, USA
*
Author to whom correspondence should be addressed.
Received: 20 March 2019 / Revised: 19 April 2019 / Accepted: 26 April 2019 / Published: 30 April 2019
Abstract
Black versus white older Americans are more likely to experience frailty, a condition associated with adverse health outcomes. To reduce racial disparities in health, a complete understanding of the pathophysiology of frailty is needed. Metabolomics may further our understanding by characterizing differences in the body during a vigorous versus frail state. We sought to identify metabolites and biological pathways associated with vigor to frailty among 287 black men ages 70–81 from the Health, Aging, and Body Composition study. Using liquid chromatography-mass spectrometry, 350 metabolites were measured in overnight-fasting plasma. The Scale of Aging Vigor in Epidemiology (SAVE) measured vigor to frailty based on weight change, strength, energy, gait speed, and physical activity. Thirty-seven metabolites correlated with SAVE scores (
p
< 0.05), while adjusting for age and site. Fourteen metabolites remained significant after multiple comparisons adjustment (false discovery rate < 0.30). Lower values of tryptophan, methionine, tyrosine, asparagine, C14:0 sphingomyelin, and 1-methylnicotinamide, and higher values of glucoronate, N-carbamoyl-beta-alanine, isocitrate, creatinine, C4-OH carnitine, cystathionine, hydroxyphenylacetate, and putrescine were associated with frailer SAVE scores. Pathway analyses identified nitrogen metabolism, aminoacyl-tRNA biosynthesis, and the citric acid cycle. Future studies need to confirm these SAVE-associated metabolites and pathways that may indicate novel mechanisms involved in the frailty syndrome.
View Full-Text
►

▼

Figures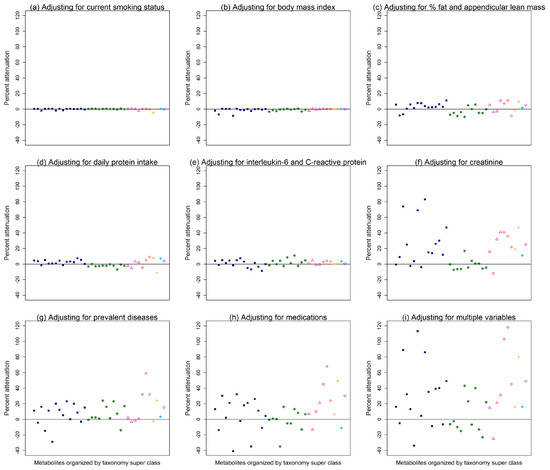 Figure 1
This is an open access article distributed under the
Creative Commons Attribution License
which permits unrestricted use, distribution, and reproduction in any medium, provided the original work is properly cited (CC BY 4.0).

Share & Cite This Article
MDPI and ACS Style
Marron, M.M.; Harris, T.B.; Boudreau, R.M.; Clish, C.B.; Moore, S.C.; Murphy, R.A.; Murthy, V.L.; Sanders, J.L.; Shah, R.V.; Tseng, G.C.; Wendell, S.G.; Zmuda, J.M.; Newman, A.B. Metabolites Associated with Vigor to Frailty Among Community-Dwelling Older Black Men. Metabolites 2019, 9, 83.
Note that from the first issue of 2016, MDPI journals use article numbers instead of page numbers. See further details here.
Related Articles
Comments
[Return to top]