A Comprehensive Plasma Metabolomics Dataset for a Cohort of Mouse Knockouts within the International Mouse Phenotyping Consortium
1
NIH-West Coast Metabolomics Center, University of California, Davis, 451 Health Sciences Drive, Davis, CA 95616, USA
2
The Centre for Phenogenomics, Toronto, ON M5T 3H7, Canada
3
Lunenfeld-Tanenbaum Research Institute, Mount Sinai Hospital, Toronto, ON M5G 1X5, Canada
4
The Hospital for Sick Children, Toronto, ON M5G 1X8, Canada
5
Mouse Biology Program, University of California, Davis, Davis, CA 95616, USA
*
Author to whom correspondence should be addressed.
Received: 30 April 2019 / Revised: 11 May 2019 / Accepted: 13 May 2019 / Published: 22 May 2019
Abstract
Mouse knockouts facilitate the study ofgene functions. Often, multiple abnormal phenotypes are induced when a gene is inactivated. The International Mouse Phenotyping Consortium (IMPC) has generated thousands of mouse knockouts and catalogued their phenotype data. We have acquired metabolomics data from 220 plasma samples from 30 unique mouse gene knockouts and corresponding wildtype mice from the IMPC. To acquire comprehensive metabolomics data, we have used liquid chromatography (LC) combined with mass spectrometry (MS) for detecting polar and lipophilic compounds in an untargeted approach. We have also used targeted methods to measure bile acids, steroids and oxylipins. In addition, we have used gas chromatography GC-TOFMS for measuring primary metabolites. The metabolomics dataset reports 832 unique structurally identified metabolites from 124 chemical classes as determined by ChemRICH software. The GCMS and LCMS raw data files, intermediate and finalized data matrices, R-Scripts, annotation databases, and extracted ion chromatograms are provided in this data descriptor. The dataset can be used for subsequent studies to link genetic variants with molecular mechanisms and phenotypes.
View Full-Text
►

▼

Figures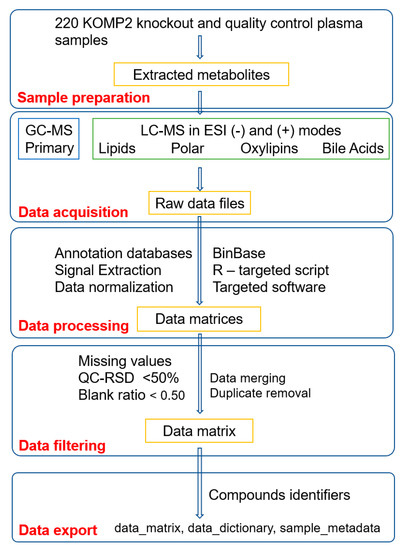 Figure 1
This is an open access article distributed under the
Creative Commons Attribution License
which permits unrestricted use, distribution, and reproduction in any medium, provided the original work is properly cited (CC BY 4.0).

Share & Cite This Article
MDPI and ACS Style
Barupal, D.K.; Zhang, Y.; Shen, T.; Fan, S.; Roberts, B.S.; Fitzgerald, P.; Wancewicz, B.; Valdiviez, L.; Wohlgemuth, G.; Byram, G.; Choy, Y.Y.; Haffner, B.; Showalter, M.R.; Vaniya, A.; Bloszies, C.S.; Folz, J.S.; Kind, T.; Flenniken, A.M.; McKerlie, C.; Nutter, L.M.J.; Lloyd, K.C.; Fiehn, O. A Comprehensive Plasma Metabolomics Dataset for a Cohort of Mouse Knockouts within the International Mouse Phenotyping Consortium. Metabolites 2019, 9, 101.
Note that from the first issue of 2016, MDPI journals use article numbers instead of page numbers. See further details here.
Related Articles
Comments
[Return to top]