Open Access This article is
freely available
re-usable
Article
MetaboAnalystR 2.0: From Raw Spectra to Biological Insights
1
Institute of Parasitology, McGill University, Montreal, QC H3A 0G4, Canada
2
Department of Animal Science, McGill University, Montreal, QC H3A 0G4, Canada
*
Author to whom correspondence should be addressed.
Received: 5 March 2019 / Accepted: 21 March 2019 / Published: 22 March 2019
Abstract
:
Global metabolomics based on high-resolution liquid chromatography mass spectrometry (LC-MS) has been increasingly employed in recent large-scale multi-omics studies. Processing and interpretation of these complex metabolomics datasets have become a key challenge in current computational metabolomics. Here, we introduce MetaboAnalystR 2.0 for comprehensive LC-MS data processing, statistical analysis, and functional interpretation. Compared to the previous version, this new release seamlessly integrates XCMS and CAMERA to support raw spectral processing and peak annotation, and also features high-performance implementations of mummichog and GSEA approaches for predictions of pathway activities. The application and utility of the MetaboAnalystR 2.0 workflow were demonstrated using a synthetic benchmark dataset and a clinical dataset. In summary, MetaboAnalystR 2.0 offers a unified and flexible workflow that enables end-to-end analysis of LC-MS metabolomics data within the open-source R environment.
Keywords:
global metabolomics; LC-MS; spectra processing; pathway analysis; enrichment analysis
Supplementary Materials
The following are available online at
https://www.mdpi.com/2218-1989/9/3/57/s1
, Table S1: Characteristics of pediatric IBD patients and healthy controls included in this study; Table S2: Suggested peak picking parameters for commonly used LC-MS platforms; Table S3: Raw datasets used in the Case Studies; Table S4: Parameters used to convert .RAW files to mzML format on ProteoWizard MSConvert; Figure S1: PCA plot of pediatric IBD stool metabolome. Data including 4113 features were median-normalized, log-transformed, and auto-scaled; Figure S2: PLS-DA plot of pediatric IBD stool metabolome. Data including 4113 features were median-normalized, log-transformed, and auto-scaled; Figure S3: Ten-fold cross validation of PLS-DA model (Figure S3) generated from the pediatric IBD stool metabolome data; Figure S4: Boxplots of
m
/
z
features used for functional interpretation; Figure S5: Representative EICs and boxplots of compounds differentially excreted in stool samples of healthy children and pediatric CD patients based on pathway analysis and Mann–Whitney U test (FDR adjusted
p
-value < 0.05).
Author Contributions
Conceptualization, J.X.; Data curation, M.Y.; Formal analysis, J.C. and M.Y.; Funding acquisition, J.X.; Methodology, J.C., M.Y. and J.X.; Supervision, J.X.; Writing—original draft, J.C. and M.Y.; Writing—review & editing, J.X.
Funding
This research was funded by Genome Canada, Génome Québec, Natural Sciences and Engineering Research Council of Canada (NSERC), and Canada Research Chairs (CRC) Program.
Acknowledgments
We gratefully acknowledge the developers of XCMS and CAMERA, Steffen Neumann and Johannes Rainer, for their valuable contribution to the metabolomics community.
Conflicts of Interest
The authors declare no conflicts of interests.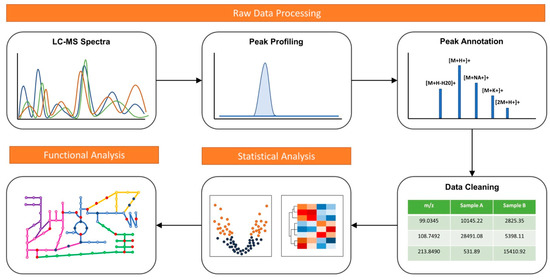 Figure 1. A typical metabolomics data analysis workflow including raw data processing, statistical analysis and functional interpretation.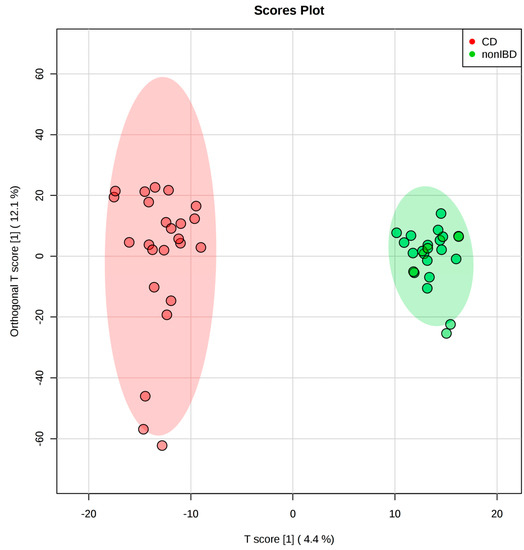 Figure 2. The OPLS-DA score plot based on the stool metabolome of 24 pediatric Crohn's disease patients and 24 healthy children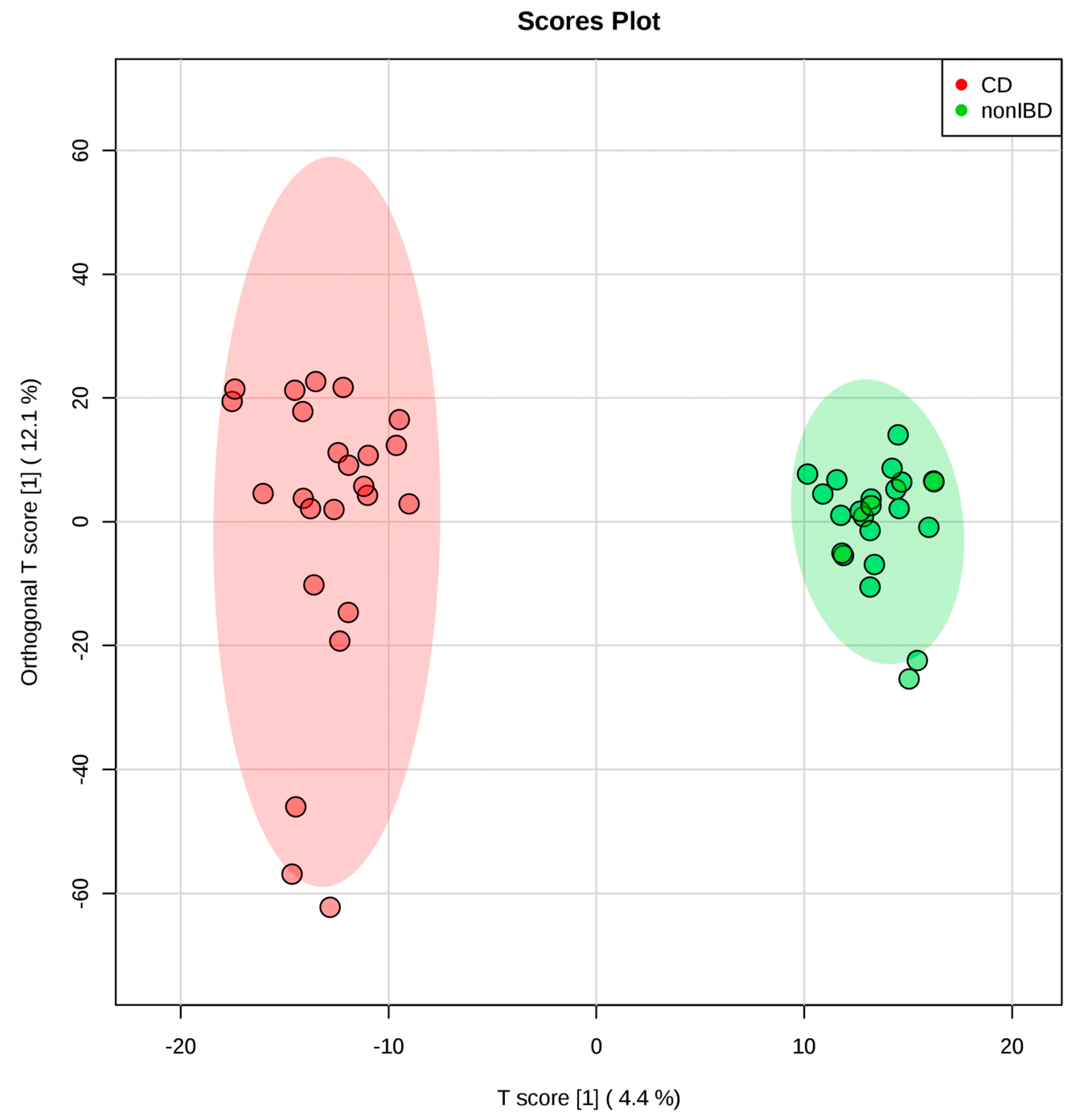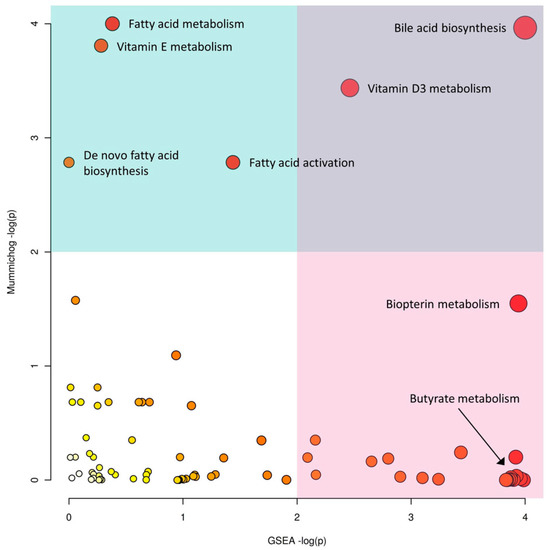 Figure 3.
The scatter plot integrating GSEA (x-axis) and mummichog (y-axis) pathway analysis results. The size and color of the circles correspond to their transformed combined
p
-values. The blue and pink areas highlight significant pathways based on either GSEA (pink) or mummichog (blue).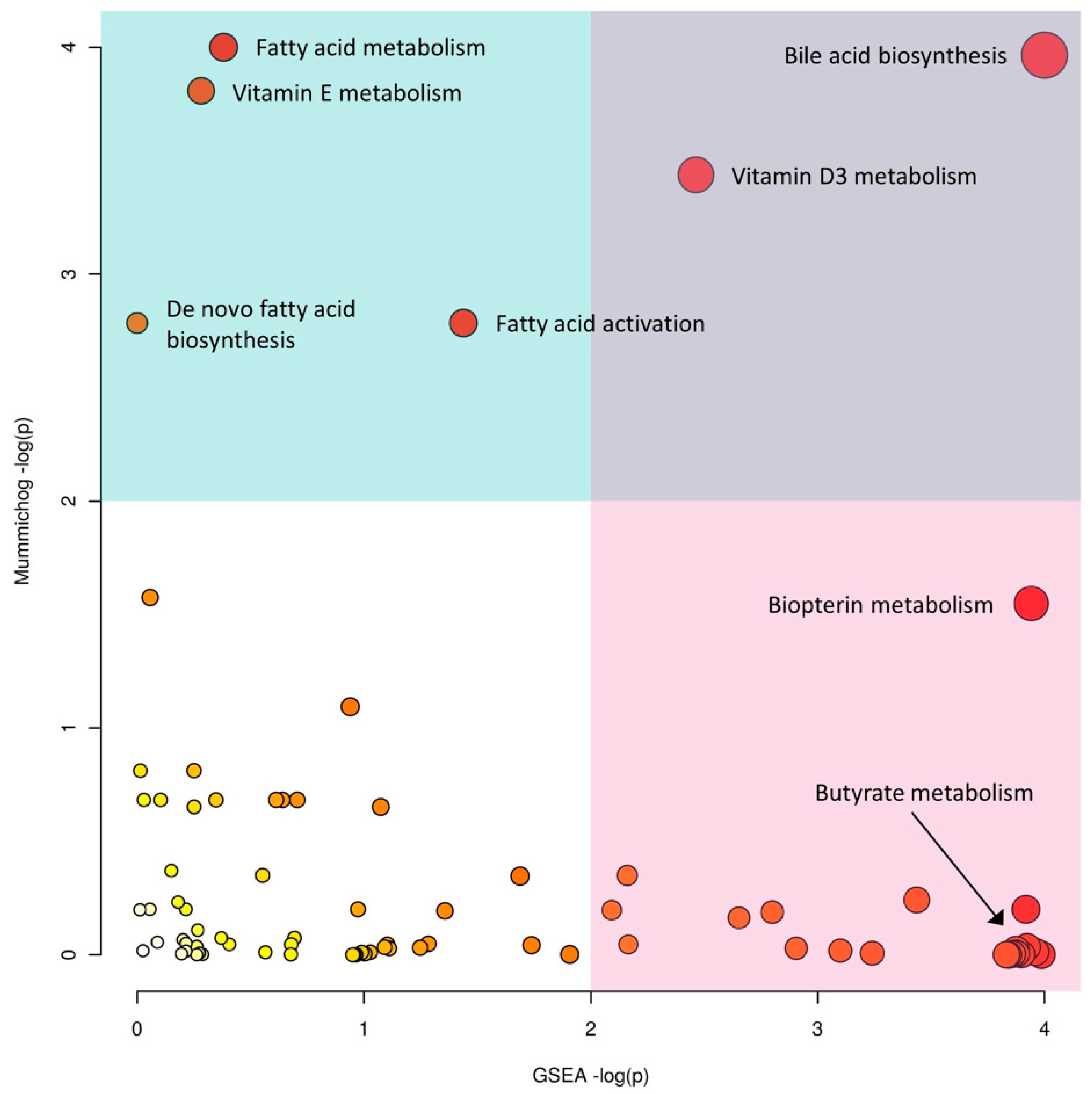 Table 1. Comparison of peak identification and quantification accuracies using the benchmark dataset between MetaboAnalystR 2.0 and the original manuscript using XCMS Online.
Methods
Features Detected
True Features
Total
Accurately Quantified
Discriminating
Li et al. 2018 [25]
Targeted
-
836
836
-
Untargeted (XCMS Online)
35215
820
731
45
MetaboAnalystR 2.0
Untargeted
21013
732
632
45

Table 2.
The top five enriched metabolic pathways identified using the mummichog algorithm (
PerformMummichog
) and GSEA (
PerformGSEA
) in MetaboAnalystR 2.0.
Mummichog
GSEA
Pathway Name
Compound Hits *

p

-Value
Pathway Name
Compound Hits

p

-Value
Bile acid biosynthesis
29/52
0.00282
Bile acid biosynthesis
52
0.001761
Vitamin E metabolism
20/33
0.00356
Androgen and estrogen biosynthesis and metabolism
10
0.01465
Fatty acid metabolism
9/11
0.00268
Squalene and cholesterol biosynthesis
7
0.02214
Vitamin D3 metabolism
8/10
0.00616
Biopterin metabolism
14
0.07806
Fatty acid activation
10/15
0.01620
Butyrate metabolism
11
0.08318
* The mummichog compound hits represent the number of significant compounds divided by the total number of compound hits per pathway.

© 2019 by the authors. Licensee MDPI, Basel, Switzerland. This article is an open access article distributed under the terms and conditions of the Creative Commons Attribution (CC BY) license (http://creativecommons.org/licenses/by/4.0/).