Open Access This article is
freely available
re-usable
Article
Application of 1H-NMR Metabolomics for the Discovery of Blood Plasma Biomarkers of a Mediterranean Diet
1
Institute for Global Food Security, School of Biological Sciences, Queen's University Belfast, Belfast BT9 5DL, UK
2
Beaumont Health, 3811 W. 13 Mile Road, Royal Oak, MI 48073, USA
3
Oakland University-William Beaumont School of Medicine, Rochester, MI 48309, USA
4
Centre for Public Health, Queen's University Belfast, Belfast BT12 6BA, UK
5
School of Medicine, Dentistry and Biomedical Sciences, Queen's University Belfast, Belfast BT9 7BL, UK
*
Author to whom correspondence should be addressed.
Received: 29 July 2019 / Accepted: 23 September 2019 / Published: 27 September 2019
Abstract
:
The Mediterranean diet (MD) is a dietary pattern well-known for its benefits in disease prevention. Monitoring adherence to the MD could be improved by discovery of novel dietary biomarkers. The MEDiterranean Diet in Northern Ireland (MEDDINI) intervention study monitored the adherence of participants to the MD for up to 12 months. This investigation aimed to profile plasma metabolites, correlating each against the MD score of participants (n = 58). Based on an established 14-point scale MD score, subjects were classified into two groups ("low" and "high").
1
H-Nuclear Magnetic Resonance (
1
H-NMR) metabolomic analysis found that citric acid was the most significant metabolite (
p
= 5.99 × 10
−4
*;
q
= 0.03), differing between 'low' and 'high'. Furthermore, five additional metabolites significantly differed (
p
< 0.05;
q
< 0.35) between the two groups. Discriminatory metabolites included: citric acid, pyruvic acid, betaine, mannose, acetic acid and
myo
-inositol. Additionally, the top five most influential metabolites in multivariate models were also citric acid, pyruvic acid, betaine, mannose and
myo
-inositol. Metabolites significantly correlated with the consumption of certain food types. For example, citric acid positively correlated fruit, fruit juice and vegetable constituents of the diet, and negatively correlated with sweet foods alone or when combined with carbonated drinks. Citric acid was the best performing biomarker and this was enhanced by paired ratio with pyruvic acid. The present study demonstrates the utility of metabolomic profiling for effectively assessing adherence to MD and the discovery of novel dietary biomarkers.
Keywords:
biomarkers; dietary patterns; Mediterranean diet; metabolomics;
1
H-NMR
3. Discussion
Combining traditional methods such as food diaries or 24-h recall with biomarkers of food exposure may provide a more accurate picture for assessing adherence to a given diet. The present study used food diaries from 58 participants and quantified 59 blood metabolites by
1
H-NMR and examined how their concentrations differed according to the reported Mediterranean diet score (MDS) of participants. Scoring systems are useful for measuring dietary patterns in a population but there is a need for continual improvement [
20
]. A previously validated 14-point item scale was adapted and adopted [
3
]. It was also employed in a UK population, demonstrating satisfactory accuracy for assessing MD adherence among individuals [
21
].
Adherence to the MD has often been assessed in Mediterranean populations where the MD patterns are regarded as familiar eating habits. Studying the efficacy of the MD in non-MD populations remains a challenge [
22
]. MD adherence in non-Mediterranean populations is generally lower [
13
]. In the MEDDINI cohort no participants achieved the highest MDS. The maximum MDS achieved in this non-Mediterranean population was 10, and "low" (0–4) and "high" (5–10) MDS groups were selected by dividing groups at the median. Unsupervised multivariate models incorporating all 59 metabolites only weakly separated these groups. This was modestly improved by the application of supervised modelling methods such as OPLS-DA and PLS-DA; however, it is clear that a degree of overlap exists between groups when the overall metabolomic profile is considered. This result is not surprising given the diverse range of components contributing to the MDS scoring system and the inherent heterogeneous character of the MD. Despite this, the multivariate statistical analysis identified five individual metabolites within the model, which were important for discriminating between "low" and "high" MDS groups. These were: citric acid, mannose, pyruvic acid,
myo
-inositol and betaine; therefore, we proceeded with univariate statistical analysis.
These same five metabolites significantly differed between "low" and "high" MDS groups. Citric acid and betaine were significantly higher in the high MDS group, by 20.5% and 15.5%, respectively.
Myo
-inositol, pyruvic acid and mannose were lower in the high MDS group, by 24.3%, 20.9% and 28.7%, respectively. Area-under-the-curve (AUC) values of the receiver operating characteristic (ROC) curves were compared for every single individual metabolite and all paired combinations of metabolites. Citric acid was the most influential metabolite in discriminating between 'low and 'high' MD groups. As a single biomarker, citric acid was the best performing, it was the most capable of discriminating between "low" and "high" MDS and achieved the highest AUC
ROC curve (0.67). Promisingly, this was greatly enhanced through combination with pyruvic acid. A metabolite ratio of citric acid and pyruvic acid achieved an AUC ROC of 0.74.
In terms of the dietary components, citric acid positively correlated with the consumption of fruit juice, combined fruit and fruit juice and combined fruit, fruit juice and vegetables. It negatively correlated with the consumption of sweet foods and combined sweet foods and carbonated drinks. The strength of these relationships could perhaps be tested in larger cohorts with greater statistical power [
23
]; however, this is not the first time that citric acid has been associated with the MD. There is certainly evidence elsewhere to support a dietary link. Urine levels of citric acid were 26% higher in men and 35% higher in women in consuming a lactovegetarian diet compared with omnivorous control groups [
23
]. Similarly, in the PREDIMED study citric acid levels were significantly higher in urine from participants following an MD for 1 year compared with those following a low-fat diet [
1
]. This suggests that citric acid has a degree of specificity for the MD. There is evidence to suggest that where extra-virgin olive oil is consumed it could be a key source of dietary citric acid [
1
] and this specific association needs to be further explored. In contrast, there are metabolites reported in this study which were not significant in the present study, namely 3-hydroxybutyrate and
cis
-aconitate (these two, like citrate, were metabolites from the metabolism of carbohydrates, creatinine, amino acids (proline,
N
-acetylglutamine, glycine, branched-chain amino acids, and derived metabolites), lipids (oleic and suberic acids) and microbial cometabolites (phenylacetylglutamine and p-cresol)).
Other studies where adherence to MD was assessed explored the associations of an MDS with similar food groups. The alternate Mediterranean diet study found associations between MDS and fruit, vegetables, whole grains, fish and unsaturated fat. However, in this case, the highest point scale to assess adherence to MD was 8 and the highest score achieved was 4. This study found 21 identifiable metabolites associated with MD including four amino acids, one carbohydrate, two co-factors or vitamins, 11 lipids, and three xenobiotics [
19
].
Citric acid has previously been associated with resistant hypertension [
24
]. Our data showed a significant positive correlation between citric acid and both systolic and diastolic blood pressure. However, citric acid also proved to be significantly positively correlated to MDS. Correlations showed a stronger association and higher level of significance between citric acid and MDS (
r
= 0.280;
p
-value: 0.001) than those with blood pressure (
r
= 0.187;
p
-value: 0.032;
r
= 217;
p
-value: 0.012 for systolic and diastolic pressure, respectively). Systolic blood pressure did not significantly change throughout the intervention when doing an analysis of variance (ANOVA) comparing systolic blood pressure at baseline, 6 months and 12 months (
p
-value: 0.365.). Diastolic blood pressure showed significant differences between baseline and 12 months (
p
-value: 4.7 × 10
−4
) but not between baseline and 6 months (
p
-value: 0.138). The highest increase in citric acid was observed between baseline and 6 months. Citric acid showed a decrease between 6 and 12 months. Similarly, MD adherence was higher between baseline and 6 and decreased between 6 and 12 months, which strengthens a potential relationship between citric acid and MD adherence.
Pyruvic acid and citric acid are closely related metabolites in cellular metabolism and the results for pyruvic acid in the present study contrasted greatly with citric acid. Blood pyruvic acid was approximately 20% lower in individuals with a high MDS. Furthermore, pyruvic acid negatively correlated with the consumption of fruit, combined fruit and fruit juice, fish and olive spreads and positively correlated with processed meat. The negative relationship between pyruvic acid and fish consumption was the most statistically significant and strongest metabolite-food correlation observed. Furthermore, the positive correlation between pyruvic acid and processed meat was the second most statistically significant. It is worth remembering that all patients participating in the present study had a history of CVD or unstable angina, and that there was a significant difference in blood pressure between the two groups. Altered pyruvic acid has previously been associated with hypertension [
25
]. However, a correlation did not show any association between blood pressure and pyruvic acid in the present study. Excessive levels of pyruvic acid have also been linked with cancer [
26
], and even neurodegenerative diseases [
27
,
28
]. For example, pyruvic acid levels are around 20 times higher in highly invasive cancer cells compared with low invasive cancer cells [
26
], and pyruvic acid is two to four fold higher in diabetic rats than non-diabetic rats [
29
]. Pyruvic acid has not been previously linked to MD and further work should be completed to further elucidate this association. However, it is noteworthy that normal weight human subjects have significantly higher levels of both pyruvic acid and citric acid compared with severely obese patients [
30
]. In our dataset, patients' weight was significantly positively associated with pyruvic acid but not citric acid (data not shown).
A number of other metabolite-food relationships were observed. Mannose significantly negatively correlated with fruit, combined fruit and fruit juice, combined fruit, fruit juice and vegetables and with whole grain cereals. We are not aware of any dietary-based studies that have been linked with mannose. However, the analysis of a large cohort of 2204 females found that after glucose, plasma mannose had the strongest metabolite association with type 2 diabetes [
31
].
We found that
myo
-inositol (the most abundant stereoisomer of inositol) negatively correlated with olive spreads and positively correlated with processed meat consumption. Neither fruit or vegetable consumption, nor red meat consumption were correlated with plasma
myo-
inositol levels. Initially, these observations seemed counter-intuitive given that
myo-
inositol occurs very abundantly in numerous plant-based foods associated with the MD, such as fruits, beans, grains and nuts [
32
]. However, is it well known that animal sources of inositol are more bioavailable than the phytate form, which is present in plant sources [
33
]. Furthermore, some of the richest, most bioavailable sources of inositol are organ meats, which may possibly explain the positive correlation observed for processed meat, but not for red meat.
Betaine (a derivative of choline) is naturally present in a variety of plant based foods such as cereals, grains and leafy vegetables and beets [
34
,
35
] and has previously been linked to MD [
36
]. It also may be a useful biomarker for identifying participants following the DASH (dietary approach to stop hypertension) diet [
37
]. Our investigation found that betaine was 15.5% higher in the "high" MD group, and it positively associated with the consumption of fruit juice and combined fruit, fruit juice and vegetables. This would indicate that diet is an important contributor. Such a link remains controversial. A cohort case study from the PREDIMED trial involving individuals with high CVD risk divided into an MD group and a control group found no significant associations between individual metabolites from the choline pathway and CVD after one year. However, the ratio betaine/choline showed an inverse association with CVD incidence although not with stroke alone [
38
]. Furthermore, in a cross-sectional subset of the Nutrition, Aging, and Memory in Elders cohort, betaine was also associated with lower levels of low-density lipoprotein cholesterol and triglycerides and reduced risk of diabetes mellitus [
39
]. However, further studies in different populations are necessary to confirm the link between betaine and CVD.
Citric acid and betaine significantly and positively correlated to MDS (r = 0.28, r = 0.19 respectively). Mannose, pyruvic acid and
myo
-inositol significantly and negatively correlated to MDS (r = −0.2, r = −0.02, r = −0.18 respectively). Citric acid showed to be the highest and most significant correlation with MDS, however overall these associations showed to be weak and when applying multiple comparison using the Benjamini-Hochberg approach, the FDR did not show to be less than 0.05 (
Supplementary Materials Table S1
). Further studies should be carried out to prove their association with MDS.
The limitations of the present study should be taken into consideration for future studies. A total of 58 patients participated in the study followed an MD during 12 months and plasma samples were collected at baseline, 6 months and 12 months. Samples were divided into two groups (low and high MDS) according to how well patients adhere to the 14-point scale MDS. Patients' MDS was the lowest at baseline and it improved throughout the intervention; therefore, the majority of samples in the Low MDS group were from the baseline and the majority of samples in the High MDS group were collected at 6 and 12 months of the intervention. Despite the degree of dependency of the samples in both groups, this was not detrimental to the results. A parallel analysis was carried out dividing samples into timepoints: baseline, 6 and 12 months (paired samples) and results showed the same top five metabolites as the most significant ones: citric acid, betaine, mannose,
myo
-inositol and pyruvic acid. It is also worth noting that the concentrations of these five metabolites were not altered when applying paired or unpaired analysis.
Patients had a history of myocardial infarction or unstable angina previous to the intervention and were on a range of medication. However, drug intake diaries were revised to confirm that there was no association between outliers in the PCA model and drug intake. Patients were mostly overweight or obese; however, body mass index (BMI) did not show significant differences when comparing the low and high MDS groups. The present study focused on the discovery of biomarkers purely associated to diet and the effect of exercise was not recorded or taken into consideration. Blood pressure showed to be significant between the low and the high MDS groups, there were similar percentages of smokers in the low and high MDS groups and the percentage of males compared to females was higher in both groups. Gender did not show any significant differences in the results. Smoking status of individuals did not show any detectable influence on metabolite concentrations, although the
p
-value for citric acid was close to statistical significance. Further studies in larger cohorts could examine whether a relationship exists here. It should also be noted that none of the participants achieved the highest MDS on the 14-point scale and the highest scored achieved was 10.
The present study conducted untargeted metabolomics with the goal of profiling the plasma metabolome of two groups with high and low adherence to MD.
1
H-NMR was used due to its high precision, reproducibility and quantitative power. This study found significant direct associations between MD and citric acid and betaine and significant inverse associations between MD and pyruvic acid, mannose and
myo
-inositol. These metabolites were significant following univariate analysis, but multivariate analysis corroborated these by indicating that these five metabolites were most responsible for the discrimination of the model (VIP scores of the PLS-DA model). Out of the five metabolites, citric acid and betaine have also been associated with MD on previous studies. Nevertheless, following further studies, targeted metabolomics should be carried out to confirm the validity of these five metabolites and their association with MD.
5. Conclusions
In conclusion, this study reports for the first time that there is a potential association between blood levels of pyruvic acid, mannose and
myo
-inositol with MD consumption, and it corroborates previous associations with citric acid and betaine. It is only the third study to examine the relationship between blood metabolites levels and MD and it demonstrates the power of
1
H-NMR metabolomics in dietary intervention studies. Further studies should explore the validity of these biomarkers/biomarker ratios. Given the heterogeneous nature of the MDS, the metabolites highlighted here are reasonably discriminative, and there is potential to incorporate these into currently available blood-based biomarkers panels of dietary intake.
Supplementary Materials
The following are available online at
https://www.mdpi.com/2218-1989/9/10/201/s1
, Table S1: Correlations of the top 5 metabolites correlations with MDS and each of the food groups assessed in the 14-item MD score, Table S2: Baseline characteristics of participants, Table S3: Assigned MDS scores listed by group, Table S4: Performance of multivariate modelling of metabolomic data, Table S5: Food group-to-Food group correlations within the study cohort, Table S6: Correlations of all 59 metabolites against each food group scored within the MDS, Table S7: 14-point criteria used to measure adherence to MD on the MEDDINI study.14 POINT MEDITERRANEAN DIET SCORE (MDS).
Author Contributions
B.D.G., J.V.W. and S.F.G. designed research and supervised the project. J.K. and A.Y. conducted research. S.E.M. and S.M. scored the food diaries of the MEDDINI patients. S.M. analysed data and wrote the manuscript with the support of B.D.G., J.V.W., S.F.G., J.K., A.Y. and S.E.M.; M.C.M. directed the dietary analysis. P.P.M. was involved in the original study design, advised on patient recruitment and helped the interpretation of the data. All authors provided critical feedback and helped shape the research, analysis and manuscript. All authors have read and approved the final manuscript
Funding
This research was funded by the Research and Development Office, Northern Ireland and the Department for Employment and Learning (DEL) Northern Ireland.
Acknowledgments
We thank the participants of the MEDDINI study and Karen Logan, who carried out the recruitment, delivered the interventions and completed all outcome assessment. A special thanks to Charlotte Neville for her assistance with governance procedures for the current analysis.
Conflicts of Interest
The authors have no conflict of interest to declare.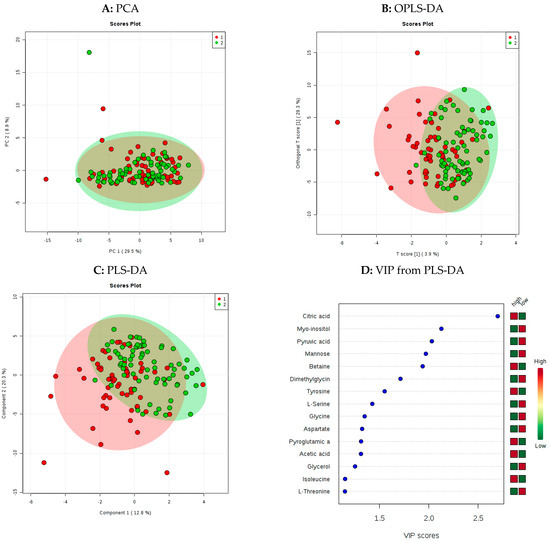 Figure 1.
Multivariate statistical modelling of
1
H-Nuclear Magnetic Resonance
1
H-NMR metabolomic data. Plots A–C show group separation achieved by principal component analysis (PCA), orthogonal partial least squares discriminant analysis (OPLS-DA) and partial least squares discriminant analysis (PLS-DA). Red circles (
●
1) represent patients with high MDS and green circles (
●
2) represent individuals with low MDS. D: Is the resulting variable importance in project (VIP) plot indicating the 15 most influential metabolites responsible for the observed separation in the PLS-DA model.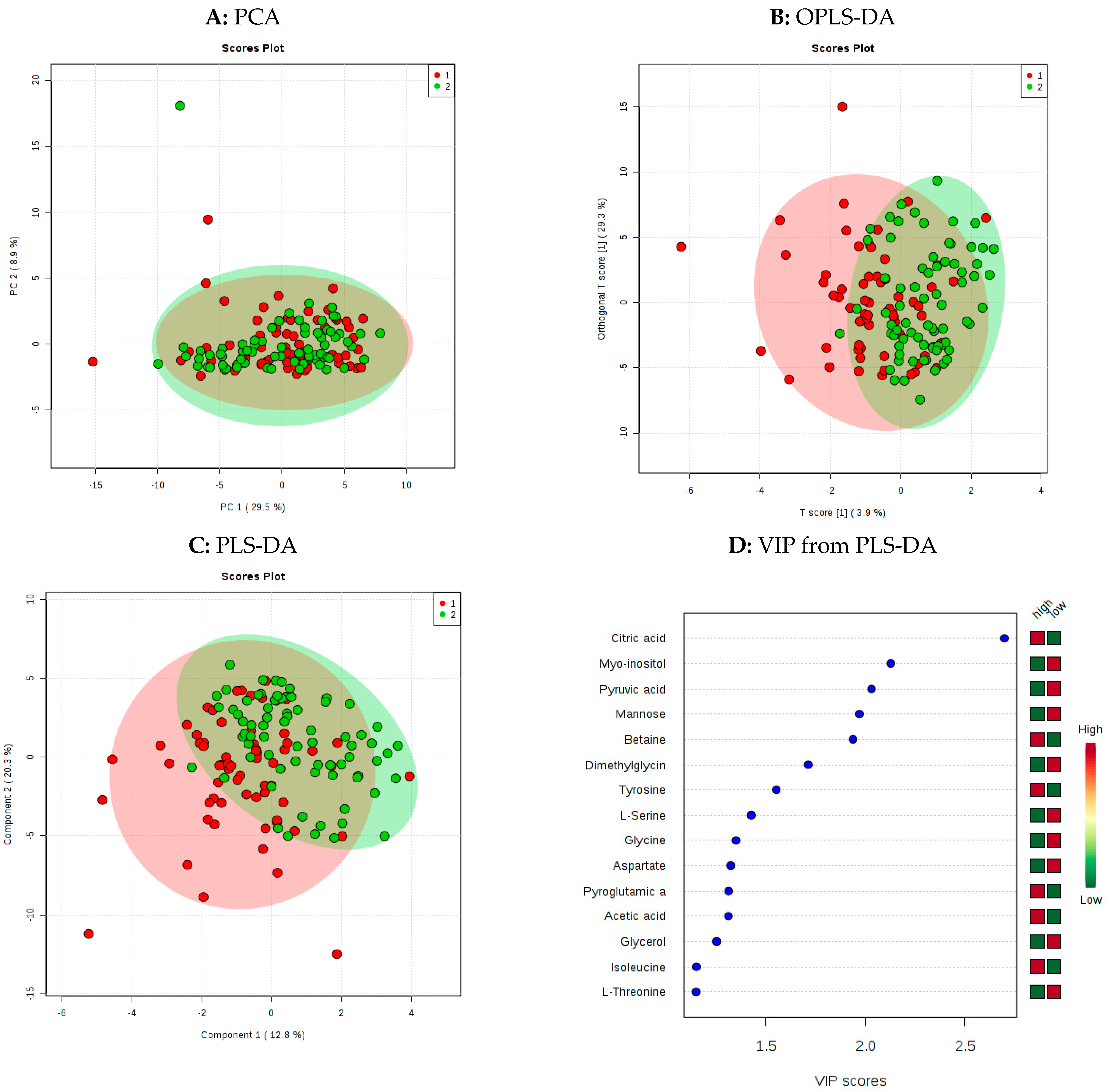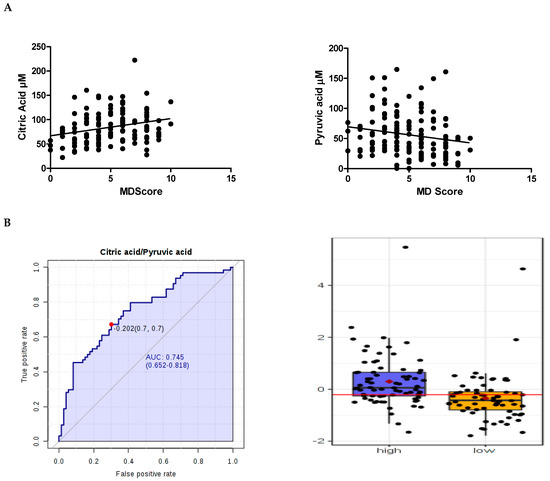 Figure 2. Blood levels of citric acid and pyruvic acid and MDS. (A) Citric acid levels positively correlated with MDS, whereas Pyruvic acid levels negatively correlated. (B) A paired metabolite ratio of citric acid and pyruvic acid achieved the greatest area under the receiver operating characteristic (ROC) curve (AUC = 0.74) value which was the best performing biomarker for MDS. Optimal cutoff was represented on the curve with a red dot and with a red horizontal line on the box plot. The box-plot showed that the overall distribution profiles for low MDS (0–4) and high MDS (5–10) were broadly similar but the mean value was 53% higher in the high MDS group. Y-axis represents concentrations (µM). Data were median centred. The mean concentration of each group was indicated with a red diamond.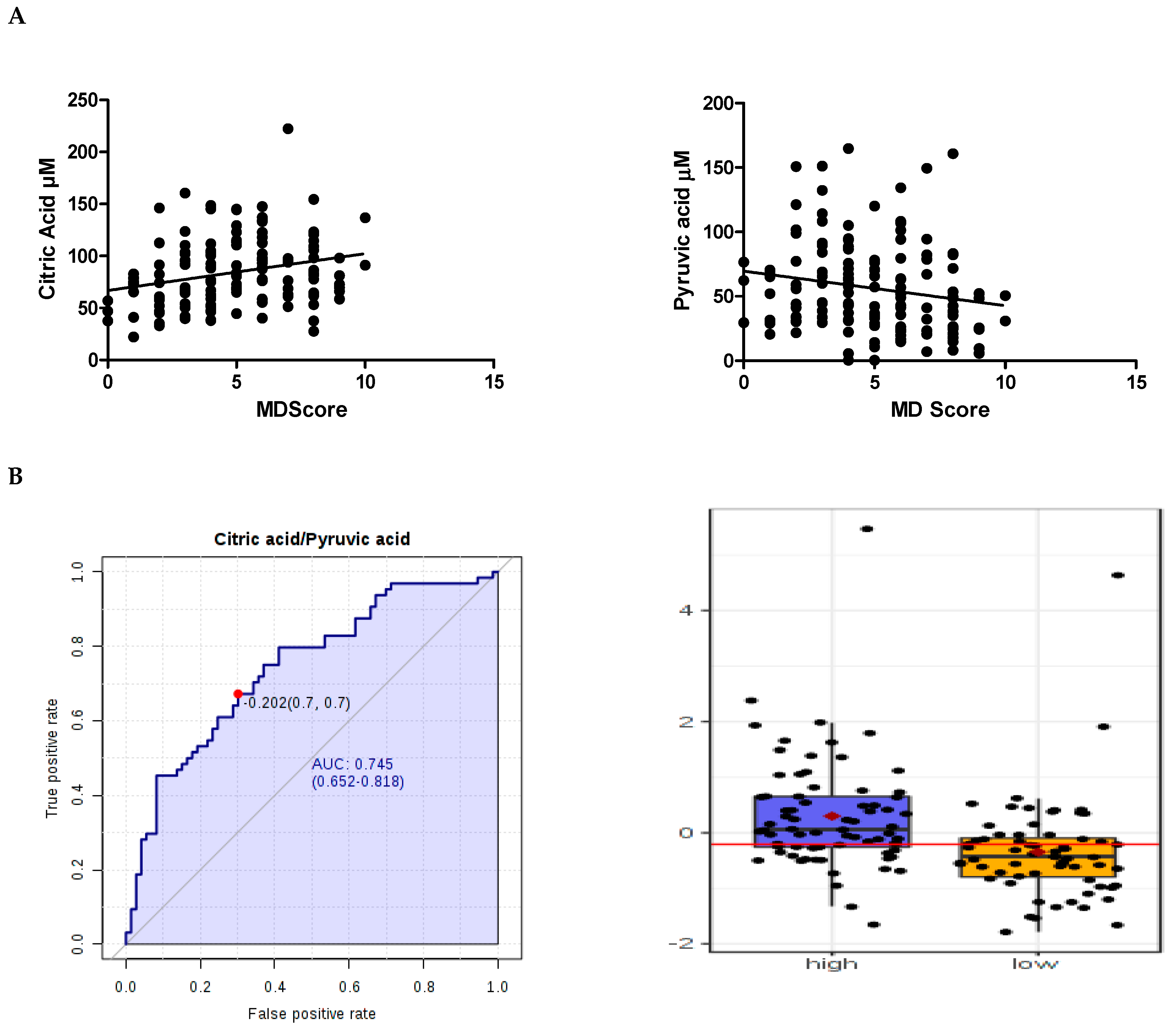 Name
Mean [µM]
Low MDS
(n = 64)
SD. Low MDS
Mean [µM] High MDS
(n = 73)
SD. High MDS

p

-Value

q

-Value (FDR)
AUC (ROC)
↑/↓
% Change
1
citric acid*
76.62
30.50
92.36
32.58
5.99 × 10−4*
0.03
0.67
↑
20.5
2
pyruvic acid*
63.50
34.80
50.19
34.36
0.005*
0.16
0.64
↓
−20.9
3
betaine*
40.37
17.83
46.64
18.42
0.01*
0.28
0.62
↑
15.5
4
mannose*
55.08
44.14
39.25
36.58
0.02*
0.32
0.61
↓
−28.7
5
acetic acid
13.06
7.54
14.94
6.55
0.03*
0.34
0.61
↑
14.39
6

myo

-inositol*
104.67
74.41
79.22
47.25
0.03*
0.34
0.60
↓
−24.3
7
tyrosine
4.58
2.74
5.48
2.86
0.06
0.52
0.59
↑
19.7
8
glycerol
1521.19
817.49
1304.62
875.72
0.08
0.54
0.59
↓
−14.23
9
dimethylglycine
3.01
1.75
2.37
1.56
0.09
0.54
0.58
↓
−21.3
10
malonate
8.35
7.03
8.99
4.35
0.09
0.54
0.58
↑
7.66
11
pyroglutamic acid
87.23
28.57
95.35
29.65
0.10
0.54
0.58
↑
9.3
Name
AUC (ROC)
↑/↓
% Change
1
citric acid/pyruvic acid
0.74
↑
53.3
2
citric acid/

l

-lactic acid
0.73
↑
29.2
3
citric acid/aspartate
0.72
↑
38.3
4
citric acid/

l

-phenylalanine
0.71
↑
27.1
5
betaine/pyruvic acid
0.70
↑
47.6

© 2019 by the authors. Licensee MDPI, Basel, Switzerland. This article is an open access article distributed under the terms and conditions of the Creative Commons Attribution (CC BY) license (http://creativecommons.org/licenses/by/4.0/).