Night Shift Work Affects Urine Metabolite Profiles of Nurses with Early Chronotype
1
Research Unit of Molecular Epidemiology, Helmholtz Zentrum München, 85764 München-Neuherberg, Germany
2
Institute of Epidemiology, Helmholtz Zentrum München, 85764 München-Neuherberg, Germany
3
German Center for Diabetes Research (DZD), 85764 München-Neuherberg, Germany
4
Institute for Prevention and Occupational Medicine of the German Social Accident Insurance, Institute of the Ruhr University Bochum (IPA), 44721 Bochum, Germany
5
Department of Psychiatry and Psychotherapy, University Medicine Greifswald, 17489 Greifswald, Germany
6
Institute Institute of Diabetes and Regeneration Research, Helmholtz Zentrum München, 85764 München-Neuherberg, Germany
7
Genome Analysis Center, Institute of Experimental Genetics, Helmholtz Zentrum München, German Research Center for Environmental Health, 85764 München-Neuherberg, Germany
8
Chair for Molecular Animal Breeding and Biotechnology, Gene Center and Department of Veterinary Sciences, and Center for Innovative Medical Models (CiMM), LMU Munich, 81377 Munich, Germany
9
German Mouse Clinic (GMC), Institute of Experimental Genetics, Helmholtz Zentrum München, 85764 München-Neuherberg, Germany
10
Institute of Experimental Genetics, Helmholtz Zentrum München, 85764 München-Neuherberg, Germany
11
Chair of Experimental Genetics, Center of Life and Food Sciences Weihenstephan, Technische Universität München, 85353 Freising, Germany
12
German Center for Neurodegenerative Diseases (DZNE), Rostock/Greifswald, 17489 Greifswald, Germany
13
Molecular Nutrition Unit, Center of Life and Food Sciences Weihenstephan, Technische Universität München, 85354 Freising, Germany
14
University of Applied Sciences for Economics and Management (FOM), 45127 Essen, Germany
15
SynOpus, 44789 Bochum, Germany
16
Institute for Occupational Medicine and Maritime Medicine (ZfAM), University Medical Center Hamburg-Eppendorf, 20246 Hamburg, Germany
17
Hannover Unified Biobank, Hannover Medical School, 30625, Hannover, Germany
18
Institute for Human Genetics, Hannover Medical School, Carl-Neuberg-Strasse 1, D-30625 Hanover, Germany
19
Institute of Stem Cell Research, Helmholtz Zentrum München, 85764 München-Neuherberg, Germany
*
Author to whom correspondence should be addressed.
Received: 6 July 2018 / Revised: 14 August 2018 / Accepted: 18 August 2018 / Published: 21 August 2018
Abstract
Night shift work can have a serious impact on health. Here, we assess whether and how night shift work influences the metabolite profiles, specifically with respect to different chronotype classes. We have recruited 100 women including 68 nurses working both, day shift and night shifts for up to 5 consecutive days and collected 3640 spontaneous urine samples. About 424 waking-up urine samples were measured using a targeted metabolomics approach. To account for urine dilution, we applied three methods to normalize the metabolite values: creatinine-, osmolality- and regression-based normalization. Based on linear mixed effect models, we found 31 metabolites significantly (false discovery rate <0.05) affected in nurses working in night shifts. One metabolite, acylcarnitine C10:2, was consistently identified with all three normalization methods. We further observed 11 and 4 metabolites significantly associated with night shift in early and late chronotype classes, respectively. Increased levels of medium- and long chain acylcarnitines indicate a strong impairment of the fatty acid oxidation. Our results show that night shift work influences acylcarnitines and BCAAs, particularly in nurses in the early chronotype class. Women with intermediate and late chronotypes appear to be less affected by night shift work.
View Full-Text
►

▼

Figures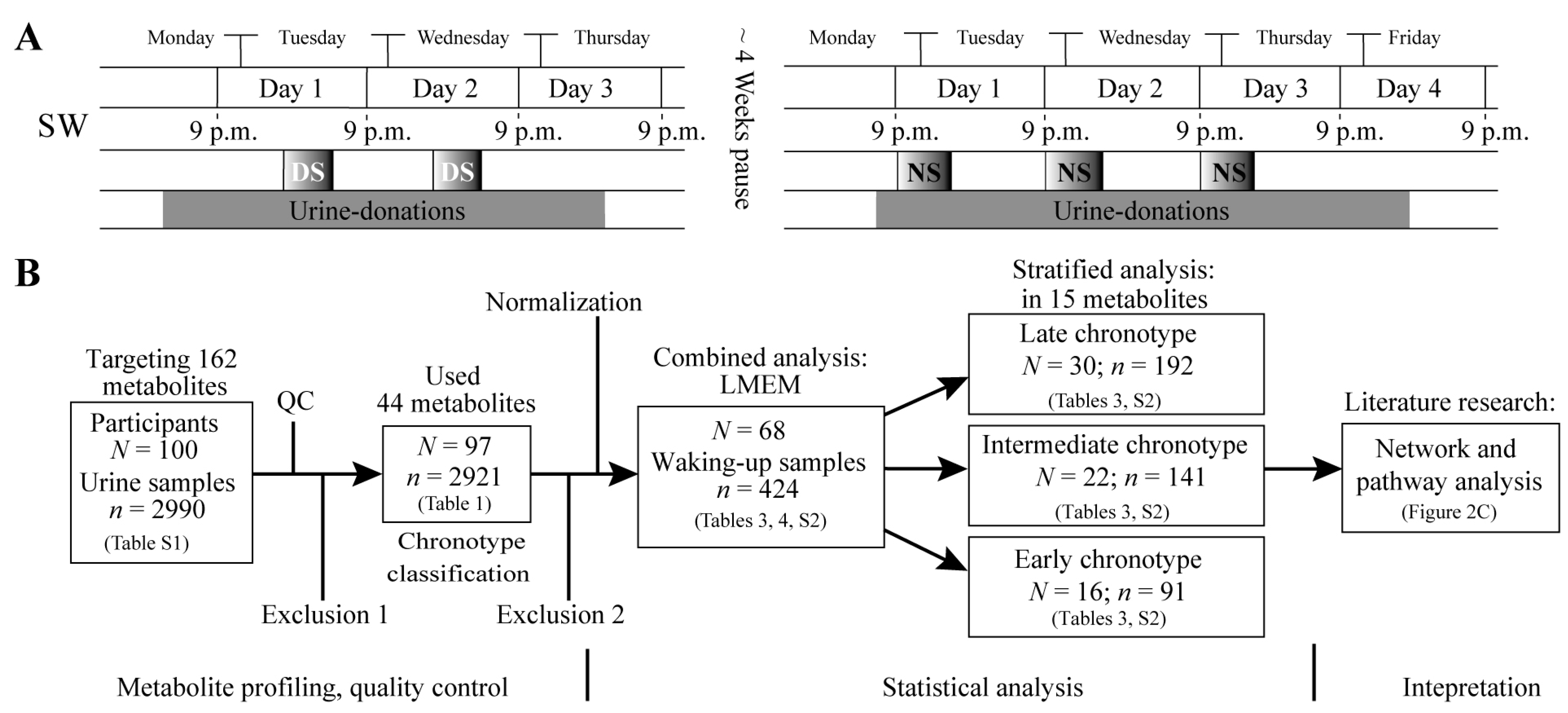 Figure 1
This is an open access article distributed under the
Creative Commons Attribution License
which permits unrestricted use, distribution, and reproduction in any medium, provided the original work is properly cited (CC BY 4.0).

Share & Cite This Article
MDPI and ACS Style
Rotter, M.; Brandmaier, S.; Covic, M.; Burek, K.; Hertel, J.; Troll, M.; Bader, E.; Adam, J.; Prehn, C.; Rathkolb, B.; Hrabe de Angelis, M.; Grabe, H.J.; Daniel, H.; Kantermann, T.; Harth, V.; Illig, T.; Pallapies, D.; Behrens, T.; Brüning, T.; Adamski, J.; Lickert, H.; Rabstein, S.; Wang-Sattler, R. Night Shift Work Affects Urine Metabolite Profiles of Nurses with Early Chronotype. Metabolites 2018, 8, 45.
Note that from the first issue of 2016, MDPI journals use article numbers instead of page numbers. See further details here.
Related Articles
Comments
[Return to top]