Modeling and Simulation of Optimal Resource Management during the Diurnal Cycle in
Emiliania huxleyi

by Genome-Scale Reconstruction and an Extended Flux Balance Analysis Approach

Institute for System Dynamics, University of Stuttgart, Waldburgstrasse 17/19, Stuttgart 70563, Germany

*

Author to whom correspondence should be addressed.

Academic Editor: Peter Meikle

Received: 13 June 2015 / Revised: 14 October 2015 / Accepted: 22 October 2015 / Published: 28 October 2015
Abstract
The coccolithophorid unicellular alga Emiliania huxleyi is known to form large blooms, which have a strong effect on the marine carbon cycle. As a photosynthetic organism, it is subjected to a circadian rhythm due to the changing light conditions throughout the day. For a better understanding of the metabolic processes under these periodically-changing environmental conditions, a genome-scale model based on a genome reconstruction of the E. huxleyi strain CCMP 1516 was created. It comprises 410 reactions and 363 metabolites. Biomass composition is variable based on the differentiation into functional biomass components and storage metabolites. The model is analyzed with a flux balance analysis approach called diurnal flux balance analysis (diuFBA) that was designed for organisms with a circadian rhythm. It allows storage metabolites to accumulate or be consumed over the diurnal cycle, while keeping the structure of a classical FBA problem. A feature of this approach is that the production and consumption of storage metabolites is not defined externally via the biomass composition, but the result of optimal resource management adapted to the diurnally-changing environmental conditions. The model in combination with this approach is able to simulate the variable biomass composition during the diurnal cycle in proximity to literature data.
View Full-Text
►

▼

Figures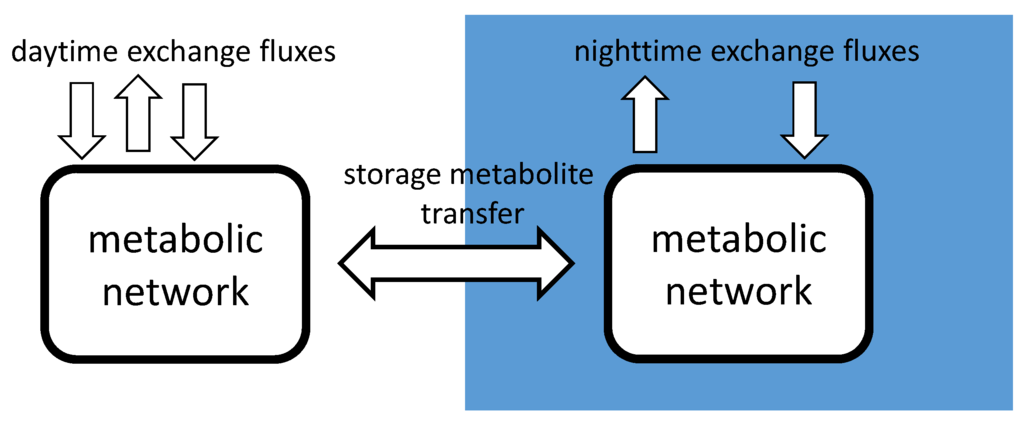 Figure 1
This is an open access article distributed under the
Creative Commons Attribution License
which permits unrestricted use, distribution, and reproduction in any medium, provided the original work is properly cited (CC BY 4.0).

Share & Cite This Article
MDPI and ACS Style
Knies, D.; Wittmüß, P.; Appel, S.; Sawodny, O.; Ederer, M.; Feuer, R. Modeling and Simulation of Optimal Resource Management during the Diurnal Cycle in Emiliania huxleyi by Genome-Scale Reconstruction and an Extended Flux Balance Analysis Approach. Metabolites 2015, 5, 659-676.
Related Articles
Comments
[Return to top]