Diltiazem Reduces Mortality and Breakdown of ATP in Red Blood Cell Induced by Isoproterenol in a Freely Moving Rat Model
in Vivo
†
1
Pharmacokinetics and Metabolism Laboratory, College of Pharmacy and Department of Medicine, Dalhousie University, Halifax, NS B3H 4R2, Canada
2
Department of Pathology, Faculty of Medicine, Queen Elizabeth II Health Sciences Centre and Dalhousie University, 5788 University Ave., Halifax, NS B3H 1V8, Canada
*
Author to whom correspondence should be addressed.
†
The paper was presented in part at the Annual Meeting and Symposium of the Canadian Cardiovascular Society, Toronto, ON, Canada, 27–31 October 2012. The research was supported in part by Canadian Institute of Health Research, Nova Scotia Health Research Foundation and Dalhousie Pharmacy Endowment Foundation.
Received: 15 July 2014 / Revised: 24 August 2014 / Accepted: 4 September 2014 / Published: 11 September 2014
Abstract
The benefit of calcium channel blockers for cardiovascular prevention against heart attack and stroke has not been firmly supported. We investigated the possible cardiovascular protective effect of diltiazem (DTZ) against injury induced by isoproterenol using a freely moving rat model
in vivo
. Sprague Dawley rats were injected subcutaneously (sc) with either 5 or 10 mg/kg of DTZ, or saline as control, twice daily for five doses. One hour after the last injection, a single dose of isoproterenol (30 mg/kg) was injected sc to each rat. Blood samples were collected serially for 6 h for measurement of adenine nucleotides (ATP, ADP and AMP) in red blood cell (RBC) by a validated HPLC. The study has shown isoproterenol induced 50% mortality and also increased RBC concentrations of AMP from 0.04 ± 0.02 to 0.29 ± 0.21 mM at the end of the experiment (
p
< 0.05). Treatment with 10 mg/kg of DTZ reduced mortality from 50% to <20% and attenuated the increase of RBC concentrations of AMP from +0.25 ± 0.22 in the control rats to +0.072 ± 0.092 mM (
p
< 0.05). The study concluded that 10 mg/kg of DTZ reduced mortality and breakdown of ATP induced by isoproterenol in rats.
View Full-Text
►

▼

Figures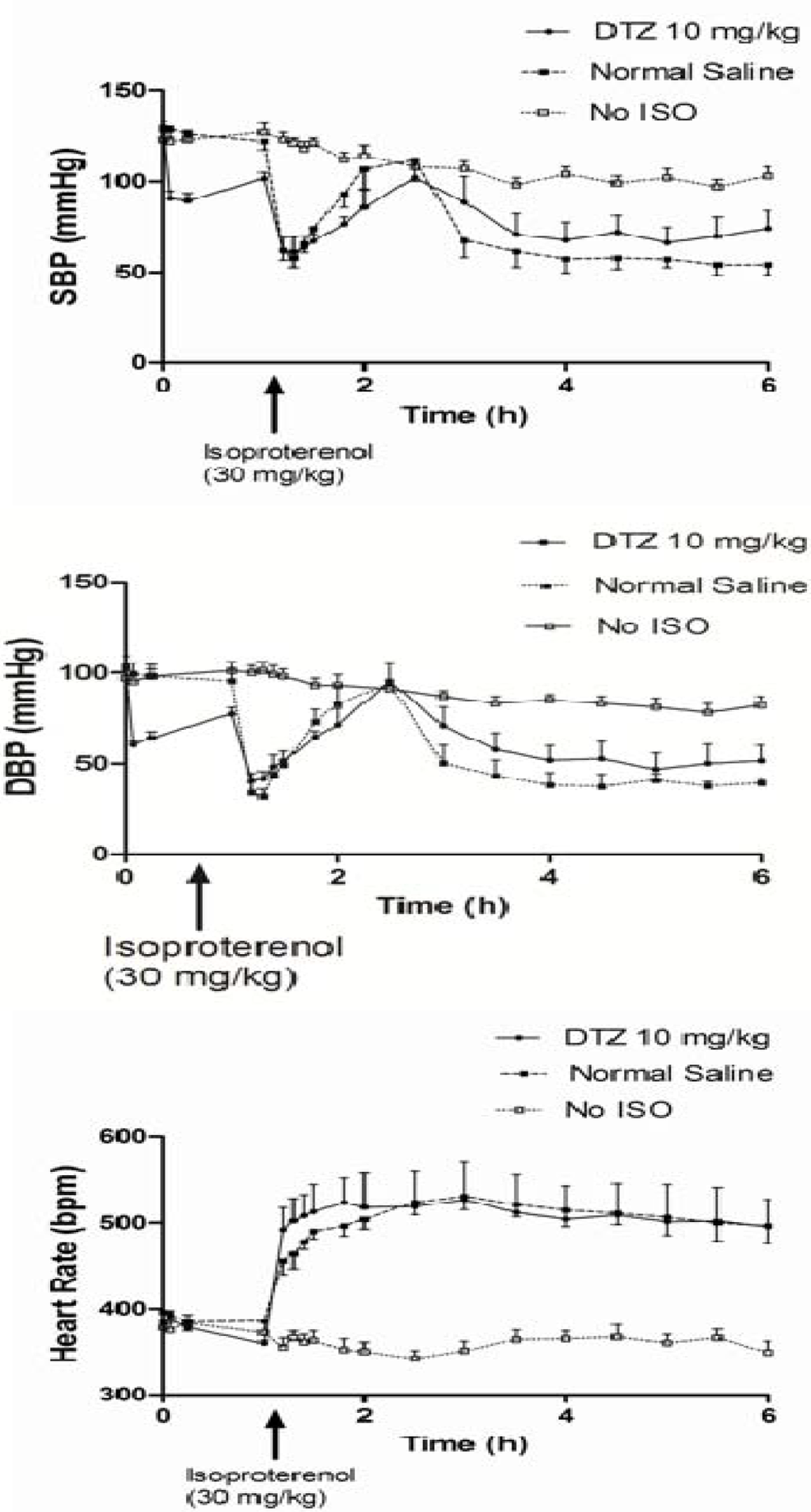 Figure 1

Share & Cite This Article
MDPI and ACS Style
Yeung, P.K.; Xu, Z.; Seeto, D. Diltiazem Reduces Mortality and Breakdown of ATP in Red Blood Cell Induced by Isoproterenol in a Freely Moving Rat Model in Vivo . Metabolites 2014, 4, 775-789.
Related Articles
Comments
[Return to top]