Clinical Impact of the Increase in Immunosuppressive Cell-Related Gene Expression in Urine Sediment during Intravesical Bacillus Calmette-Guérin
1
Department of Urology, Nara Medical University, 840 Shijo-cho, Kashihara-shi, Nara 634-8522, Japan
2
Department of Diagnostic Pathology, Nara Medical University, 840 Shijo-cho, Kashihara-shi, Nara 634-8522, Japan
*
Author to whom correspondence should be addressed.
Received: 19 April 2019 / Revised: 8 June 2019 / Accepted: 17 June 2019 / Published: 18 June 2019
(This article belongs to the Section
Oncology
)
Abstract
Background: The aim of this study is to evaluate the clinical impact of intravesical Bacillus Calmette-Guérin (BCG)-induced changes in blood/urinary immune markers. Methods: Time-course changes in blood/urinary clinical parameters and mRNA expression of 13 genes in urine sediment taken eight times during the treatment course of intravesical BCG (before, every 2 weeks for 8 weeks, and after) in 24 patients with non-muscle invasive bladder cancer. The genes examined include cellular markers of four immune checkpoint proteins (PD-L1, PD-L2, PD-1, and CTLA-4), immunosuppressive cells (regulatory T cells, tumor-associated macrophages, and myeloid-derived suppressor cells), pan-T lymphocytes, B lymphocytes, and neutrophils. Results: Significant transient increase in gene expression was observed for PD-L1, PD-1, FOXP3, and CD204 at 6–8 doses of BCG. The patients were stratified into two groups depending on the number of genes with increased mRNA expression. Fourteen (58%) had 0–1 genes upregulated, while 10 (42%) had 2–4 genes with increased expression. No patient in the 0–1 group experienced recurrence, while 70% of patients in the 2–4 group experienced recurrence (
p
value = 0.037, hazard ratio = 5.93). Conclusions: Our findings suggested that increases in more than one of PD-L1, PD-1, FOXP3, and CD204, expression in the urine sediments was associated with resistance to BCG treatment.
View Full-Text
►

▼

Figures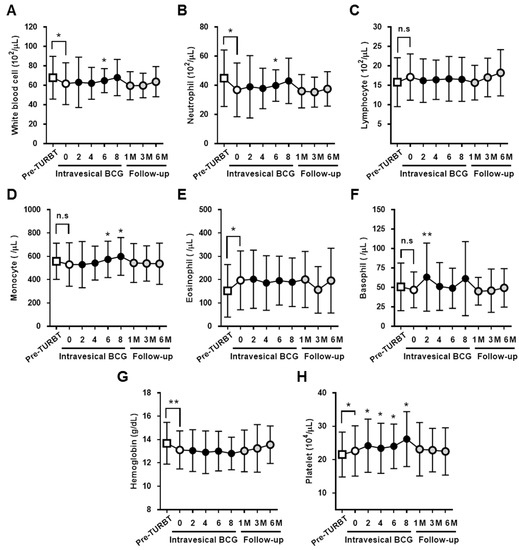 Figure 1
This is an open access article distributed under the
Creative Commons Attribution License
which permits unrestricted use, distribution, and reproduction in any medium, provided the original work is properly cited (CC BY 4.0).

Share & Cite This Article
MDPI and ACS Style
Miyake, M.; Hori, S.; Ohnishi, S.; Owari, T.; Iida, K.; Ohnishi, K.; Morizawa, Y.; Gotoh, D.; Itami, Y.; Nakai, Y.; Inoue, T.; Anai, S.; Torimoto, K.; Aoki, K.; Fujii, T.; Tanaka, N.; Fujimoto, K. Clinical Impact of the Increase in Immunosuppressive Cell-Related Gene Expression in Urine Sediment during Intravesical Bacillus Calmette-Guérin. Diseases 2019, 7, 44.
Note that from the first issue of 2016, MDPI journals use article numbers instead of page numbers. See further details here.
Related Articles
Comments
[Return to top]