Host Protein BAG3 is a Negative Regulator of Lassa VLP Egress
1
Department of Pathobiology, School of Veterinary Medicine, University of Pennsylvania, Philadelphia, PA 19104, USA
2
Department of Epigenetics & Molecular Carcinogenesis, M.D. Anderson Cancer Center, University of Texas, Smithville, TX 78957, USA
3
Department of Molecular Genetics, University of Toronto, Toronto, ON M1C 1A4, Canada
4
Department of Physiology, Institute for Molecular and Cell Biology (IMCB, AStar), National University of Singapore, Singapore 119077, Singapore
*
Author to whom correspondence should be addressed.
Received: 25 June 2018 / Revised: 10 July 2018 / Accepted: 12 July 2018 / Published: 13 July 2018
Abstract
Lassa fever virus (LFV) belongs to the
Arenaviridae
family and can cause acute hemorrhagic fever in humans. The LFV Z protein plays a central role in virion assembly and egress, such that independent expression of LFV Z leads to the production of virus-like particles (VLPs) that mimic egress of infectious virus. LFV Z contains both PTAP and PPPY L-domain motifs that are known to recruit host proteins that are important for mediating efficient virus egress and spread. The viral PPPY motif is known to interact with specific host WW-domain bearing proteins. Here we identified host WW-domain bearing protein BCL2 Associated Athanogene 3 (BAG3) as a LFV Z PPPY interactor using our proline-rich reading array of WW-domain containing mammalian proteins. BAG3 is a stress-induced molecular co-chaperone that functions to regulate cellular protein homeostasis and cell survival via Chaperone-Assisted Selective Autophagy (CASA). Similar to our previously published findings for the VP40 proteins of Ebola and Marburg viruses, our results using VLP budding assays, BAG3 knockout cells, and confocal microscopy indicate that BAG3 is a WW-domain interactor that negatively regulates egress of LFV Z VLPs, rather than promoting VLP release. Our results suggest that CASA and specifically BAG3 may represent a novel host defense mechanism, whereby BAG3 may dampen egress of several hemorrhagic fever viruses by interacting and interfering with the budding function of viral PPxY-containing matrix proteins.
View Full-Text
►

▼

Figures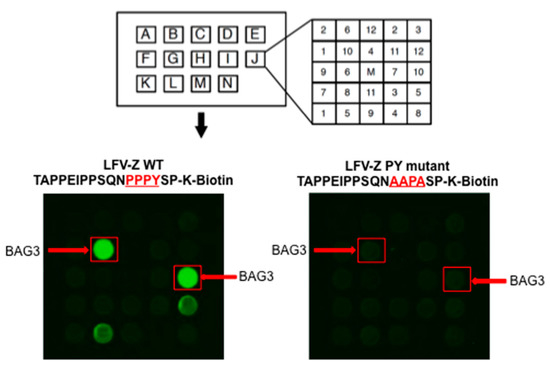 Figure 1
This is an open access article distributed under the
Creative Commons Attribution License
which permits unrestricted use, distribution, and reproduction in any medium, provided the original work is properly cited (CC BY 4.0).

Share & Cite This Article
MDPI and ACS Style
Han, Z.; Schwoerer, M.P.; Hicks, P.; Liang, J.; Ruthel, G.; Berry, C.T.; Freedman, B.D.; Sagum, C.A.; Bedford, M.T.; Sidhu, S.S.; Sudol, M.; Harty, R.N. Host Protein BAG3 is a Negative Regulator of Lassa VLP Egress. Diseases 2018, 6, 64.
Note that from the first issue of 2016, MDPI journals use article numbers instead of page numbers. See further details here.
Related Articles
Comments
[Return to top]