ERBB1- and ERBB2-Positive Medullary Thyroid Carcinoma: A Case Report
1
DISC, Department of Surgical Sciences, University of Genoa, Largo R. Benzi, 8, 16132 Genoa, Italy
2
DIMES, Department of Experimental Medicine, University of Genoa, Via Antonio de Toni 14, 16132 Genoa, Italy
*
Author to whom correspondence should be addressed.
Received: 22 March 2018 / Revised: 5 April 2018 / Accepted: 9 April 2018 / Published: 10 April 2018
(This article belongs to the Section
Oncology
)
Abstract
Medullary thyroid carcinomas (MTCs) are rare thyroid tumors occurring in both sporadic and hereditary forms, whose pathogenesis is related to RET proto-oncogene alterations. MTCs originate from parafollicular cells, which produce calcitonin that represents the biochemical activity of MTC. Total thyroidectomy is the main treatment for MTC and often cures patients with confined diseases. In the presence of metastasis, the therapeutic approach depends on the rate of disease progression. We report a case of a 54-year-old female with a single, incidentally discovered, thyroid nodule of 1 cm, classified as suspicious MTC after a stimulation test with intravenous (iv) calcium. After surgery, we examined the nodule using immunohistochemistry, immunofluorescence, and electron microscopy. In addition to calcitonin, we found that it expressed intracellular positivity for the tyrosine kinase RTK receptors ERBB1 and ERBB2. Consistently with MTC features, the ultrastructural examination of the tumor displayed heterogeneous spindle-shaped cells containing two groups of secretory granules. Because of the significant correlation found between high ERBB1/ERBB2 levels in MTCs and extrathyroidal growth, the detection of ERBB1 and ERBB2 expression suggests that the two oncoproteins may be involved in the tumor proliferative responses and/or in the differentiation of parafollicular C-cells. The biological, prognostic, and therapeutic significance of these patterns would merit further investigations.
View Full-Text
►

▼

Figures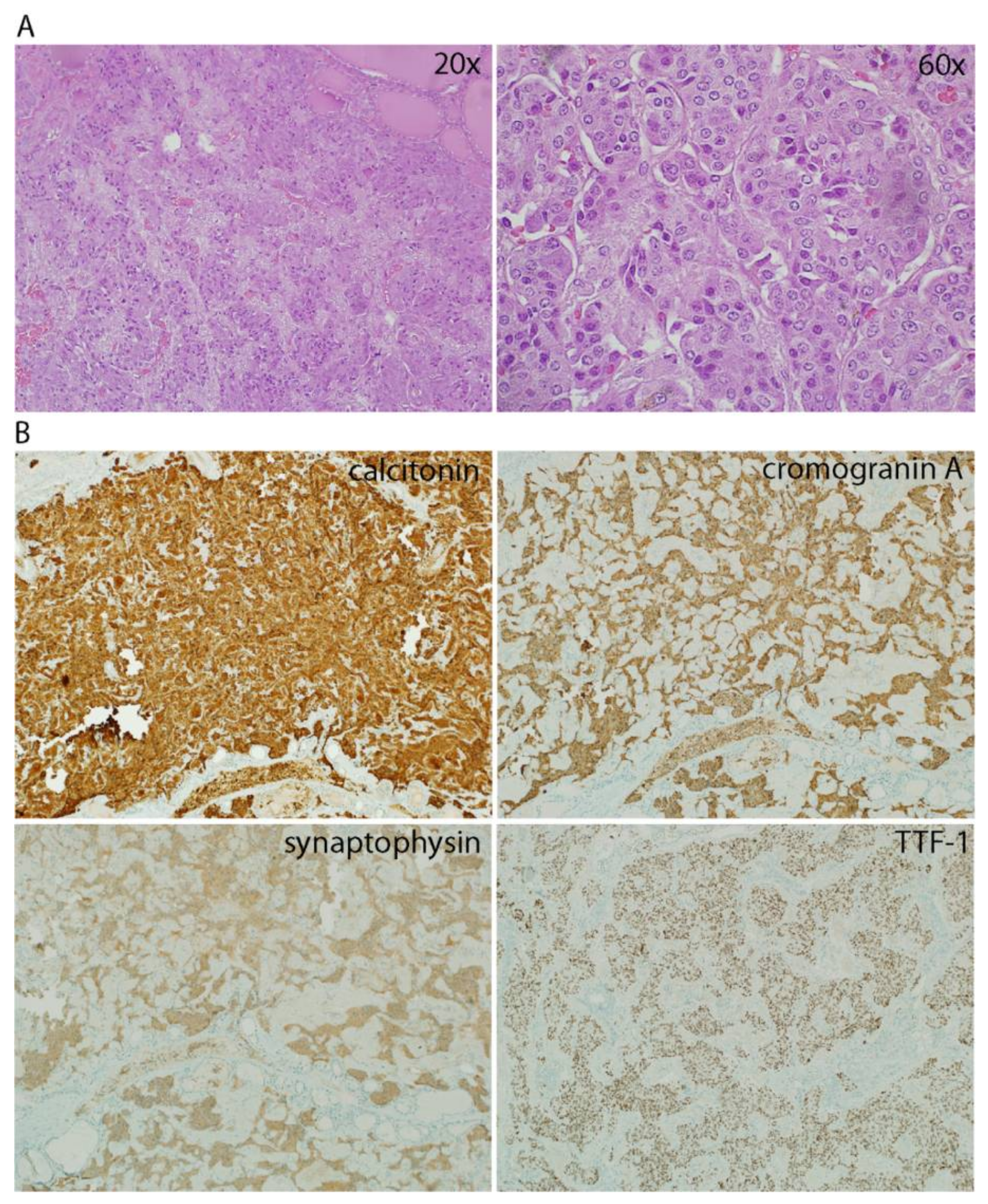 Figure 1
This is an open access article distributed under the
Creative Commons Attribution License
which permits unrestricted use, distribution, and reproduction in any medium, provided the original work is properly cited (CC BY 4.0).

Share & Cite This Article
MDPI and ACS Style
Minuto, M.; Varaldo, E.; Marcocci, G.; De Santanna, A.; Ciccone, E.; Cortese, K. ERBB1- and ERBB2-Positive Medullary Thyroid Carcinoma: A Case Report. Diseases 2018, 6, 25.
Note that from the first issue of 2016, MDPI journals use article numbers instead of page numbers. See further details here.
Related Articles
Comments
[Return to top]