Detection of Alphacoronavirus vRNA in the Feces of Brazilian Free-Tailed Bats (
Tadarida brasiliensis

) from a Colony in Florida, USA

1

Department of Environmental and Global Health, University of Florida, Gainesville, FL 32610, USA

2

Emerging Pathogens Institute, University of Florida, Gainesville, FL 32611, USA

3

Department of Animal Sciences, University of Florida, Gainesville, FL 32611-0910, USA

4

Genetics and Genomics, Genetics Institute, University of Florida, Gainesville, FL 32610, USA

5

Department of Pathology, Immunology and Laboratory Medicine, University of Florida, Gainesville, FL 32610, USA

6

Department of Medicine, University of Florida, Gainesville, FL 32610-0277, USA

7

Florida Fish and Wildlife Conservation Commission, Gainesville, FL 32601, USA

8

Department of Environmental Engineering Sciences, University of Florida, Gainesville, FL 32611, USA

*

Author to whom correspondence should be addressed.

Academic Editor: Ding Xiang Liu

Received: 10 November 2016 / Revised: 18 February 2017 / Accepted: 23 February 2017 / Published: 27 February 2017
Bats are natural reservoirs of coronaviruses and other viruses with zoonotic potential. Florida has indigenous non-migratory populations of Brazilian free-tailed bats (
Tadarida brasiliensis
) that mostly roost in colonies in artificial structures. Unlike their counterparts in Brazil and Mexico, the viruses harbored by the Florida bats have been underexplored. We report the detection of an alphacoronavirus RNA-dependent RNA polymerase (RdRp) gene sequence in the feces of two of 19 different
T. brasiliensis
that were capture/release bats that had been evaluated for overall health. The RdRp sequence is similar but not identical to previously detected sequences in the feces of two different species of bats (
T. brasiliensis
and
Molossus molossus
) in Brazil. In common with the experience of others doing similar work, attempts to isolate the virus in cell cultures were unsuccessful. We surmise that this and highly related alphacoronavirus are carried by Brazilian free-tailed bats living in a wide eco-spatial region. As various coronaviruses (CoVs) that affect humans emerged from bats, our study raises the question whether CoVs such as the one detected in our work are yet-to-be-detected pathogens of humans and animals other than bats.
Acknowledgments
This work was funded by start-up funds from the University of Florida Department of Environmental and Global Health to J.A.L.
Author Contributions
T.S.B., J.P.D., J.G.M.Jr., C.-Y.W. and J.A.L. conceived and designed the experiments; T.S.B., J.C.L. and J.A.L. performed the experiments; T.S.B., J.P.D., J.G.M.Jr., T.P. and M.S. analyzed the data; T.P. and M.S. performed phylogenetic analyses; L.A.S., L.S., C.E., K.O. and J.A.G. performed bat studies and collected fecal specimens; T.S.B., J.P.D., J.G.M.Jr., J.C.L., C.-Y. W., T.P., M.S. and J.A.L. wrote the paper.
Conflicts of Interest
The authors declare no conflict of interest.

Figure 1. Representative results of RT-PCR detection of alphacoronavirus vRNA in Brazilian free-tailed bat feces (BF). Lane 1 (M), 100 bp MW markers; Lane 2 (+), HCoV-NL63 vRNA, positive control; Lane 3 (−), negative control; Lane 4, BF#1; Lane 5, BF#2; Lane 6, BF#3; Lane 7, BF#5; Lane 8, BF#6; Lane 9, BF#7; Lane 10, BF#17; Lane 11, BF# 18; Lane 12, BF#19. Virus-specific 440-bp PCR products amplified by PCR primers CorTheoNL63F1 and CorTheoNL63R1 are present in lanes 2, 6 (asterisk), and 10.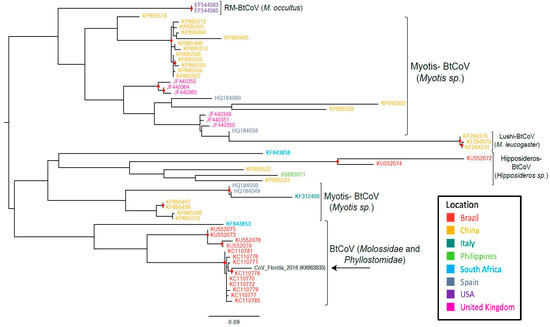 Figure 2. Maximum likelihood tree based on the nucleotide sequences of partial RdRp gene of bat CoVs. In parenthesis are the bat species that make up the clade. Abbreviations: BtCoV, bat coronavirus; Rm-BtCoV, Rocky Mountain bat coronavirus. Red circle indicates strong statistical support (bootstrap > 95%).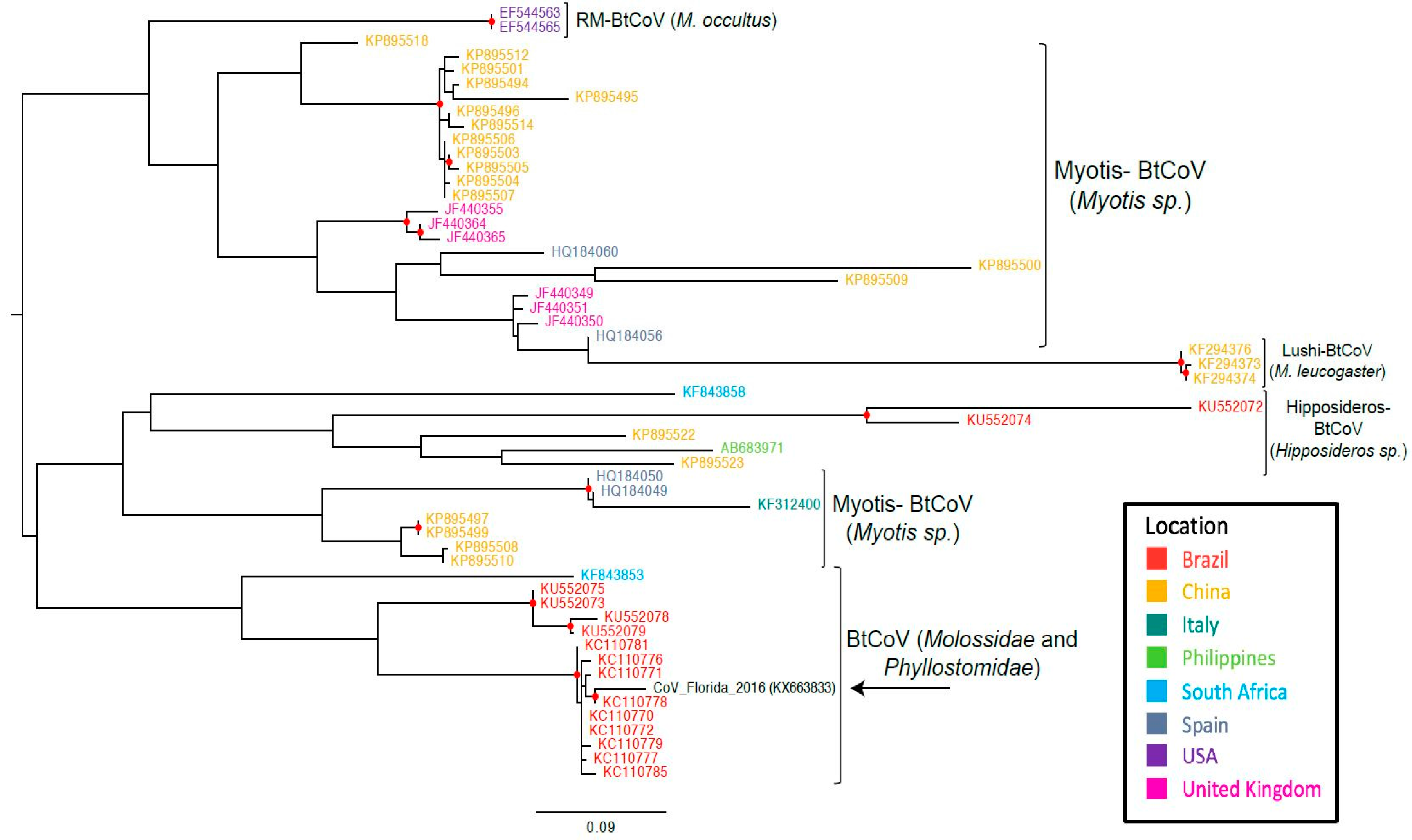 © 2017 by the authors. Licensee MDPI, Basel, Switzerland. This article is an open access article distributed under the terms and conditions of the Creative Commons Attribution (CC BY) license ( http://creativecommons.org/licenses/by/4.0/).