Open Access This article is
freely available
re-usable
Article
Monfortinho Thermal Water-Based Creams: Effects on Skin Hydration, Psoriasis, and Eczema in Adults
1
Research Institute for Medicines (iMed.ULisboa), Faculty of Pharmacy, Universidade de Lisboa, Lisboa 1649003, Portugal
2
Faculty of Pharmacy, Universidade de Lisboa, Lisboa 1649003, Portugal
3
PhD Trials, Rua das Murtas, Lisboa 1700309, Portugal
*
Author to whom correspondence should be addressed.
Received: 19 August 2019 / Accepted: 13 September 2019 / Published: 15 September 2019
Abstract
:
The use of mineral water for therapeutic purposes has varied from century to century and from country to country. Its effectiveness depends on the individual experiences of the population and their cultural traditions. Usually, the waters recommended for dermatological treatment are hot springs that contain sulfur or more recently, silicon. The mechanisms by which mineral waters actuate in dermatological disorders are still not clear but it is believed that they involve thermal, mechanical, chemical, immunologic, and anti-oxidant reactions and enzymatic activity. The aim of this study is to characterize the thermal waters of Monfortinho, one of the oldest Portuguese spas, their potential use for the preparation of dermatological formulations (creams), and their effectiveness on the treatment of skin disorders (psoriasis and eczema). To accomplish this, cream formulations with different contents of thermal water were developed. The formulations were characterized in terms of thermal water analysis and physicochemical properties and their effects were studied by skin biometrics in adults (mean age of 54.3 years old) through skin hydration evaluation and evaluated in clinical studies on 22 patients with psoriasis and eczema. The results showed that all the formulations improved the skin hydration and have beneficial effects in relieving the symptoms of psoriasis and other disorders, but no significant differences were observed when thermal water was used (compared to laboratory ultra-pure water).
Keywords:
thermal water; creams; psoriasis; eczema; skin biometrics; clinical studies
1. Introduction
The biological effects of mineral water are related to its chemical composition and to some physical properties, especially the concentration of the predominant compounds (mainly inorganic) as well as with the presence of some trace elements.
In this study we evaluated the thermal water, from the Monfortinho spa, suitable for the treatment of dermatologic diseases at three levels: (i) physical and chemical characterization (total mineralization, electrical conductivity, major anions and cations, presence of trace elements, pH, acidity and redox potential); (ii) influence of the percentage of thermal water in topical creams on the hydration capacity (epidermal capacitance) and transepidermal water loss (TEWL); and iii) health benefits of the creams formulated with thermal water at two concentrations on human volunteers with skin problems, mainly psoriasis (clinical study).
2. Materials and Methods
2.1. Physicochemical Analysis of Thermal Water
Ultra-pure water was produced on a Milli Q Gradient A10 system, from Millipore (Molsheim, France).
The conductivity was determined with a CyberScan CON 200, supplied by Eutech Instruments (Thermo Fisher Scientific Inc., Waltham, MA, USA), and the calibration and control of the equipment was made with several conductivity standards (84, 147, 1413, and 12880 μS/cm, 25 °C) supplied by Reagecon (Shannon, Co. Clare, Ireland).
The pH was measured using a pH meter, Crison model micropH 2002 (Barcelona, Spain) with a glass electrode (Crison, Barcelona, Spain), calibrated using the pH standards (pH 4, pH 7, pH 6 and pH 9) supplied by the same company.
The turbidity was determined with a EUTECH TN-100/T-100, supplied by Eutech Instruments (Thermo Fisher Scientific Inc.), and the calibration and control of the equipment was made with several conductivity standards (0.02, 20, 100 and 800 UNT) supplied by Eutech Instruments (Thermo Fisher Scientific Inc, Waltham, MA, USA).
The dissolved oxygen was determined with an inoLab® Laboratory Oxygen Meter, Models Oxi 740, WTW (VWR, Portugal).
The total dissolved solids were determined by gravimetric method at 180 °C using a Memmert oven, model ULM-700 (Memmert, Germany).
Absorption spectrophotometry was used to determine the color and the concentrations of nitrate, nitrite, ammonia, sulphate, phosphate, sulfide, zinc, iron, and silicon, using a double beam UV/Visible spectrophotometer HITACHI U-2000 (Tokyo, Japan).
Fluoride was analyzed by a potentiometric method with a fluoride combination ion selective electrode from Thermo Scientific, model 9609BNWP (Thermo Fisher Scientific Inc, Waltham, MA, USA) and a Crison potentiometer, pH meter model GLP22 (Crison, Barcelona, Spain).
Trace elements (aluminum, antimony, arsenic, barium, beryllium, cadmium, lead, cobalt, copper, chromium, manganese, mercury, nickel, selenium, and vanadium) were determined by electrothermal atomic absorption spectrometry (EAAS) with a Perkin Elmer Zeeman Atomic Spectrometer 4110ZL and Autosampler AS-72 from Perkin Elmer (Norwalk, CT, USA).
Sodium and potassium were analyzed by flame photometry using a 400 Flame Photometer Corning 450 (Corning Limited, Essex, UK).
Hardness, alkalinity, dissolved carbon dioxide, permanganate index, and calcium were analyzed by titrimetric methods.
2.2. Processing and Physicochemical Characterization of the Creams
To prepare the creams the oily and aqueous phases were heated separately to 75 °C, then the oily phase was added to the water phase and the system was mixed with constant agitation (Helipath 130 r.p.m.) until the temperature dropped to 30 °C.
Three creams (O/W emulsions) were formulated and prepared with thermal water at two concentrations and with ultra-pure laboratory water. The oily phase was composed of a surfactant (Ceteareth-12 and ceteareth-20) 3%, a thickening agent (cetyl alcohol) 5%, and an emollient (decyl oleate) 4.5%, while the water phase contained a humectant (glycerin) 5%, preservative (phenoxyethanol) 0.2%, and water up to 100%. A control containing ultra-pure water (MilliQ) and two thermal creams containing thermal water and concentrated thermal water (2:1) were named C-B1, C-1, and C-2, respectively (
Table 1
). Concentrated thermal water (C-2) was prepared by evaporation of water to 50% of its initial volume, using a rotary evaporator (Heidolph, Laborota 4001, Germany) at 90 °C.
The apparent viscosity and rheological profile were evaluated at room temperature, using a Brookfield Rotation Viscosimeter
®
, RV DV-II, Small sample amount (approximately 25 mL) with a spindle 27 (Brookfield Engineering Laboratories, USA). The shear rate [1/s] versus shear stress [Pa] plots were obtained by submitting the samples to a shear rate sweep from 0.6 to 60/s and up and down for 7.5 min. pH values were determined using a pH-meter S20 Seven easy pH, Mettler Toledo (Merck, Darmstadt, Germany), as described elsewhere [
13
].
2.3. Skin Biometrics Evaluation
The moisture content in the stratum corneum is important for cosmetic applications. The skin hydration was evaluated by epidermal capacitance and transepidermal water loss (TEWL) using a Corneometer CM 825 (Courage + Khazaka Electronic GmbH) and a Tewameter TM 210 (Courage + Khazaka Electronic GmbH, Germany). These are indispensable parameters for the evaluation of the water barrier function of the skin and are basic measurements in all kinds of applications.
In this study, the three cream formulations (not diluted) were tested in forearms of healthy volunteers randomly selected in an experimental protocol. A control area in the arm where no cream was applied was chosen as the control. Before use, all formulations under study were transferred to opaque white tubes with a corresponding identification code. Thus, neither the volunteers nor the responsible investigator had any knowledge of which cream was being tested.
The distribution of the cream on the forearms was defined according to a simple procedure of alternating between the right and left arm. The creams were applied to the corresponding forearm twice a day for 28 consecutive days. In the days of skin biometrics evaluation, the cream was applied after the measurement. Volunteers evenly applied about 5 mg/cm2 of cream in an area of 10 × 5 cm, simulating a normal use of the product massaging in 3 circular movements. During the study, the volunteers also kept all their hygiene habits, avoiding any changes in the type of cleaning products used.
A minimized and double-blind study was performed. This protocol was approved by the local Ethical Committee and respected the Helsinki Declaration and Good Clinical Practice studies on cosmetic products. The study was conducted under the supervision of a dermatologist who participated in the evaluation of irritation/allergic reactions to the tested formulations. All participants gave their informed consent. A minimum of 12 volunteers were defined as acceptable for this study. The inclusion criteria in this study were: age range of 18–65 years, feminine gender, skin phototype between I–IV, no skin diseases in the arms and forearms, no marks (tattoos, scars) in the arms and forearms, and arms and forearms with little hair. This study also had exclusion criteria, such as volunteers with systemic disease, pregnancy, autoimmune pathology, serious pathology in the 6 months prior to the beginning of the study (including cancer, myocardial infarction, diabetes), use of any topical medication at the site of assessment, use of any anti-inflammatory systemic medication in the period up to 1 month prior to study initiation or 2 weeks in case of antibiotics, fever for more than 24 h on the 8 days before the beginning of the study, use of drugs or alcohol, beach sunbathing during the course of the study, and participation in other cosmetic or clinical studies in the previous two weeks. On the day of the skin biometrics evaluation, the volunteers had an acclimatization period of 20–30 min in the laboratory (21 °C, 50% relative humidity), so that the skin parameters were measured under the same conditions throughout the study.
2.4. Clinical Study
The creams were prescribed for 30 patients with psoriasis, atopic dermatitis, and eczema with different stages of the disease, as standard clinical practice. The prescription of the creams was "apply twice a day as a thin layer with massage". The observational study was authorized by the hospital's ethic committee and was conducted in 22 patients after receiving their written informed consent. Patients with advanced diseases were excluded. Patients with psoriasis and eczema were evaluated by the physician and skin response was registered. Erythema, pruritus, and flaking were evaluated by the physician. The moisture content (epidermal capacitance) of the skin was also measured.
2.5. Statistical Analysis
Differences in the intergroup over time were calculated by 1-way ANOVA using Excel software from Microsoft. A
P
-value of less than 0.05 was considered statistically significant.
3. Results and Discussion
4. Conclusions
Cosmetics, unlike drugs, are not used to diagnose or treat a disease, but to improve appearance and satisfy consumers. The skin feel of personal care products has been shown to improve consumer experiences, with both physical and psychological effects. Indeed, the psychological part also plays a role on the effect of these products.
Research should continue to be a differentiating factor of the spa treatment, to give it a scientific validation. To achieve this goal, it is fundamental to stimulate the involvement of universities and research institutes, medical spas, hospitals, and motivate a transdisciplinary approach involving researchers from different areas. This obviously demands an adequate funding support from the state.
This study showed that all the creams tested had a positive effect on the skin because of the increase in skin hydration, when compared with the area that received no treatment. The clinical studies showed an increased relief of symptoms associated with psoriasis, eczema, or dermatitis. However, no statistically significant differences were observed when comparing the tested formulations, including the one prepared with laboratory ultra-pure water. An advantage is that the formulations are easy to prepare and economically viable, and showed beneficial effects in decreasing the dryness of the skin in the studied diseases.
However, further studies are necessary to unravel the possible therapeutic effects of the Monfortinho thermal waters.
Author Contributions
A.M. prepared the formulations. J.M. and A.G. performed the in vitro characterization studies. P.P. designed and supervised the in vivo studies. H.R. and C.A. designed and supervised the experiments. All authors contributed to the manuscript preparation.
Funding
This work was funded by FCT-Fundação para a Ciência e a Tecnologia (UID/DTP/04138/2013) and PhD Trials.
Acknowledgments
The authors would like to acknowledge Ana Martins for the manuscript revision.
Conflicts of Interest
The authors state no conflict of interest and have received no payment in preparation of this manuscript.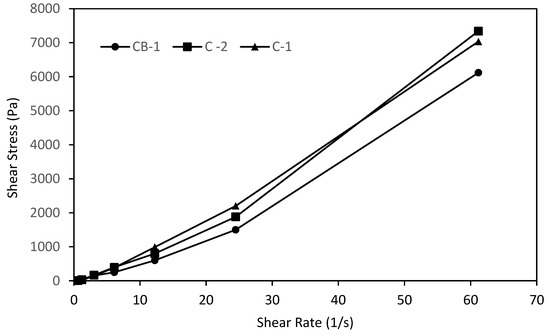 Figure 1. Different creams flow curves: cream with concentrated thermal water 2:1 (C-2), cream with thermal water (C-1), and cream with laboratory water (CB-1).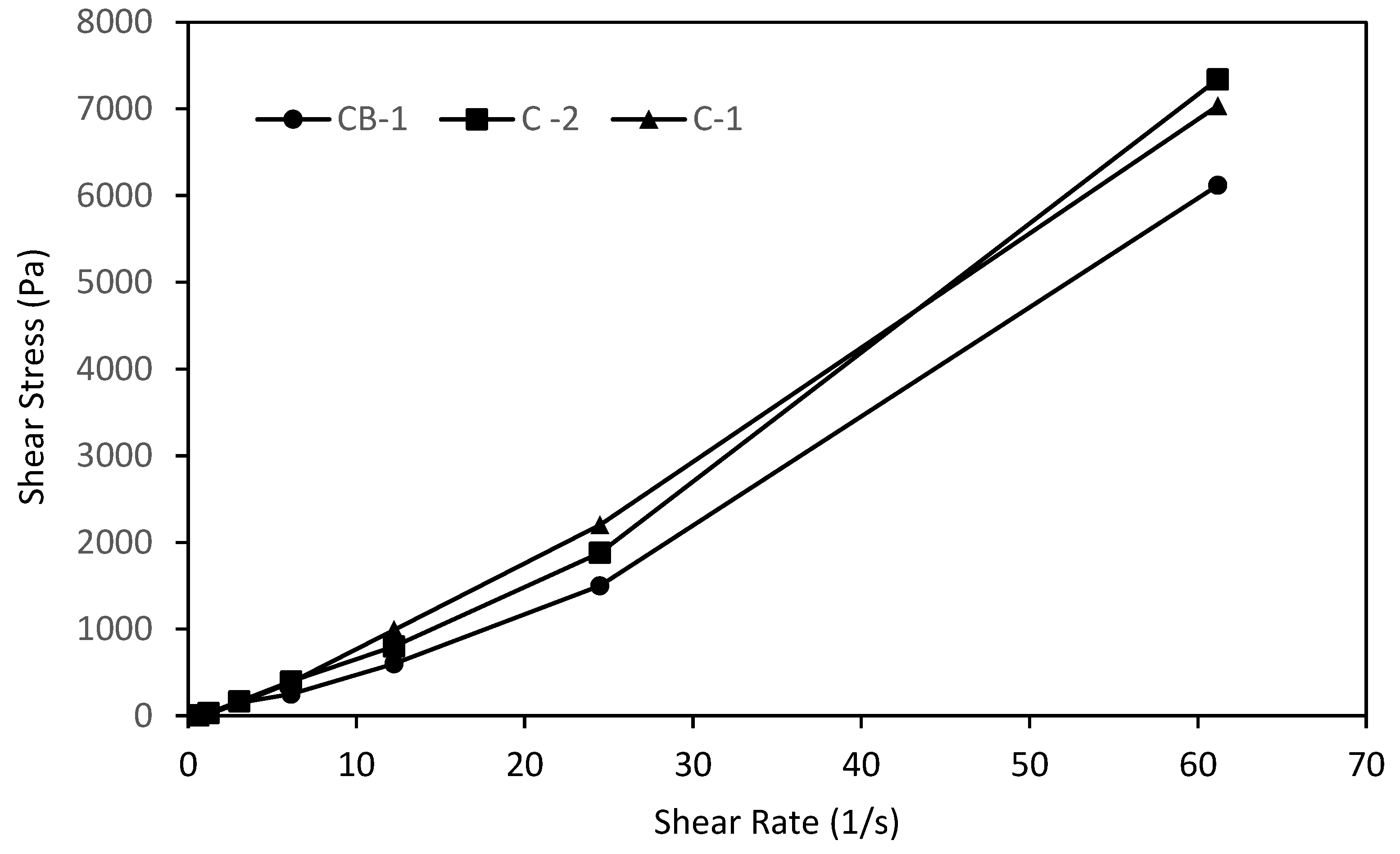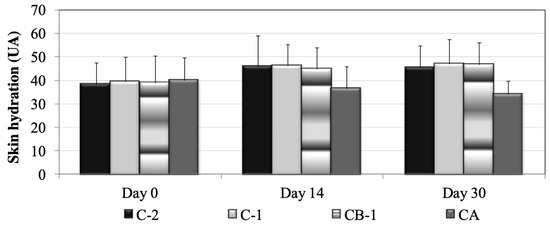 Figure 2. Skin surface hydration over 30 days of treatment with different cream formulations: cream with concentrated thermal water 2:1 (C-2), cream with thermal water (C-1), cream with laboratory water (CB-1), and evaluation of skin without cream (control area or CA). (mean ± SD, n = 12).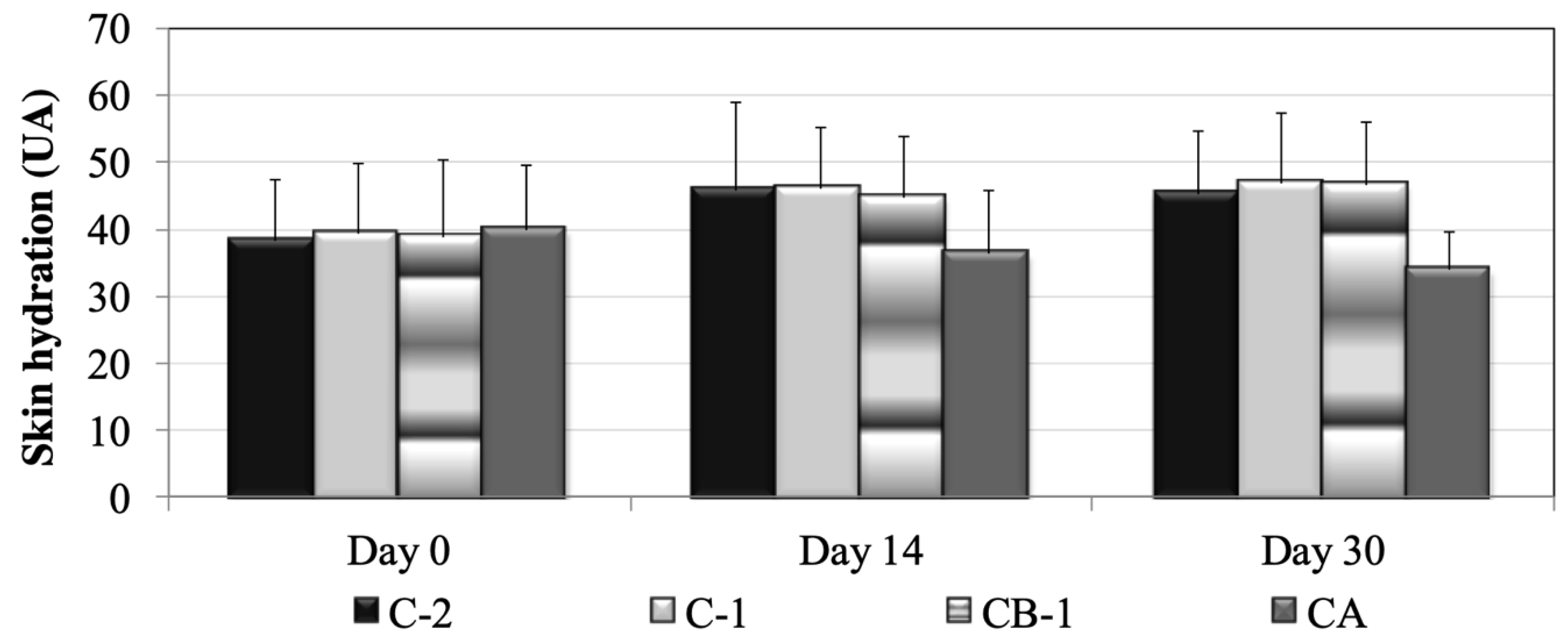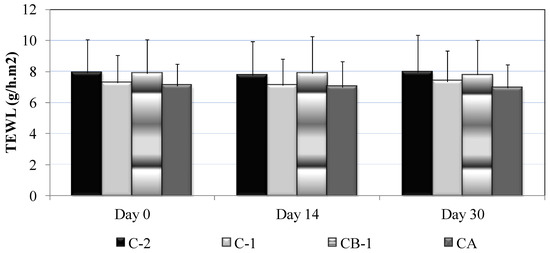 Figure 3. Transepidermal water loss (TEWL) over 30 days of treatment with different cream formulations: cream with concentrated thermal water 2:1 (C-2), cream with thermal water (C-1), cream with laboratory water (CB-1), and evaluation of skin without cream (Control area). (mean ± SD, n = 12).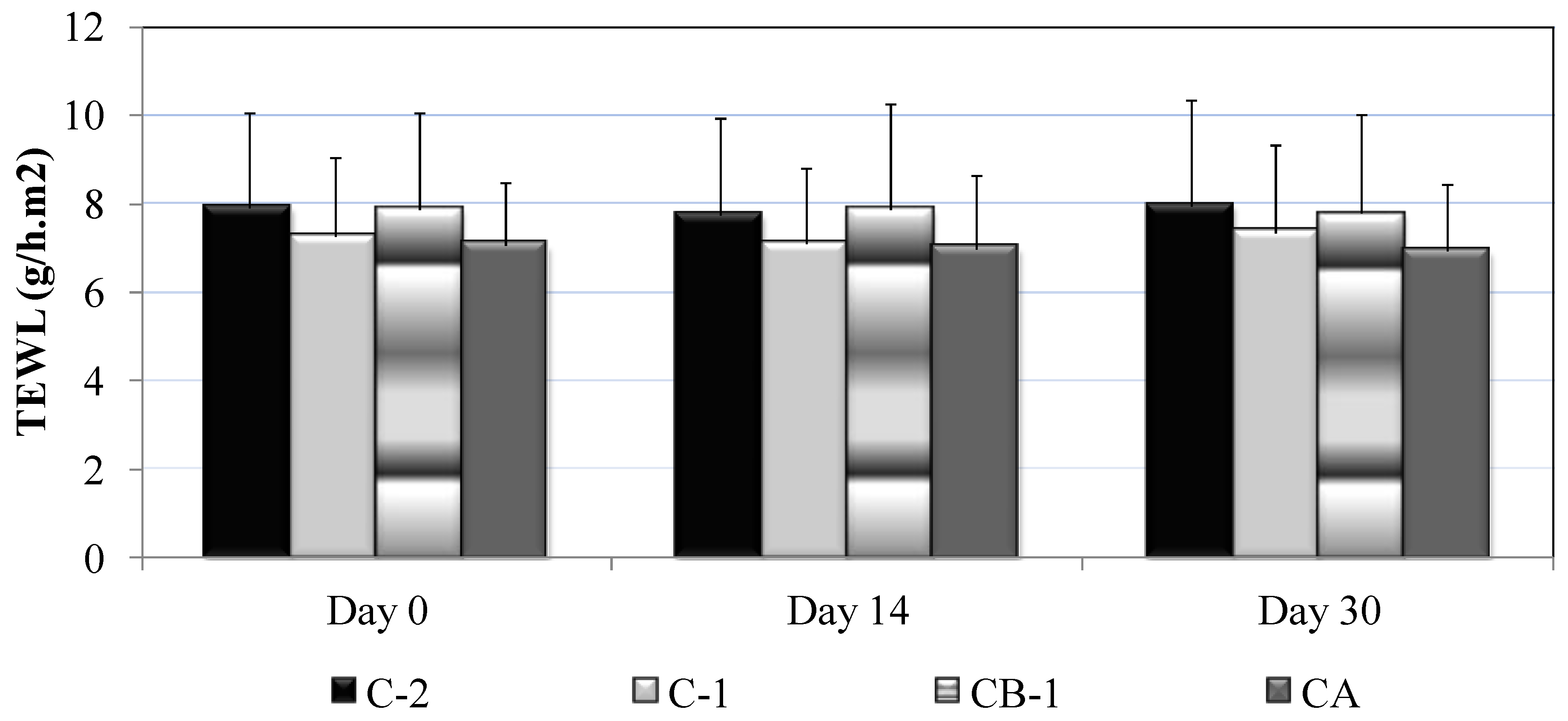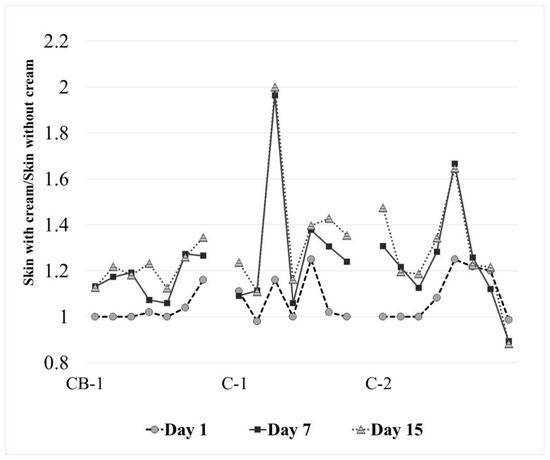 Figure 4. Effects of the creams in skin hydration (UA) of patients with psoriasis: ratio between values obtained with creams prepared with three types of water (cream with laboratory water (CB-1), cream with thermal water (C-1), cream with concentrated thermal water 2:1 and (C-2)) and with no cream application.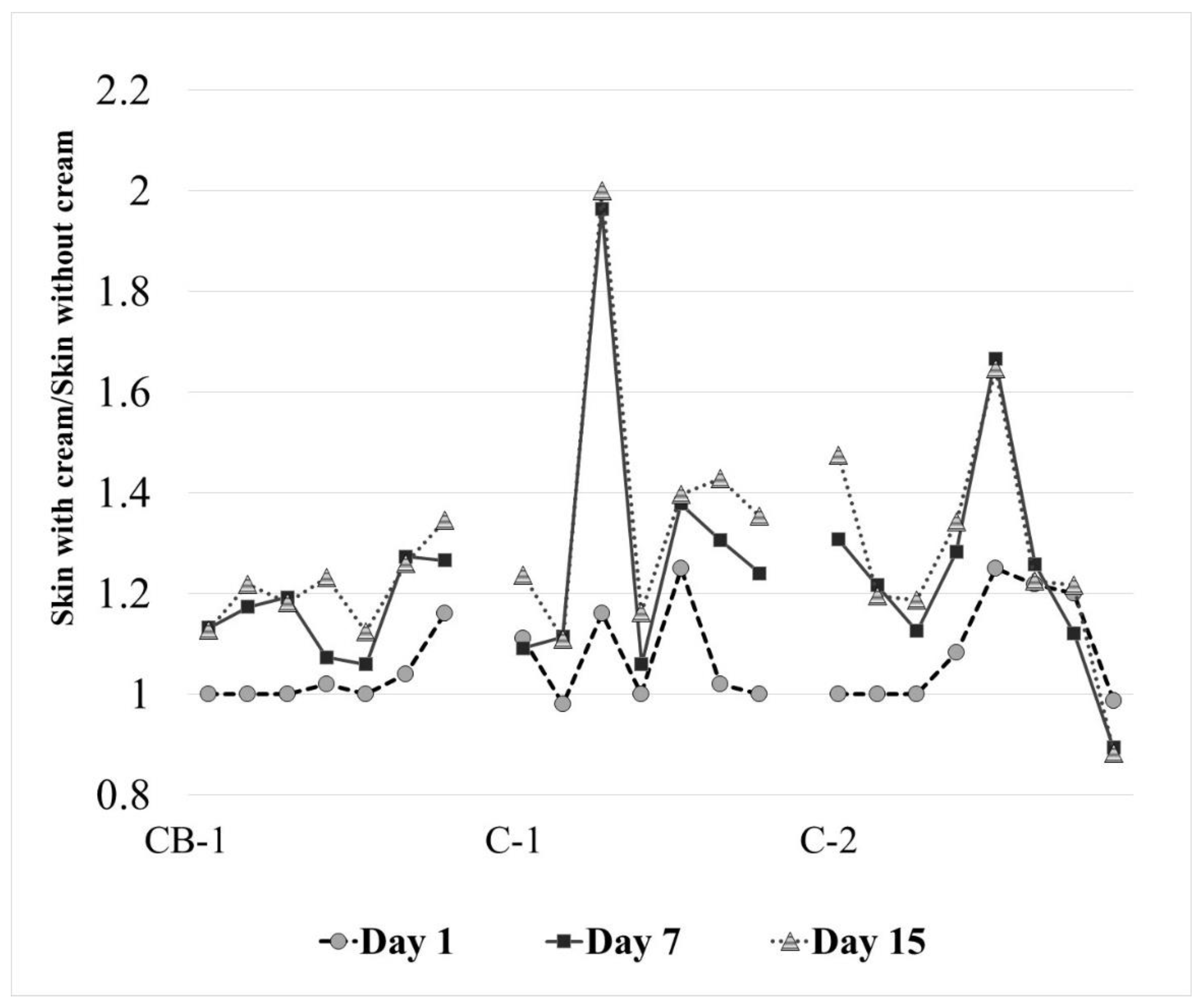 Ingredients (Chemical Name)
Qualitative and Quantitative Composition % (

w

/

w

)
C-Bl
C-1
C-2
Ceteareth-12 (and) Ceteareth-20
3.0
3.0
3.0
Cetyl alcohol
5.0
5.0
5.0
Decyl oleate
4.5
4.5
4.5
Glycerin
5.0
5.0
5.0
Phenoxyethanol
0.2
0.2
0.2
Ultra-pure laboratory water
q.s. 100%
-
-
Thermal water
-
q.s. 100%
-
Concentrated thermal water (2:1)
-
-
q.s. 100%

Table 2. Physicochemical analysis of Monfortinho thermal water: inorganic and physical parameters (n = 3).
Parameter
Units
Results
Inorganic and Physical Factors
Alkalinity
mg/L CaCO3
2.5
Ammonia
mg/L NH4
<0.05 *
Boron
mg/L B
<0.17 *
Chloride
mg/L Cl
3.7
Conductivity (20 °C)
μS/cm
38
Dissolved carbon dioxide
mg/L CO2
27
Dissolved oxygen
mg/L O2
7.5
% Saturation
87
Fluoride
mg/L F
0.05
Hardness
mg/L CaCO3
17
Nitrate
mg/L NO3
<5.0 *
Nitrite
mg/L NO2
<0.01 *
Ortho-phosphate
mg/L PO4
<0.05 *
Permanganate index
mg/L O2
0.67
pH (25 °C)
pH scale
5.7
Silicon
mg/L SiO2
16
Sulfide
mg/L S
<0.17 *
Sulphate
mg/L SO4
<5.0 *
Total dissolved solids (TDS)
mg/L
53
True color
mg/L Pt/Co
<0.50 *
Turbidity
UNT
0.17
* < LOQ, limit of quantification.
Parameter
Units
Results
Metals
Aluminum
μg/L Al
<30 *
Antimony
μg/L Sb
<2.0 *
Arsenic
μg/L As
<1.0 *
Barium
μg/L Ba
<60 *
Beryllium
μg/L Be
<2.0 *
Cadmium
μg/L Cd
<1.0 *
Calcium
mg/L Ca
1.6
Chromium
μg/L Cr
<10 *
Cobalt
μg/L Co
<4.0 *
Copper
μg/L Cu
<10 *
Iron
μg/L Fe
<20 *
Lead
μg/L Pb
<6.0 *
Magnesium
mg/L Mg
2.7
Manganese
μg/L Mn
<15 *
Mercury
μg/L Hg
<0.30 *
Nickel
μg/L Ni
<6.0 *
Potassium
mg/L K
0.90
Selenium
μg/L Se
<1.0 *
Sodium
mg/L Na
3.3
Vanadium
μg/L V
<5.0 *
Zinc
mg/L Zn
<0.20 *
* <LOQ, limit of quantification.

Table 4. Effects of each cream formulation (CB-1, C-1, C-2) in the symptoms of different skin disorders in 22 patients from Monfortinho spa.
Case Code
Age
Skin Disorder
Location
Erythema
Itching
Flaking
CB-1, n = 7
29
60
Psoriasis
Elbow
0
0
0
26
77
Psoriasis
Left arm
1
1
1
19
73
Psoriasis
Forearm
1
0
1
17
46
Psoriasis
Left elbow
1
1
1
9
73
Psoriasis
Leg
1
1
0
24
65
Psoriasis
Elbow
1
1
0
4
38
Psoriasis
Left shoulder
1
1
1
C-1, n = 7
23
82
Dermatitis
Leg
0
0
0
20
27
Psoriasis
Arm
0
1
1
11
12
Psoriasis
Chest
1
1
1
3
53
Psoriasis
Forearm
1
1
1
27
35
Psoriasis
Left foot
1
1
1
28
83
Psoriasis
Knee
1
1
1
26
61
Psoriasis
Elbow
1
1
1
C-2, n = 8
7
55
Psoriasis
Arms
1
1
1
30
63
Psoriasis
Elbows
0
0
1
21
66
Psoriasis
Right hand
0
0
0
25
52
Psoriasis
Left arm
1
0
0
22
35
Psoriasis
Forearm
0
1
1
15
18
Atopic eczema
Arm
1
1
1
1
55
Atopic eczema
Right elbow
0
1
1
2
66
Psoriasis
Right elbow
1
1
1

© 2019 by the authors. Licensee MDPI, Basel, Switzerland. This article is an open access article distributed under the terms and conditions of the Creative Commons Attribution (CC BY) license (http://creativecommons.org/licenses/by/4.0/).