Incomplete Healing as a Cause of Aging: The Role of Mitochondria and the Cell Danger Response
The Mitochondrial and Metabolic Disease Center, Departments of Medicine, Pediatrics, Pathology, University of California, San Diego School of Medicine, San Diego, CA 92103, USA
Received: 9 January 2019 / Revised: 14 February 2019 / Accepted: 20 February 2019 / Published: 11 May 2019
Abstract
The rate of biological aging varies cyclically and episodically in response to changing environmental conditions and the developmentally-controlled biological systems that sense and respond to those changes. Mitochondria and metabolism are fundamental regulators, and the cell is the fundamental unit of aging. However, aging occurs at all anatomical levels. At levels above the cell, aging in different tissues is qualitatively, quantitatively, and chronologically distinct. For example, the heart can age faster and differently than the kidney and vice versa. Two multicellular features of aging that are universal are: (1) a decrease in physiologic reserve capacity, and (2) a decline in the functional communication between cells and organ systems, leading to death. Decreases in reserve capacity and communication impose kinetic limits on the rate of healing after new injuries, resulting in dyssynchronous and incomplete healing. Exercise mitigates against these losses, but recovery times continue to increase with age. Reinjury before complete healing results in the stacking of incomplete cycles of healing. Developmentally delayed and arrested cells accumulate in the three stages of the cell danger response (CDR1, 2, and 3) that make up the healing cycle. Cells stuck in the CDR create physical and metabolic separation—buffer zones of reduced communication—between previously adjoining, synergistic, and metabolically interdependent cells. Mis-repairs and senescent cells accumulate, and repeated iterations of incomplete cycles of healing lead to progressively dysfunctional cellular mosaics in aging tissues. Metabolic cross-talk between mitochondria and the nucleus, and between neighboring and distant cells via signaling molecules called metabokines regulates the completeness of healing. Purinergic signaling and sphingolipids play key roles in this process. When viewed against the backdrop of the molecular features of the healing cycle, the incomplete healing model provides a new framework for understanding the hallmarks of aging and generates a number of testable hypotheses for new treatments.
View Full-Text
►

▼

Figures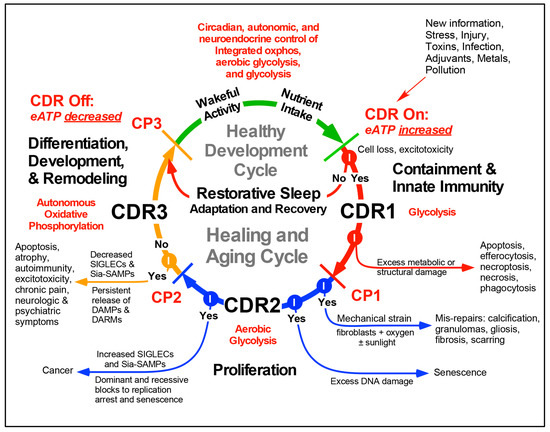 Figure 1
This is an open access article distributed under the
Creative Commons Attribution License
which permits unrestricted use, distribution, and reproduction in any medium, provided the original work is properly cited (CC BY 4.0).

Share & Cite This Article
MDPI and ACS Style
Naviaux, R.K. Incomplete Healing as a Cause of Aging: The Role of Mitochondria and the Cell Danger Response. Biology 2019, 8, 27.
Note that from the first issue of 2016, MDPI journals use article numbers instead of page numbers. See further details here.
Related Articles
Comments
[Return to top]