Sensitivity of Yeast Mutants Deficient in Mitochondrial or Vacuolar ABC Transporters to Pathogenesis-Related Protein
Tc

PR-10 of

Theobroma cacao

Departamento de Ciências Biológicas, Laboratório de Biologia de Fungos, Centro de Biotecnologia e Genética, Universidade Estadual de Santa Cruz (UESC), Rodovia Jorge Amado, km 16, Ilhéus, Bahia, CEP 42665-000, Brazil

†

Current address: Faculdade Estácio de Feira De Santana, Av. Getúlio Vargas, 3522, Feira de Santana, CEP 44077-005, Brazil.

*

Author to whom correspondence should be addressed.

Received: 27 August 2017 / Revised: 24 October 2017 / Accepted: 1 November 2017 / Published: 13 June 2018
Abstract
Pathogenesis-related proteins (PRs) are induced in plants after infection by pathogens and/or abiotic stress. Among these proteins, the family 10 (PR-10) influences the biosynthesis of secondary metabolites and shows antimicrobial ribonuclease activity.
Tc
PR-10p (Pathogenesis-related Protein 10 of
Theobroma cacao
) was isolated from resistant and susceptible
Moniliophthora perniciosa
cacao cultivars. Cell survival with
Saccharomyces cerevisiae
mutant lines deficient in ATP-binding cassette (ABC) transporter proteins indicated the influence on resistance to
Tc
PR-10p. Proteins of the ABC transport type are considered important in the process of resistance to antimicrobials and toxins. Thus, the objective of this work was to observe the sensitivity of ABC transporter yeast mutants in the presence of the
Tc
PR-10p. Chronic exposure of
S. cerevisiae
mitochondrial (BY
atm1Δ
and BY
mdl1Δ
) and vacuole (BY
nft1Δ
, BY
vmr1Δ
, BY
ybt1Δ
, BY
ycf1Δ
and BY
bpt1Δ
) ABC transporter mutants to
Tc
PR-10p (3 μg/mL, 0, 6, 12 and 24 h) was performed. Two
Tc
PR-10p sensitive strains (BY
mdl1Δ
and BY
nft1Δ
) were submitted to a fluorescence test with the fluorogenic dihydroethidium (DHE), to visualize the presence of oxidative stress in the cells. Oxidative stress-increased sensitivity was confirmed by flow cytometry indicating induced cell death either via apoptosis or necrosis. This yeast data combined with previous data of literature (of
M. perniciosa
sensitivity to
Tc
PR-10p) show that increased sensitivity to
Tc
PR-10p in these mutants could be due to the
Tc
PR10p-generated higher levels of intracellular reactive oxygen species (ROS), leading to increased cell death either via necrosis or apoptosis.
View Full-Text
►

▼

Figures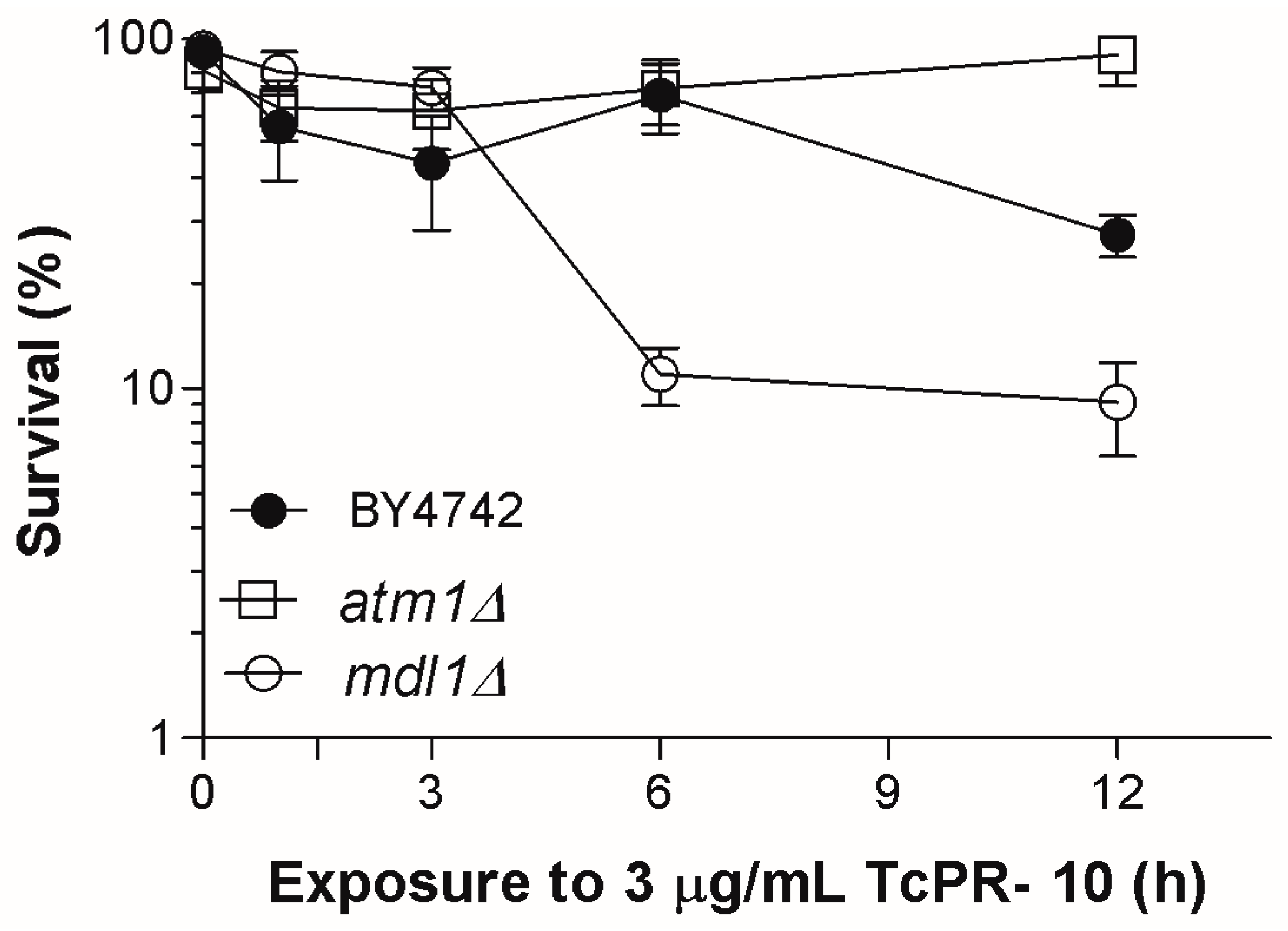 Figure 1
This is an open access article distributed under the
Creative Commons Attribution License
which permits unrestricted use, distribution, and reproduction in any medium, provided the original work is properly cited (CC BY 4.0).

Share & Cite This Article
MDPI and ACS Style
Barreto, L.R.; Barreto, T.; Melo, S.; Pungartnik, C.; Brendel, M. Sensitivity of Yeast Mutants Deficient in Mitochondrial or Vacuolar ABC Transporters to Pathogenesis-Related Protein TcPR-10 of Theobroma cacao. Biology 2018, 7, 35.
Note that from the first issue of 2016, MDPI journals use article numbers instead of page numbers. See further details here.
Related Articles
Comments
[Return to top]