Sources and Fates of Carbamyl Phosphate: A Labile Energy-Rich Molecule with Multiple Facets
1
Center for Genetic Medicine Research, Children's National Medical Center, Washington, DC 20010, USA
2
Department of Genomics and Precision Medicine, The George Washington University, Washington, DC 20010, USA
*
Author to whom correspondence should be addressed.
Received: 24 April 2018 / Revised: 25 May 2018 / Accepted: 7 June 2018 / Published: 12 June 2018
Abstract
Carbamyl phosphate (CP) is well-known as an essential intermediate of pyrimidine and arginine/urea biosynthesis. Chemically, CP can be easily synthesized from dihydrogen phosphate and cyanate. Enzymatically, CP can be synthesized using three different classes of enzymes: (1) ATP-grasp fold protein based carbamyl phosphate synthetase (CPS); (2) Amino-acid kinase fold carbamate kinase (CK)-like CPS (anabolic CK or aCK); and (3) Catabolic transcarbamylase. The first class of CPS can be further divided into three different types of CPS as CPS I, CPS II, and CPS III depending on the usage of ammonium or glutamine as its nitrogen source, and whether
N
-acetyl-glutamate is its essential co-factor. CP can donate its carbamyl group to the amino nitrogen of many important molecules including the most well-known ornithine and aspartate in the arginine/urea and pyrimidine biosynthetic pathways. CP can also donate its carbamyl group to the hydroxyl oxygen of a variety of molecules, particularly in many antibiotic biosynthetic pathways. Transfer of the carbamyl group to the nitrogen group is catalyzed by the anabolic transcarbamylase using a direct attack mechanism, while transfer of the carbamyl group to the oxygen group is catalyzed by a different class of enzymes, CmcH/NodU CTase, using a different mechanism involving a three-step reaction, decomposition of CP to carbamate and phosphate, transfer of the carbamyl group from carbamate to ATP to form carbamyladenylate and pyrophosphate, and transfer of the carbamyl group from carbamyladenylate to the oxygen group of the substrate. CP is also involved in transferring its phosphate group to ADP to generate ATP in the fermentation of many microorganisms. The reaction is catalyzed by carbamate kinase, which may be termed as catabolic CK (cCK) in order to distinguish it from CP generating CK. CP is a thermally labile molecule, easily decomposed into phosphate and cyanate, or phosphate and carbamate depending on the pH of the solution, or the presence of enzyme. Biological systems have developed several mechanisms including channeling between enzymes, increased affinity of CP to enzymes, and keeping CP in a specific conformation to protect CP from decomposition. CP is highly important for our health as both a lack of, or decreased, CP production and CP accumulation results in many disease conditions.
View Full-Text
►

▼

Figures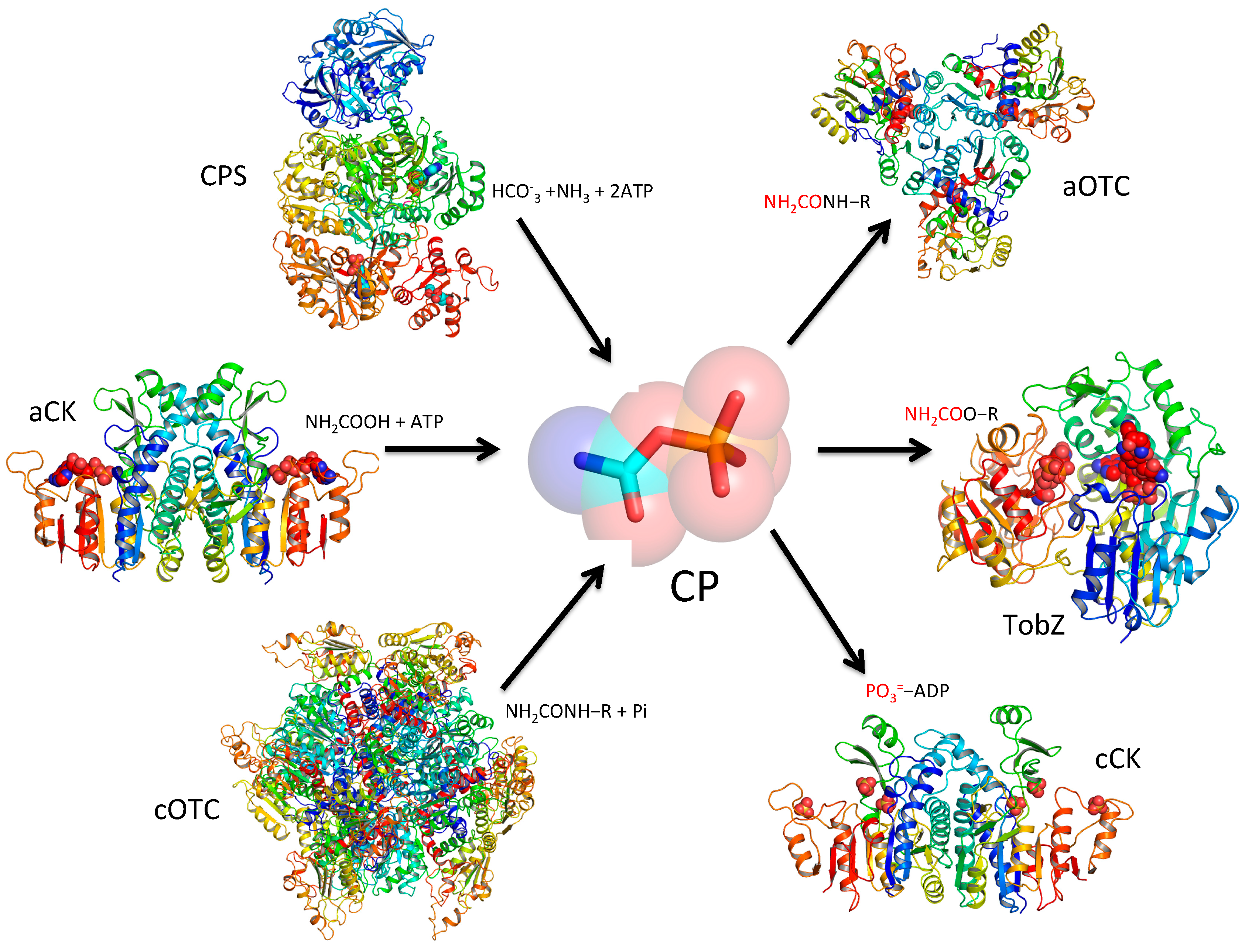 Figure 1
This is an open access article distributed under the
Creative Commons Attribution License
which permits unrestricted use, distribution, and reproduction in any medium, provided the original work is properly cited (CC BY 4.0).

Share & Cite This Article
MDPI and ACS Style
Shi, D.; Caldovic, L.; Tuchman, M. Sources and Fates of Carbamyl Phosphate: A Labile Energy-Rich Molecule with Multiple Facets. Biology 2018, 7, 34.
Note that from the first issue of 2016, MDPI journals use article numbers instead of page numbers. See further details here.
Related Articles
Comments
[Return to top]