Open Access This article is
freely available
re-usable
Review
The Consequences of Chromosome Segregation Errors in Mitosis and Meiosis
1
Stowers Institute for Medical Research, Kansas City, MO 64110, USA
2
Cell Cycle and Cancer Biology Research Program, Oklahoma Medical Research Foundation, Oklahoma City, OK 73104, USA
*
Author to whom correspondence should be addressed.
Academic Editor: J. Richard McIntosh
Received: 10 November 2016 / Accepted: 26 January 2017 / Published: 8 February 2017
Abstract
:
Mistakes during cell division frequently generate changes in chromosome content, producing aneuploid or polyploid progeny cells. Polyploid cells may then undergo abnormal division to generate aneuploid cells. Chromosome segregation errors may also involve fragments of whole chromosomes. A major consequence of segregation defects is change in the relative dosage of products from genes located on the missegregated chromosomes. Abnormal expression of transcriptional regulators can also impact genes on the properly segregated chromosomes. The consequences of these perturbations in gene expression depend on the specific chromosomes affected and on the interplay of the aneuploid phenotype with the environment. Most often, these novel chromosome distributions are detrimental to the health and survival of the organism. However, in a changed environment, alterations in gene copy number may generate a more highly adapted phenotype. Chromosome segregation errors also have important implications in human health. They may promote drug resistance in pathogenic microorganisms. In cancer cells, they are a source for genetic and phenotypic variability that may select for populations with increased malignance and resistance to therapy. Lastly, chromosome segregation errors during gamete formation in meiosis are a primary cause of human birth defects and infertility. This review describes the consequences of mitotic and meiotic errors focusing on novel concepts and human health.
Keywords:
aneuploidy; polyploidy; microtubule; chromosome instability; cancer; birth defects; fertility; drug resistance; centromere; kinetochore
1. Introduction
Other papers in the Special Issue "Mechanisms of Mitotic Chromosome Segregation" have explored the events of cell division and how defects might generate errors in the transmission of chromosomes to progeny cells. The defects are diverse in origin, including abnormalities in chromosome structure and function resulting in chromosomes that lag in anaphase or exhibit incomplete separation of sister chromatids. Spindle abnormalities such as multipolar spindles and defects in cytokinesis are additional sources of abnormal chromosome segregation. Finally, errors in cell cycle regulation, including delays during division and defects in cell cycle checkpoints also lead to missegregation. In this concluding chapter, we delve into the consequences of mitotic and meiotic errors. These can be benign or severe, depending on the degree and nature of the error, on the genetic background of the cell, and on the precise role of the cell in question. It is important to recognize that segregation abnormalities may not always generate aneuploidy. Even for a single chromosome that undergoes premature chromatid separation, random assortment will generate proper segregation to the two daughter cells 50% of the time. Outcomes of improper segregation are also influenced by stochastic variables that cause cells in seemingly identical situations to take different paths in response to identical errors [
1
]. Cell cycle checkpoints can sometimes identify impending errors and provide corrective countermeasures that lead to normal division. If checkpoints fail to correct the problem but division proceeds, then daughter cells are born with a genetic imbalance of one or more whole chromosomes, segments of chromosomes, or entire sets of chromosomes. In some instances, departure from conventional cell cycle patterns that lead to abnormal chromosome content are an aspect of normal development. This is often true for polyploidy, while aneuploidy is more often a result of errors in chromosome segregation. In most normal tissue cells, a surveillance system, highly dependent on the p53 tumor suppressor, is active in responding to the presence of abnormal chromosome content and can halt the cycling of the cell, cause cell death, or induce senescence (
Figure 1
) [
2
,
3
,
4
,
5
].
Cells that lose or gain less than a whole set of chromosomes during cell division are termed aneuploid. Cells with a tendency to lose or gain chromosomes at a high rate are said to exhibit chromosome instability (see
Table 1
for definitions). Certain genotypes may be inherently prone to continuous chromosomal instability, producing a diverse brood of aneuploid progeny. Alternatively, cells can be aneuploid but relatively stable in chromosome content. Cells may also undergo an increase in a whole set of chromosomes, a condition termed polyploidy. Polyploid cells frequently contain more than two centrosomes. In subsequent cell divisions, the centrosomes sometimes generate multipolar spindles where chromosomes are segregated to three or more daughter cells, resulting in aneuploid cells with variable numbers of chromosomes. The full consequences of chromosome segregation errors are vast in scope, since they affect many aspects of cell physiology, tissue homeostasis, and the adaptability of cells and organisms.
Chromosome segregation requires the coordination of two major pathways: chromosome movement and cell cycle regulation during M phase. A major contributor to this coordination is the mitotic spindle checkpoint. As detailed in another contribution in this series, defects in mitotic spindle assembly and chromosome alignment activate the spindle checkpoint, which delays cells in M phase. Optimally this delay allows the recovery of the normal spindle and balanced chromosome segregation. However, the delay can have multiple consequences. Mammalian cells arrested in M phase eventually exhibit markers indicative of DNA damage [
6
,
7
]. Cells in which the spindle checkpoint is purposefully activated by application of microtubule drugs often undergo apoptotic cell death, either directly in mitosis or after exiting M phase into G1 (
Figure 1
) [
1
,
8
]. One critical pathway in regulating cell death during M phase arrest is Cdk1-dependent phosphorylation and the subsequent degradation of Mcl-1, an anti-apoptotic member of the Bcl-2 family [
9
,
10
,
11
,
12
]. Certain aspects of apoptotic signaling are suppressed during M phase, but partial activation of these pathways may lead to cell death in the subsequent G1 phase [
13
]. In cells with normal p53 function, even a relatively short delay in M phase may lead cells to cease cycling after entering G1 [
14
]. Cells with chromosome segregation defects that escape apoptosis produce progeny with altered chromosome content. These cells may continue to cycle, particularly if p53 is inactivated. Chromosome segregation errors result in aneuploid or polyploid cells and are generally detrimental to both the cell and the organism. However, in some instances, changes in ploidy are programmed in normal development and physiology. At times, even accidental diversions from euploidy can generate beneficial evolutionary adaptations, particularly in single-cell organisms. In this review, we describe the consequences of aneuploidy and polyploidy due to segregation errors in mitosis and meiosis, focusing on recent novel ideas and on topics pertinent to human health.
2. Aneuploidy in Mitosis
2.1. Effects of Aneuploidy on Gene Dosage
In diploid organisms, apart from special instances such as the sex chromosomes of animals, genes are present in two copies that are both transcribed. Gain or loss of one copy changes the amount of gene product produced, a property called gene dosage. Unlike the doubling of a whole genome in polyploidy, where the increase of the gene dosage is equivalent for all chromosomes, loss or gain of an individual chromosome or chromosome fragment causes unbalanced changes in the cellular proteome. Studies in fungi and mammalian systems have shown that changes in mRNA and protein levels from genes on aneuploid chromosomes are roughly proportional to the changes in the chromosome copy number [
15
,
16
,
17
,
18
,
19
]. Aneuploidy of large, gene-rich chromosomes can cause changes in the expression of thousands of genes. Moreover, transcription factors encoded on aneuploid chromosomes will alter gene expression on other chromosomes [
19
]. Consequently, aneuploidy can cause a diverse spectrum of changes in the proteome of the cell, depending on the specific chromosomes lost or gained. Finally, aneuploidy itself may drive further chromosome instability, a topic treated in more detail below.
2.2. Effects of Aneuploidy on Cellular Fitness
The euploid karyotype is a product of natural selection for the best fitness for a species in an ecological niche. Aneuploidy will alter cellular physiology in many ways, depending on which chromosomes are extra or missing. Changes in the chromosome copy number alter the production of proteins (
Figure 2
). Imbalances in protein levels will occur particularly in protein complexes where the genes encoding individual components of the complex reside on different chromosomes. These imbalances will disrupt protein homeostasis, increase the workload for chaperones, and overload the protein degradation machinery, resulting in a form of toxicity referred to as proteotoxic stress [
18
,
20
]. Therefore, aneuploidy imposes a distinct fitness cost. In the ordinary environment, engineered aneuploid yeast strains and viable aneuploid mouse cells often grow slower than their euploid counterparts [
21
,
22
,
23
].
2.3. Aneuploidy in Fungi
Despite the overall fitness cost of carrying extra chromosomes, variation in the chromosome copy number can be found in many fungal species. The immediate shifts in the dosage of several genes conveyed by aneuploidy may confer rapid advantages in new environments, compared to the slower method via selection for adaptive mutations in individual genes. Fungi display remarkable genomic plasticity and can tolerate large-scale genomic changes. Variations in the chromosome copy number in
S. cerevisiae
have been detected frequently in association with domestication and adaptation to specific, often suboptimal, environments [
24
,
25
,
26
,
27
,
28
]. Aneuploidies that have deleterious phenotypes are quickly eliminated from populations by selection, leaving viable aneuploidies where the benefits of the presence of extra chromosome(s) outweigh the fitness cost (
Figure 2
). For instance, aneuploidy is common in laboratory strains of
S. cerevisiae
exposed to genetic transformation techniques, and in wild strains from diverse natural environments [
29
,
30
]. It was estimated that in the laboratory deletion collection of
S. cerevisiae
mutant strains, approximately 8% are aneuploid [
31
]. Aneuploidy appears to be more common in diploid versus haploid strains [
32
], consistent with the idea that smaller gene dosage changes are more tolerable. In industrial strains of
S. cerevisiae
cultured in fermenters or bioreactors, whole chromosome aneuploidies have repeatedly emerged in response to suboptimal conditions such as glucose or phosphate stress [
26
,
32
]. Therefore, the presence and frequency of aneuploidy appears to be strongly influenced by the environment. Karyotypic abnormalities are also frequently found in hospital isolates of pathogenic fungi
Candida albicans
and
Cryptococcus neoformans
, and aneuploidy in these pathogens has been associated with increased virulence and drug resistance [
33
,
34
,
35
,
36
,
37
].
2.4. Aneuploidy in Mammalian Cells
Aneuploidies commonly emerge in mammalian cell cultures, but this phenomenon has been traditionally viewed as an annoyance rather than a topic worthy of study. Most tissue culture cell lines are highly aneuploid, in part because many were originally derived from aneuploid tumors, but also because of fluctuations in ploidy with continued culture. Recently, the de novo generation of aneuploidy in cultured cells has emerged as an important concern for the therapeutic use of pluripotent human stem cells, where the correct karyotype is essential. Pluripotent stem cells acquire numerical and structural chromosomal aberrations during prolonged cell culture, and concurrently show initial signs of malignant transformation [
38
,
39
,
40
]. Human stem cell lines frequently gain a copy of chromosome 12. Trisomy 12 increases cell proliferation in culture and corresponds to global changes in the transcriptome, making the gene expression profile of aneuploid stem cells similar to germ cell tumors [
38
]. While gaining an extra copy of chromosome 12 allows trisomic stem cells to thrive in tissue culture conditions, it has obvious detrimental consequences for the therapeutic use of these cells. A recent study generated a panel of trisomic mouse embryonic stem cells lines, each carrying an extra copy of single chromosomes 6, 8, 11, 12, or 15. Most of these trisomic cell lines proliferated at a high rate in culture, but showed a reduced ability to differentiate and an increased potential to form teratomas, possibly due to deregulated gene expression [
41
].
Retinal Pigment Epithelium-1 (RPE-1) cells are a diploid line of human retinal pigment epithelium cells that are engineered to express telomerase, rendering them immortal [
42
]. They are widely used as a model of non-malignant human diploid cells. In continuous passage in culture, RPE-1 cells will spontaneously gain an extra copy of chromosome 12 [
43
,
44
], but for a different reason than pluripotent stem cells. One of the copies of chromosome 12 in this cell line carries a mutation in the RAS gene [
45
], which may provide these cells a growth advantage. A study of immortalized human colonic epithelial cells carrying an extra copy of chromosome 7 showed better growth in serum-free medium compared to the isogenic diploid cells [
46
]. The growth advantage of the trisomic cells was postulated to stem from overexpression of the epidermal growth factor receptor gene located on chromosome 7. Aneuploid cells derived from the colorectal cancer cell line DLD1 engineered to be trisomic for chromosomes 7 or 13 also demonstrated selective growth advantages under various suboptimal conditions, such as serum deprivation, hypoxia, or exposure to the chemotherapeutic agent 5-fluorouracil [
47
]. Thus, while aneuploidy may be deleterious under conditions where the euploid karyotype provides the best fitness, it can provide a selective advantage when conditions change, allowing adaptation to a novel environment.
2.5. Aneuploidy as a Driver for Genomic and Chromosomal Instability
Chromosomal instability refers to an increased propensity for chromosome segregation errors, resulting in aneuploidy and genomic imbalances [
48
,
49
]. Aneuploidy itself may foster chromosome instability by perturbing the stoichiometry of proteins involved in chromosome segregation [
50
,
51
]. Studies in aneuploid budding yeast showed that unbalanced changes in the copy number of chromosome VII and X perturbed the ratio of essential spindle checkpoint proteins Mad1 and Mad2, whose genes are located, respectively, on these two chromosomes. Maintaining the 1:1 stoichiometry of the Mad1:Mad2 ratio appears crucial for monitoring kinetochore attachments [
52
]. Changes in Mad1:Mad2 ratios compromised the spindle checkpoint and increased chromosomal instability [
53
]. Importantly, aneuploid strains that gained copies of chromosomes VII and X simultaneously were karyotypically more stable than strains where these chromosomes were gained individually. Changing stoichiometric ratios of components of protein complexes or individual proteins with essential structural or regulatory functions can have severe consequences. Dosage imbalance among components of protein complexes can induce defects in the maintenance of genomic fidelity, affecting mitosis, cytokinesis, DNA replication, DNA repair, etc. In line with this hypothesis, yeast strains aneuploid in different chromosomes show various degrees of karyotypic and genomic instability, likely due to products from genes encoded on the aneuploid chromosomes [
53
,
54
]. Studies in human cells also suggest that aneuploidy itself may increase chromosome instability by affecting chromosome segregation in mitosis or by inducing defects in replication [
55
,
56
].
2.6. Aneuploidy and Cancer
2.7. Cohesion Fatigue and Centromere Fission
Another potential source of aneuploidy in tumor cells is cohesion fatigue in cells that are delayed or arrested at metaphase. Normally metaphase is transient, lasting only a few minutes, and is followed by the onset of anaphase where the protease, Separase, severs Rad21, a component of the cohesin complex that holds sister chromatids together [
90
]. However, even when most chromosomes are aligned at the spindle midplane, anaphase onset may be delayed by the spindle checkpoint, activated by the failure of one or a few chromosomes to align in a timely manner [
91
]. Alternatively, defects in the expression of mitotic regulators, sometimes as a consequence of oncogenic changes, may induce delays at metaphase [
68
,
92
,
93
,
94
,
95
,
96
]. During the delay, chromosomes at the metaphase plate begin to separate asynchronously due to pulling forces of kinetochores on spindle microtubules, a process termed cohesion fatigue [
92
,
97
,
98
,
99
]. Cohesion fatigue is a general phenomenon, independent of the mechanism used to induce the metaphase delay [
97
,
98
,
99
]. The timing of chromatid separation varies among cell types and among the individual chromosomes within a single cell. Separation initiates at the kinetochores and then spreads distally along the chromosome arms [
97
].
In cancer cells, numerical and segmental aneuploidies are generally found together (
Figure 3
). Individually, many of the postulated origins of aneuploidy such as telomere erosion, DNA replication errors, DNA repair defects, or cytokinesis failure cannot in a simple way account for both numerical and structural chromosome abnormalities. As a result, many theories suggest independent origins for numerical and segmental aneuploidy. However, mitotic segregation defects can simultaneously generate both types of aneuploidy [
100
]. A common mitotic error is merotelic attachment whereby an individual kinetochore attaches to microtubules from both spindle poles. These attachment errors had been thought to be particularly dangerous because merotelic attachments are not well detected by the spindle checkpoint and allow progression to anaphase [
101
,
102
]. However, merotely that occurs during prometaphase may have a relatively minor effect on chromosome segregation because the merotelic kinetochore is more strongly attached to microtubules from the proper pole. Such merotelic chromatids are resolved properly in anaphase and do not result in chromosome missegregation [
103
,
104
]. In contrast, defects that occur after complete or partial chromatid separation in cohesion fatigue are likely to have severe consequences since the unattached kinetochore may be more prone to near equal attachment to both spindle poles. Kinetochores from partially or fully separated chromatids may attach to microtubules from both poles. Single chromatids derived from unreplicated DNA or from cohesion fatigue will sometimes congress to the spindle equator [
101
,
105
]. Alternatively, the two unpaired chromatids of a single chromosome may orient to the same pole, eventually resulting in numerical aneuploidy (
Figure 4
).
The study of cultured cells from mutant mice and analysis of human cancers of recent origin have led to a proposal that segmental aneuploidy defects involve whole chromosome arms that arise through "centromere fission", breaks at or near centromeres [
107
,
108
]. Light and electron micrographs show that, under certain conditions, merotelically attached kinetochores undergo extreme stretching and possible severing [
109
]. Thus, merotelic attachment following partial or full chromatid separation in cohesion fatigue could generate both breaks at or near centromeres that give rise to duplications, deletions, and translocations as well as micronuclei (Figure 5). The potential consequences of micronuclei formation are described in detail below (
Section 3
). The fusion of broken arms containing centromeres to intact chromosomes may generate dicentric chromosomes that would then undergo rounds of breakage-fusion-bridge cycles to generate more complex and varied segmental chromosome defects. Cohesion fatigue in a large proportion of chromosomes, followed by subsequent cell division, is unlikely to generate viable daughter cells. However, partial or complete chromatid separation, occurring in just one or a few chromosomes, after shorter metaphase delays, may be a common initiating event for the numerical and segmental aneuploidies seen in cancer.
2.8. Modern Analysis and Implications of Cancer Aneuploidy
2.9. Aneuploidy and Drug Resistance
Aneuploidy may promote the emergence of antibiotic-resistant infections and chemotherapy-resistant cancers. The budding yeast
S. cerevisiae
has traditionally been used as a model to study mechanisms of adaptations to various stresses. Yeast can rapidly adapt to unfavorable conditions by changing their karyotype. For instance, the gain of chromosome XV in budding yeast confers resistance to the antibiotic radicicol (inhibitor of chaperone protein HSP90), while the loss of chromosome XVI confers resistance to another antibiotic, tunicamycin [
126
,
127
]. Importantly, this resistance was related to the dosage of certain genes encoded on the extra chromosomes. In the case of radicicol, resistance was caused by the overexpression of two genes encoded on chromosome XV,
STI1
(co-chaperone of Hsp90) and
PDR5
(a pleiotropic drug efflux pump).
C. albicans
and
C. neoformans
, two human fungal pathogens, frequently become aneuploid during infection and after antifungal treatments [
128
,
129
]. Drug resistance is a very common and serious problem with these pathogens. One of the first-line antibiotics for
Candida
fungal infections is fluconazole, a triazole antifungal medication that interferes with the sterol biosynthesis pathway, leading to defects in cell wall synthesis. Resistance to fluconazole has been frequently observed in clinical isolates. Sometimes this resistance can be attributed to mutations in the sterol biosynthesis pathway. However, almost half of the clinical isolates that are resistant to fluconazole carry extra copies of chromosome 5 [
36
]. In this case, fluconazole resistance can be narrowed down to two genes encoded on
C. albicans
chromosome 5:
ERG11
(lanosterol 14-alpha-demethylase, a component of the sterol biosynthesis pathway targeted by fluconazole), and
TAC1
, a regulator of drug efflux pumps [
34
].
In mammals, aneuploidy likely drives some chemotherapeutic drug resistance in cancers. Chromosomally unstable cancer cells tend to develop increased resistance to various chemotherapeutic drugs when compared to their stable counterparts [
130
,
131
,
132
]. The specific molecular mechanisms for drug-resistant phenotypes are not yet clearly tracked to specific genes. Prolonged exposure of human colorectal cancer cell lines to the anti-cancer drug Irinotecan led to the selection of cells containing an extra copy of chromosome 14 [
133
]. It was also reported that resistance to the anti-cancer drug 5-fluorouracil was increased in derivative colorectal cell lines experimentally engineered to be trisomic [
47
]. Findings in aneuploid rodent cell lines are consistent with the idea that multidrug resistance can occur through selection of novel aneuploidies [
131
,
134
]. Thus, as in the case of other environmental challenges, drug challenges create a novel niche to allow cells with altered chromosome constitutions selective survival and growth advantages [
135
].
3. Micronuclei
3.1. Footprint of Mitotic Error
Micronuclei, as an outcome of mitotic errors in higher eukaryotes, have long been observed, but only in recent years have researchers begun to pay close attention to their causes and consequences. A micronucleus is a tiny nucleus that forms from a lagging chromosome or a fragment of a chromosome that fails to incorporate into the main nucleus. When segregated sister chromatids de-condense and the nuclear envelope re-forms around them in telophase (the last stage of mitosis), spatially isolated chromosomes or chromosome fragments also de-condense, forming a small round nucleus enclosed by its own nuclear membrane (
Figure 5
). Micronuclei can be viewed as a footprint of chromosome missegregation that persists after mitotic exit and can be visualized in interphase cells. For pathologists, micronuclei often serve as a marker of chromosomal instability in aggressive cancers, and also as a tool to assess the genotoxicity of various chemicals [
136
].
3.2. Causes and Consequences of Chromosome Entrapment in Micronuclei
It has been reported that cytokinesis can directly generate certain structural disruptions (chromosome breakage, nuclear envelope rupture) due to entrapment of chromatin from lagging chromosomes or chromosome bridges in the cleavage furrow [
100
,
137
]. Entrapment of chromatin in the cleavage furrow appears to be a common mechanism for generating micronuclei [
138
]. Further DNA damage in micronuclei occurs in the subsequent interphase. The nuclear envelope around micronuclei is abnormal. Its nuclear-cytoplasmic trafficking functions are defective, and the nuclear envelope may even undergo catastrophic collapse [
139
,
140
]. The deficient nuclear-cytoplasmic trafficking prevents proper communication of the micronucleus with the rest of the cell, including propagation of the DNA damage signaling. Thus, DNA damage in micronuclei is unable to elicit a robust cellular DNA damage checkpoint response [
139
,
140
]. Failure of the DNA damage checkpoint allows cells with micronuclei containing damaged DNA to reenter mitosis. The formation of micronuclei has been linked to chromothripsis, a form of genomic instability where an individual chromosome breaks into many fragments that religate at random [
141
,
142
]. Advances in single-cell sequencing methods have allowed direct demonstration that chromosomes trapped in micronuclei can undergo chromothripsis [
44
]. Defective DNA replication in micronuclei has been postulated to lead to chromosome fragmentation followed by random relegation [
139
,
143
]. A recent study used inducible inactivation of the Y chromosome centromere to control the timing of micronucleus formation, demonstrating that chromothripsis in this system occurs over multiple cell cycles [
144
]. A chromosome within a micronucleus first undergoes defective replication or fails to repair DNA damage, then becomes fragmented as the chromosome condenses in early mitosis. When incorporated back into the parent nucleus at mitotic exit, the fragments are re-ligated at random by the DNA repair mechanisms.
6. Ploidy Aberrations and P53
6.1. Ideas in Evolution and Cancer
In mammals, aneuploidy- and polyploidy-driven evolution of single cells is restrained by the tumor suppressor protein p53 [
2
,
3
,
5
,
233
,
247
,
248
]. p53 is a transcription factor that regulates the expression of various genes involved in stress responses, cell cycle arrest, and apoptosis. Yeast cells do not have the p53 gene, and homologues of mammalian p53 first appeared in protostomes (molluscs, annelids and arthropods) [
249
]. As mentioned previously, plants also lack p53 [
217
]. Animals with a large body size require many more cells and often exhibit longer lifespans than smaller animals. Thus, long-lived, large animals might be expected to have an increased susceptibility to cancer. However, no correlation between body size or lifespan and the occurrence of cancer can be found [
250
,
251
,
252
]. Interestingly, elephants possess 20 copies of the p53 gene and show a hyperactive p53-dependent DNA damage response, potentially contributing to cancer resistance in this large, long-lived animal [
253
].
More than half of human malignancies harbor mutations of the p53 gene [
254
], and together with alterations in other components of the p53 network, the p53 pathway is suppressed or inactivated in most human cancers [
255
]. Inactivation of the p53 pathway likely unleashes cancer evolution, enabling cancer cells with abnormal karyotypes to proliferate, limited only by their fitness in a given environment.
6.2. Concepts for Activation and Function
p53 is one of the most extensively studied proteins, yet it is still not clear what specific factor, or combination of factors, triggers its activation in cells with aberrant ploidies. Determining this has been challenging because transcriptional activation of p53 can be triggered by a wide variety of external and internal stresses [
256
,
257
,
258
], and the range of stresses that may occur in polyploid and aneuploid cells is also broad. The roles of p53 in sensing DNA damage as well as oxidative and proteotoxic stresses are well established. These stressors can accompany some cases of ploidy alterations. In addition, the stoichiometry of ribosomal proteins caused by changes in gene dosages can activate the p53 pathway by protecting p53 from ubiquitination by its key negative regulator, the ubiquitin ligase Mdm2, which targets it for degradation by the proteasome [
259
]. Moreover, polyploid and aneuploid cells frequently have an aberrant number of centrosomes, and recent studies show that the p53 may be activated by extra or missing centrosomes [
260
,
261
,
262
]. A recent study of chromosome missegregation in anaphase demonstrated that lagging or misaligned chromosomes stabilize p53 through retained phosphorylation of histone H3.3, suggesting that mitotic defects resulting in missegregated chromosomes can activate p53 directly [
247
].
When non-transformed cells in culture are induced to become polyploid by disruption of the actin or microtubule cytoskeleton, they usually block proliferation through the expression of p53 [
2
,
233
,
263
,
264
,
265
,
266
,
267
,
268
]. Direct imaging of cells in culture suggests that the p53-dependent arrest may be delayed for up to three cell cycles after the induction of polyploidy [
269
]. The pathways linking polyploid cell formation to p53 activation remain unclear. One mechanism may be activation of the Hippo tumor suppressor pathway, induced, at least in part, by extra centrosomes [
262
]. In tissue culture, proliferating lines of tetraploid cells can grow out from cultures experimentally induced to become tetraploid. These karyotypically stable tetraploid cells adapt to contain normal numbers of centrosomes and build bipolar mitotic spindles [
43
,
262
]. As yet, a full understanding of how aneuploid and polyploid cells circumvent p53-mediated arrest remains incomplete, but two recent studies indicated that overexpression of D-type Cyclins allows the continued proliferation of tetraploid cells despite the presence of wild-type p53 [
43
,
270
].
In a variety of cell lines, loss of function mutations of the Rb tumor suppressor caused significant chromosome segregation errors but only a modest increase in aneuploidy, unless p53 was also inactivated, whereupon aneuploidy was greatly enhanced [
271
]. In cells, heterozygous for an inactivating p53 mutation, loss of Rb function could increase the probability that a segregation error causes loss of the chromosome containing the wild-type p53 allele (loss of heterozygosity) and thus generate proliferative progeny permissive for further chromosome instability and increased aneuploidy. Of note, aneuploid cells also occur naturally in some tissues such as the adult liver [
223
] and the brain [
272
]. As discussed earlier, polyploidization is a part of a normal differentiation program in certain cell lineages. In tissue culture, human pluripotent stem cells and RPE-1 with normal p53 expression were found to gain extra copies of chromosome 12 and proliferate at a high rate [
43
]. It is not yet fully clear how, in various circumstances, acquisition of extra chromosomes in non-malignant p53-expressing cells in culture allows cells to evade detection or overcome activation of p53.
7. Conclusions and Perspectives for Human Health
The simple use of the terms mitotic or meiotic
errors
presupposes that such events are detrimental. In many, perhaps most cases, abrupt changes in chromosome content in humans will have unfavorable consequences, for example meiotic aneuploidies giving rise to abnormal embryos or cancer cells developing increased malignancy. However, studies in unicellular eukaryotes have demonstrated that aneuploidy and genomic instability can empower adaptive evolution. Here, there are distinct differences between single-cell eukaryotes and metazoans. In yeast, karyotypic diversity is limited only by the fitness cost and may allow exploitation of new environmental conditions. In multicellular organisms, proliferative competition of individual cells leads to cancer and compromises the fitness of the whole organism. However, there are clear instances where altered mitotic events have been subsumed into differentiation, providing evolutionary advantages in metazoans.
The study of the paths leading from segregation errors to adverse consequences has important potential for human health. For example, in individual cancers, what is the relationship among chromosome instability, aneuploidy, and malignancy? Which pathways—sister chromatid cohesion, cell cycle checkpoints, chromosome movement, and others—are affected? Can we take advantage of cancer's dependence on a specific auxiliary mitotic pathway to design therapies that are generally nontoxic to normal cells but lethal to the tumor? Can we design treatments that specifically target cells that are aneuploid? Can prevention of centrosome clustering be a viable cancer therapy? After many years of study, the complex role of p53 in tumor progression still holds secrets. How can these be revealed and exploited? What are the most important contributors of the maternal age effect? Is it possible to design interventions that might promote normal fertility and development? As we learn more about the mechanisms underlying mitosis and meiosis, we are sure to uncover more surprising insights into the complex interplay of the regulation of cell division with disease, health, and evolution.
Acknowledgments
We thank Hem Sapkota, Dean Dawson, Antonio D'Assoro, and Keith Jones for providing figures. Gary J. Gorbsky is supported by grant # R01GM111731 from the National Institute of General Medical Sciences, by the Oklahoma Center for Adult Stem Cell Research and by the McCasland Foundation. We thank Jennifer Gerton and the Stowers Institute for Medical Research for assistance in making this work possible.
Conflicts of interest
The authors declare no conflicts of interest.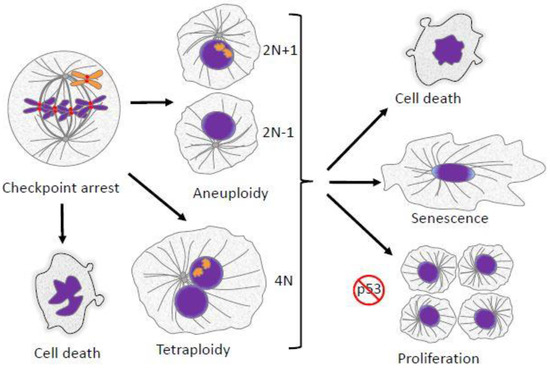 Figure 1. Mitotic defects have several potential outcomes. Failed alignment of chromosomes leads to mitotic arrest/delay enforced by the spindle checkpoint. If the failed alignment is not corrected, cells can follow several fates. They can undergo cell death directly from mitotic arrest. Cells may also suffer various kinds of abnormalities during mitotic exit, leading to the formation of aneuploid progeny. Alternatively, cells may exit mitosis without proper chromosome segregation and cytokinesis, resulting in a formation of a single tetraploid cell. Aneuploid or polyploid daughter cells may undergo cell death, cessation of proliferation and senescence, or continued proliferation. In most cases continued proliferation requires suppression or inactivation of the p53 tumor suppressor pathway.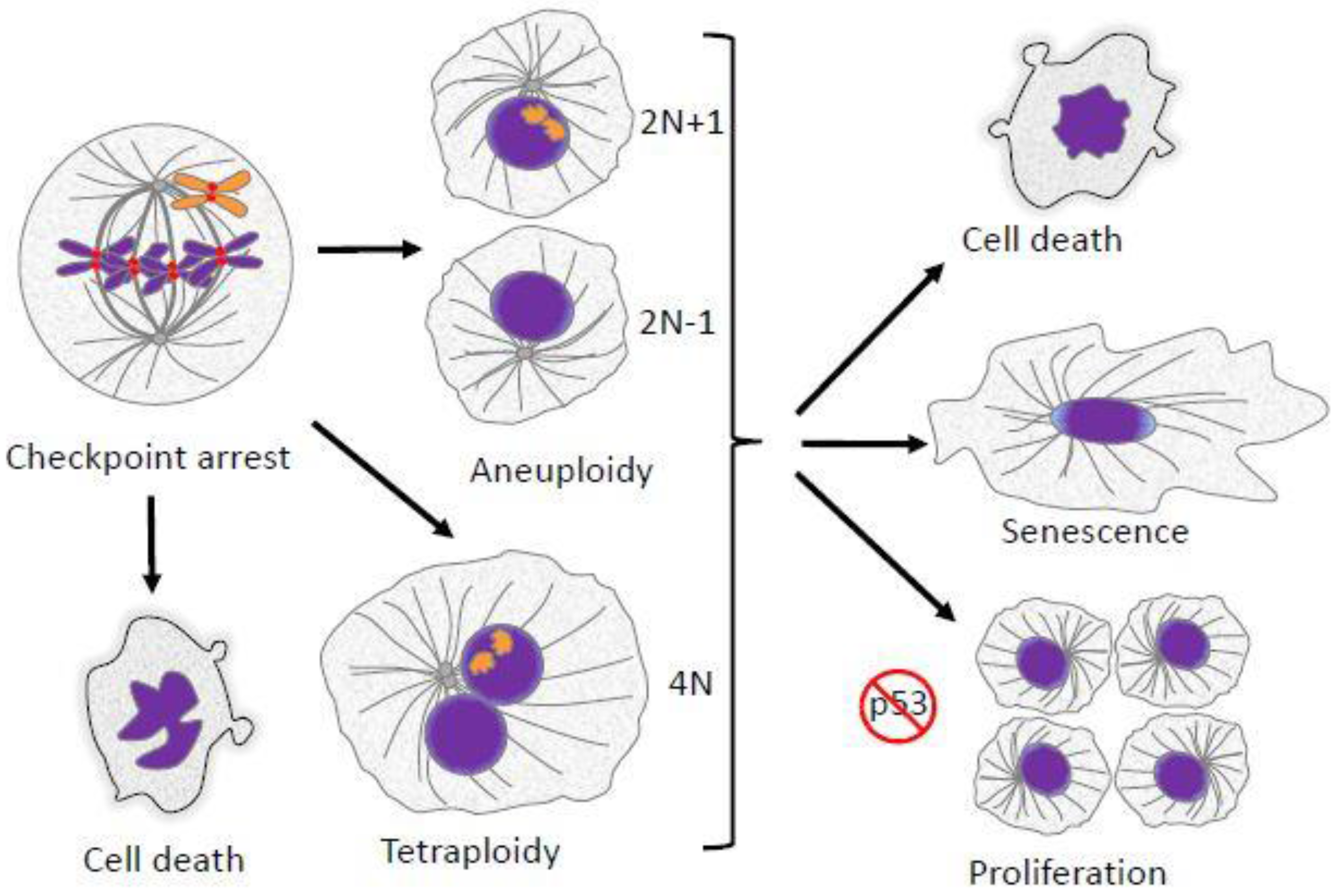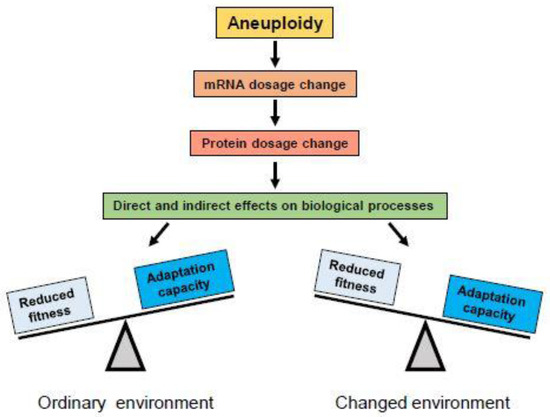 Figure 2. Aneuploidy produces changes in mRNA dosage which lead to changes in protein dosage for genes on the gained or lost chromosome(s). Changed protein levels can have direct effects on biological processes in which they are involved, or change the stoichiometry of protein complexes of which they are components, causing changes in their function. Changes in gene dosage of regulatory proteins like transcription factors may also exert indirect effects on biological processes by altering expression of their target genes on other chromosomes. In most cases, alterations in protein levels are disadvantageous or detrimental for organisms adapted to their ordinary environment (left), where the euploid karyotype provides best fitness. However, under conditions of environmental change, rapid alterations in expression of many genes may provide adaptive potential and be selected (right).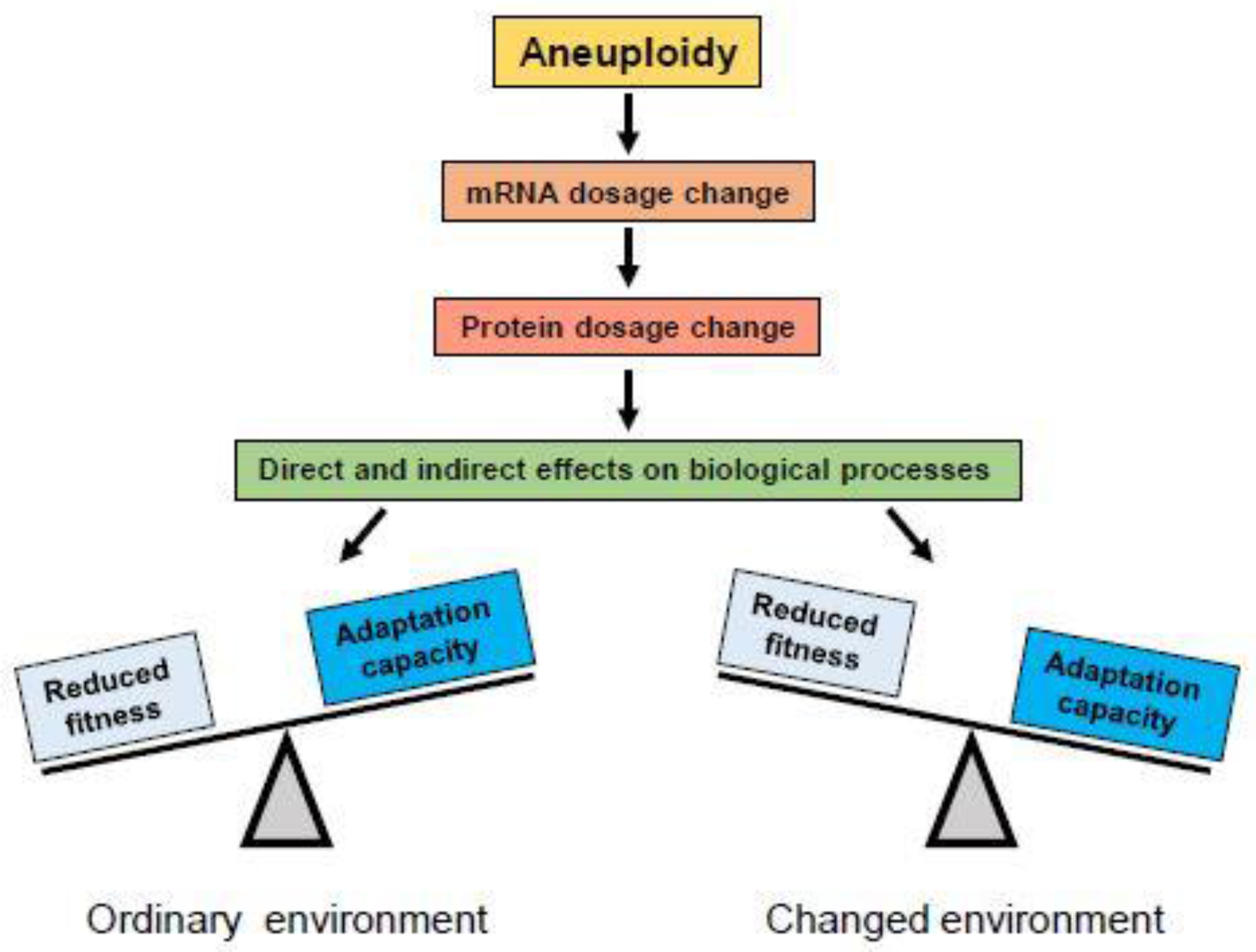 Figure 3.
Cell lines derived from cancers exhibit numerical and segmental aneuploidy. Spectral karyotype comparison of normal human mammary epithelial cells (HMEC) and two breast cancer cell lines (MCF-7 and SUM149PT) that exhibit extensive numerical and segmental aneuploidy. Image reproduced from [
106
].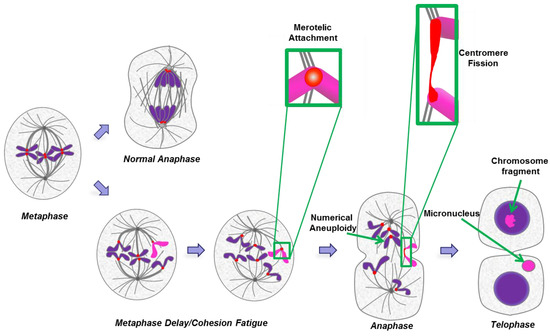 Figure 4. Numerical and segmental aneuploidy as an outcome of cohesion fatigue and centromere fission. A cell at metaphase will normally undergo balanced chromosome segregation in normal anaphase (upper path). If metaphase is delayed (lower path), chromatids may begin to undergo cohesion fatigue and separate. When sister chromatids separate they may both move to one of the two spindle poles leading to numerical aneuploidy following anaphase and mitotic exit. In other cases the kinetochore of an individual chromatid may undergo merotelic attachment to microtubules from both spindle poles (exemplified by sequential stages for the pink chromatid and detailed in the green boxes). Under this circumstance, spindle forces or cytokinesis may sever the chromatid resulting in chromosome fragments that can attach to other chromosomes resulting in segmental deletions, duplications, translocations and the formation of micronuclei.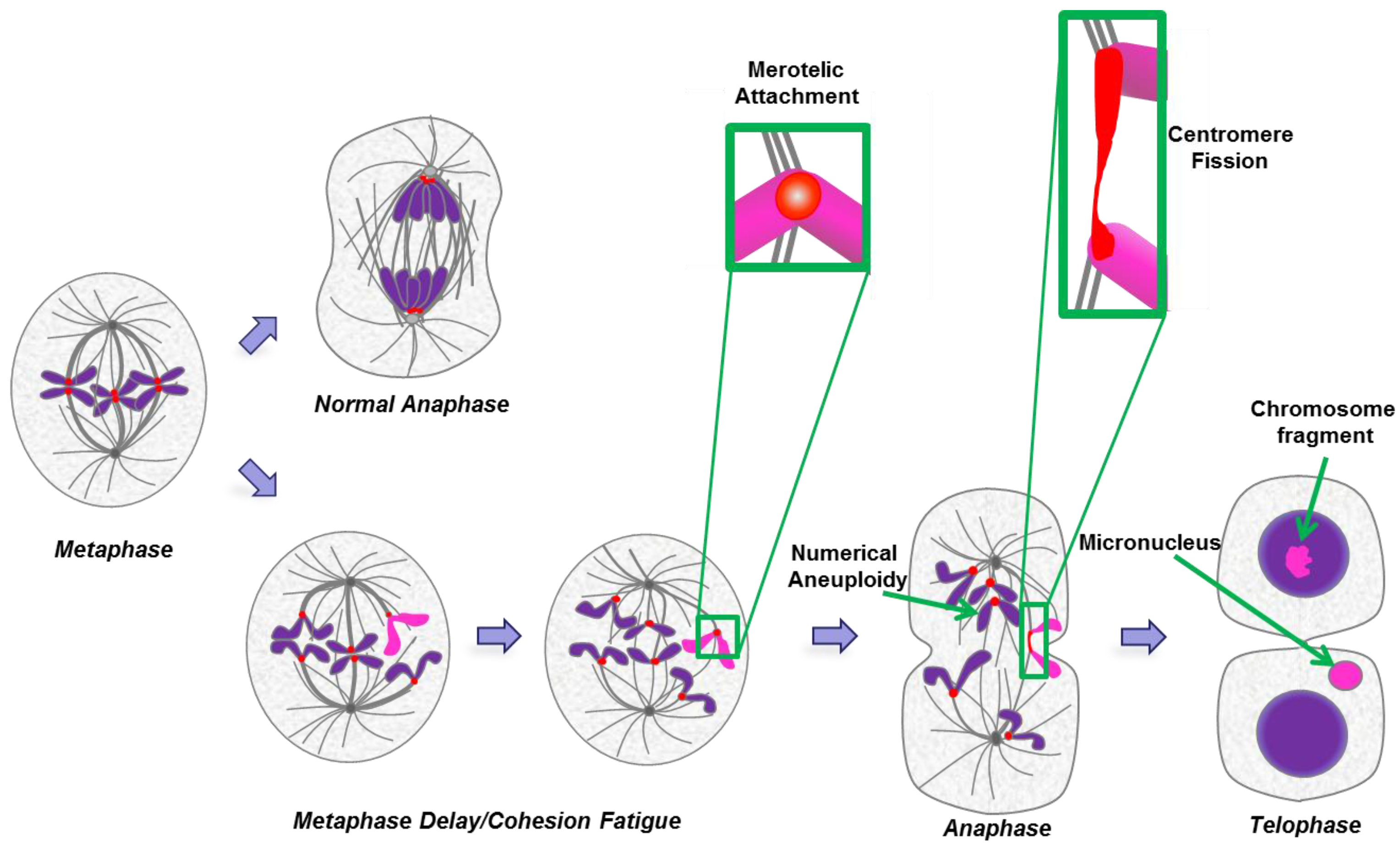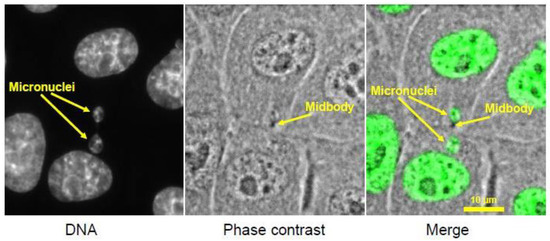 Figure 5. Micronuclei present in two daughter LLC-Pk cells, a cell line derived from porcine kidney. Micronuclei likely formed from lagging chromosomes that were partially trapped in the cytokinetic cleavage furrow. The midbody, the remnant of the cleavage furrow, bisects the region between the two micronuclei. (micrographs courtesy of Hem Sapkota.)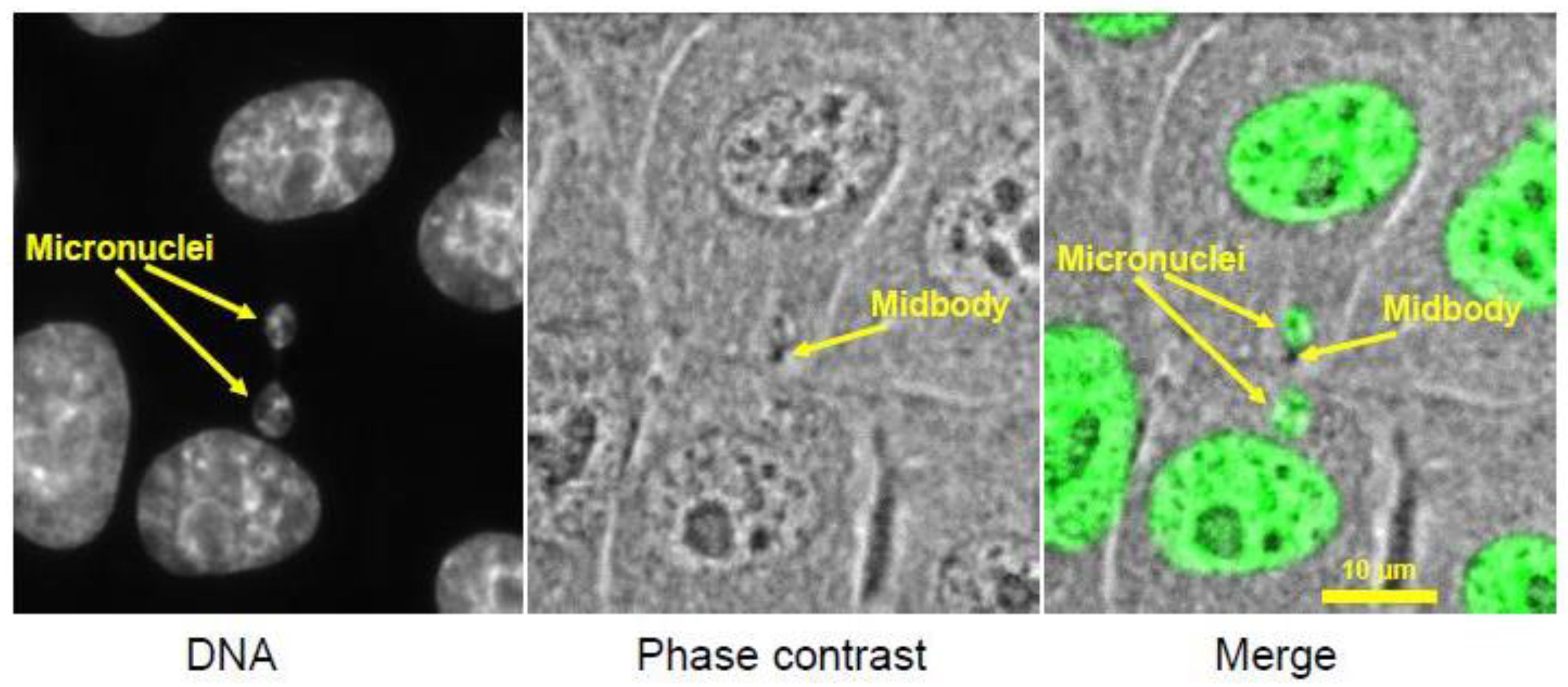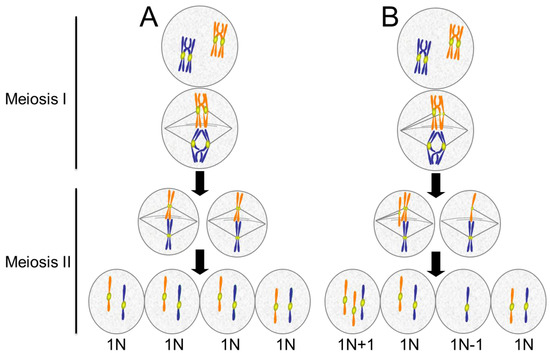 Figure 6. Meiotic errors lead to aneuploid gametes. (A) Normal meiosis consists of two chromosome segregation events without an intervening S phase. In Meiosis I, homologous chromosomes pair and undergo recombination, forming crossovers. In anaphase of Meiosis I, the homologous chromosomes segregate. In Meiosis II sister chromatids separate. The final product is four haploid (1N) cells; (B) Defects in meiosis result in aneuploidy. In the example shown, the chromatids of one chromosome separate prematurely and segregate to opposite poles resulting in an imbalance of chromatids in the two cells produced by Meiosis I. When these cells undergo Meiosis II, each produces one normal haploid (1N) gamete and one aneuploid (1N + 1 or 1N − 1) gamete. For simplicity, only two chromosome pairs are depicted.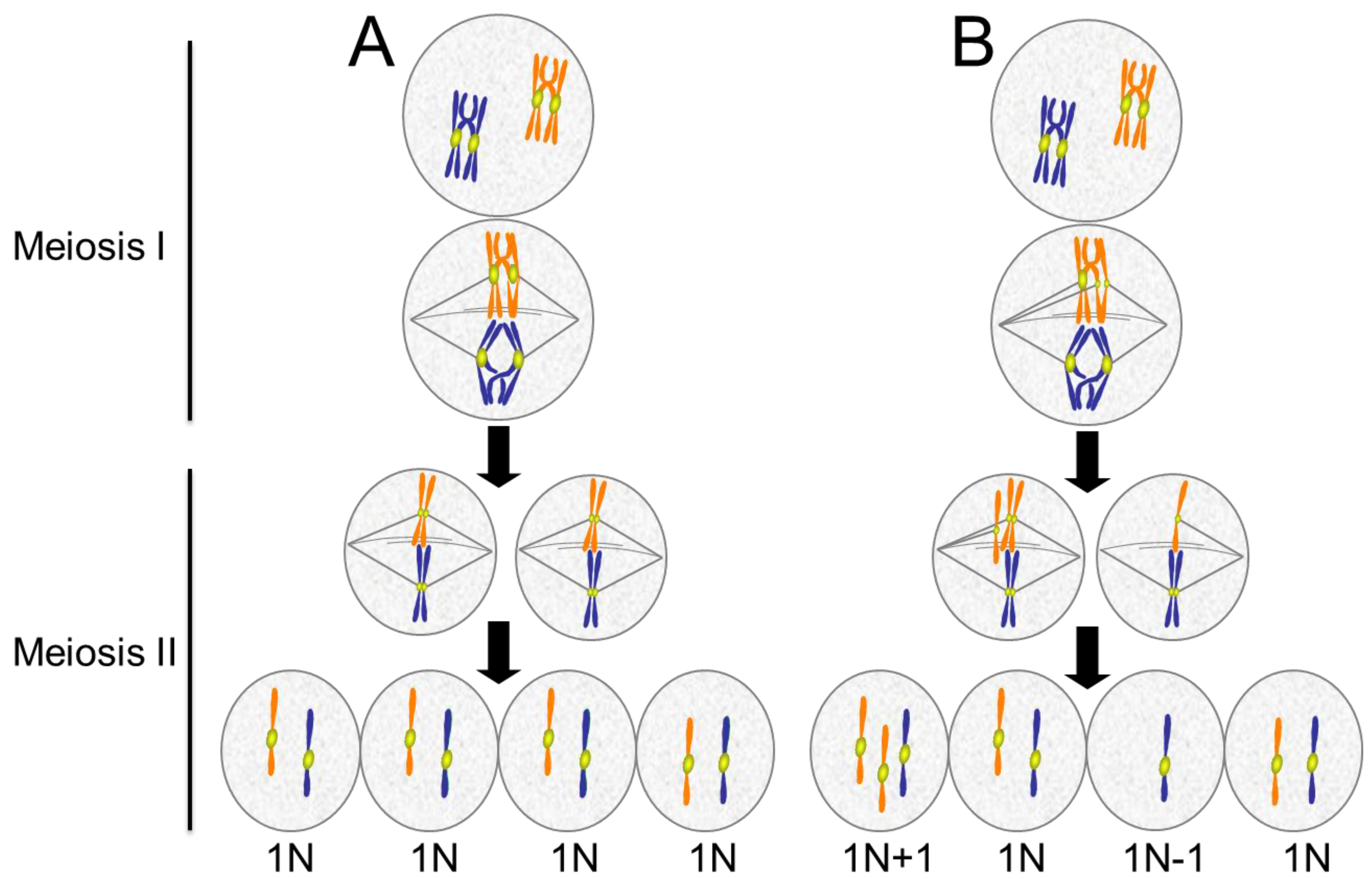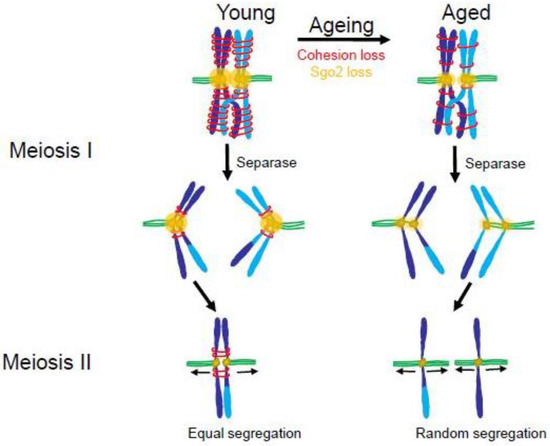 Figure 7.
Loss of cohesin and the cohesin protector, Sgo2, in older mammals may lead to increased premature chromatid separation in meiosis. In young mammals (left) paired homologous chromosomes have high levels of cohesin and Sgo2 in Meiosis I (MI). At anaphase of Meiosis I, the protease, Separase, clips Cohesin on the distal chromosome arms allowing the homologous chromosomes to separate. Sgo2 protects Cohesin near the centromeres until Meiosis II (MII) ensuring that sister chromatids will orient to opposite poles. In aged mammals (right) there are diminished amounts of Cohesin and Sgo2. During Meiosis 1 Separase cleaves the majority of cohesin, including that near the centromeres. This allows sister chromatids to separate during anaphase of Meiosis I. In Meiosis II the individual chromatids may separate randomly to the spindle poles leading to a high incidence of aneuploidy. (Adapted from [
163
].)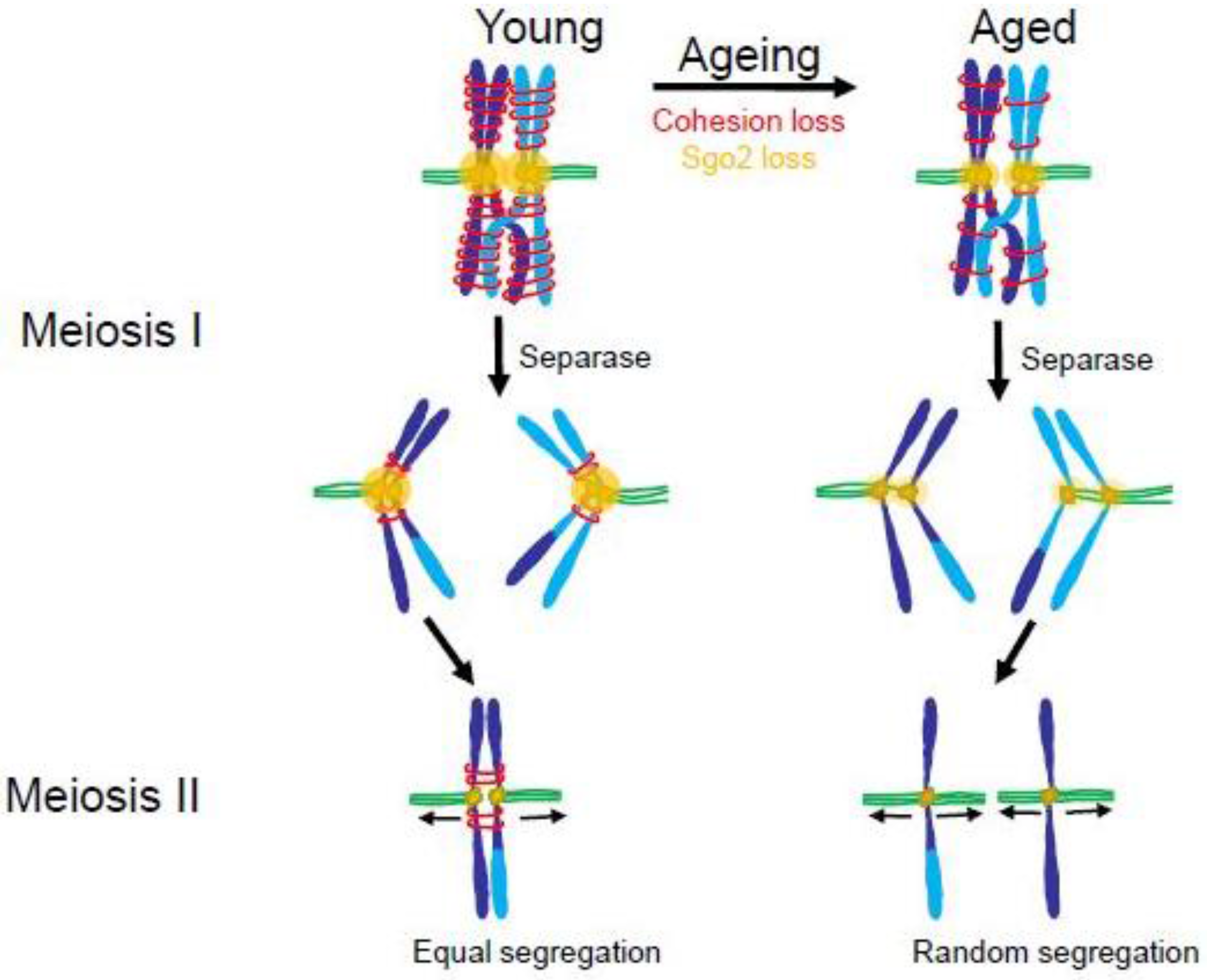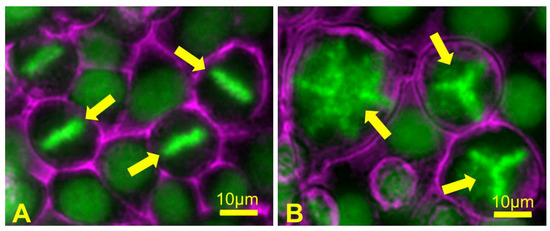 Figure 8. Failed cytokinesis can lead to multipolar spindle formation in the subsequent mitosis. (A) A field of control HeLa cells containing mitotic cells showing normal chromosome alignment at metaphase (arrows); (B) HeLa cells were treated for a short time with an actin polymerization inhibitor drug, which blocks cytokinesis and results in the formation of binucleate polyploid cells containing extra centrosomes. During the subsequent mitosis, polyploid cells form abnormal metaphase chromosome alignments (arrows) when the presence of extra centrosomes leads to assembly of multipolar mitotic spindles. When these cells then undergo anaphase and cytokinesis, chromosomes are segregated in a random, unequal manner, leading to the formation of daughter cells that are highly aneuploid. Chromosomes are depicted in green; cell surfaces are depicted in magenta.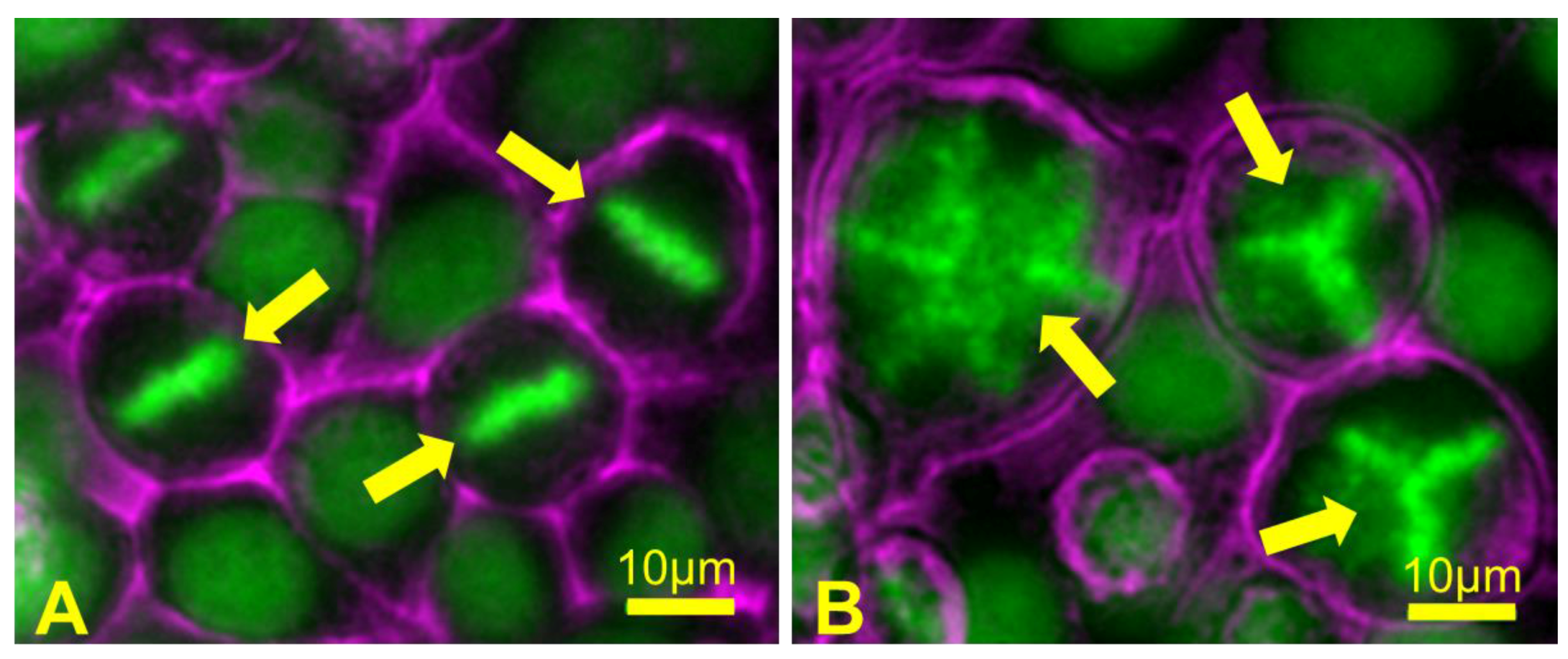 Table 1. Definitions.
Ploidy is the number of sets of chromosomes in a cell or in an organism.
Haploid number refers to one set of chromosomes (1N), as in gametes or certain strains of budding yeast.
Diploid number refers to two sets of chromosomes (2N) that are homologous (one from each parent). Most animals are diploid.
Polyploid denotes a cell with more than two sets of chromosomes (triploid – 3N, tetraploid – 4N, pentaploid – 5N, etc.).
Euploid denotes the normal chromosome number in a species, usually an exact multiple of the haploid number (i.e.; human euploid genome contains 46 chromosomes – 2× the haploid number).
Chromosomal Instability is the tendency of a cell to gain or lose chromosomes or large segments of chromosomes. It is often abbreviated CIN.
Aneuploidy denotes the state of a cell having a chromosome number that deviates from a multiple of the haploid, i.e.; when there are extra or missing single chromosomes.
Whole chromosomal aneuploidy is having entire chromosomes gained or lost.
Segmental aneuploidy is having large regions of chromosomes deleted, duplicated or translocated from one chromosome to another. Cancer cells often exhibit both whole chromosome aneuploidy and segmental aneuploidy.
Trisomy refers to a diploid genome having gained an additional chromosome (2N + 1). Trisomy 21 indicates an extra chromosome 21 in a diploid genome.
© 2017 by the authors. Licensee MDPI, Basel, Switzerland. This article is an open access article distributed under the terms and conditions of the Creative Commons Attribution (CC BY) license ( http://creativecommons.org/licenses/by/4.0/).